Apple Pay allows your clients to pay for purchases from your Store with a single touch on their iPhone, iPad, or other Mac devices. Clients won't need to manually enter their credit card information, as they can simply click on the Apple Pay button, and accept the payment on their device with TouchID. Learn more about Apple Pay here.
Apple Pay is available to users who have their Pixieset Store set up to accept payments with Stripe. It is enabled by default, and there is no additional set up required.
The option to checkout with Apple Pay is shown to clients purchasing from your Store using the Safari browser through iOS 10 and macOS Sierra. Apple Pay is compatible with the following devices:
- iPhones: iPhone SE, iPhone 6 and later, iPhone 6 Plus and later
- iPads: iPad mini 3 and later, iPad Air 2, iPad Pro
- Macs: MacBook Pro with Touch ID
- Apple Watch: All generations paired with iPhone 5 and later
What your client sees:
When your client visits your Store using Safari on iOS 10 or macOS Sierra, they will see Apple Pay as one of the payment options with the "Buy with Apple Pay" button: 
They simply have to click on the button, and accept the payment on one of the connected compatible devices with touch ID.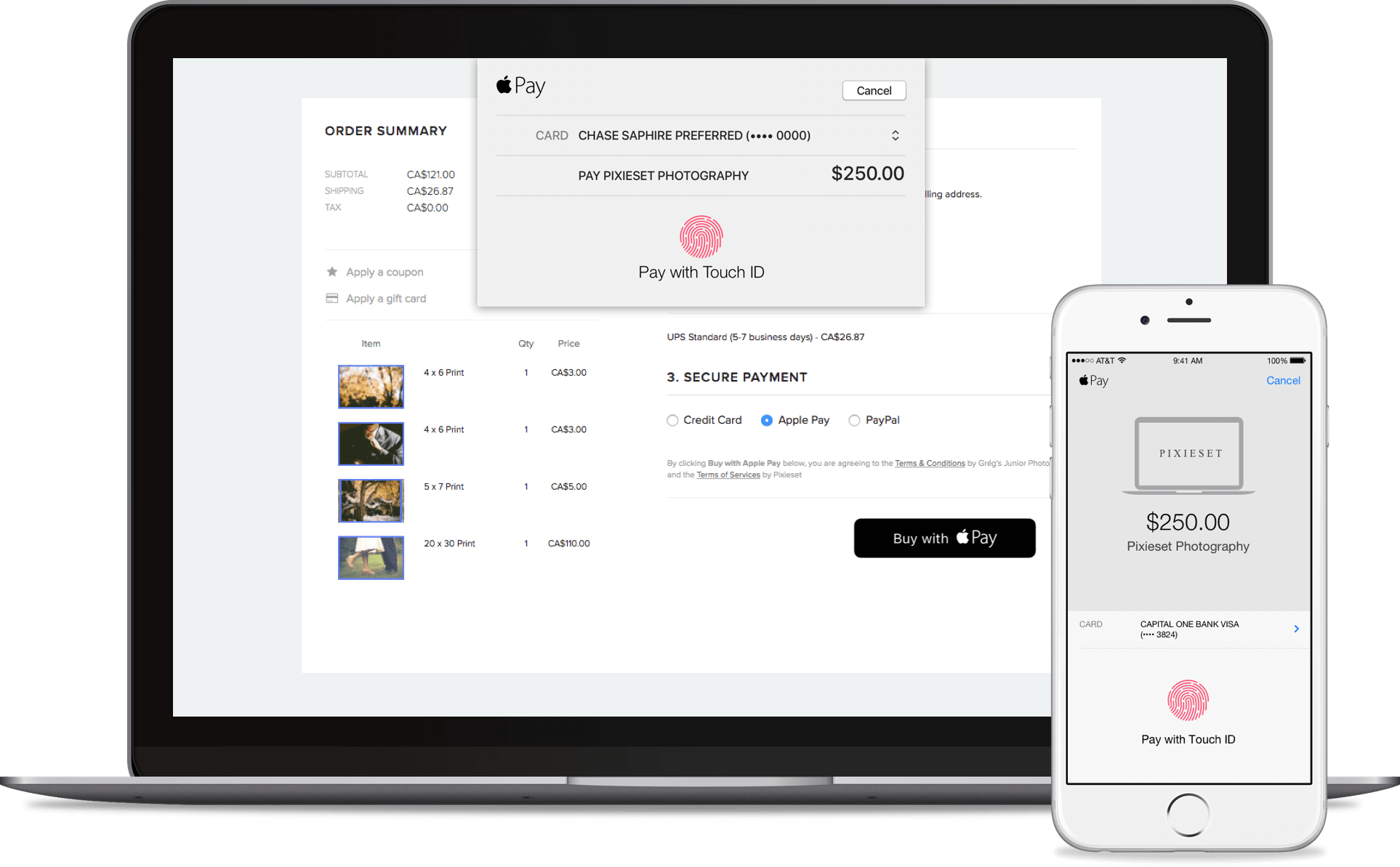 Troubleshooting:
Can I test out Apple Pay?
We have set up a test page for you to see what paying with Apple Pay is like. Please note that you should open this page in Safari, and ensure you are on iOS 10 or macOS sierra with a compatible device connected. To test it out in your own store, checkout with the same settings, and make sure you have Order Delay enabled so you can cancel the order afterwards.


I don't see the Apple Pay button showing up in my Store.
Please ensure that you have the following set up:
- You are using Stripe as a payment gateway and have Apple Pay enabled. (You can check your settings by navigating to the Store Dashboard, and clicking on Settings.
- You are using Safari on iOS 10 or macOS sierra and later.


Are there any additional fees for accepting Apple Pay?
No, Stripe will process your Apple Pay transactions and the standard Stripe transaction fee will apply.
 
Can I turn off Apple Pay?
Yes! If you do not want your clients to pay using Apple Pay, you can turn off this option by navigating to the Settings page within your Store Dashboard, and clicking Edit (beside Stripe) > Apple Pay > Off.