Products are the items you would like to sell in your Pixieset Store. All Products must be added to a Price Sheet, which will then be assigned to a Collection. You can find more information on Price Sheets here.
For Self-Fulfillment Photographers:
Creating a Self-Fulfillment Price Sheet:
1. Go to the Store Dashboard, click on Products > +Add Price Sheet, and select Self-Fulfillment in the pop up window.
 2. Once your Self-Fulfillment Price Sheet has been created, click on the Add Product button at the top right of the page. 

 3. Select a Product Category (example: Print). You will then see the pop-up window shown below, which allows you to enter all the details about your new Product.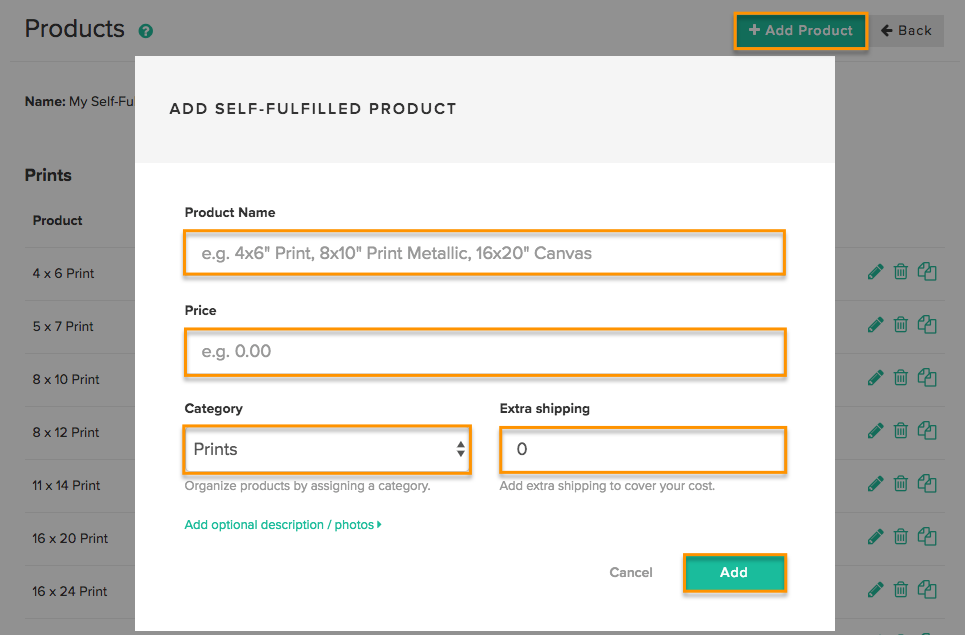 4. Fill in the Name of the Product. This can be as specific as you want, but ideally you want to make sure the client knows exactly what they will be getting. Keep in mind that you will be fulfilling the Self-Fulfillment portion of Orders yourself, and you can take the description directly from your fulfillment Lab if you'd like.

5. Fill in the Price, and whether you want to charge extra shipping for this Product. Extra shipping amount will be added to the default shipping costs you have specified in the Shipping section of your Store.

6. Click Save, and you have successfully added a Product to your Self-Fulfillment Price Sheet!
Note:
Self-Fulfillment Print Products that are created with a 'Digital' Category label will not be delivered automatically when Ordered. Self-Fulfillment Print Products categorized as 'Digital' will need to be provided to the Client manually, outside of Pixieset. If you are looking to sell Digital Downloads, check out our guide on how to do this
here
.                       
For Lab Fulfillment Photographers
If you have chosen Lab Fulfillment (via WHCC, ProDPI, Miller's, Mpix, or Loxley Colour), a list of common Print and Canvas Products will be pre-populated for you with a default Price markup of 300% rounded to the nearest dollar. You can easily adjust this markup at any time.

1. Below is what you will see when viewing your new Lab Fulfillment Price Sheet. You can edit the price of items individually, apply a bulk markup, or add additional Products from the Lab that were not added automatically.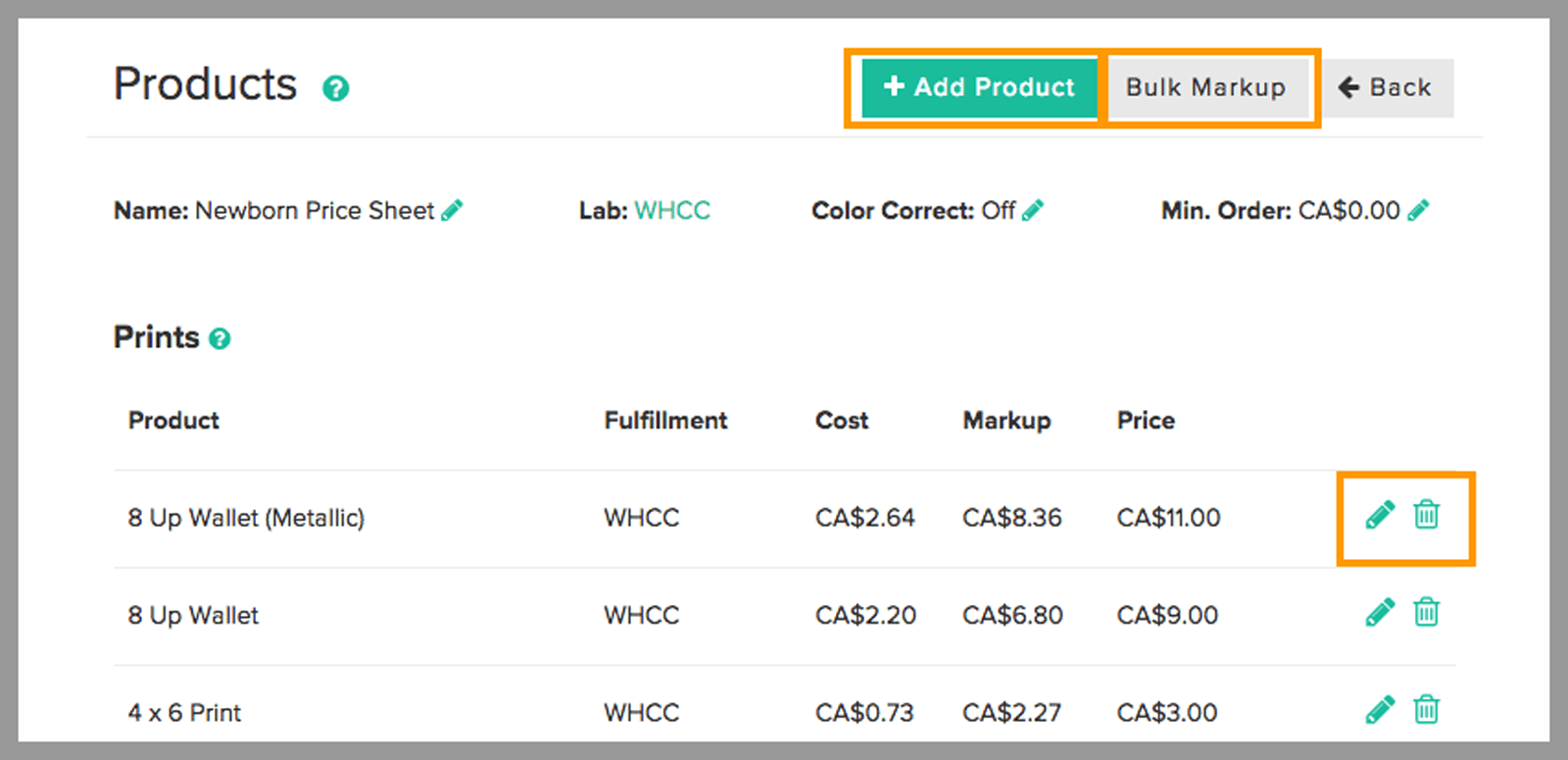 2. To apply a bulk markup to the items, you'll want to click on Bulk Markup at the top of the page. You can then set a percentage markup and decide how the marked up prices are rounded. To edit the price of individual Products, simply click on the edit icon next to any Product.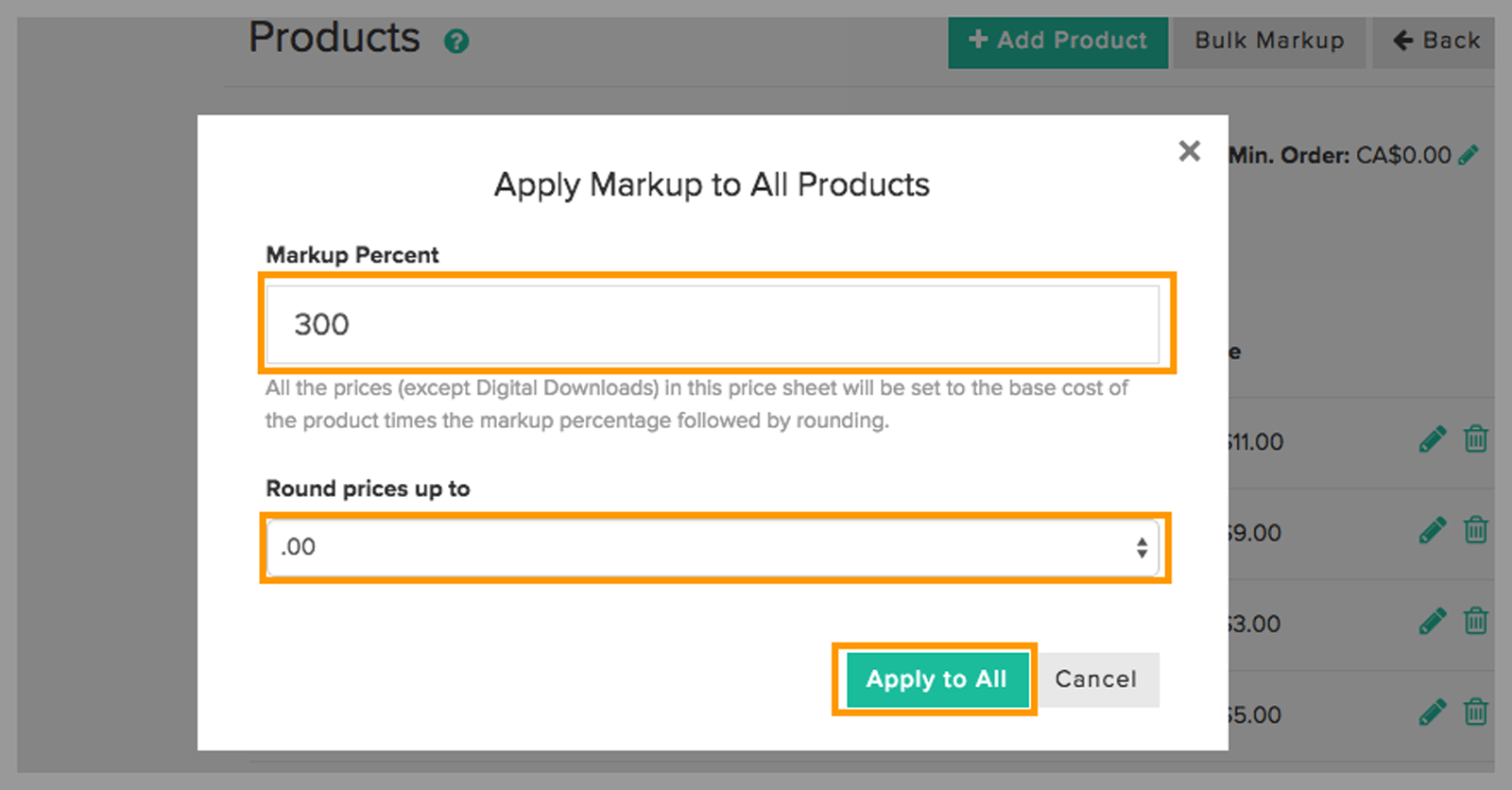 3. If you'd like to offer additional items, you are not limited to only adding Lab Fulfillment items! You can also choose to create some items as Self Fulfillment products on your Lab Fulfillment Price Sheet, so that clients can easily order everything from the same Shopping Cart. This is a great feature if you'd like to offer special custom products (like Albums), or if there are special print sizes that are not currently available through Pixieset!