Pixieset allows you to accept payments by credit card through Stripe, or through PayPal, but you can also arrange alternative payment methods with your clients by enabling the Offline Payment feature.
When Offline Payment is enabled, your clients will have the ability to place their Order through your Pixieset Store, without entering any payment information. They can then pay you in person either by cash, check, email transfer or any other preferred alternative payment method you have arranged with them.
Note: This feature is only available with an upgraded Account.


How to enable Offline Payments
To enable Offline Payment, simply navigate to the Store Dashboard, click on Settings, and change your Offline Payment status to On. Once Offline Payment is enabled, you will have the option of including payment instructions for your clients (as shown below).
To make sure your client knows what payment method is preferred, you can add offline payment instructions to your Store. If your client checks out with Offline Payment, they will see these instructions at checkout, and in their Order Confirmation email for reference.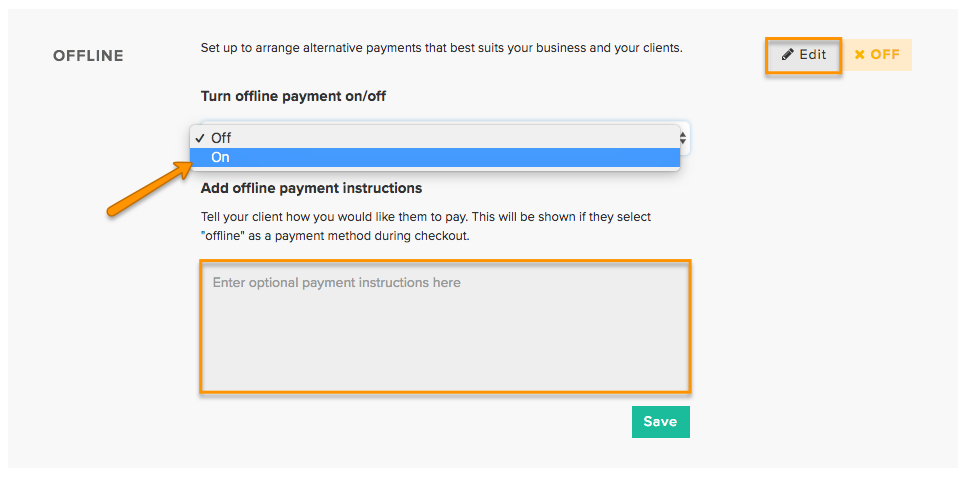 Once you have enabled at least one Payment Method, you can turn your Store Status to ON.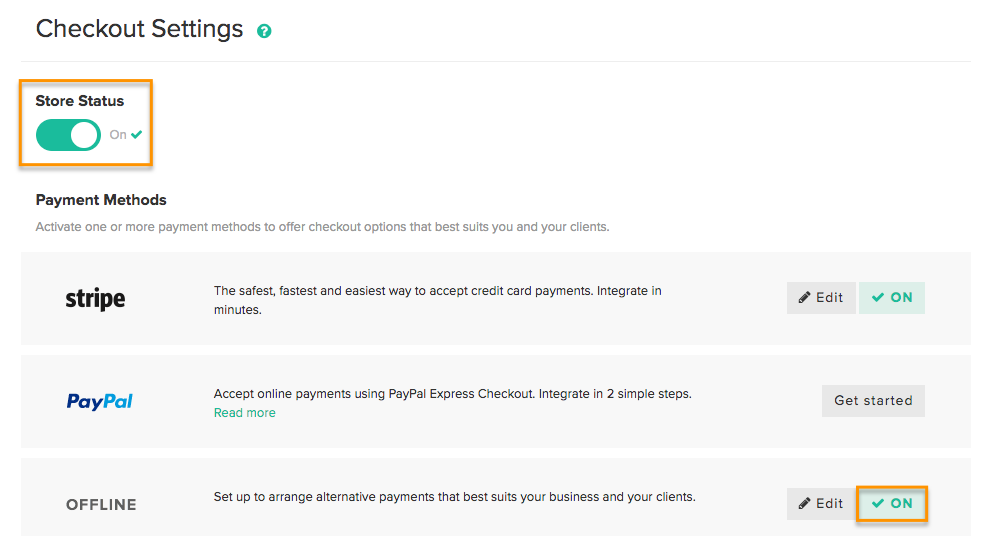 Turning your Store ON will only impact new Collections going forward; any Collections that were created before your Store was Active will have the Store OFF by default. You can change this by opening the applicable Collection, navigating to the Store section of the Collection Settings tab, and toggling the Store Status to ON.
When an Order has been placed
1. You will be notified when an Order is placed, and you can view your Orders at any time by navigating to the Orders page within your Store Dashboard. The status of Offline Payment orders will read Payment Pending. 

 

 2. Once you have received payment from your client, press the Mark Paid button on your dashboard to process the Order.

Note: The order will not be processed until you confirm receipt of payment by clicking 'Mark Paid'.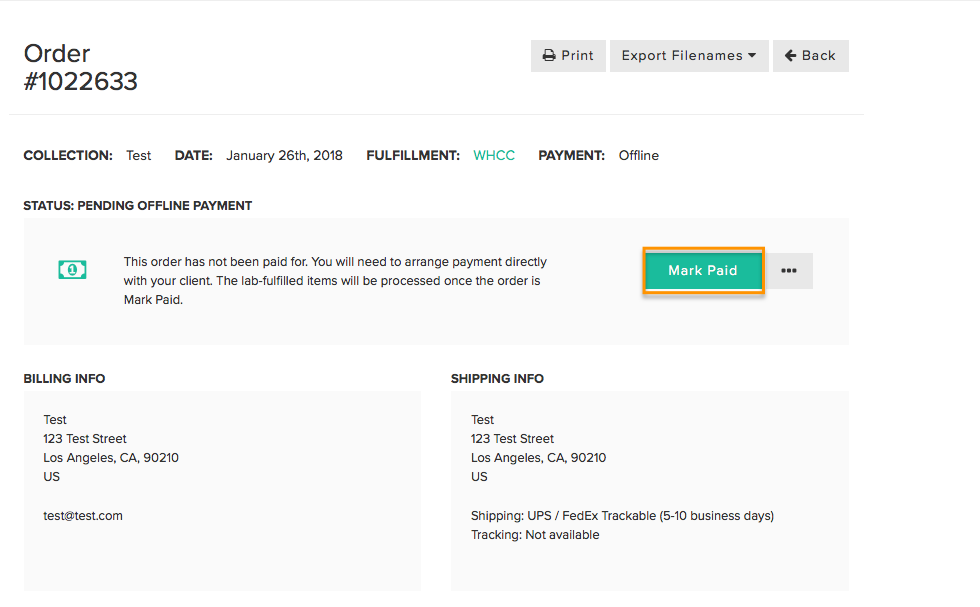 3. Once the Order is marked as "Paid", your credit card on file will be charged for the Cost of Goods Sold (if the order contains Lab Fulfilled items) and the Lab Fulfillment portion will be sent to the Lab for processing. Digital Downloads will be processed automatically at this point as well. 

Note: If Order Delay is enabled, it will still apply. The Lab Fulfilled and Digital Download items will start the Order Delay timeframe after you have clicked the 'Mark Paid' button.
What will my clients see?
If your clients do not wish to pay by credit card, they can click the offline payment option shown on checkout. The payment instructions listed by you will be shown to them, and they can then hit "Place Order" to complete the checkout process!