When you are using the Store feature on Pixieset, there are two fulfillment options: automatic fulfillment and self fulfillment. If you're interested in fulfilling your orders with your own preferred lab and shipping solution, you can learn more about self fulfillment from this article.


On this page:
What is self fulfillment?
If you are using self fulfillment, you will be in charge of fulfilling the orders manually outside of Pixieset. You are responsible for ordering prints from your own preferred Lab, as well as arranging shipping to your clients. This is a great option for photographers that wish to take full control of the fulfillment process.
If you rather be hands-off with print fulfillment, you should consider using our automatic fulfillment option. Learn more: Getting started with automatic fulfillment
Creating self fulfillment price sheets
Price Sheet determines what products you are selling. Add a new self fulfillment price sheet to get started.
Steps:
From your dashboard, go to Store > Products (Price Sheet).
From the Price Sheet page, click on + Add Price Sheet.
Enter a name and select Self Fulfillment.
Click Create.
If you choose to start with commonly sold products (recommended), you will see default products created for you. Note that these are example products and you are recommended to update these products according to what you would like to sell. 
Adding new self-fulfillment products
Self fulfilled Item are items to be fulfilled manually by yourself at your preferred vendor. You will have full control over the product details.
Steps:
From your dashboard, go to Store > Products (Price Sheet) > Select your price sheet
Click on + Add Product.
Select Self Fulfilled Item
Enter the product details and click Save.

Product details
The details you provide determines the way the product appears to customers, and what your customers can purchase.
Name - The name of your product as you want your customers to see it.
Description - The description of your product. Describe your products in detail to inform and persuade your customers to buy this product.
Images - You can up to 5 images to show your customers what your product looks like. We recommend uploading square photos with a minimum resolution of 1500x1500 for best results.
Price - The price in which you want to sell your product for. If you're selling a product with multiple variations, this field will be disabled and the price is set under the product options section.
Extra Shipping - You can charge extra shipping to cover any extra cost. This amount will be added per quantity of this product added to cart. To set up based shipping, you should go to the Store > Shipping section instead.
Category  - Add your product into a category to help your clients find the product in the right category.
Product Options - You can create different options for your product such as different sizes and colors. Refer to Product Options (variations) section below for more information.
Product options (variations)
Product Options allow you to add more than one option for a product, such as size, paper type, materials etc. Each combination of these options will become a variation for the product.
For example, if you're selling prints, you might have different sizes such as 4x6, 5x7, 8x10. You can then also add a second product option like paper type like Glossy, Matte, Metallic.
You can have up to 3 options for a single product. To add a new product option, you can follow the following steps.
Steps:
Edit a self fulfilled product
Under Product Options, click on Add product option.
Enter the name of the option, all the values available and select a display layout.
Click Save.
Once product variations have been created, you will then be able to adjust the pricing and availability of each variation of the product.

Self fulfillment orders
For self fulfillment orders, you're fully responsible for fulfilling the order, managing the status of the order and all communications with your clients.


Managing order status
The status of self fulfillment orders will not automatically update as automatic fulfillment orders do. You will need to manually update the order status for your self fulfillment orders by viewing the order in your order dashboard, and clicking the 'Status' button at the top of the page.
Pending - Order has been placed by your client and is ready for you to get started.
Processing - You have submitted the order with your print Lab, and it is being printed.
Completed - The order has been completed and has been shipped to the client.
Canceled - The order has been canceled. Note**:** Setting an order to cancelled status does not automatically refund your client. You will still need to process their refund.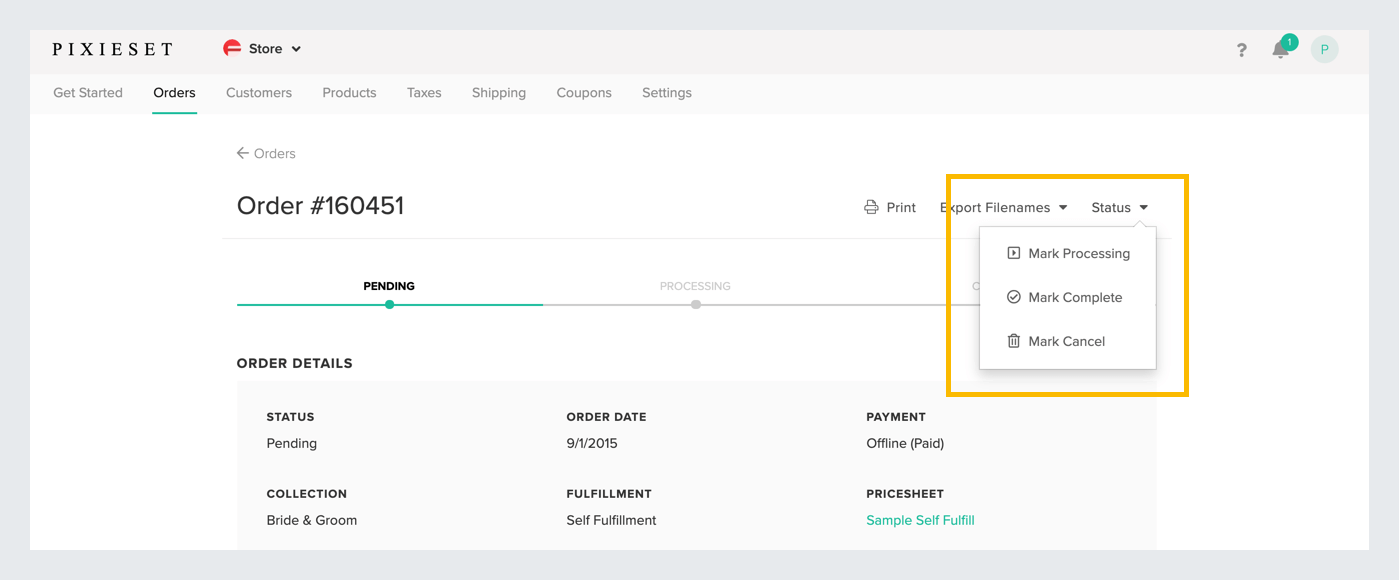 Export Filenames
You can use the Export Filenames option to download a .CSV file with the ordered products, any product variations, product quantities, and filenames. If you need to do any final editing or retouching before placing the order with your print Lab, you can use the Lightroom Copy List option to easily find the client's ordered images in your Lightroom Catalog.