Packages allow you to set one price for a group of Products (Prints, Digital Downloads, or a mix of both) that you would like to sell together. It makes choosing Products easy and simple for clients, and also offers a great incentive for clients to buy more from your Store as you bundle savings.


Creating a Package:
1. Go to the Store Dashboard > Products, and select the Price Sheet that you would like to add a Package to, or use the +Add Price Sheet to create a brand new Price Sheet to work with. 

2. Once you have opened the Price Sheet, then you can use the +Add Product button at the top right corner.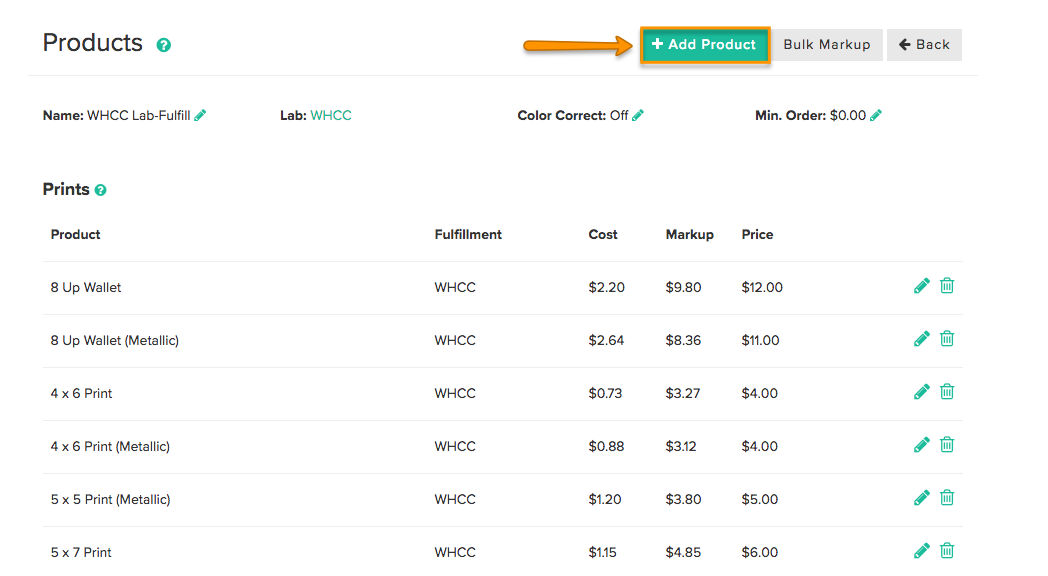 3. Select Print/Digital Package for the Product Type.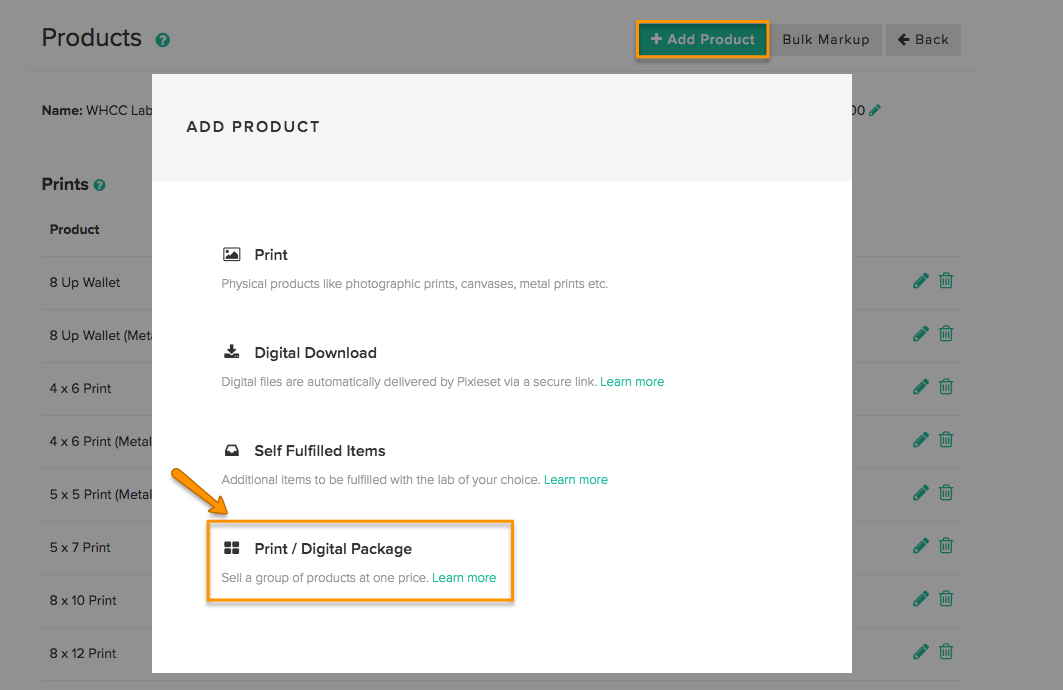 4.  Fill in the required information and select the Products you would like to include in this Package: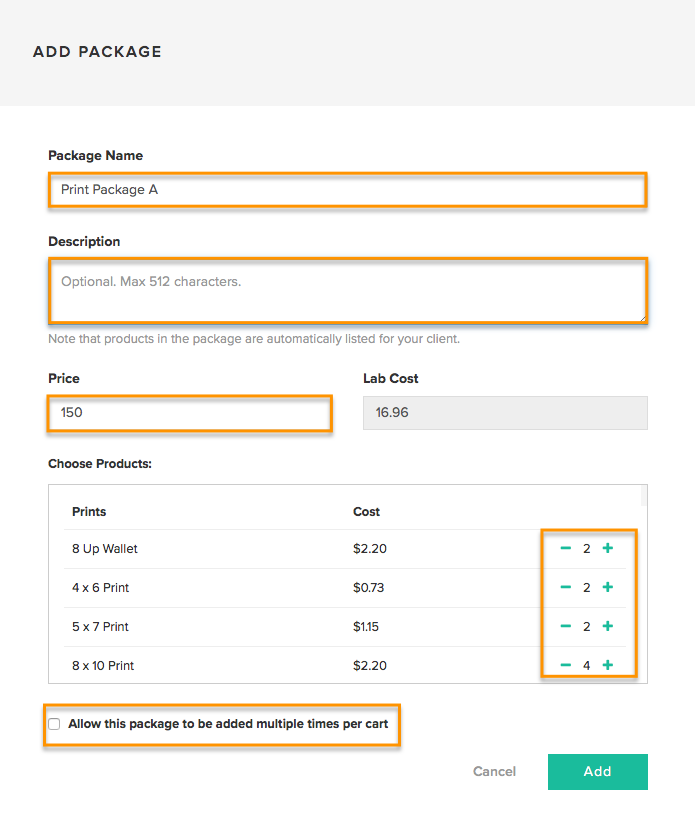 Package Name and Description: 
The Name and Description will be shown to the client to help them decide the best Package to choose. We will automatically make a list of the Products in the description - so you do not need to write them out yourself. 

Price/Cost: 
Set a total price for this Package. If you are using a Lab-fulfillment Price Sheet, the Lab's Cost for the Prints will be tallied up and shown in the Cost box as you add Products to the Package (yes we are that fast!). This helps make it easier for you to set a Price for your Packages. 

Choose Products: 
Note the Products you wish to add to the Package must be existing products within the same Price Sheet. You cannot have standalone Packages without the corresponding individual Product items.

Allow this package to be added multiple times per cart:
This option will allow your client to purchase this specific Package as many time as they'd like. By default, the limit for purchasing a Package is one (1).

Once you have completed all of the above fields, click on Add, and you are done!

This Package will appear in the first section on this Price Sheet. You can click to expand and view the details of this Package: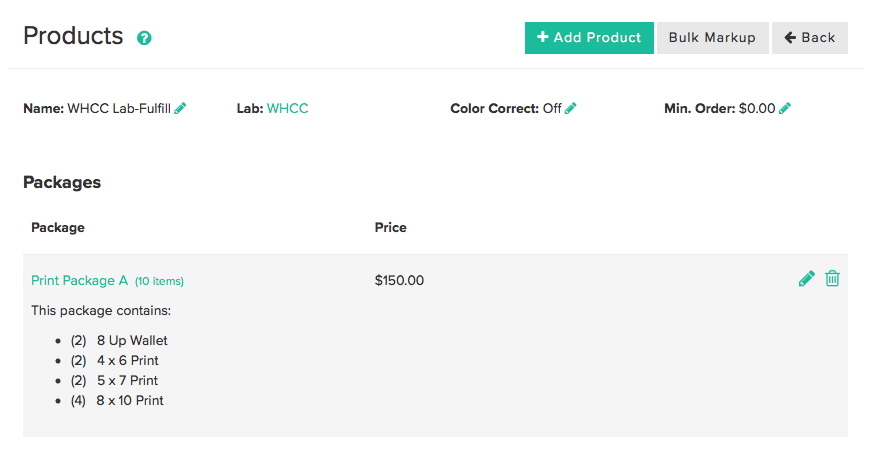 --------------------------------------------------------------
What does my client see when they buy Packages?
When your client clicks on the Cart icon to purchase, they will see the Package options you have set up as the first category. They can click on a Package row to see what's included in that Package: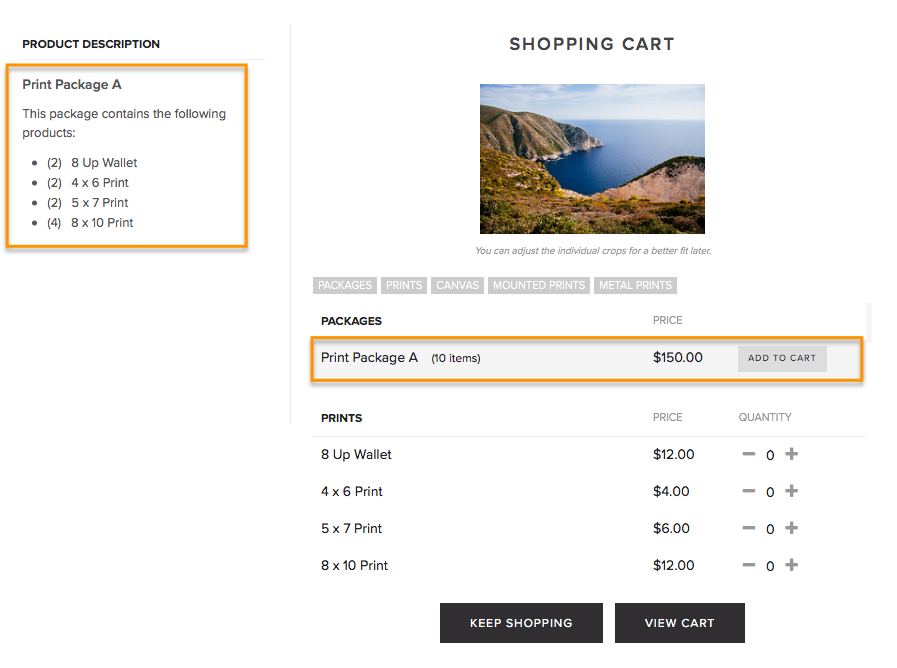 Clicking the Add to Cart button will add this Package to their Cart. Then they can select the photos to go into this Package for the corresponding Product item. They can select from the Collection, or their Favorite List (if applicable):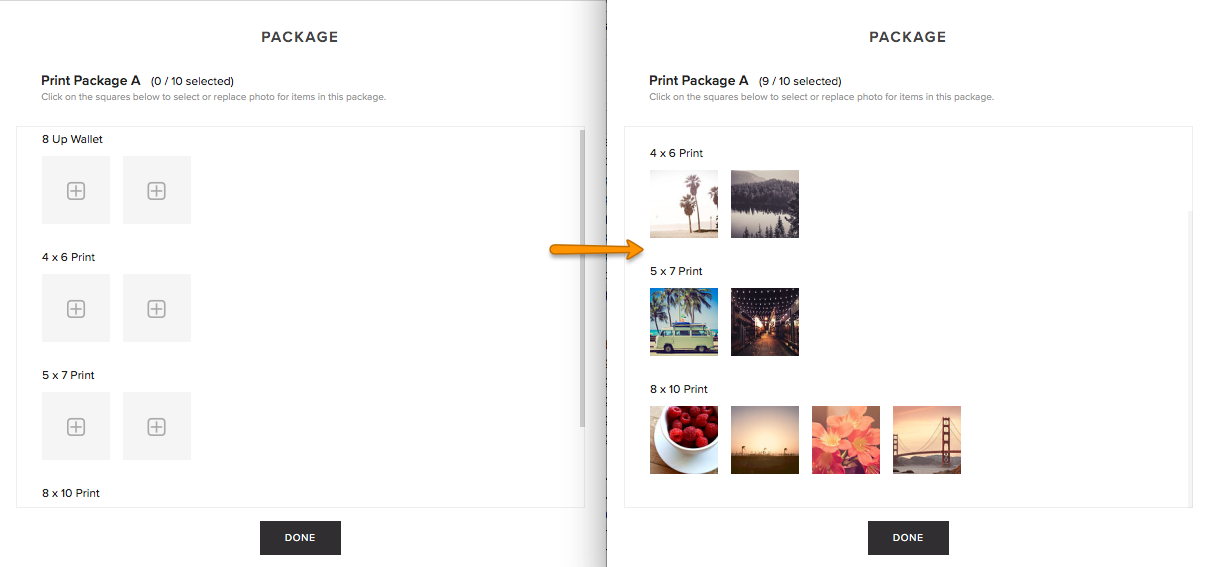 Clients do not have to finish building their Package all at once. They can go back to the Gallery, view more images, and complete the Package at a later time. They simply need to click on the Select Photos link next to the Package to go back to selection mode: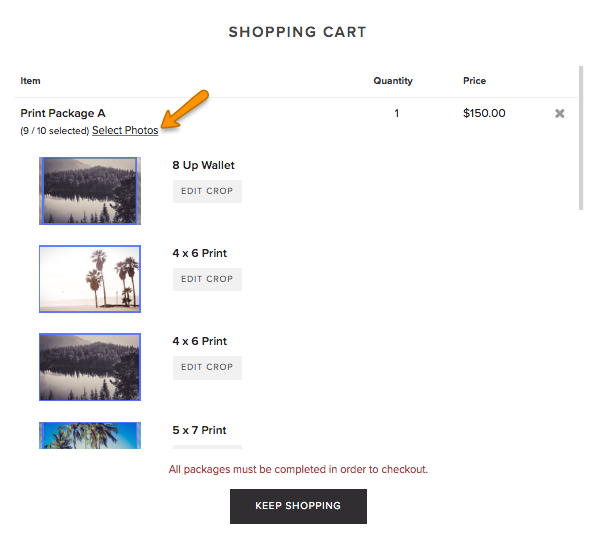 Once they are happy with their selection, they can click on Checkout to complete their purchase!

Reminder: By default, your clients will only be able to add one (1) of every Package to their Pixieset Shopping Cart. However, if you'd like to offer them the ability to purchase multiples of the same Package, simply select this option when you're creating it: