Check your upload speed first
Your connection is usually the strongest and fastest when it comes to your download speed. When it comes to upload speed, this is usually 10 or more times slower than your download speed. Your download and upload speed are limited by your Internet Service Provider (e.g. AT&T).

To get a feel for how fast your connection really is, you can run a speed test for free at http://www.speedtest.net/ and look for the upload speed results.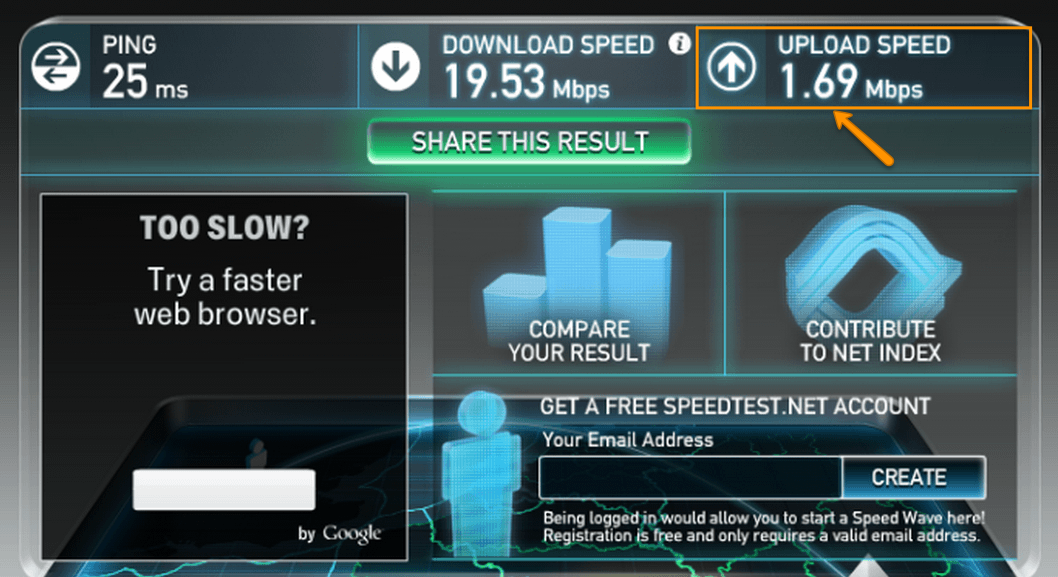 Note: the results are shown in Mbps while our uploader is showing you Kbps. (1 Mbps = 1024 Kbps, 0.5 Mbps = 512 Kbps). This is how fast your upload speed will be, assuming there are no other factors at play (ie. this is the fastest you would potentially be able to upload without any other service interruptions or shared usage).

If you're experiencing much slower upload speeds to our server as compared to your speed test results, then something is not working as expected! The cause of the issue would depend on your internet service provider, bandwidth, and a number of other factors. Please contact Pixieset Support with your location and your upload speed test results, and we will try our best to get to the bottom of the issue.


Use Google Chrome
We generally recommend using Google Chrome, as it is the leading browser among the modern options. Sometimes, switching to a different browser can improve your overall upload speeds. If Google Chrome is your standard browser, you can also try using an Incognito browser window with Chrome to see if the upload speed improves (which may indicate that there is a browser extension or plug-in being used which is interfering with your uploads).


Limitation by Internet Service Provider
Your upload speed is often determined by the connection between your ISP and our data center. We suggest attempting uploads on an entirely different network, such as at a coffee shop or using a mobile network, to confirm if the issue is specific to your network only. If it appears that the upload issue is happening on your network only, chances are that your ISP is limiting your upload speed, and you will need to contact your ISP directly to resolve the issue.


Other Potential Causes
Another factor that could contribute to slow upload speeds may be that your images files are too large. While we understand you want high quality images to be displayed and delivered to your client, chances are you are probably able to reduce the size of the file to some extent without compromising on quality. Doing so will greatly improve your upload experience, and save you space! There are a lot of great resources online that will walk you through reducing the size of an image file without compromising on quality.
You may also want to check to see if you're running a new AntiVirus program, if you have a firewall in place, or if any browser extensions or plug-ins were recently installed. These can all have an impact on your upload speed!