There are a few ways you can offer Albums to your clients through your Pixieset Store! Keep in mind though, Pixieset does not currently offer Albums through our Lab Fulfillment partners, so these will be have to be set up as Self-Fulfillment items. You can also use the steps outlined below for any multi-image items, such as tryptic frames, or collages.
Option 1: Lab Fulfillment Price Sheet  
On your Lab-Fulfillment Price Sheet you simply need to add a Self-Fulfillment product. To this go to Store > Products and select your Lab-fulfillment Price Sheet. Once you have this opened, you can use the +Add Product button to create a new Self-Fulfillment item.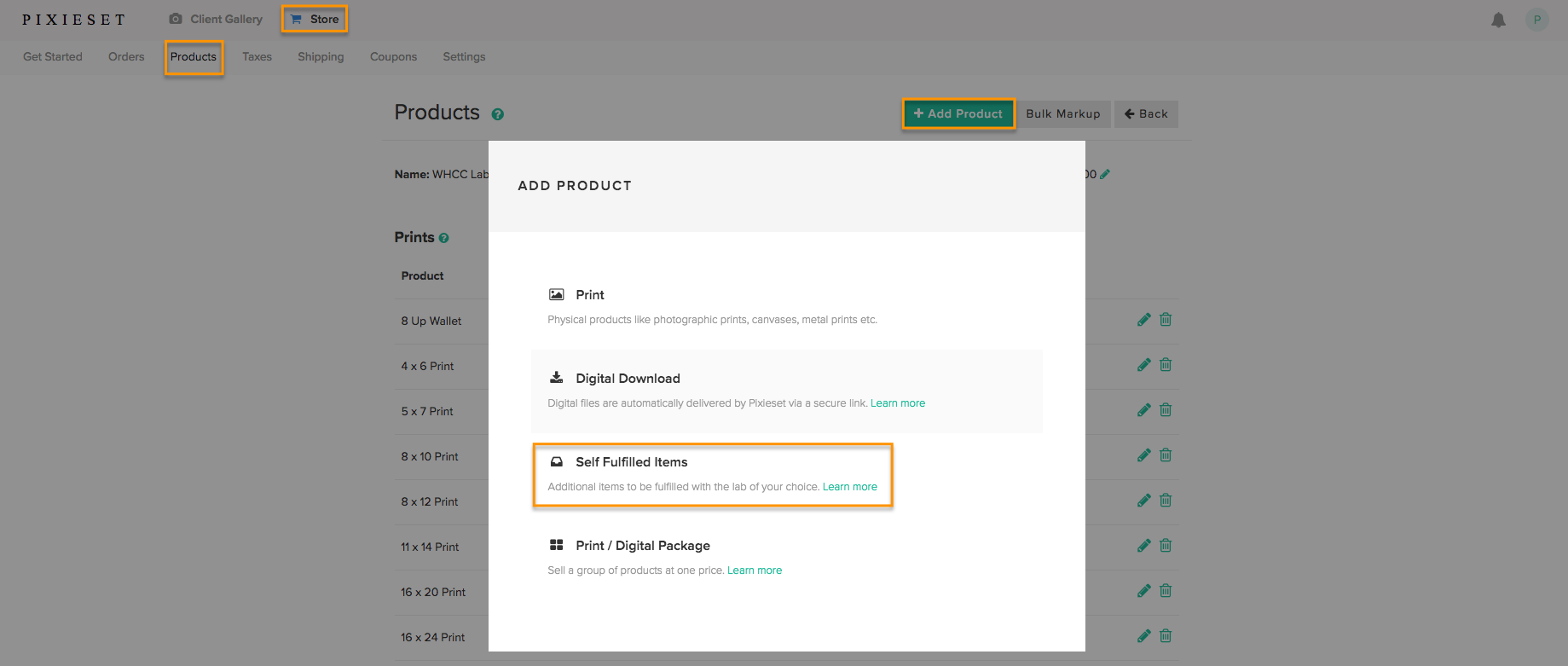 Once you have selected the Self Fulfilled Items template, you can create your item, titled, for example, "Album 10 x 10". Your clients will be able to select and purchase this item from the Price Sheet, without selecting what images they want within the Album. Once your clients have purchased the Album, you can ask them to go back into the Collection and create a 
Favourites List
 containing the images they would like to be displayed in their Album. 
When they have selected their Favourites, you will be able to access the information from the
Favourite
 section of the
Activity
tab. You can also download a list of the filenames within the list to your computer or Lightroom Catalogue. From there you can continue to Self-Fulfill the Album Order!
More information about Favourites can be found here.
Option 2: Self-Fulfillment Price Sheet
On a Self-Fulfillment Price Sheet, go to +Add Product and select Print/Digital Package. Once you have made this selection, you can name the Package "Album". You will then be able to select the amount of images you would like to go in the Album. From there, your clients will be able to assign the images to the amount of Products within the "Album" Package.

Step One:
To offer an Album on your Self-Fulfilment Price Sheet, simply click +Add Product and Select Print/Digital Packages: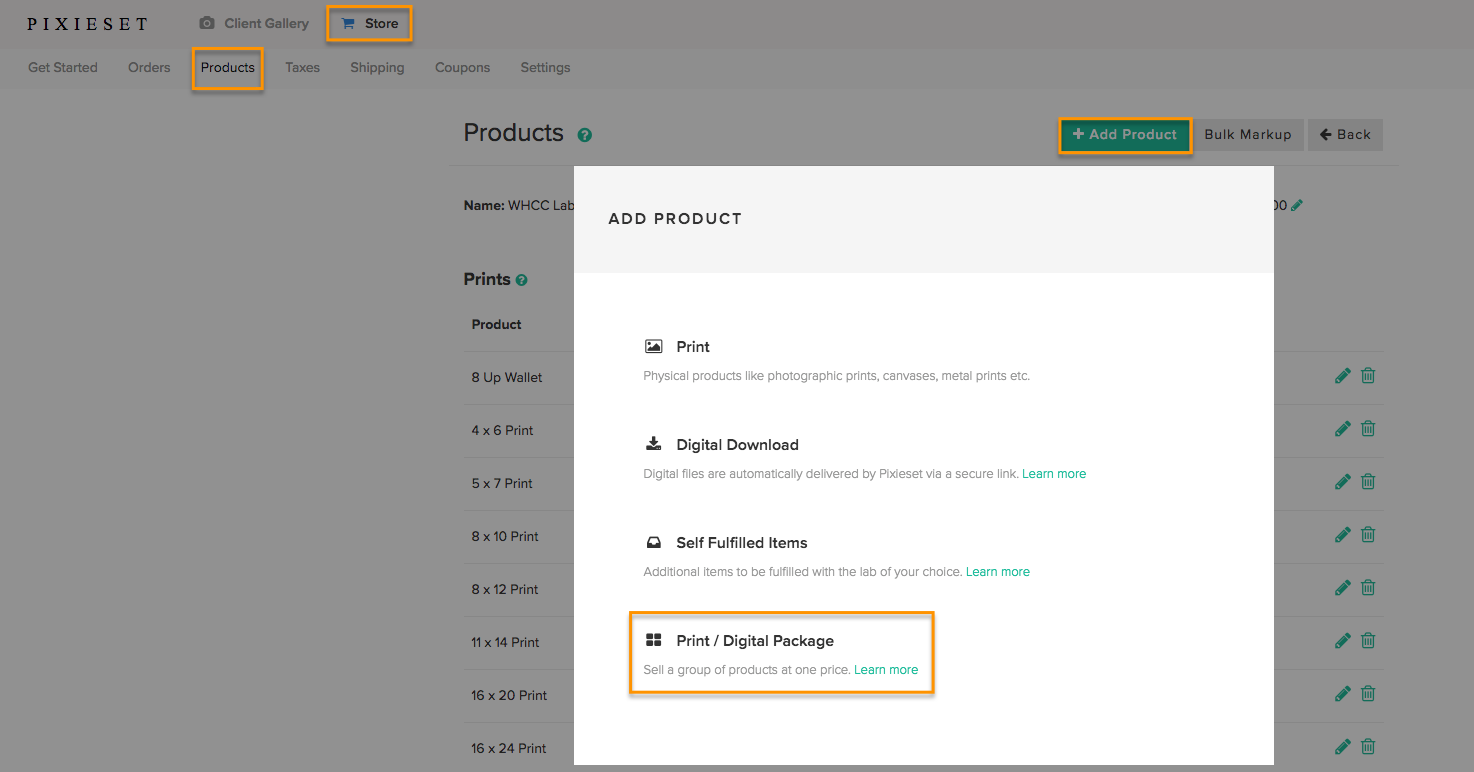 Step Two:
Enter all the information that is specific for the Album you wish to offer: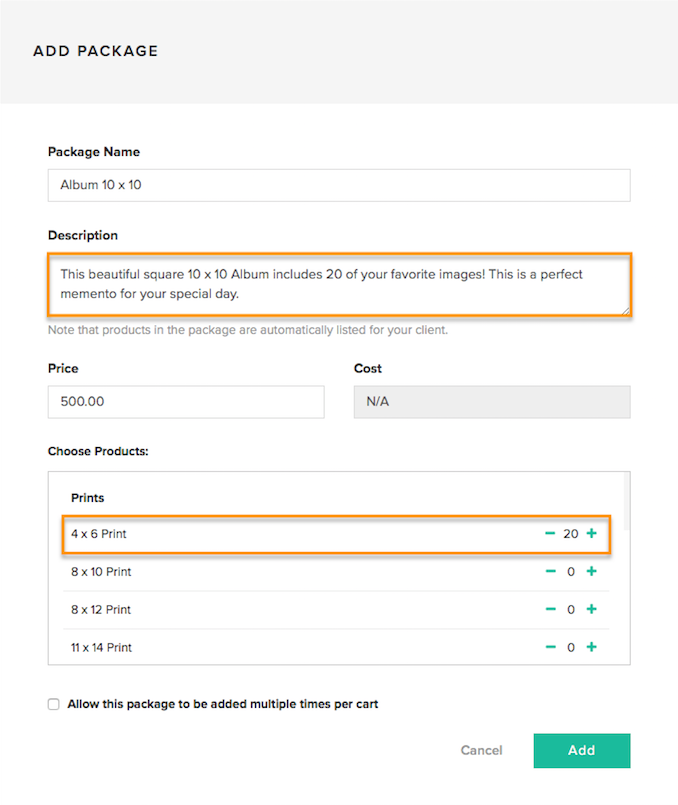 For this example we are offering an Album that contains 20 images. To accomplish this, we have selected a 4 x 6 Product, and set the Package to include 20 of these 4 x 6 Products. This will allow the client to select all 20 images that they would like to be displayed in their Album.

Note: The size you select does not actually matter. It will not effect the image/final product size. This acts as a guide to allow your clients to select all their desired images. 

Once you have completed the Album Package, simply click Add and it will be available for purchase on your Clients End!

What Does It Look Like For Our Clients?

Once your client has selected to buy an image, the list of available Products will pop up for them. From there they will be able to select the Album Package Product: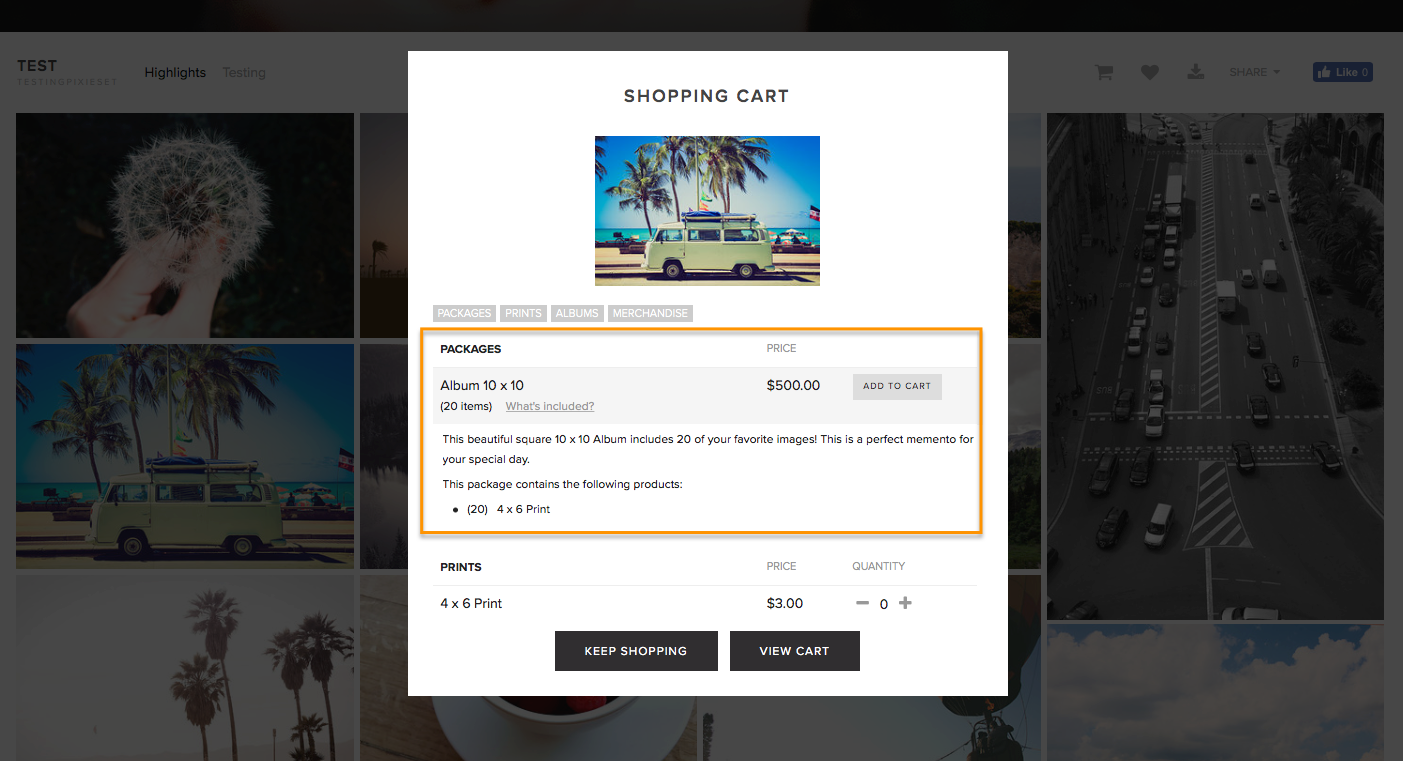 Once your clients have selected to add this Product to their cart, they will be prompted to select all 20 images they wish to associate with their Album, this will be displayed as: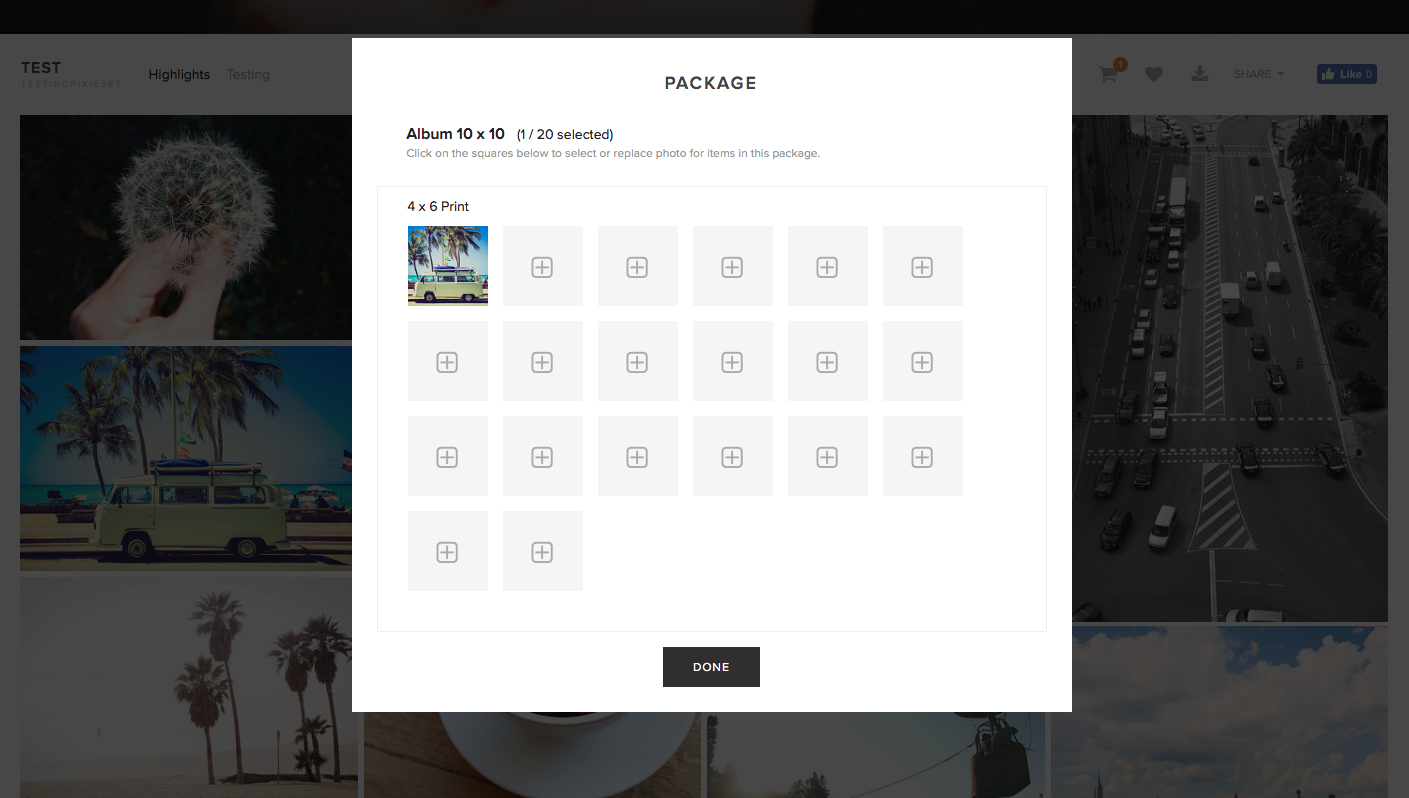 Once they have selected all 20 of their desired images, they can simply click Done; your client will be then able to check out or continue shopping. 

Once your clients have completed the checkout process, you will be informed that you have received a new Order. The Order details will display all the selected images for the Album Product. You will be able to use this list for your reference when Self-Fulfilling the Album Order with the Lab of your choice.