You can sell albums, photo books, collages, or other multi-image products in your Store as Self Fulfillment products. These items are not available through Automatic Fulfillment, but you can still offer them to your clients. To purchase one of these products, your client will add this item to their cart when placing their order, then add the images they want to select for their order to a Favorites List.
On this page:
Creating an album product (self fulfilled)
To add the product to your store, you'll first create a Self Fulfillment item on your existing price sheet. This will allow your clients to order the product and decide on any available product options, such as paper type or cover material.
Steps:
From your dashboard, go to Store > Products and select your price sheet.

Click on + Add Product and select Self Fulfilled Item.

Enter the product details.

Name - Name your product (eg. Layflat Album)

Description - Describe your album or multi-image product

Images - Upload up to 5 images of your product

Price - The price of the product. If you are adding multiple product options, you'll instead set the prices for each product variation individually.

Extra Shipping - Any additional shipping charge to add for the product. If you are adding multiple product options, you'll instead add the additional shipping charge for each product variation individually.

Category - The type of product you're offering (eg. Albums), which will determine where the product appears in your Print Store

Product Options - You can add product options to allow your client to customize their order. Click + Add product option to add new variations. For example, you can add an option to let your client select how many pages they want in their album. For this product option, set the Name to Pages, and add the different options as Values (eg. 10, 15, 25, 50, etc). You can also add other options, such as paper type or cover material.

Once you have added all of your product options, you can set the prices for each variation. You can also add extra shipping charges as necessary, or hide certain options if a particular variation is not available.

Click Save to add the new product to your price sheet. It is ready to sell, once your price sheet has been assigned to a collection. Learn more: Assigning price sheets to galleries

Here's an example of what your client might see in your store:
Helping clients select their photos
Once your clients have ordered the multi-image product in your Store, you can ask them to go back into the collection and create a Favorites List containing the images they would like included in the product. You can also create a list for your client in advance, and set a specific number of photos for your client to choose.
To create a pre-set Favorites List for your client, go to the Favorite Activity tab in their collection, click + New Favorite List and add your client's email address, and the maximum number of images your client can add to the list. Your client will then be able to log in with their email, and save images to this list.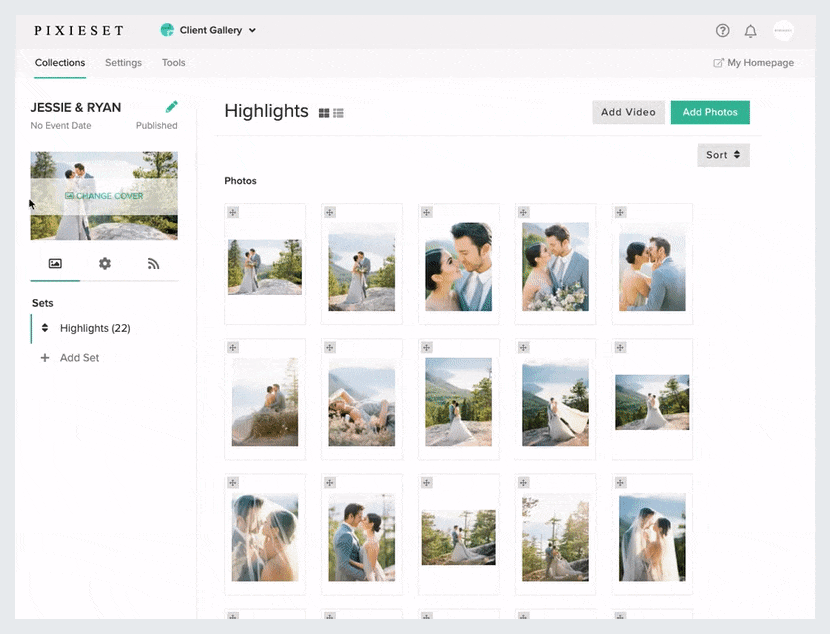 When your client has selected their favorites, you will be able to access the information from the Favorite section of the Activity tab. You can also download a list of the images within the list to your computer or Lightroom Catalog. From there, you can design and fulfill the album at a vendor of your choice.
Learn more: How does proofing with Favorites work?
Fulfilling the order
Photo albums, books, and other multi-image products are not currently available through Automatic Fulfillment, so you will need to order the product from your preferred vendor. Using the information your client provided in their order and the images in their Favorites List, you can design the product and place an order with the lab of your choice, and arrange to have the finished product delivered to your client.
Learn more about self fulfilled items: Can I sell both automatic and self fulfilled products?