Shipping is an important part of order fulfillment, and it works quite differently depending on whether you are using automatic fulfillment or self fulfillment.


On this page:
Automatic fulfillment shipping
If you are using automatic fulfillment with one of our print lab partners, you do not have to set up shipping methods. Everything is done for you automatically. The shipping methods available are determined by the lab and the client's shipping address, and the shipping cost will be directly charged and passed on to your client. You can check the available shipping methods for automatic fulfillment by going to your Store > Shipping > Automatic fulfillment.

Note: Clients will be presented with available shipping methods at checkout after entering their shipping address. They'll see shipping time estimates and costs as well as production time estimates for the products ordered. There may be surcharges added during checkout depending on the client's delivery area.


How does it work?
Your client picks a shipping method during checkout
The cost is added to the order total and charged to your client
Pixieset will take this amount as cost of goods sold and pay the print lab directly
Print lab will ship to your client directly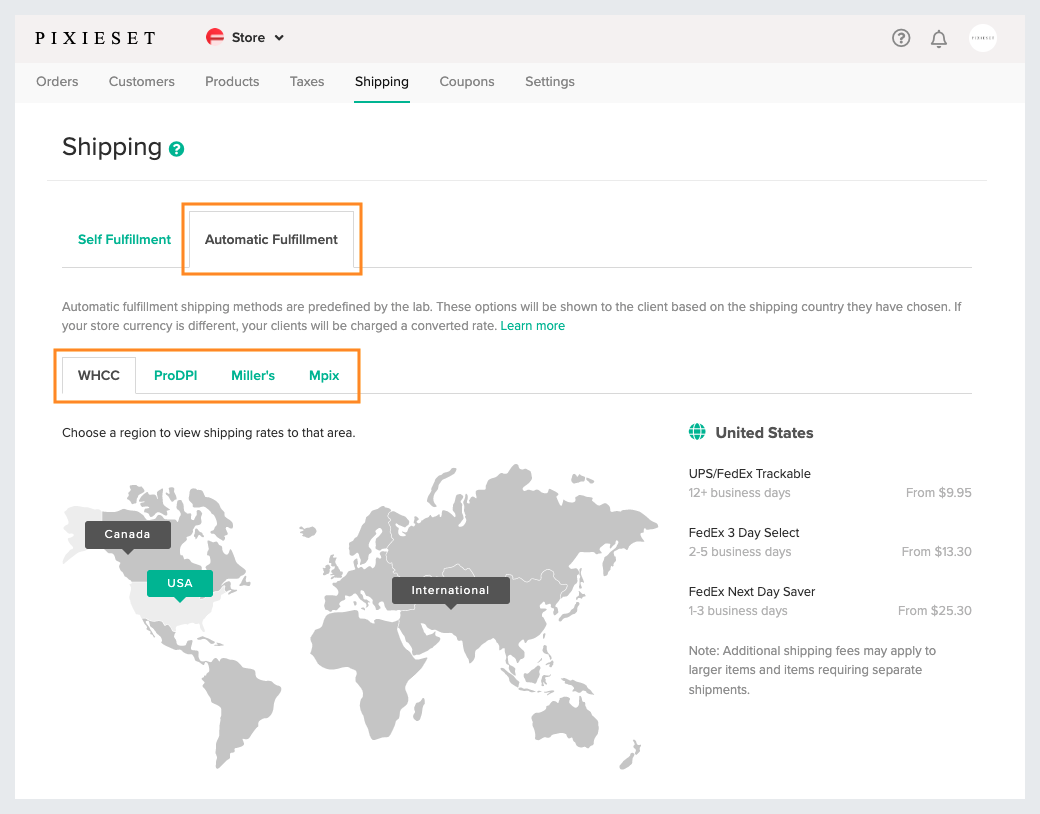 White label packaging
If you're using automatic fulfillment with one of our partnered print labs, orders are drop-shipped to your client directly in a white label packaging, giving them a seamless experience from start to finish. There will be no mention of the print lab on the shipping label, inside the box or anywhere else (unless required by regulations in some countries).
Self fulfillment shipping
If you have decided to self fulfill your orders, you must setup your store with shipping methods before you can starting selling. Your shipping methods will determine what countries is available at the checkout. For example, if you only have a shipping method to the US, only US customers will be able to checkout.
Learn more: Setting up shipping