Studio Manager's Quotes feature helps convert prospective clients faster by offering them an elegant way to confirm the services they'd like.
A quote is a document you send to a client to invite them to select the services and options they are most interested in. Sent prior to an invoice or contract, it is an opportunity to build a relationship and share a cost estimation with your customer before they commit to working with you. You can learn more about how quotes can elevate your sales process in our blog post here.
This help article will go over how to create your first quote, and how to customize it with different quote item types and advanced options, such as auto creating an invoice.
On this page
Creating a new Quote
To create a new quote, go to your Studio Manager Dashboard > Quotes and click the Create Quote button.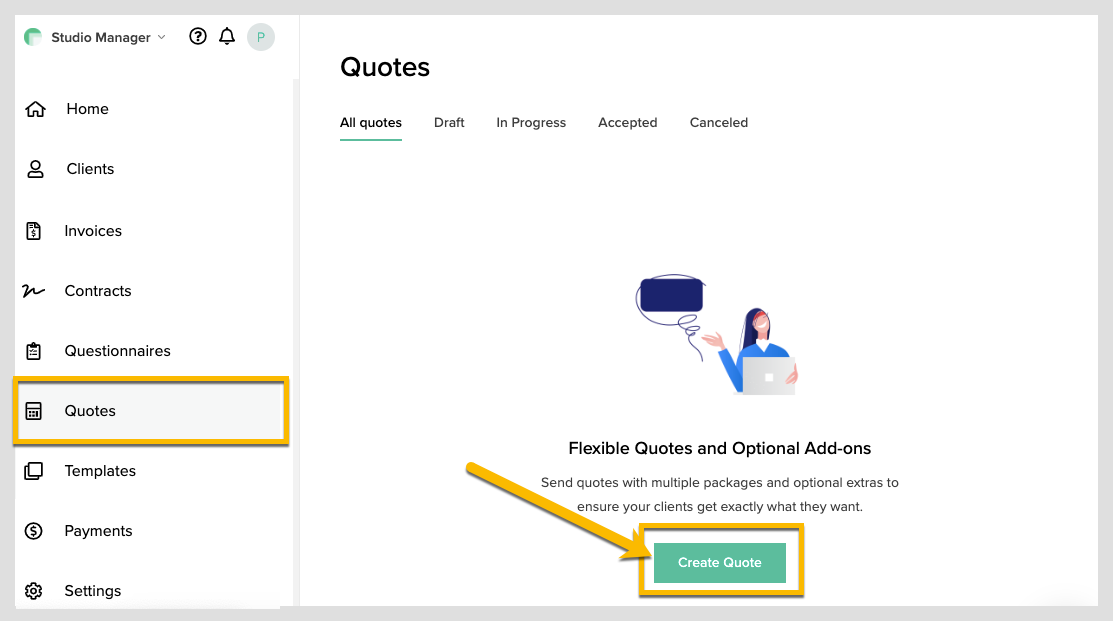 From here, choose who the new quote is for by typing the name or email address of a client you have added to Studio Manager. Alternatively, you can click the Add new client option to create a new client for your quote.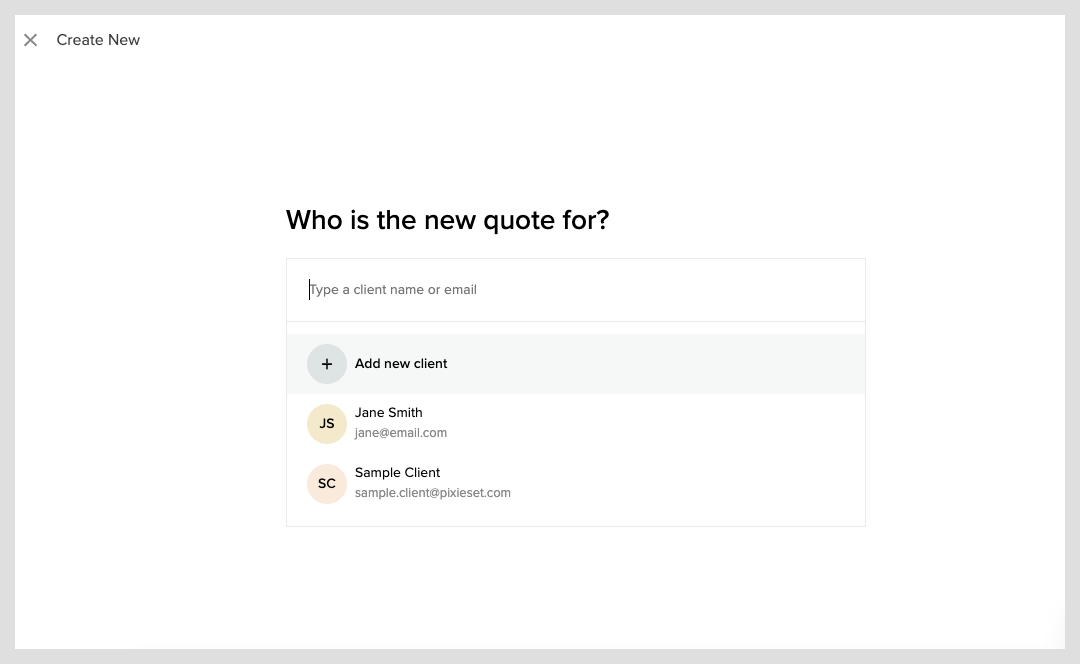 Once you have selected a client, you will be taken to a blank draft quote that you can begin editing right away! If you have any existing quote templates, you will instead be asked whether you'd like to use one or start from scratch.
Building Quote Items
There are three types of quote item types you can add to your quote: standard item, client selection item, and optional item. To add your first item, click on the item type you'd like.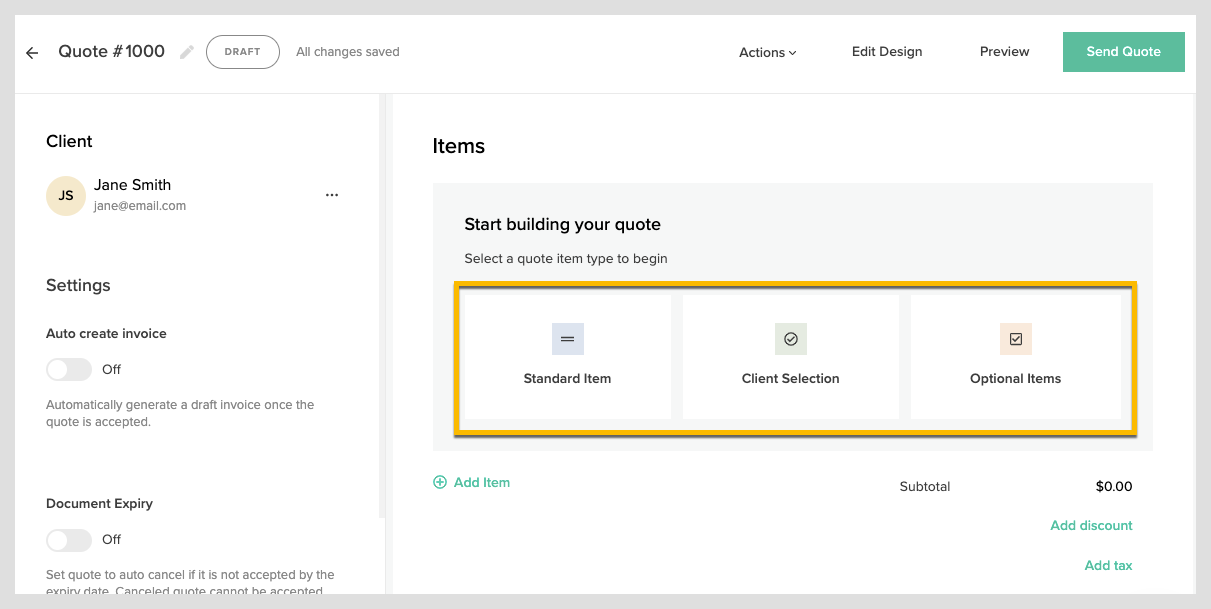 Standard Item
The standard item type is used for required items, which your client cannot omit from the quote.

When you add a standard item to your quote, you will be able to customize its name, description, quantity, and price.
For example, if you have a set price for the consultation or upcoming session, the standard item would be the best type to use.
Client Selection Item
The client selection item type is used to provide your client with multiple item options, of which they are required to select one.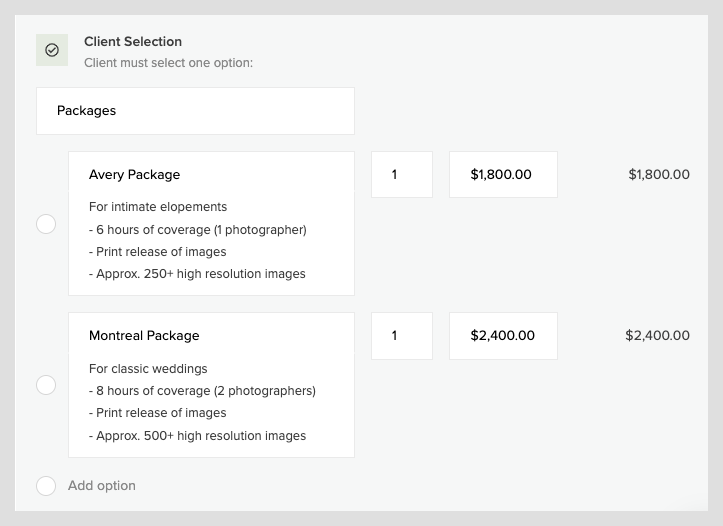 When you add a client selection item to your quote, you will have the option to customize the selection name, and then list out each individual options' name, description, quantity, and price.
For example, if you offer two session packages and want your client to select one, this client selection item would be the perfect item type.
Optional Item
The optional item type is used to display optional items that your client has the ability to add or leave out of their quote.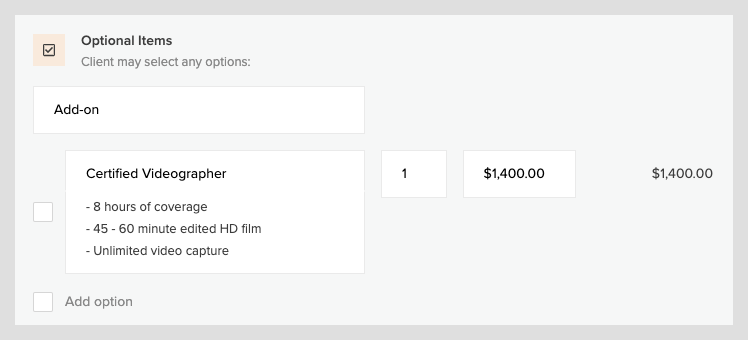 For example, if you offer additional services like an extra photographer or a custom mobile gallery app, this optional item is a good fit.
Allow clients to choose quantity
Regardless of the item type that you choose, you have the ability to allow your client to adjust the item's quantity up to a pre-determined maximum. This is a great option for items or services that can be purchased multiple times.
To do this, simply hover over the specific item option and select ••• > Set quantity.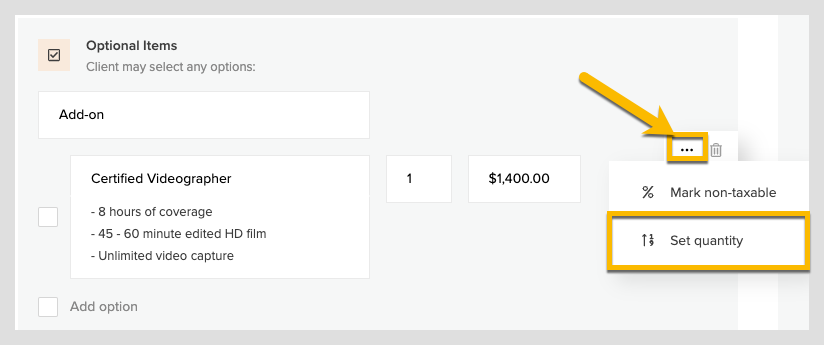 In the Set Quantity pop-up that appears, you can toggle Allow Clients to choose quantity on.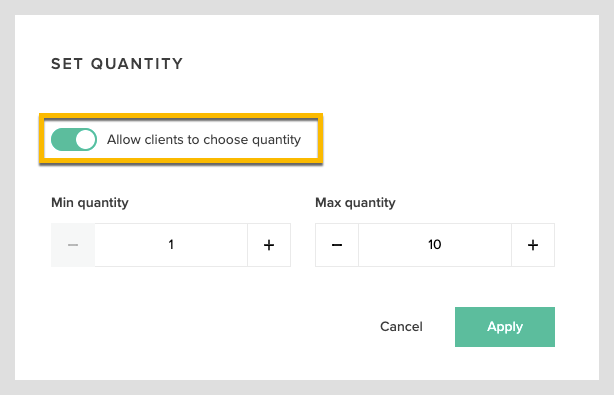 Additionally, you can adjust the Min quantity and Max quantity values to determine how many of this item a client can add themselves. Once you are done, click Apply to update the item.
Modifying taxes and discounts
If you'd like to mark a specific item as non-taxable, you can do so by hovering over the specific item option and select ••• > Mark non-taxable.
You can also apply taxes and discounts to the overall quote under the quote's subtotal section.
For more information on setting up taxes and discounts, click here.
Moving or Deleting Items
When there are multiple items in the quote, you can hover over a specific item and use the arrow icons to change the order of the item. If you'd like to delete the item instead, you can do so by selecting the trash icon instead.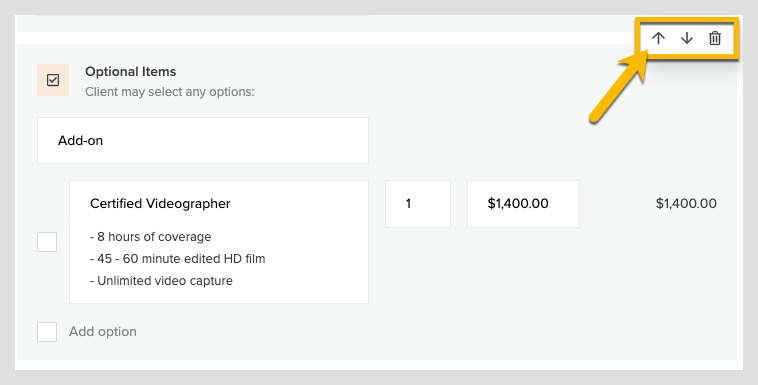 Customizing your Quote
Studio Manager makes it easy to personalize your quote for your client. To customize the number of your quote, simply click directly onto the number in the top left hand corner of the editor.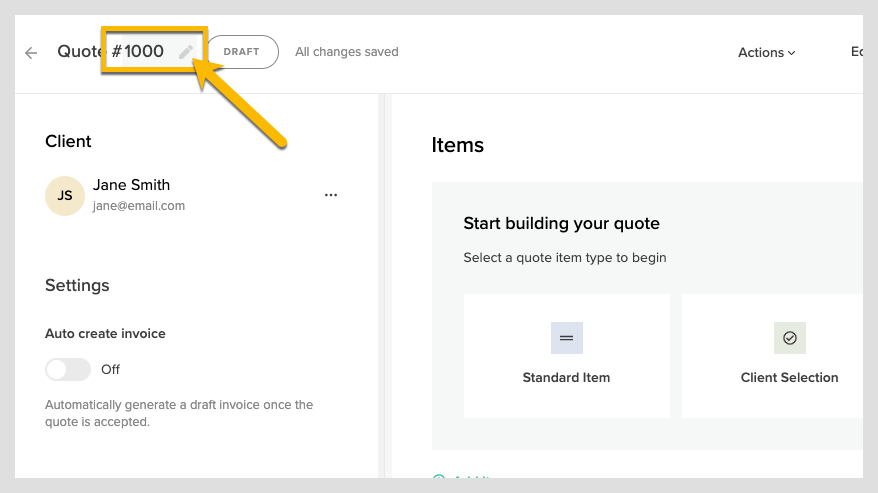 If you need to change or update the quote's client for any reason, you can do so by clicking ••• to the right of the current client's name and selecting the applicable option.
To edit the overall design of your quote, click Edit Design in the upper right hand corner of the quote. From within the Edit Design panel, you can select a specific Cover Image to appear at the top of the specific quote.
To access additional design settings, such as assigning a default Cover Image, Color Theme, and Font Theme, go to your Studio Manager Dashboard > Settings > Branding.
Adjusting your Quote Settings
On the left-hand side of the quote editor, there are four settings that you can modify: Auto create invoice, Document Expiry, Document Reminders, and Currency.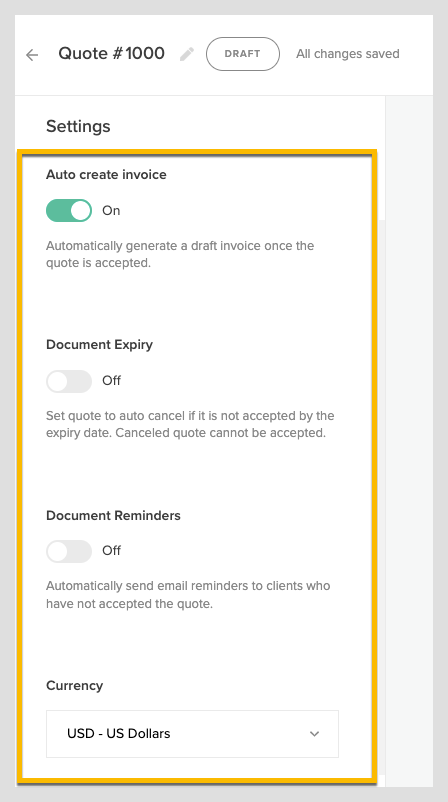 Auto create invoice
With the auto create invoice option, you can set it so that when your client accepts the quote, a draft invoice is automatically created for you to modify and share. This is a great way to streamline your workflow, and save time from manually building the new invoice afterwards!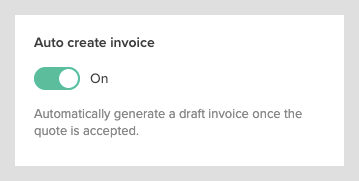 Document Expiry
If you'd like to automatically cancel your quote if it is not accepted by a certain date, you can set up a Document Expiry date! To do this, toggle Document Expiry to On. Then, click the date and select a specific day from the calendar, or choose one of our timeline options (i.e. 7 days after, 14 days after, etc.).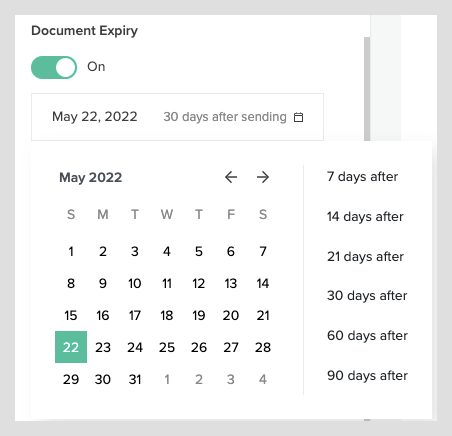 This premium feature is available to users on an upgraded Studio Manager Plan or any Suite Plan.
Document Reminders
To remind your client to accept their quote, you can send email reminders through the Document Reminder feature! Simply toggle Document Reminders to On, then select from 3 days after sending, 7 days after, 14 days after, 21 days after, and 30 days after.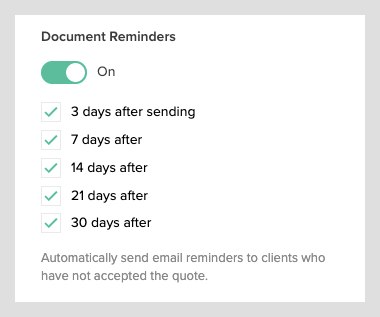 This premium feature is available to users on an upgraded Studio Manager Plan or any Suite Plan.
Currency
Your quote's currency will be set according to your Studio Manager's default currency. If you'd like to change this for the specific quote though, you can do so with the quote's Currency setting.
Additional Actions
When editing your draft quote, you can the following actions by selecting Actions in the top right hand side. The quick actions for a draft quote include: Edit quote number, create template, duplicate, and delete.

Edit quote number: Modify the quote number.
Create template: Generate a quote template based on your current quote. This is a great way to get a head start and save your current quote's content for future quotes.
Duplicate: Create a copy of your current quote as a separate draft quote.
Delete: Remove the quote from your account. This action is permanent and cannot be undone.
Adding Notes
If you want to leave a personalized note or simple instructions for your client, you can do so with the quote's dedicated Notes section.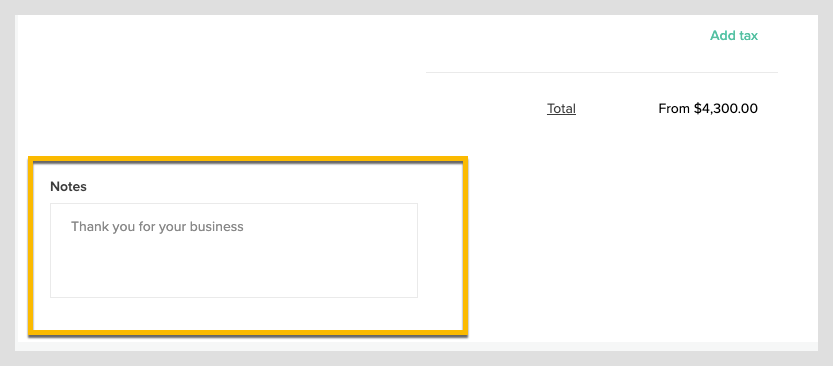 Once you are finished editing your quote, you can send it to your client by clicking Send Quote! To learn more about sending a quote, click here.