In order to sell products in your Pixieset Store, you will need to set up a Payment Gateway to receive funds from clients. You can choose between Stripe, PayPal, or Offline Payment, or any combination of the three options if you wish to offer multiple checkout options for your clients.
Integrating PayPal Express Checkout offers your clients a variety of payment options, including their own PayPal account, credit card or Visa debit card. When using the PayPal payment method, your clients will be directed to PayPal to complete their payment.
You will need a PayPal business account (either a Pro or a Standard account) in order to successfully complete this setup. Funds from your sales will be deposited into your PayPal account immediately, and you can manage your proceeds directly within your PayPal account.
Here is the step-by-step guide to setting up PayPal as a payment gateway:

1. Go to the Store Dashboard, and click on Settings > Get Started (beside PayPal):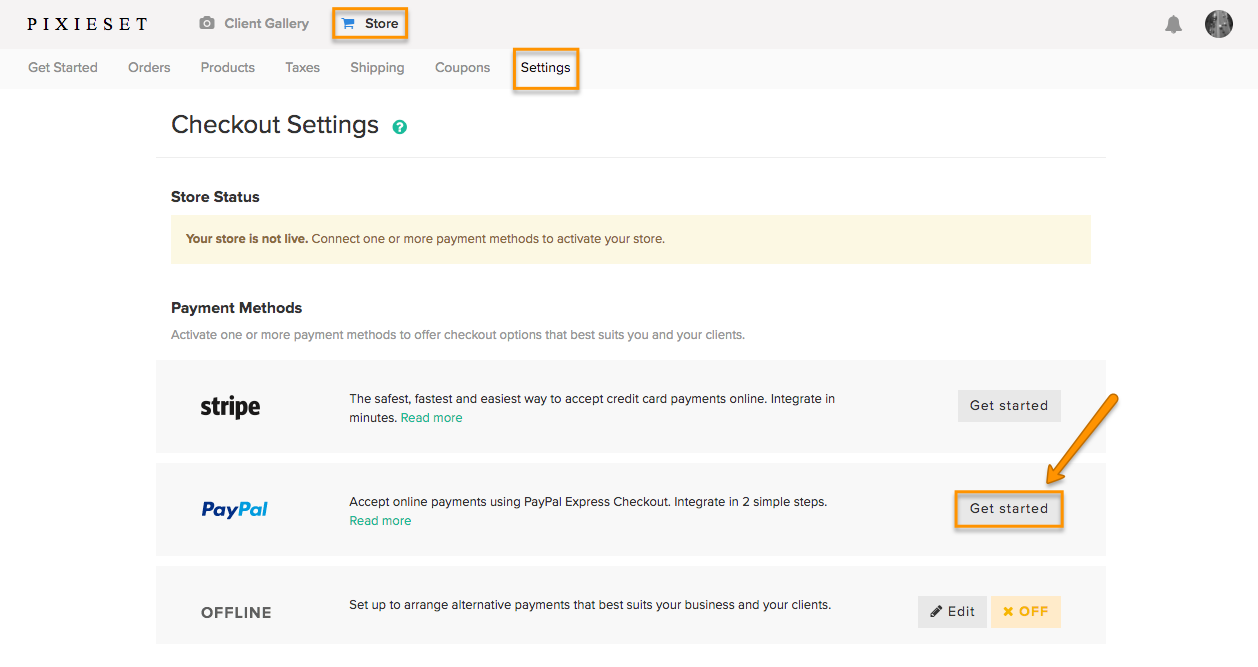 2. Click on "Add your API Credentials". We will need your PayPal API credentials in order to access your account and set up payment information.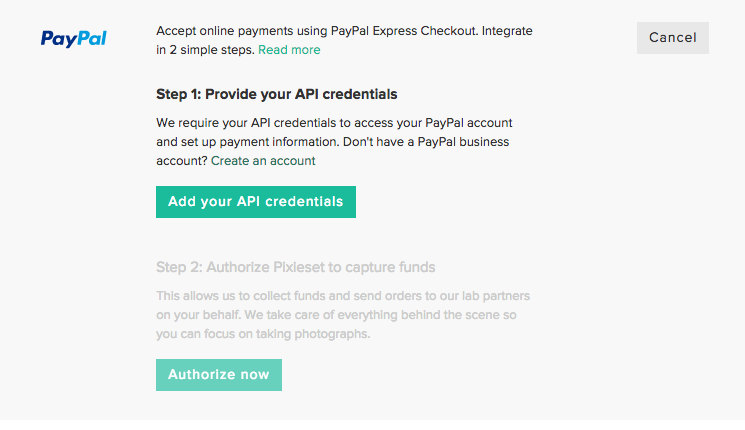 Your PayPal API credentials are a combination of three fields. You can easily obtain your credentials by logging in to your PayPal account in the pop-up window, and clicking on Profile > My selling tools > API access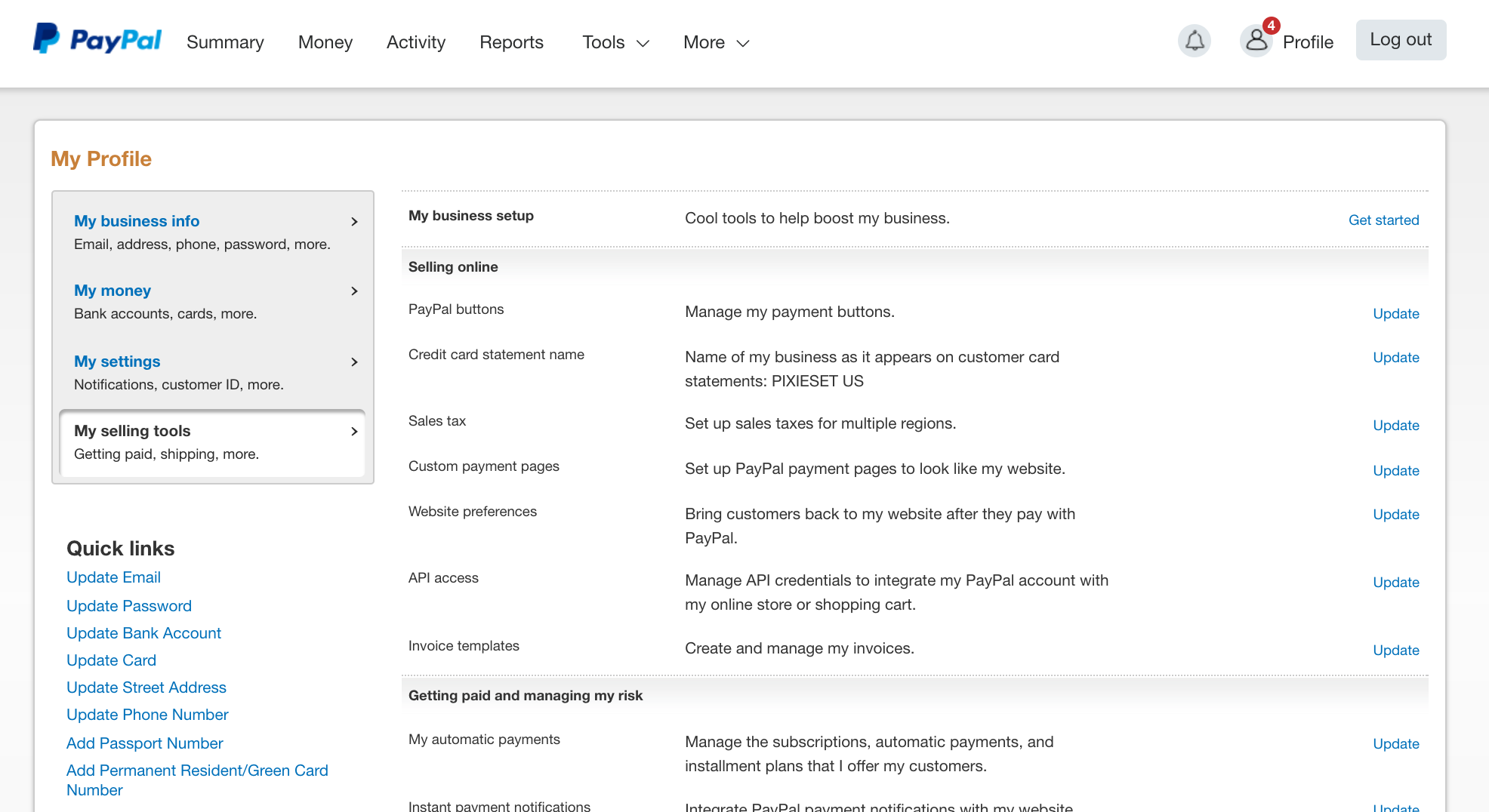 On the API Management page, select the option for NVP/SOAP API integration.
For your Pixieset Account, you need the API signature - not the API certificate or fingerprint.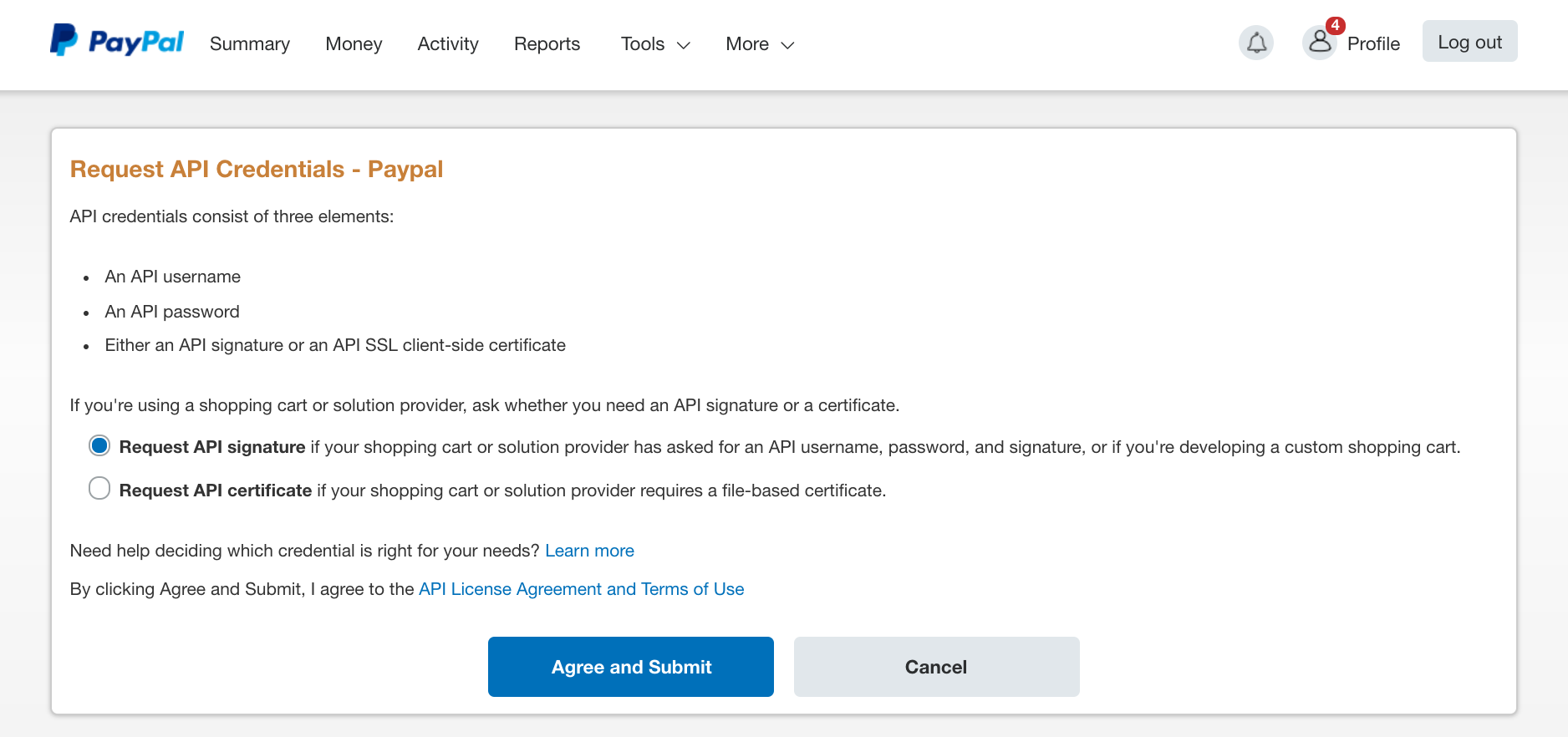 View your API Signature, and click on "Show" to copy the required information.
3. Copy and Paste the information to the appropriate fields.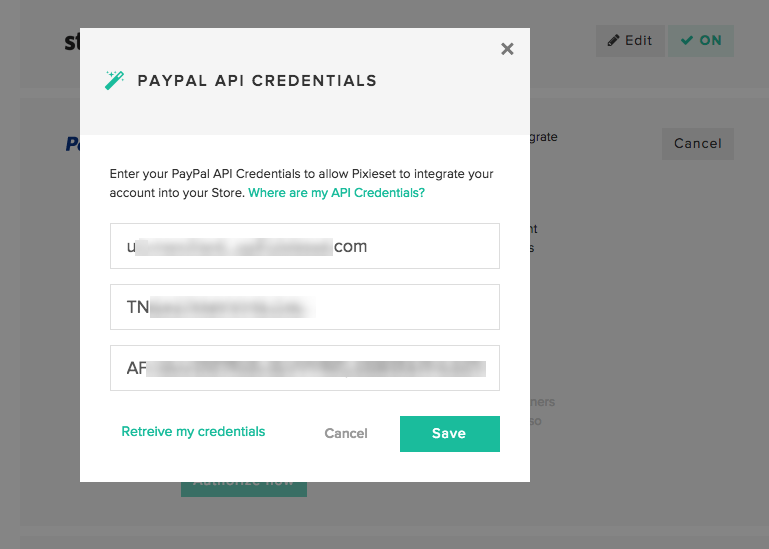 4. Click on Save, and you should then see an "Added" indication.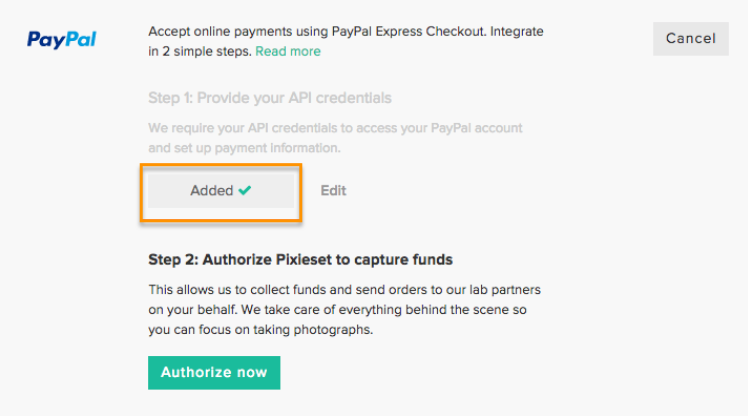 5. Click on "Authorize now" under Step 2. This will enable us to transfer any fees for the Order (the Lab's Cost of Goods, or the Commission Fee where applicable):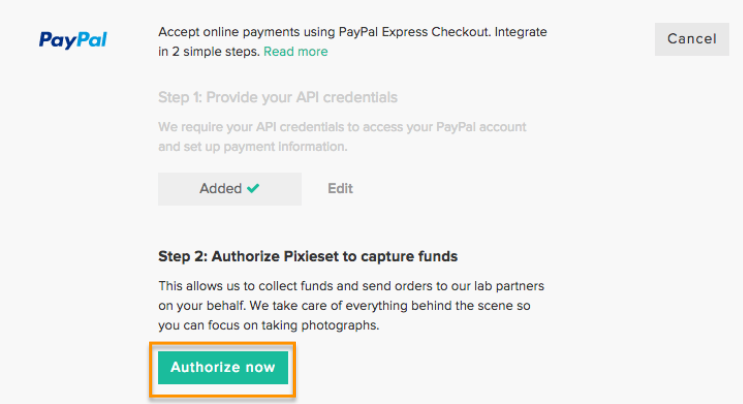 You will be directed to PayPal's site so that you can log in and complete the authorization. Once logged in, click on "Agree and Continue".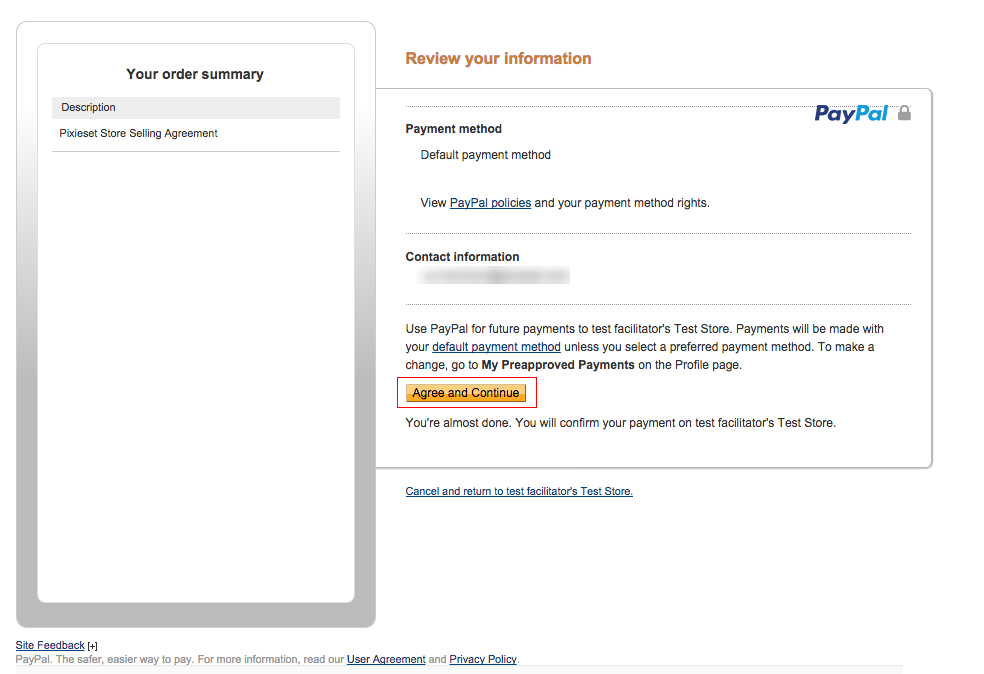 6. You should be redirected back to your Pixieset dashboard. If you see a green ON indicator, that means everything has been set up correctly and you are ready to go!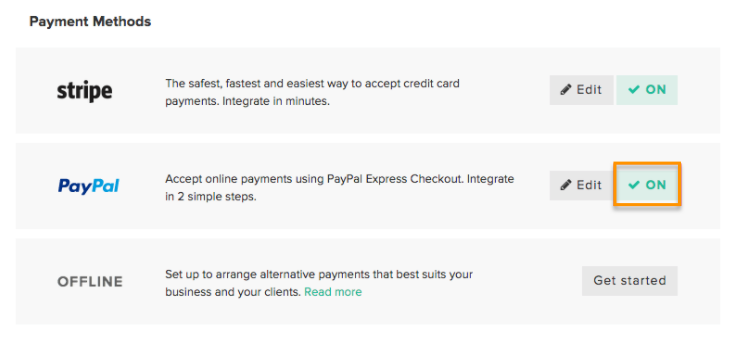 7. You can click on the Edit button at any time to go to your PayPal dashboard, or make other changes to your PayPal set up.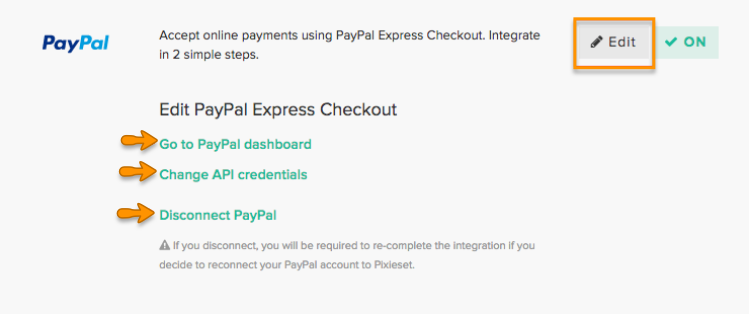 Once enabled, your clients will be able to see PayPal as an option upon checkout. They will be able to click on the "Checkout with PayPal" button, and complete their payment on PayPal's page. They can pay with their PayPal balance, or using a debit/credit card.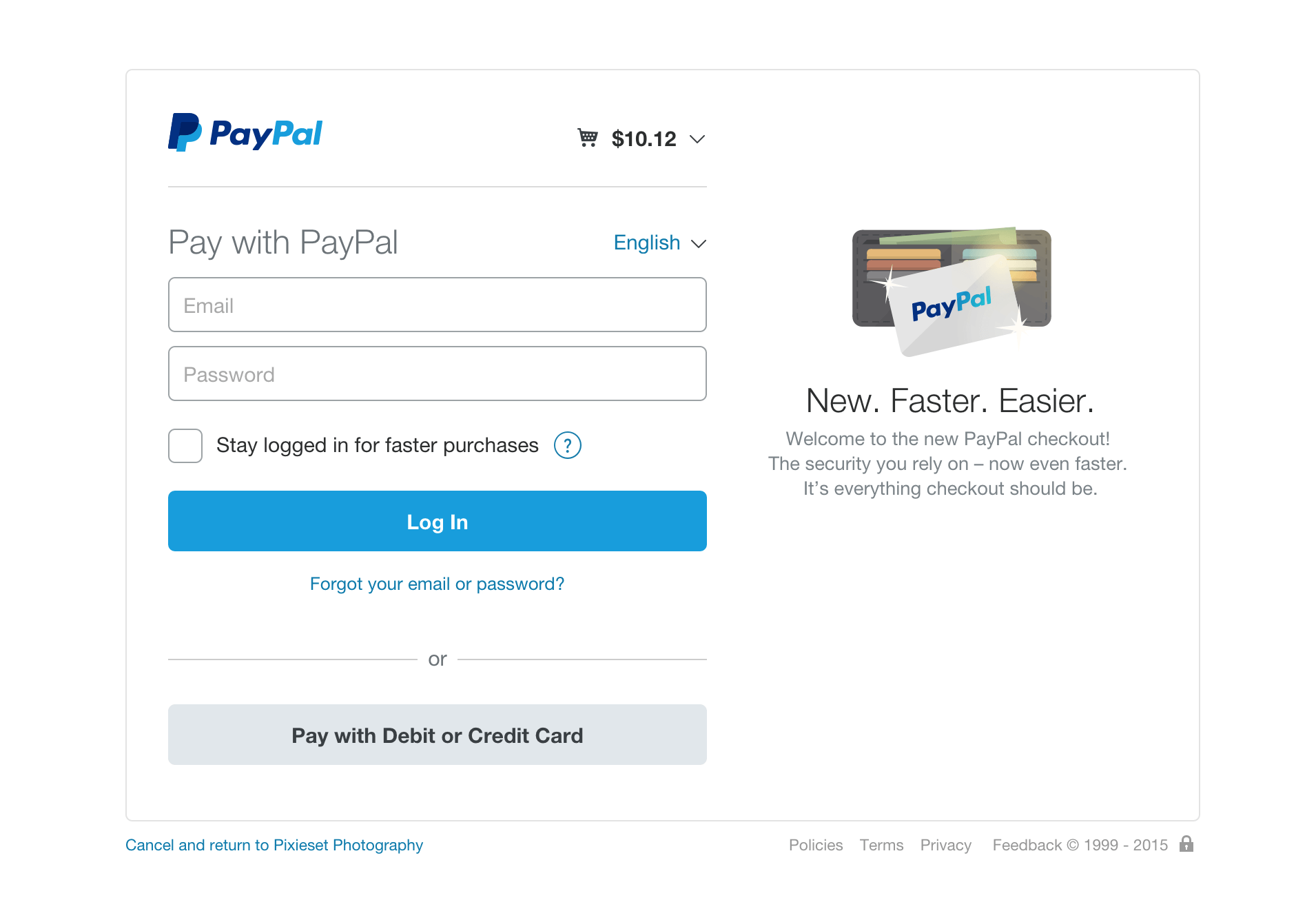 8. You will be redirected back to the Store Dashboard > Settings page. Simply switch the Store ON to start selling!
Note: Collections created before your Store is set up will have the Store OFF by default. You can turn the Store on for these Collections by going into each Collection, and changing the Store Status to ON within the Store section of the Collection Settings tab.