Want to refer friends to Pixieset? You can earn bonus storage or referral credits while doing so!
How to refer friends:
It's easy to refer friends. Simply click on
Profile
Icon
>
Refer a Friend
. From here you can grab your unique referral link to share, or send an email invitation directly from this page.

Rewards:
When your referred friend signs up using your unique referral link and starts actively using Pixieset, you will receive 250 MB of bonus storage on your account. If your referred friend upgrades to a paid Subscription, at the end of their first billing cycle, you will receive an additional 250 MB of bonus storage (if you are on the Free account), or $10 in referral credits (if you are on an upgraded account).
Your referred friend will also receive 250 MB in bonus storage by signing up using your referral link!
Track Referral Status:
You can track the status of your referred friends in the Referral dashboard. Here you will be able to see a summary of what you have earned, and also check the status of individual referrals.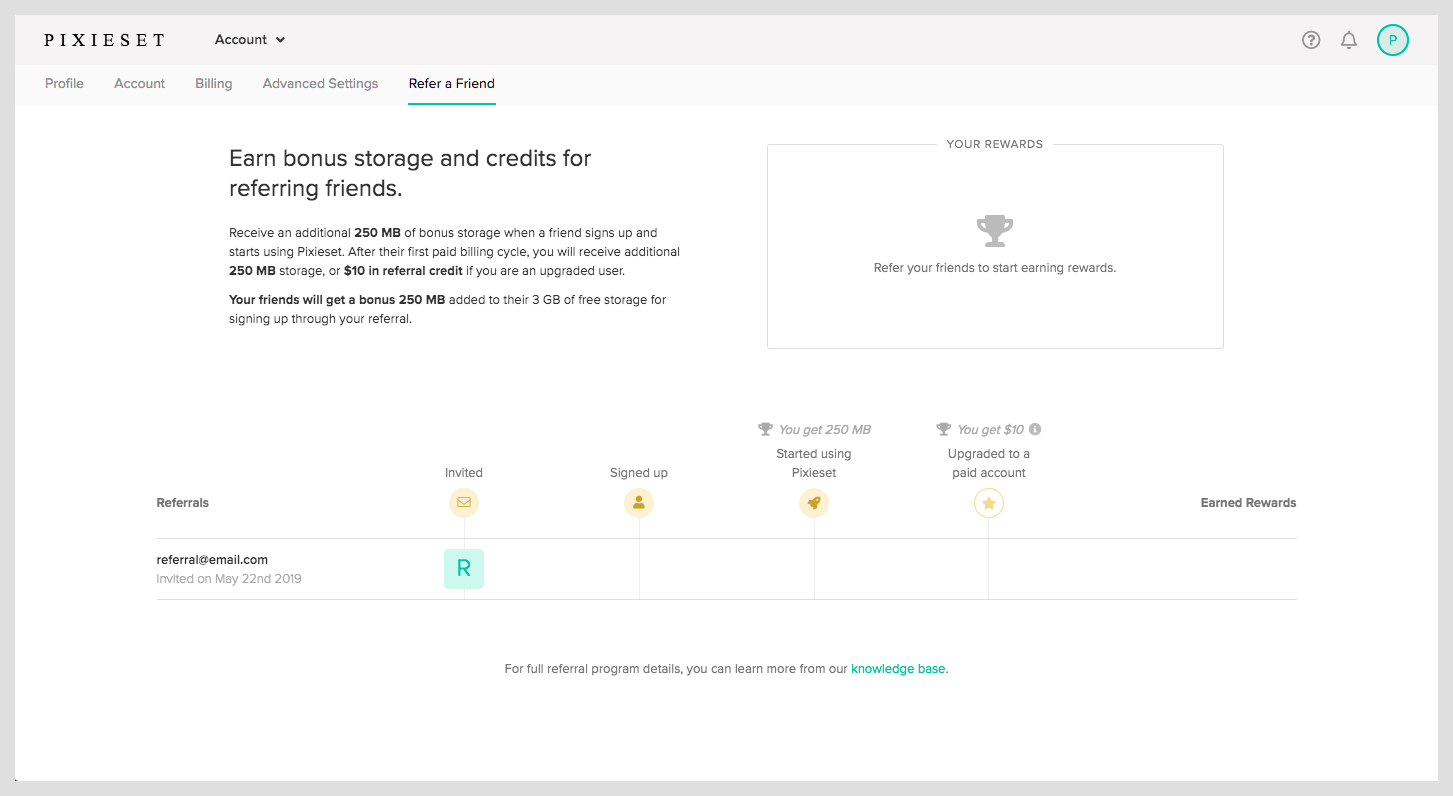 ---
FAQ:
Am I eligible to refer friends?
You can participate in the Referral Program as long as you have an active Pixieset account that is in good standing. You can refer friends even if you are on the Free account, but the reward you will receive might differ depending on the type of account you are on.
The email address I invited is showing a "not eligible for referral" message.
In order to be eligible for a referral, the email addresses entered must be valid, and cannot be linked to an existing Pixieset Account. You also cannot invite someone who you have previously invited; if they have lost the invite, you can always share your unique referral link with them again.
My friend signed up using my referral link, but I did not get the 250 MB bonus storage.
In addition to signing up, the referred friend must have also started using Pixieset actively for this to be deemed an eligible referral. Once the referred friend has started using Pixieset, you will see the 250 MB bonus storage added to your account within 24 hours.
Why is my bonus still showing as "gray" when my friend has upgraded their Account?
The "gray" amount indicates that their first billing cycle hasn't completed yet! You will receive this bonus as soon as their first billing cycle has completed.
What is the maximum amount of bonus storage or referral credits that I can earn?
You can earn a maximum of 7 GB in bonus storage, and a maximum of $200.00 in referral credits!
If I cancel/downgrade my account, what will happen to my referral credits?
Referral credits can only be used towards future subscription charges and are not refundable once used. Referral credits have no cash value and cannot be transferred or exchanged for cash. If your account is cancelled, any unused credits will be voided.
My friend forgot to use my referral link. Can they still be added as my referral?
We will not be able to track or attribute any referrals unless they have used your referral link or clicked through your invitation email. Please be sure to remind referrals to use your link before signing up!