When you first sign up for a Pixieset account, you are automatically placed on the Free plan. You can upgrade your subscription for individual products or the suite (all-in-one) plan at any time for more features.
Pixieset Suite (all apps): Starts at $28/month, view full pricing and features here.
Client Gallery: Starts at $8/month, view full pricing and features here.
Website: Starts at $12/month, view full pricing and features here.
Changing your Subscription
You can update your subscription at any time in your dashboard. Click on the Profile Icon at the top right of the page, and then Billing. Here you will get an overview of your current subscriptions, and upgrade, downgrade, cancel or change between monthly and yearly billing.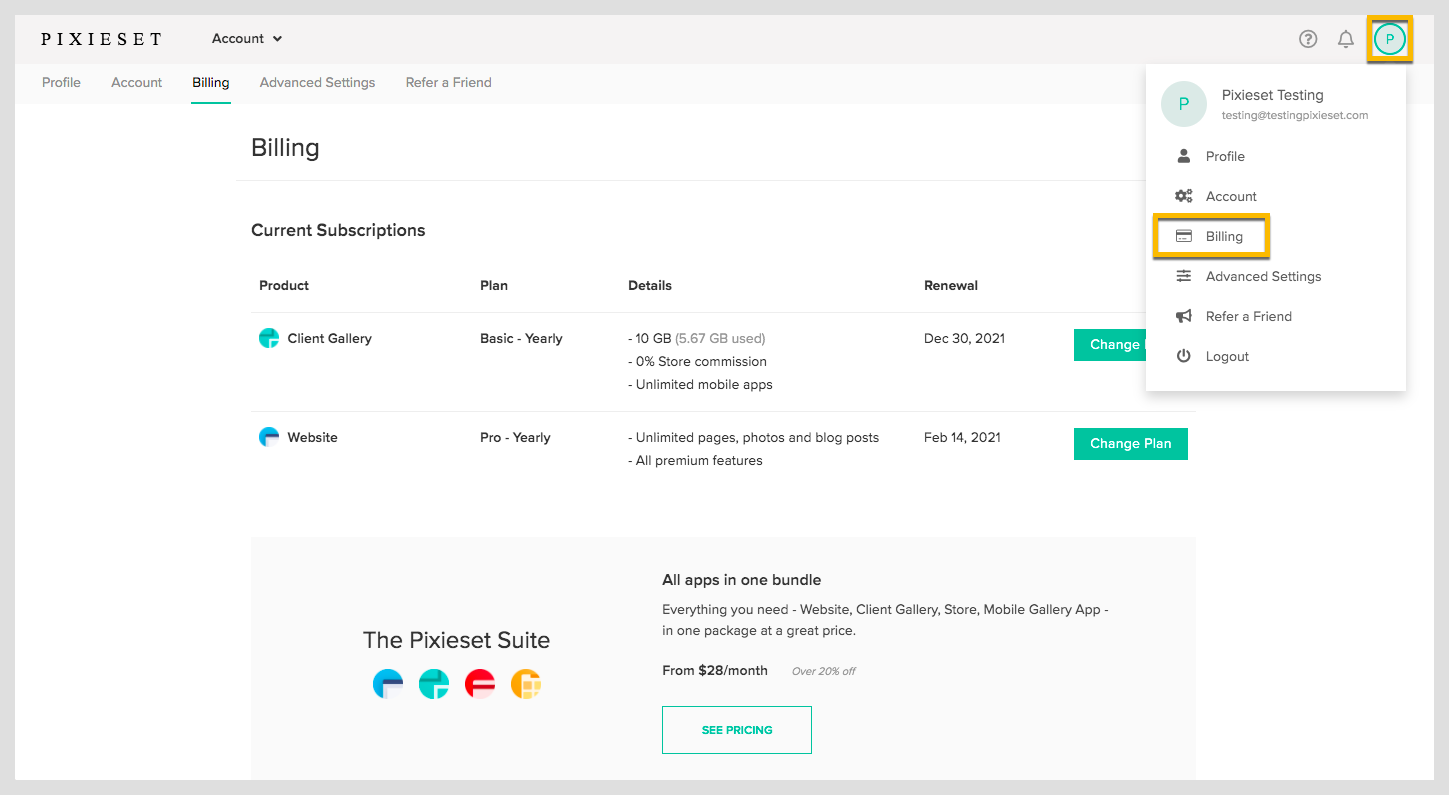 Upgrade and downgrading between Paid Plans:
You can upgrade and downgrade between any of the paid plans at any time. Click on the Change Plan button beside the product you'd like to update, and you will be shown the available plans.
What happens to the amount I've already paid?
When you change between paid plans, the unused time from your current subscription will be pro-rated and credited towards your new plan. If your new plan costs more than the amount of credit, you will only be invoiced the difference in cost. Any remaining credits will stay on your account and be automatically applied towards future invoices.
For example, you subscribed to the Basic - Monthly Plan, but decided to change to the Yearly Plan on the same day. You would receive a pro-rated credit of $10, which goes towards the new subscription cost of $96 and you would only be charged the difference of $86.
Note: Credits will only be applied if you are changing your subscription to another paid plan. This does not apply if you downgrade to Free or cancel your subscription.
Cancelling your Subscription
All subscriptions are set to automatically renew at the end of the billing cycle. You are able to cancel your subscription at any time, or disable auto-renew for yearly plans (your subscription will cancel at the end of the yearly billing cycle). To do this, go to Billing > Change Plan > Cancel Subscription.
If you are on a monthly plan, any cancellation or downgrade to Free request will happen immediately. Please review the changes to your account before confirming the request.
If you are on a yearly plan, you can choose to cancel immediately, or cancel your subscription at the end of your billing cycle. For the latter, your subscription will remain active until the end of the current billing cycle. If you selected this option but later changed your mind, you can simply resume your plan.
Note: Any unpaid invoices will need to be paid before you can make changes to your subscription. If you would like to cancel or change your Subscription without paying the outstanding invoice, please contact support.
Accepted Methods of Payment for Subscriptions
We currently accept Visa credit and debit cards, MasterCard credit and debit cards, as well as American Express and Discover credit cards.