With Studio Manager, you can access your Settings to review and manage your branding, business profile, connected payment methods, and general preferences. This article will explain these settings in detail.
On this page:
Accessing your Studio Manager Settings Page
You can access your Studio Manager Settings by going to your Studio Manager Dashboard > Settings.
At the top of the Settings page, there are four categories: Branding, Profile, Payments, Preferences, and Integrations. You can access the specific settings for any of these categories by clicking the corresponding heading.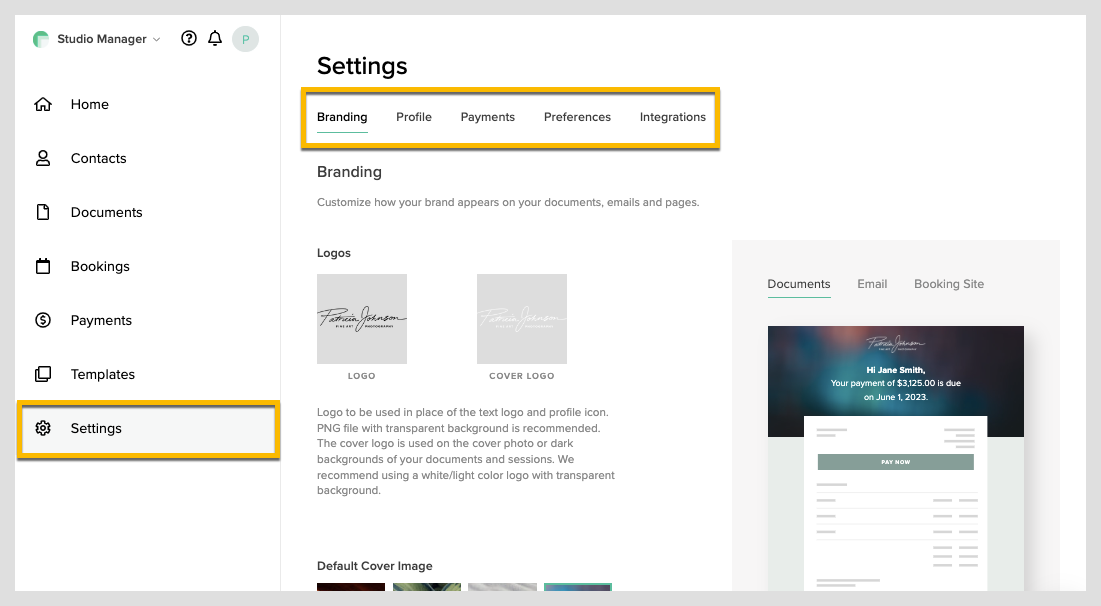 Adjusting your Branding
Your Branding Settings page allows you to easily customize how your brand appears to clients across your documents, sessions, and emails. Branding settings include adding a logo and default cover image, and selecting a color theme and font theme.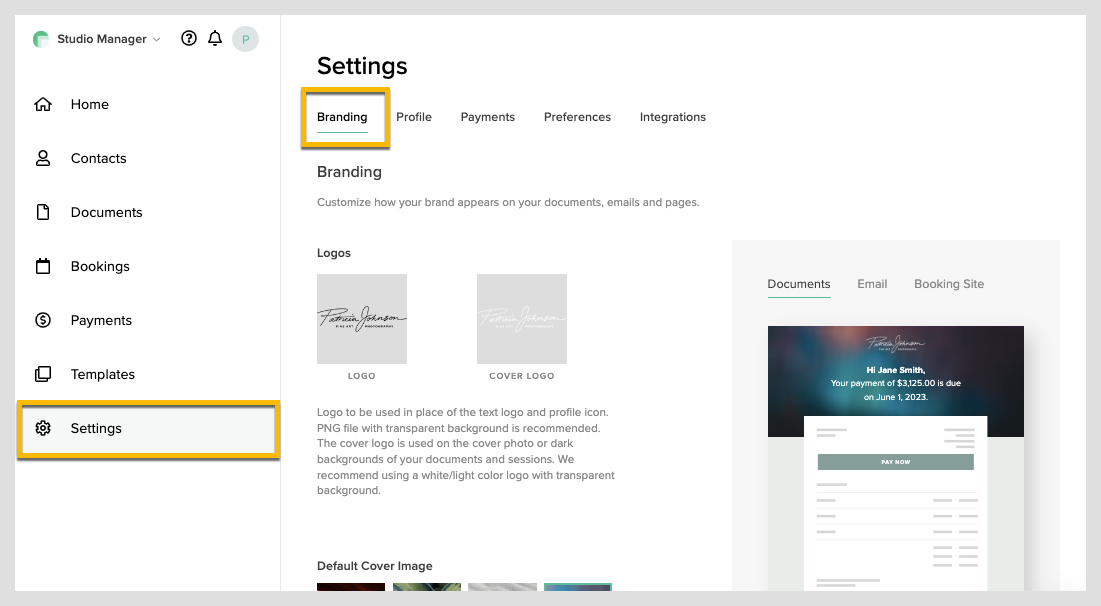 To learn how to manage your branding settings, see our "Customizing your Branding for Studio Manager" guide here.
Reviewing your Profile
The Profile Settings page will display your business profile information, which is what your client will see in various places such as on their invoices and payment statements.
Your business profile information is shared across all your Pixieset applications (i.e. Client Gallery, Store, etc.). To edit this information, click Edit Business Profile to be taken to your Pixieset account's Profile page.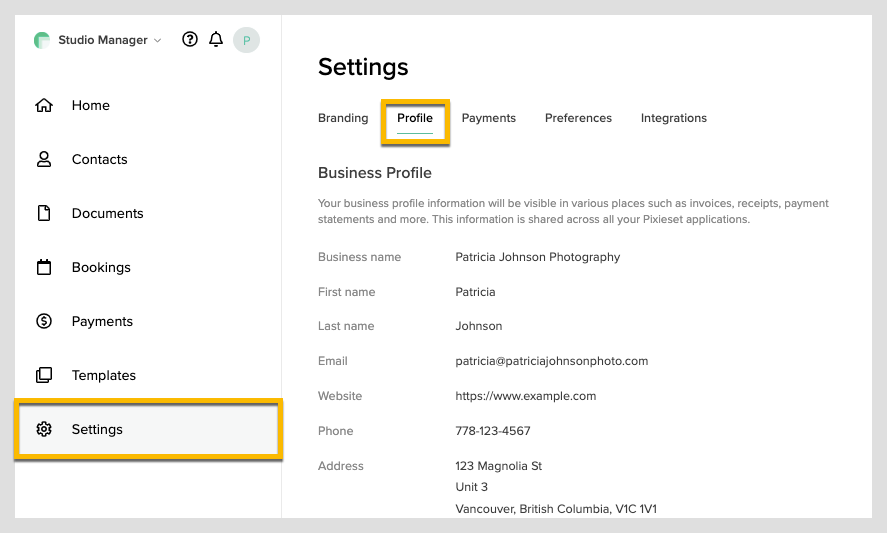 To learn more about updating your Pixieset account's business profile information, click here.
Setting up Payments
The Payments Settings page is where you can set up and manage your payment methods for your invoices and sessions.
You have the ability to accept bank transfers (US only), credit cards, and debit cards via Stripe, PayPal Express Checkout, credit cards, and debit cards via PayPal, or add payment methods that are manually processed (e.g. cash, check, etc.) with Manual Payment.
For more information on connecting your payment methods, click here.
Managing your Preferences
Your Preference Settings page is where you can review and manage your notification preferences for Studio Manager, as well as custom header fields for your invoices.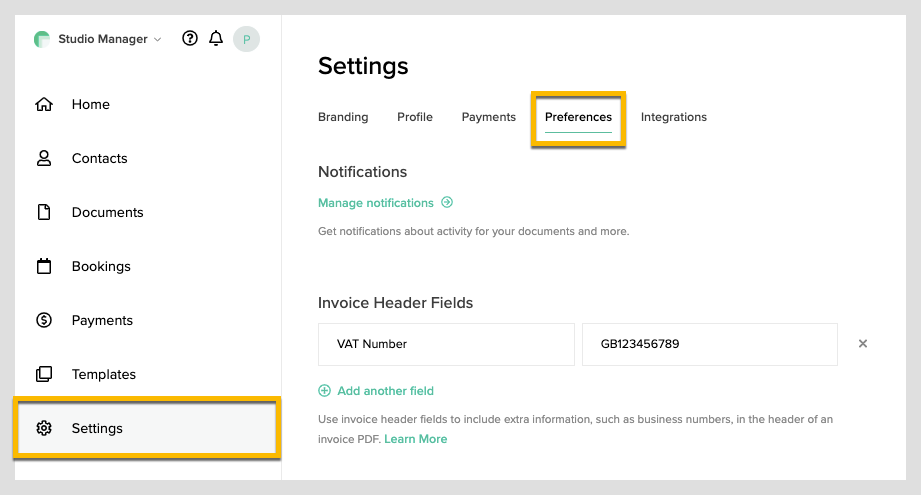 To manage the email notifications you receive in your account email, click Manage notifications to be directed to your account's Advanced Settings.
With Invoice Header Fields, you can add extra information, like required business numbers (VAT, ABN, etc.) to the header of your invoice PDFs. For more information on adding invoice header fields, click here.
Connecting to Studio Manager Integrations
Your Integrations page is where you can connect to third-party integrations such as Google Calendar and Zoom. These integrations help streamline your day-to-day workflows in Booking & Scheduling.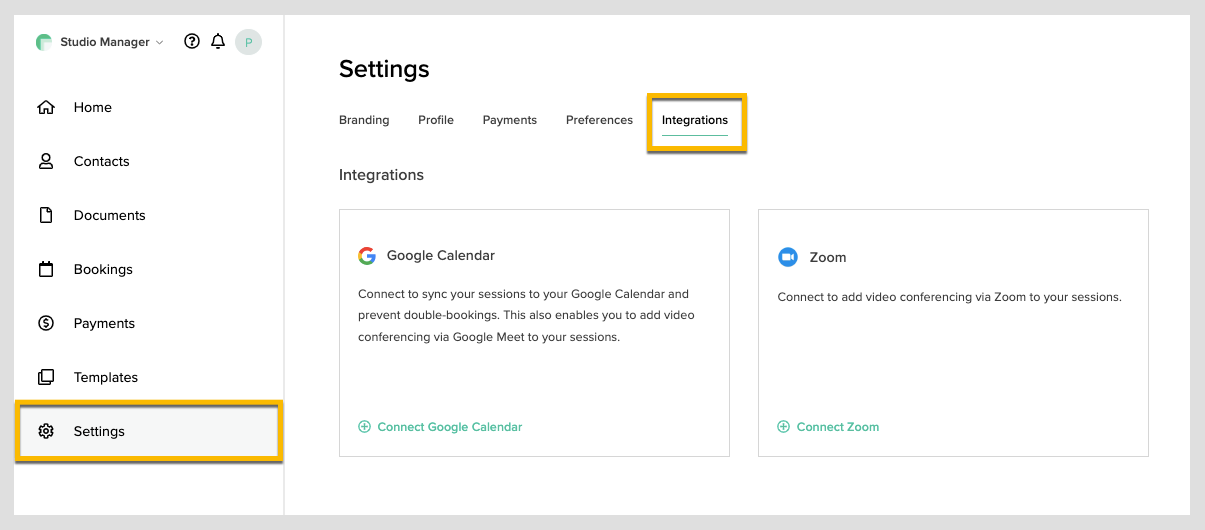 For more information on connecting to Studio Manager's integrations, see our step-by-step articles: