Pixieset Website allows you to create a Bio Links page where you can centralize all of the important links for your business. This page is optimized for easy sharing within your Instagram Bio, social platforms or anywhere! If you don't currently use Pixieset for your website, you can still create a Bio Links page for free. This process involves creating a Pixieset Website that uses Bio Links as a standalone page. If you're already using Pixieset Website, you can find our main Bio Links Guide here.
If you haven't already, you'll need to visit the Pixieset Website dashboard to get started. You can then select a theme which will load the website editor with sample content. Read more about getting started with Pixieset Website here.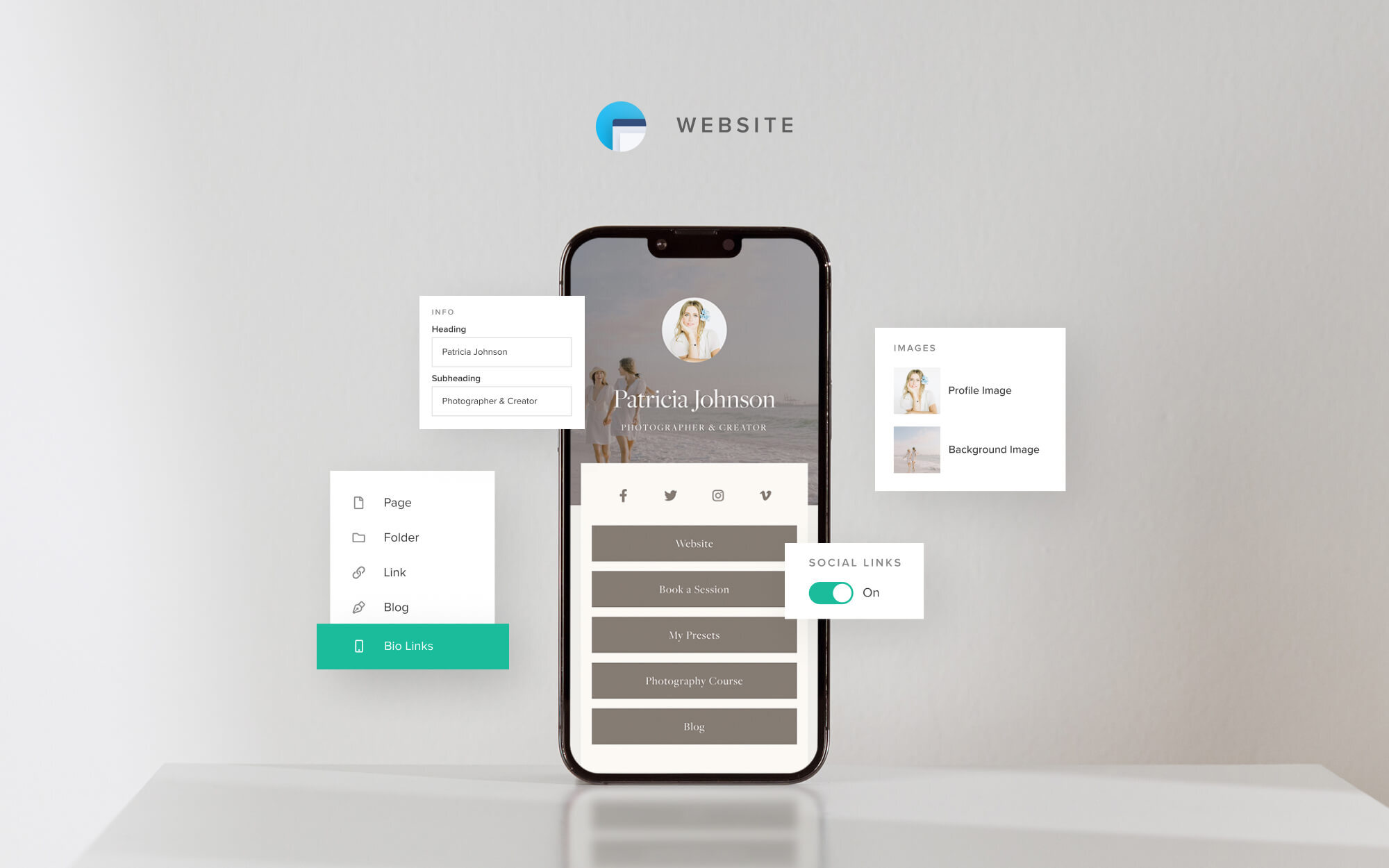 On this Page:
Creating your Bio Links
From your Website dashboard, open the Pages Tab and click + Add Page > Bio Links.
Once your Bio Links page has been created, it will be automatically saved as a page under the "Not in Menu" section of your Pages Tab. Each Pixieset Account can create a single Bio Links page.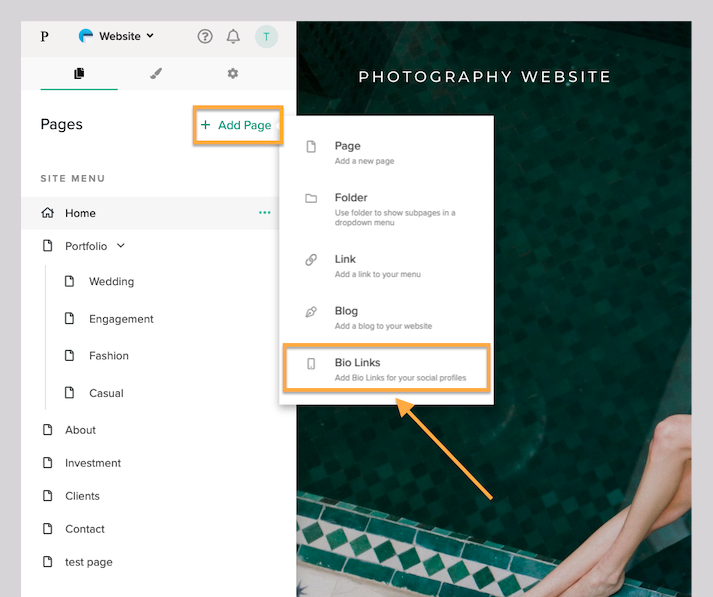 Editing your Bio Links
Bio Links are simple, mobile-first pages that are optimized for social media. There are multiple curated layouts available for your Bio Links. Simply toggle the Layout button to cycle through the available options.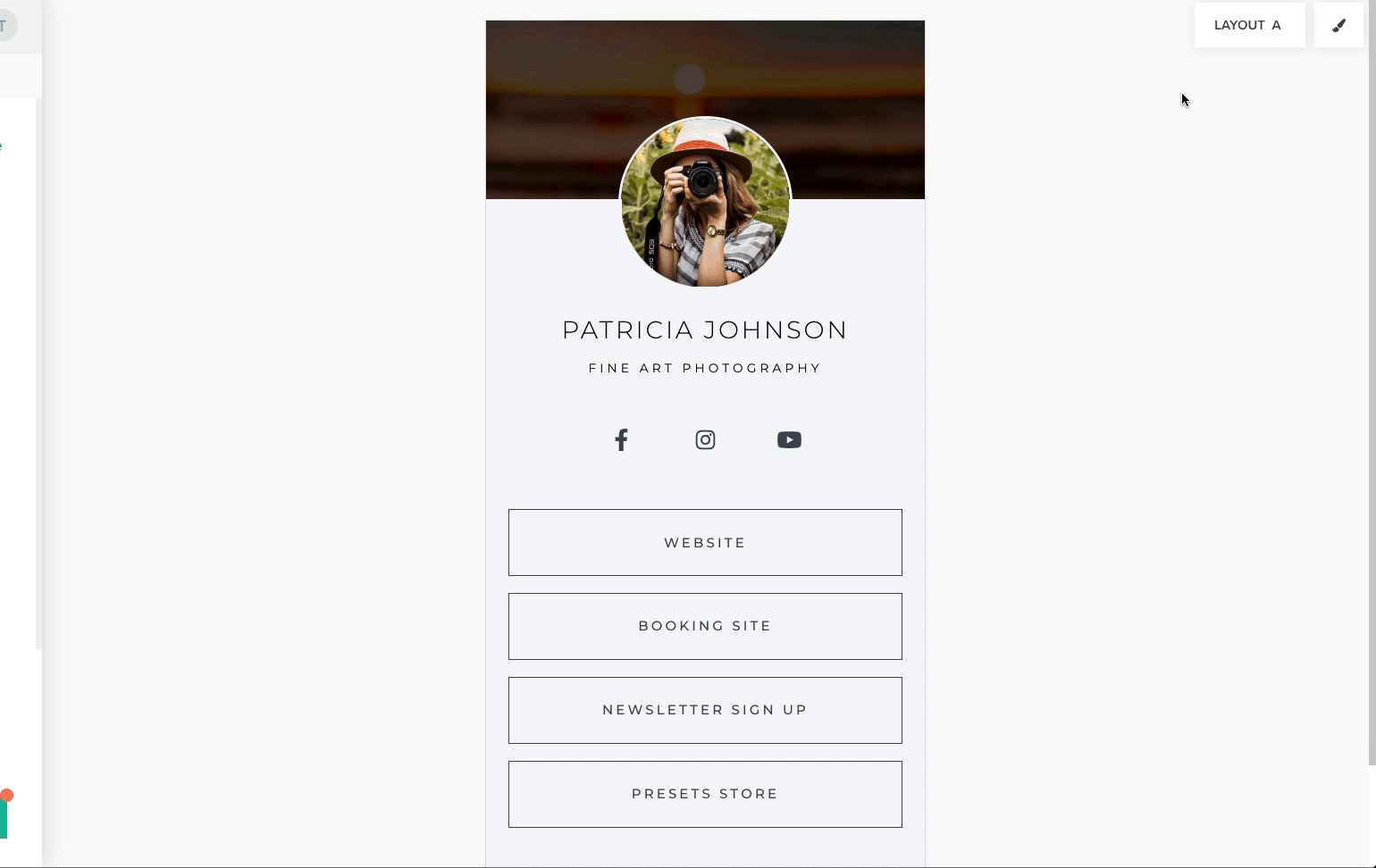 To open up the settings for your Bio Links, you can click anywhere on the Bio Links page which will load the settings in the left panel. Start by adding a Profile Image, Background Image with a Profile Name and Description to draw clients in.
After that, you can use the Links section to add the various links you'd like to share. Simply click on each link in the left panel to customize the name and enter each URL.
You can also turn on the Social Links toggle to quickly connect your social accounts. This will automatically connect any social accounts you've entered in your Profile. Read more on adding social accounts here.
Customizing Colors and Fonts for your Bio Links
If you do not use a Pixieset Website, you can still access the global design settings that will reflect on your Bio Links page. Simply open the Design Tab (Paintbrush icon) where you can access settings for Colors and Fonts.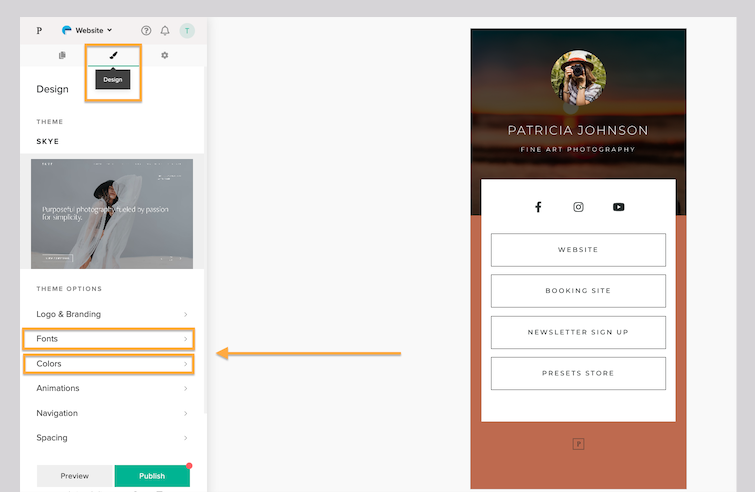 For more information, check out our guides for customizing colors and customizing fonts.
Publishing Bio Links as a standalone page (optional)
Now that you've set up your Bio Links page, you can remove the sample pages that are included in the dashboard. This will allow you to publish the Bio Links as a standalone page. Follow the steps below to complete this process.
Step 1: Set Bio Links as Homepage
After you've created your Bio Links page, open the Pages Tab and use (…) > Settings next to Bio Links to load the page settings panel. Scroll to the bottom and click Set as Homepage.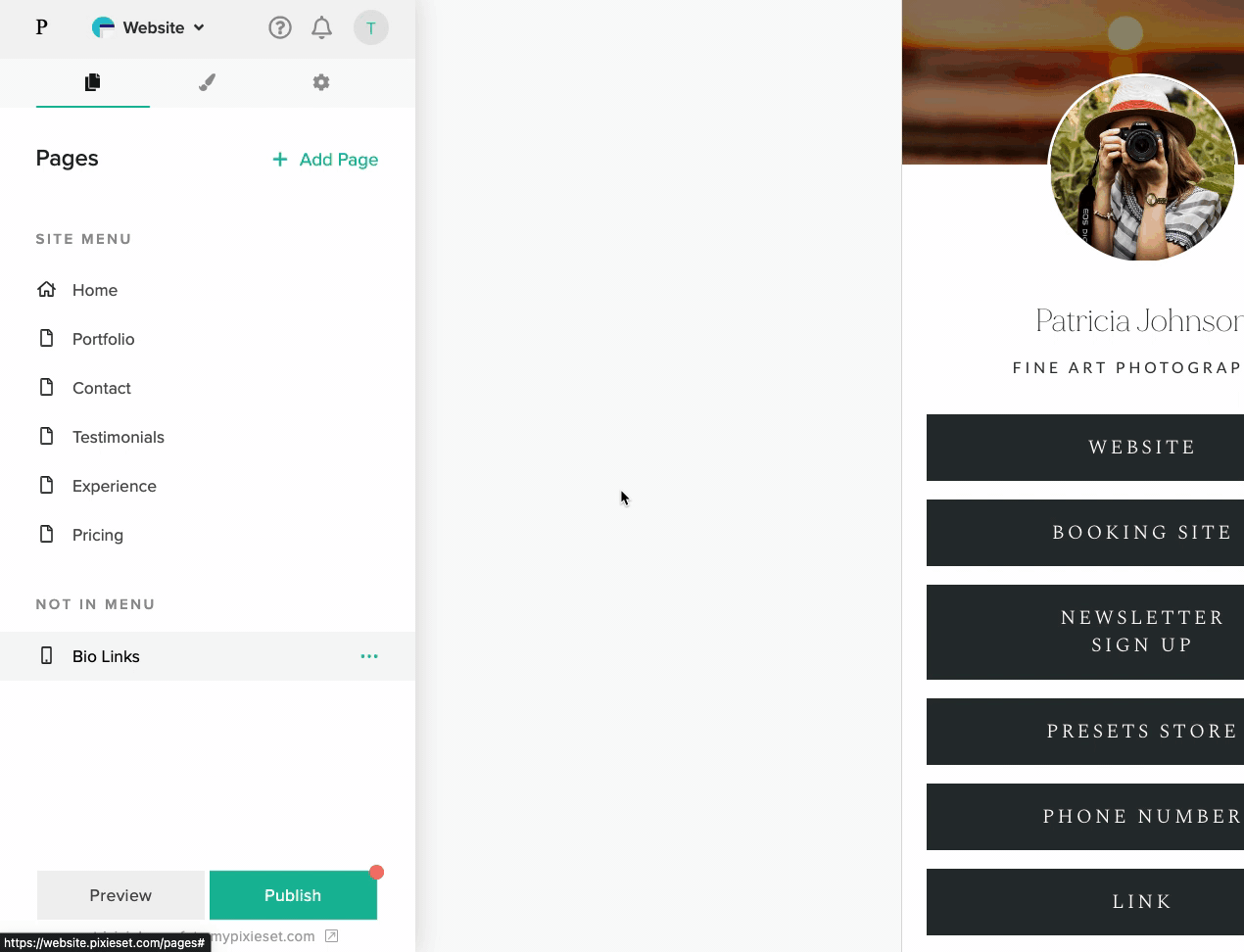 Step 2: Hide or Delete Sample Pages
To ensure your Bio Links exist as a standalone page, you can either hide or delete the sample pages from your dashboard. Hiding pages will keeping them accessible in your dashboard for you to customize and explore the Pixieset Website builder. Within the Pages Tab, use (…) > Settings next to any page. You can then change the Page Status to Offline.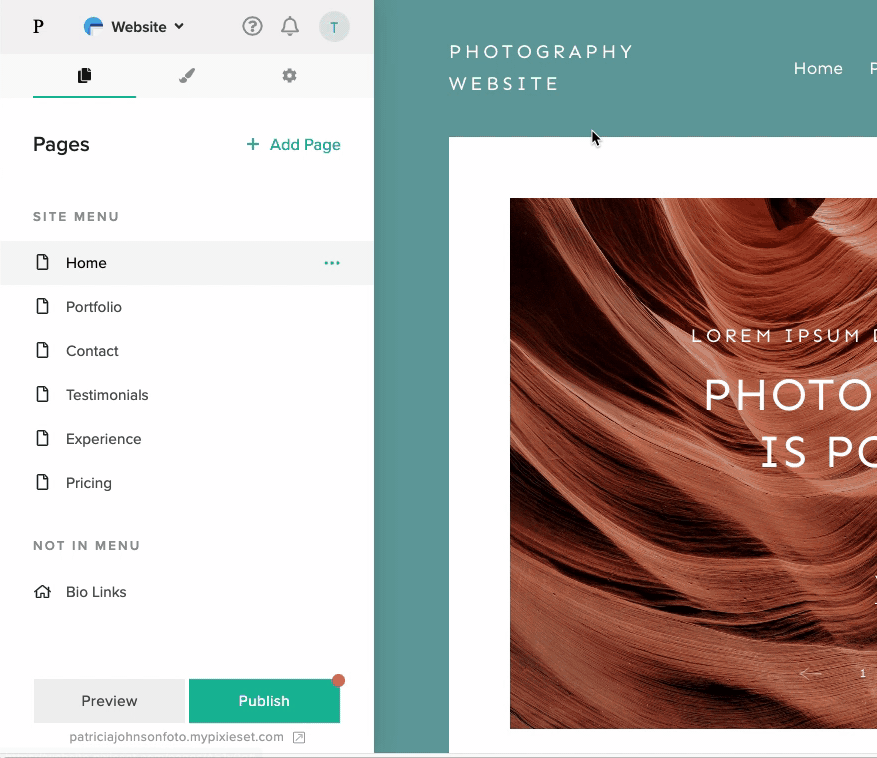 Alternatively, you can simply delete the sample pages. Within the Pages Tab, use (…) > Delete to remove a page. Follow this process until Bio Links is the one remaining page.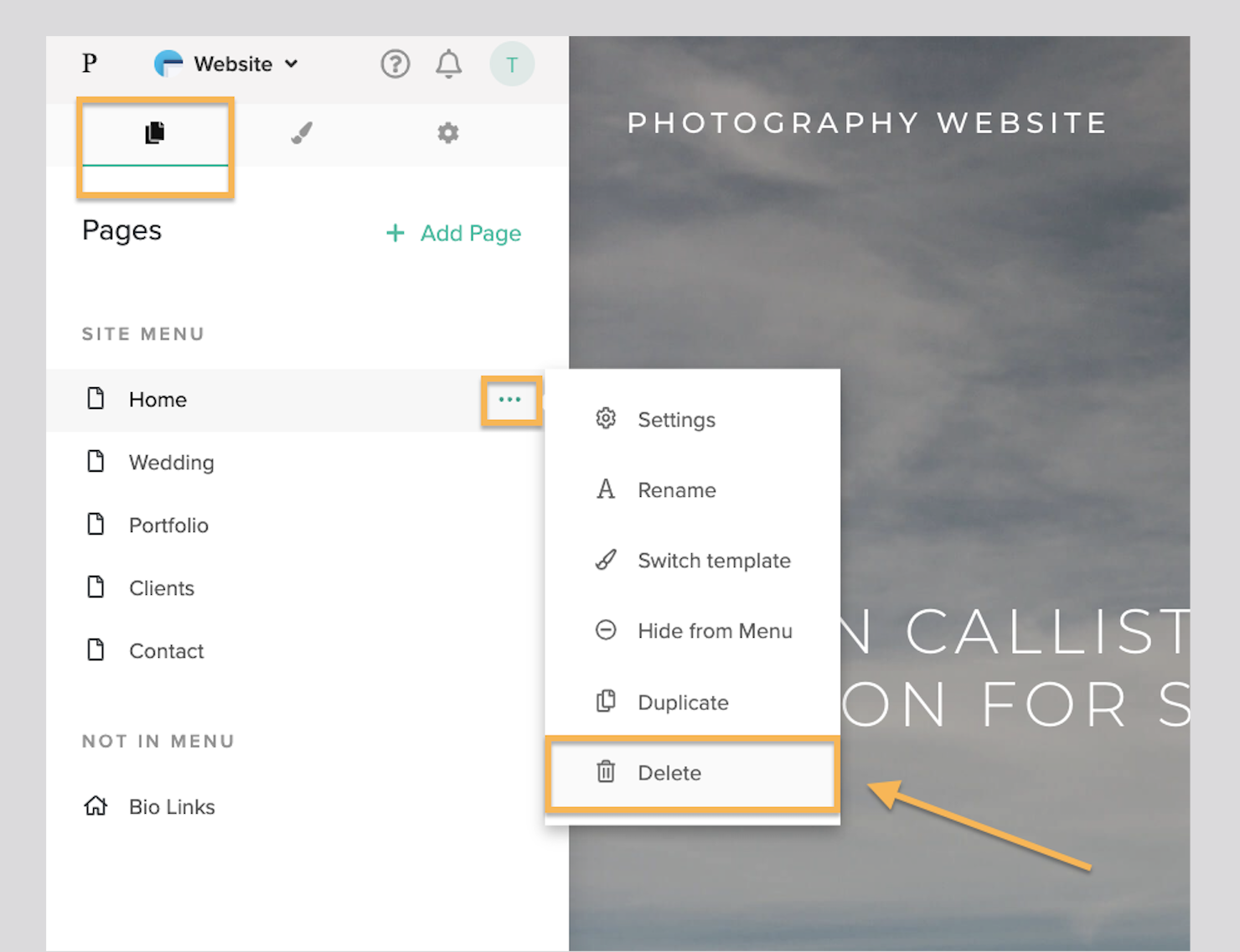 Once you've deleted or hidden all other pages, your Bio Links will be ready to share as a standalone page. When you're ready, click the Publish button and your Bio Links page will be live.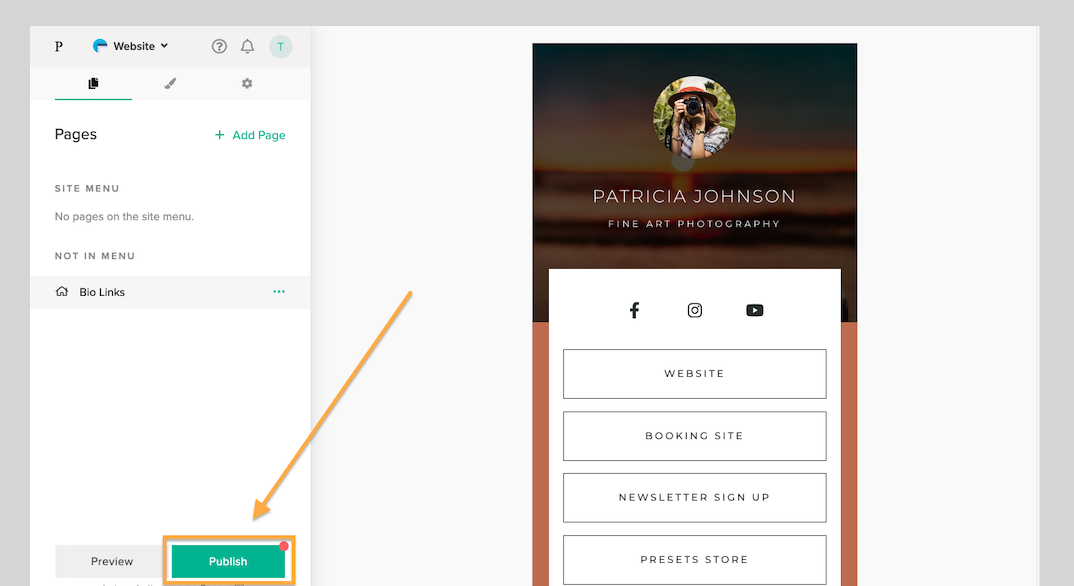 Step 3: Sharing your Bio Links
To make it easy for you to quickly share your Bio Links, there are 2 options for accessing the URL:
With the Pages Tab open, use the Page Settings option next to your Bio Links. This will open a modal where you can quickly copy the URL.

After your Bio Links page has been created, it will automatically show in a modal after publishing your Website. Any time you publish or republish your Website, you will see both your main Website URL and your Bio Links URL. After copying the Bio Links URL, you can simply paste the link to your social media platforms, newsletters or wherever you would like to share it.