Understanding how orders work in Pixieset Store is an important part of selling online. After your customer places an order, it will appear in the Orders page on your store dashboard.
On this page:
Processing and fulfilling orders
If you have automatic fulfillment setup, any print items and digital downloads are automatically processed for you. There's no action required on your end. You and your clients will receive email communications as the order gets fulfilled and shipped.
If you're self fulfilling orders, you will need to manually fulfill your order at your preferred vendor outside of Pixieset.
Order statuses
The following options only apply to automatic fulfillment orders:
Pending - the order is waiting to be processed by our system shortly.
Pending Payment - the payment for this order has not been confirmed. This may mean different things depending on the payment method used for the order.
Order Delay - the order is on hold for your review. Learn more: Reviewing orders with Order Delay
Processing - the order has been sent to a print lab for fulfillment, or digital download items are being processed by Pixieset.
Lab Completed - the print portion of the order has been fulfilled and shipped. There may be still digital downloads or self fulfilled items needing fulfillment.
Completed - the order is completed and fully fulfilled.
Canceled - the order is cancelled. It is important to note that this doesn't necessarily mean your order has been refunded. Refer to Refunding an order
Tracking an order
Once an order has been shipped by the print lab, tracking information for the shipment (if available for the shipping method) will be added to the order details. You will be able to find this under the shipping details section on the order detail page.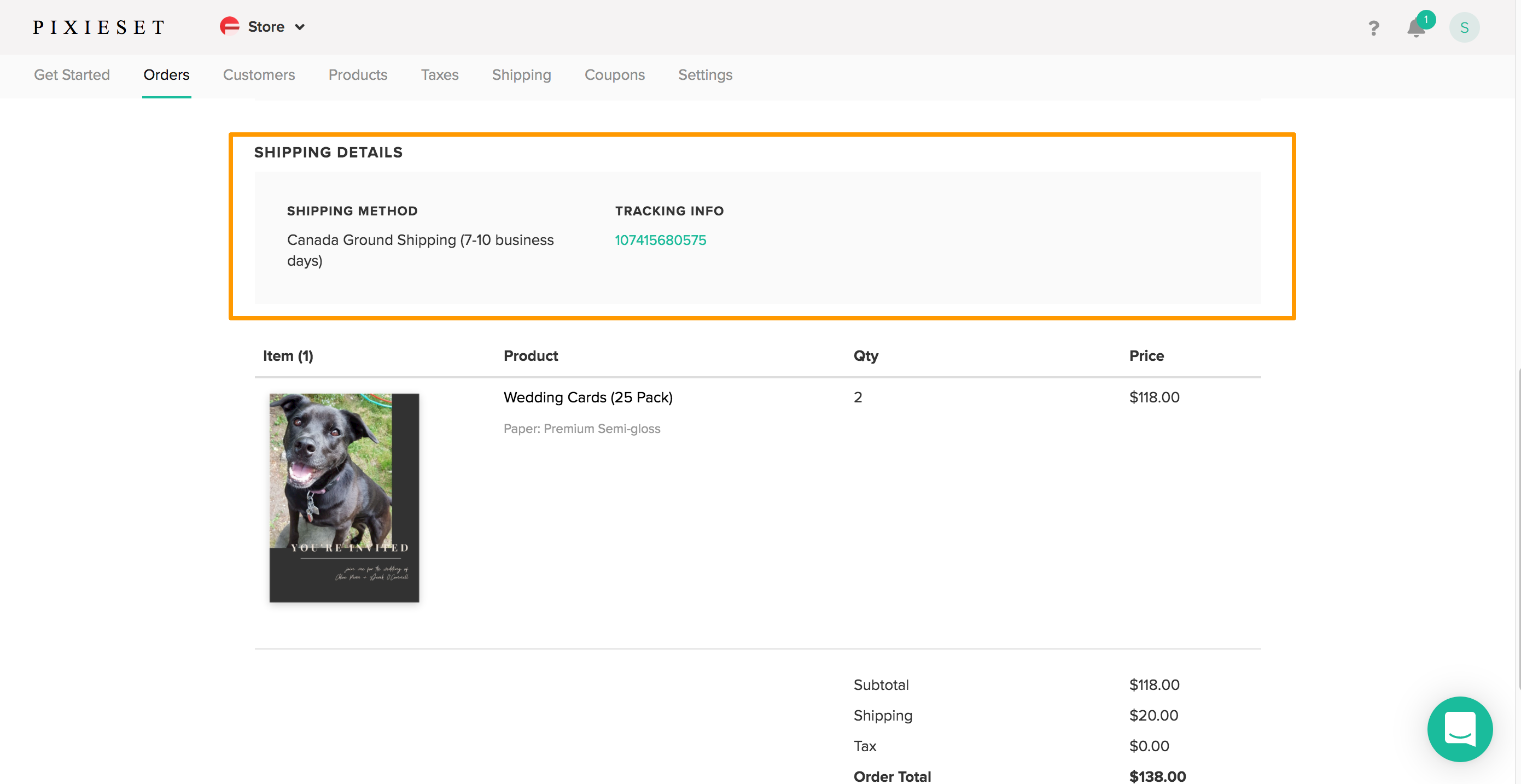 Exporting orders
You can export all your order details into a CSV file by clicking on the Export button on the orders page.

Changing or cancelling orders
Our print lab partners have industry leading turn-around times. From the moment an order gets sent to production, the prints are being produced and printed automatically within minutes. If you have received the our production notification email, it is usually too late to make changes or cancel the order.
You can still get in touch with us, and we will do the best we can to help. Contact Pixieset Support as soon as you can with the order number and any other information you think might be helpful.
Refunding orders
If you want to refund your client, you will need to do this on your payment processor dashboard (e.g. Stripe or PayPal). For more instructions, refer to Refunding an order
I need help with an order
Get in get in touch with Pixieset Support as soon as you can. We will do our best to assist and get any issues resolved for you and your client. Please include the order number in your along with a detailed explanation of the issue. The more information you can provide, the quicker we can help in touch with the print lab to resolve this.