To refund your clients, you will do this through your payment processor's dashboard (e.g Stripe and PayPal).
On this page:
Refunding with Stripe
To refund your client, you have to log in to your Stripe account. You can then look up the charge in your Stripe dashboard and issue a partial or full refund. Depending on your customer's bank, they will see the refund show up between 5 to 10 business days after you have processed their refund from your Stripe dashboard.
Steps:
Go to your Stripe dashboard.
Click on Payments.
Locate the payment that you would like to refund.
Click on the Refund button at the top right corner.
Enter the amount you would like to refund.
Click Refund.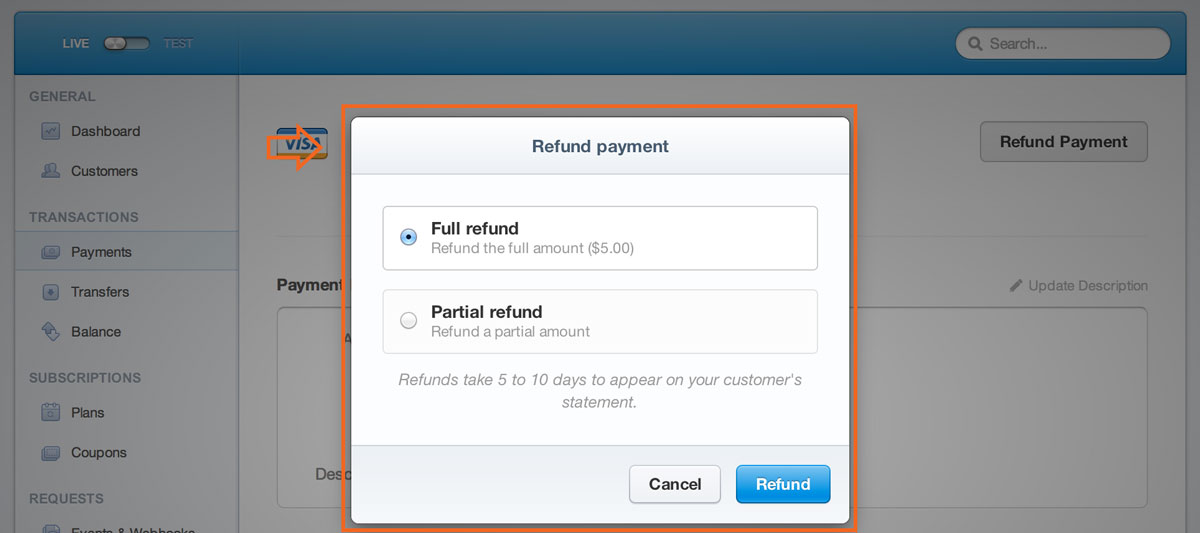 Refund usually take 5 to 10 business days to appear on their statement. If the refund fails to show up, you will need to get in touch with Stripe for help.
Refund with PayPal
Client refunds can be processed directly from your PayPal dashboard. The refund process will be slightly different if a refund is being issued more than 180 days after the original transaction.


Refunding Within 180 Days of Payment
Log into your PayPal account.

Click the Payments received link in the transactions panel of the summary page.

Click the payment you want to refund, and the transaction details page will open.

Click the Issue a refund link.

Note: If you do not see an Issue a refund link, the payment may not be refundable through paypal.com due to 180 days having passed since the payment was made. For alternative refund methods, see the section below on refunding after 180 days.

Enter the desired refund amount.

Click the Continue button.

Click the Issue Refund button.


Refunding After 180 Days
You will not be able to refund the transaction directly since too much time has passed, so you will simply be sending money to your client using PayPal.
Steps:
Log into your PayPal account.
Click the Money link at the top of the page, and then click Send Money.
Click Send money to friends and family.
Enter the required information for your refund, then click Next.
Review the information entered for the refund, then click Send to complete the refund.