Adding a watermark to your images can help to protect your work and display your branding to clients. Pixieset's built-in watermark tool allows you to add a display watermark (text or image) which will be shown on images in your client's Collection. Watermarks created in Pixieset are applied to display versions of your images only by default, and are not applied to the high-resolution original image file that is sent to the lab for any automatically fulfilled print orders through your Store. This helps create a seamless, hands-off experience for you and your clients!


You can find helpful tutorial videos for adding and editing Watermarks here.


On this page:
Creating a Watermark
From the Client Gallery dashboard go to Settings> Watermark. You can start creating a text or image watermark by clicking Add Watermark: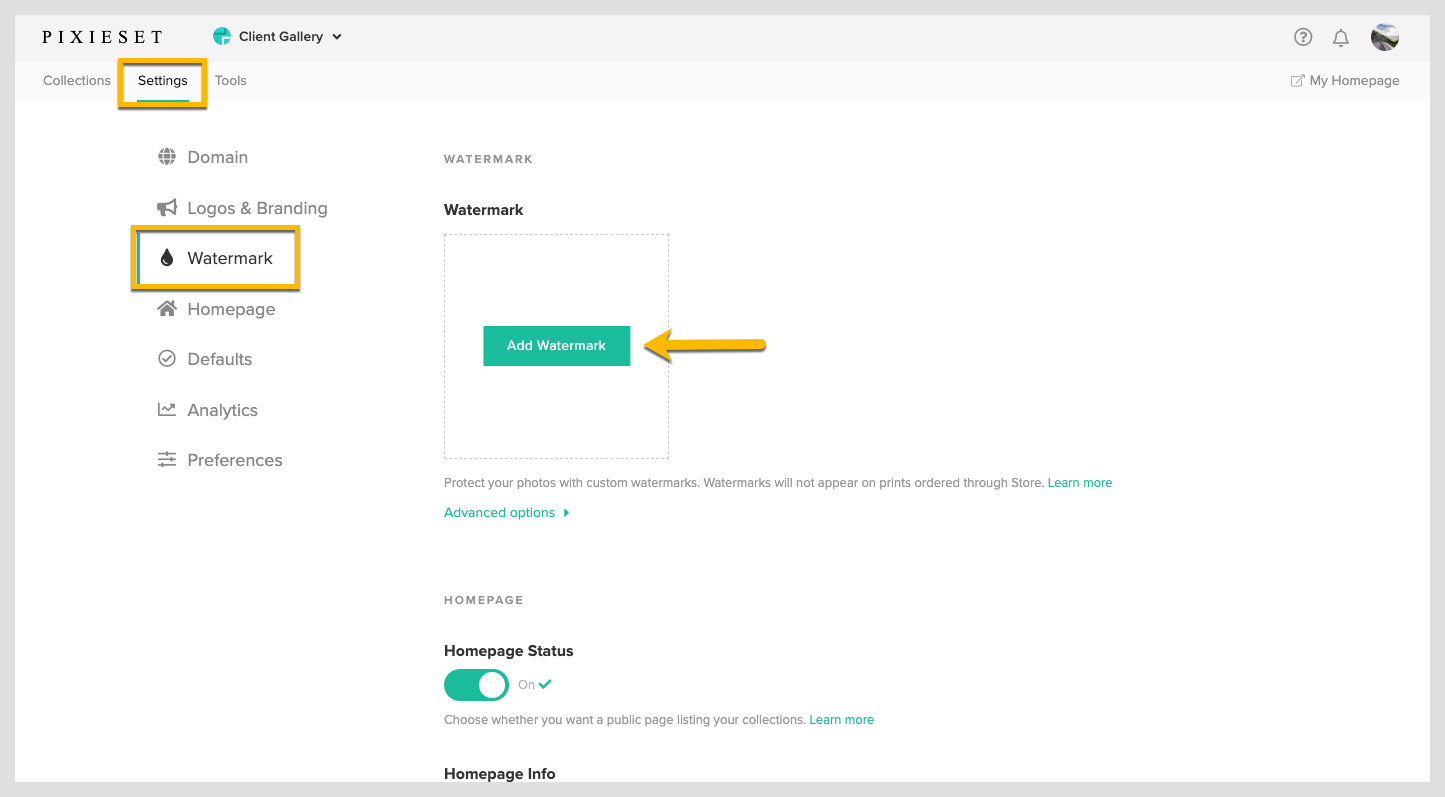 From here, you can follow the on-screen prompts to add your text watermark or upload your image file, adjust the watermark attributes to suit your business needs, and preview how your watermark will look on both portrait and landscape-oriented images. Click Save when you're ready to confirm.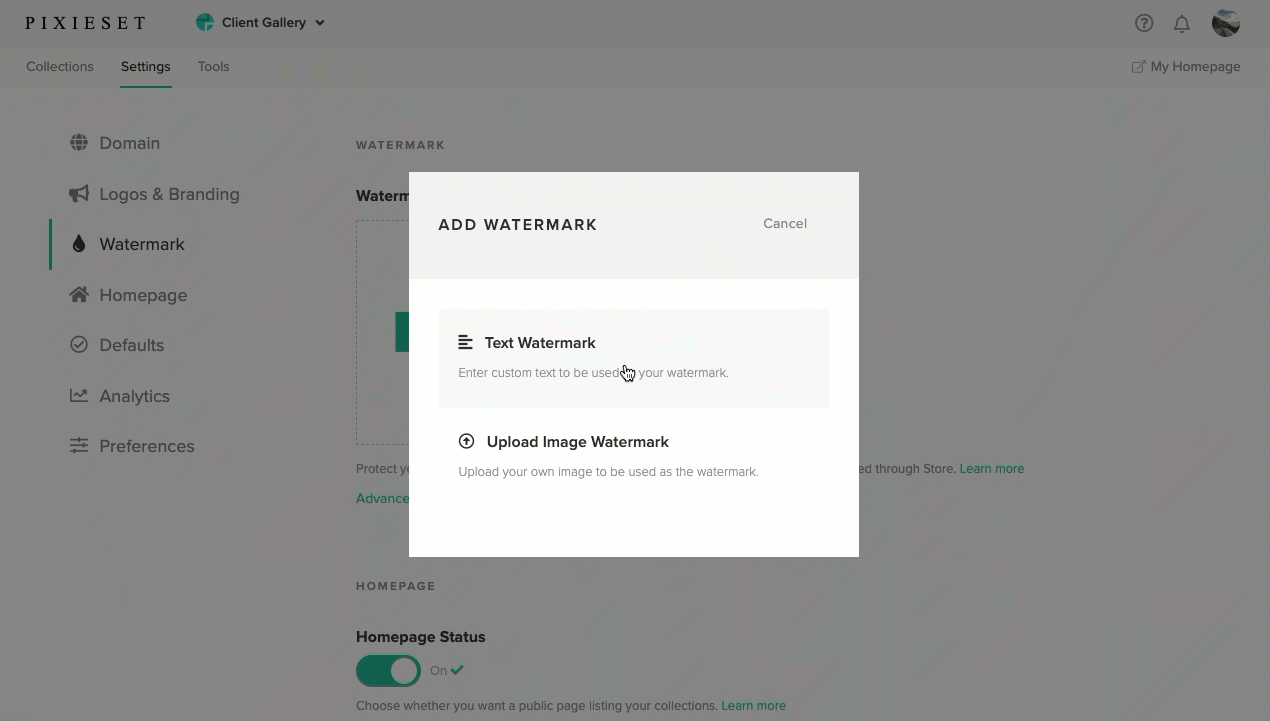 Tip: For image watermarks, we recommend uploading a PNG file with a transparent background and a minimum width of 1600px; the width or height cannot exceed 5000px.


Applying a Watermark
Once you've created your watermark, you're ready to apply it to images in your Collections - either when creating a new Collection, when uploading images, or to existing images in a Collection. You can read more on these options below.


Applying a Watermark when Creating a Collection
When you create a Collection you have the option to select which watermark you would like applied: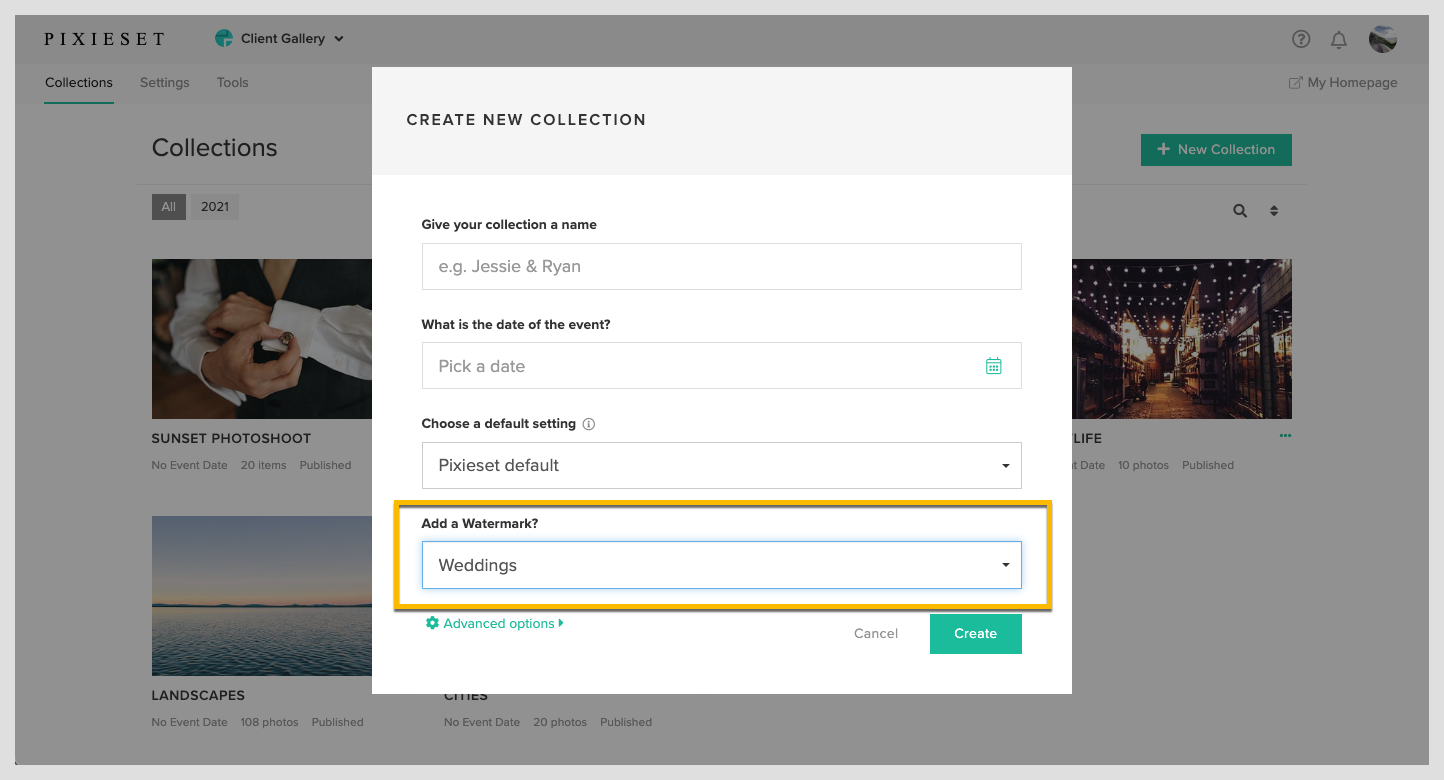 Note: If you use a Collection Default when creating a new Collection, the watermark that is selected for that default will be applied automatically.


Applying a Watermark when Uploading Images
When you upload photos to a Collection you can use the dropdown to select which watermark to apply, or you can select No Watermark if preferred:


Applying a Watermark to an Existing Collection
If you want to apply your new watermark to existing photos, simply select any image(s) in the collection and click the More icon (…) > Watermark. You can then select your preferred watermark from the dropdown menu, and choose whether to apply this to all of the images in your Collection. Once you click Save your images will begin reprocessing to display the watermark.


Adding a Watermark to Web Size Downloads
Whether you're providing downloads using the download PIN, or selling downloads in your Store, watermarks created in Pixieset will never be applied to high-resolution downloads (original or 3600px). For web size downloads in the gallery and Store (640px, 1024px, or 2048px), you can choose whether or not you would like your watermark applied, for example if you want clients to share images on social media with your watermark. You can control this option globally from the Client Gallery dashboard under Settings> Watermark > Advanced options.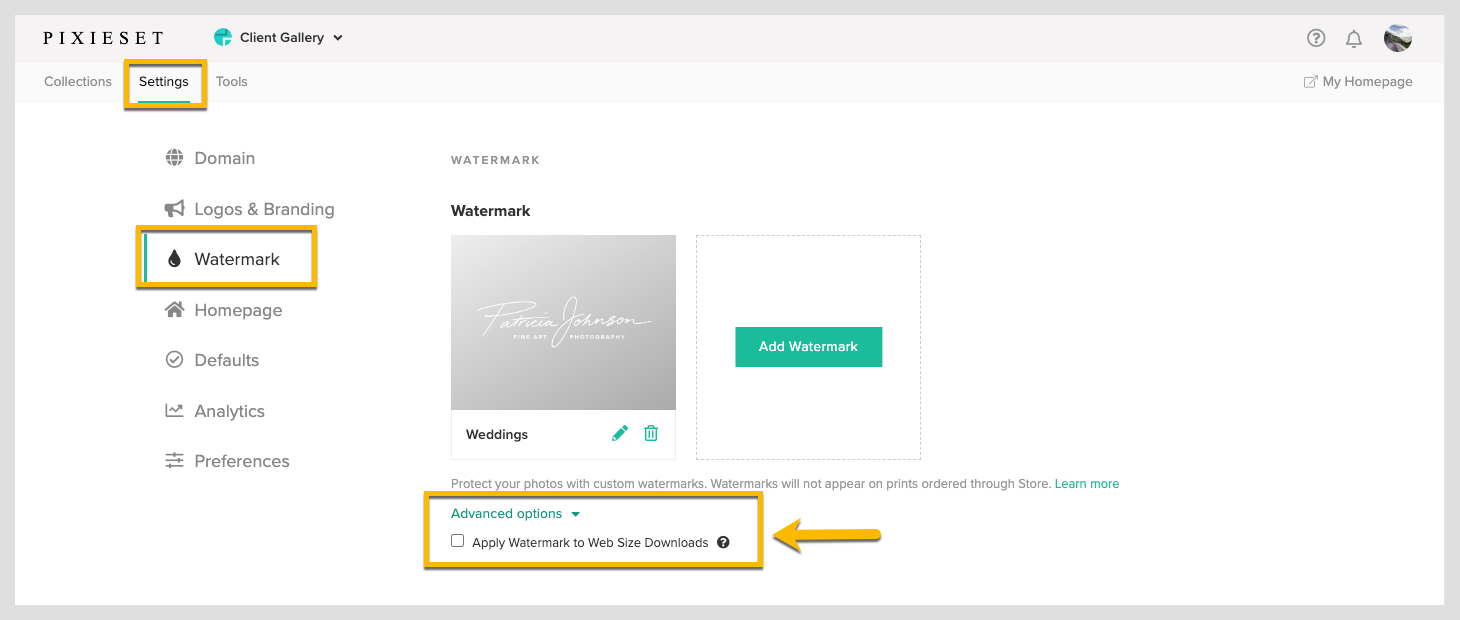 Note: Changes made to this setting will only be applied to images uploaded to Client Gallery going forward. If you need to make the change for previously uploaded images, you can reprocess the images as described above (Applying a Watermark to an Existing Collection).