If sharing videos is a part of your workflow you can easily upload them to your Client Gallery Collections! Clients can view videos directly in the gallery or download them to their device. If you'd prefer to embed a video from Youtube or Vimeo, you can check out this guide.
Video uploads are supported on upgraded Client Gallery Plans or Suite Plans.
On this Page
Uploading Videos to your Collection
Videos can be uploaded one by one to any collection in your Dashboard.
Open your collection
Click the Add Video dropdown > Upload Video
In the pop up modal that appears click on the prompt to upload your video or drag your video into the window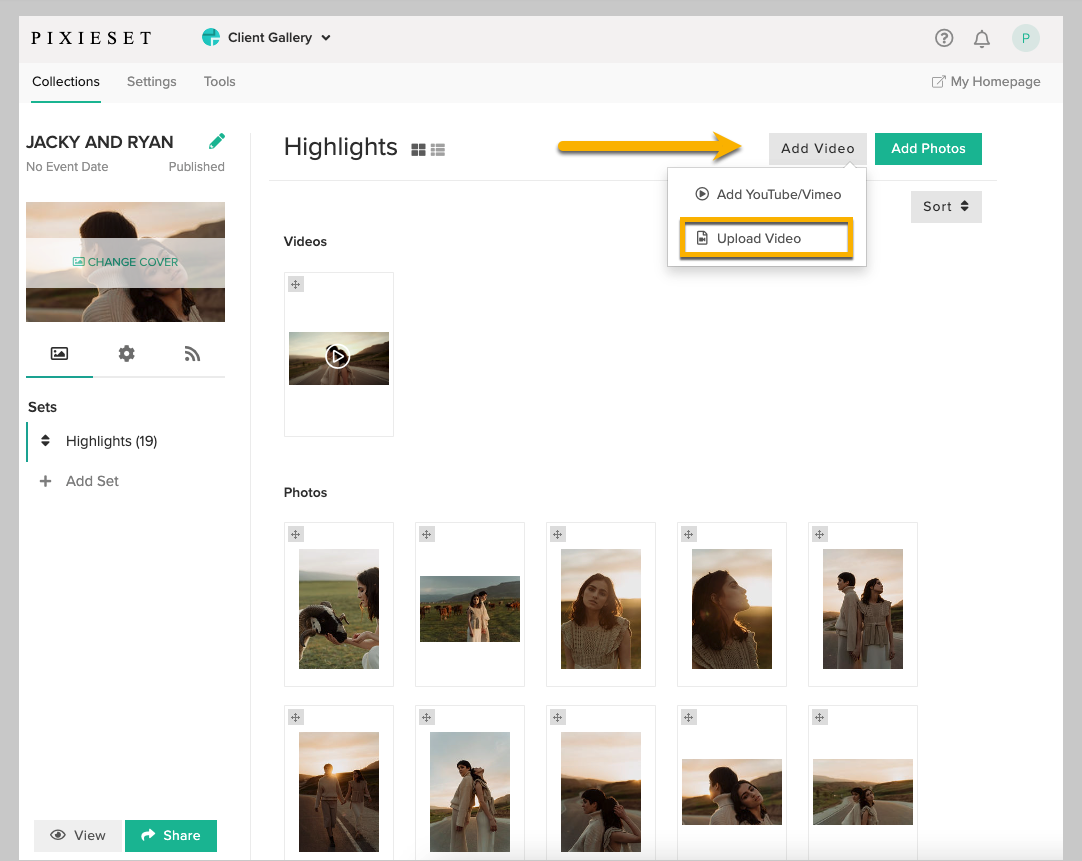 Supported Formats and Recommended Settings
You can upload as many videos to your Collections as you like within the minute limits of your Client Gallery or Suite Plan. Pixieset supports the following video formats:
To optimize the video upload process, as well as your client's download experience, we recommend the following video encoding settings:
1080p/2K or smaller
MP4 file format
H.264 video CODEC
8-bit 4:2:0 or below


Changing the Video Thumbnail
While a thumbnail will be automatically set upon upload, you may wish to add a custom thumbnail that better reflects your video and the client's Collection. You can do this by clicking More (...) > Custom Thumbnail:





From here, you can either drag the image into the Change Thumbnail pop-up/browse your computer for an image file, or you can use the option to Select from Collection. Once your image is uploaded you can use the Custom Thumbnail option to adjust the focal point, or remove/replace the uploaded image.


Providing Video Downloads
Within your Client Gallery Collections, you can also enable Video Downloads for your clients. This allows clients to easily download their video from the Collection using the Download PIN you provide them. Videos can be downloaded one at a time, straight to the client's device. Video downloads through Pixieset will be downloaded in a high-quality MP4 format up to 2048px on the longest edge, based on the orientation of your uploaded video. The video download file will be named master.mp4, and may be smaller in size than the original file, after processing. To enable Video Downloads:
Open the collection in your dashboard
Go to Collection Settings > Download
Ensure Download Status is On then toggle on Video Download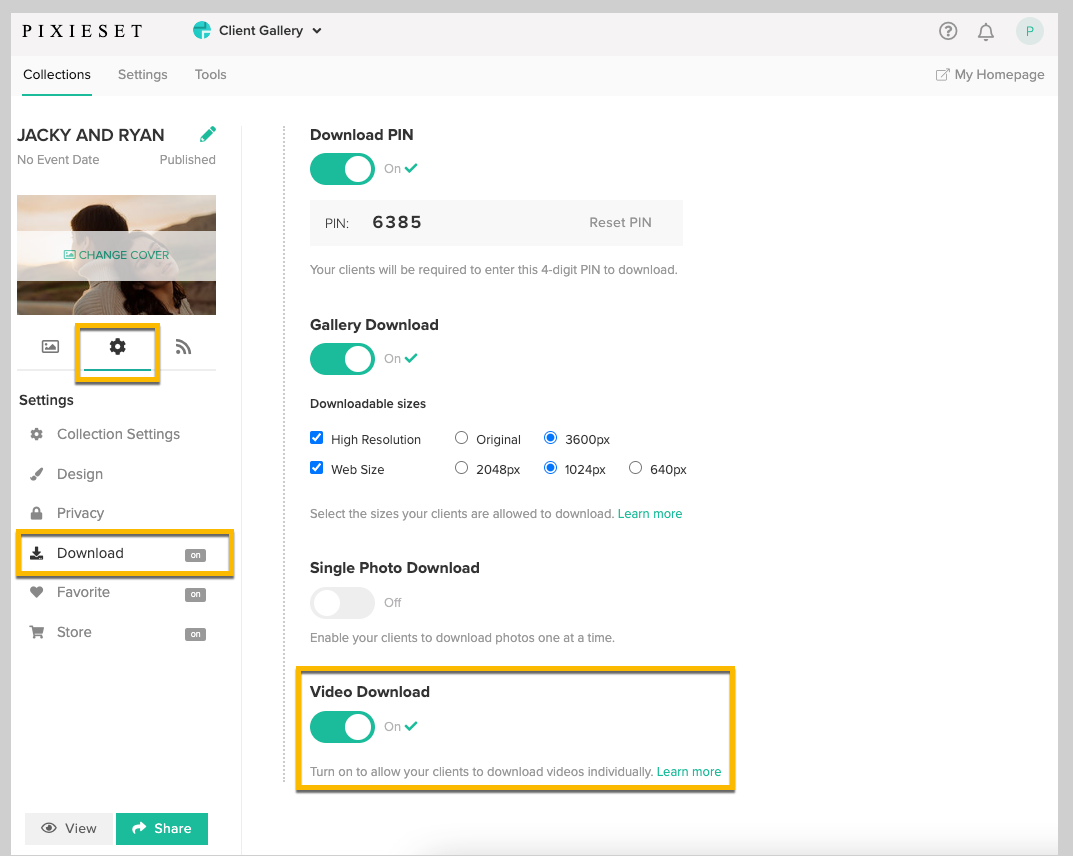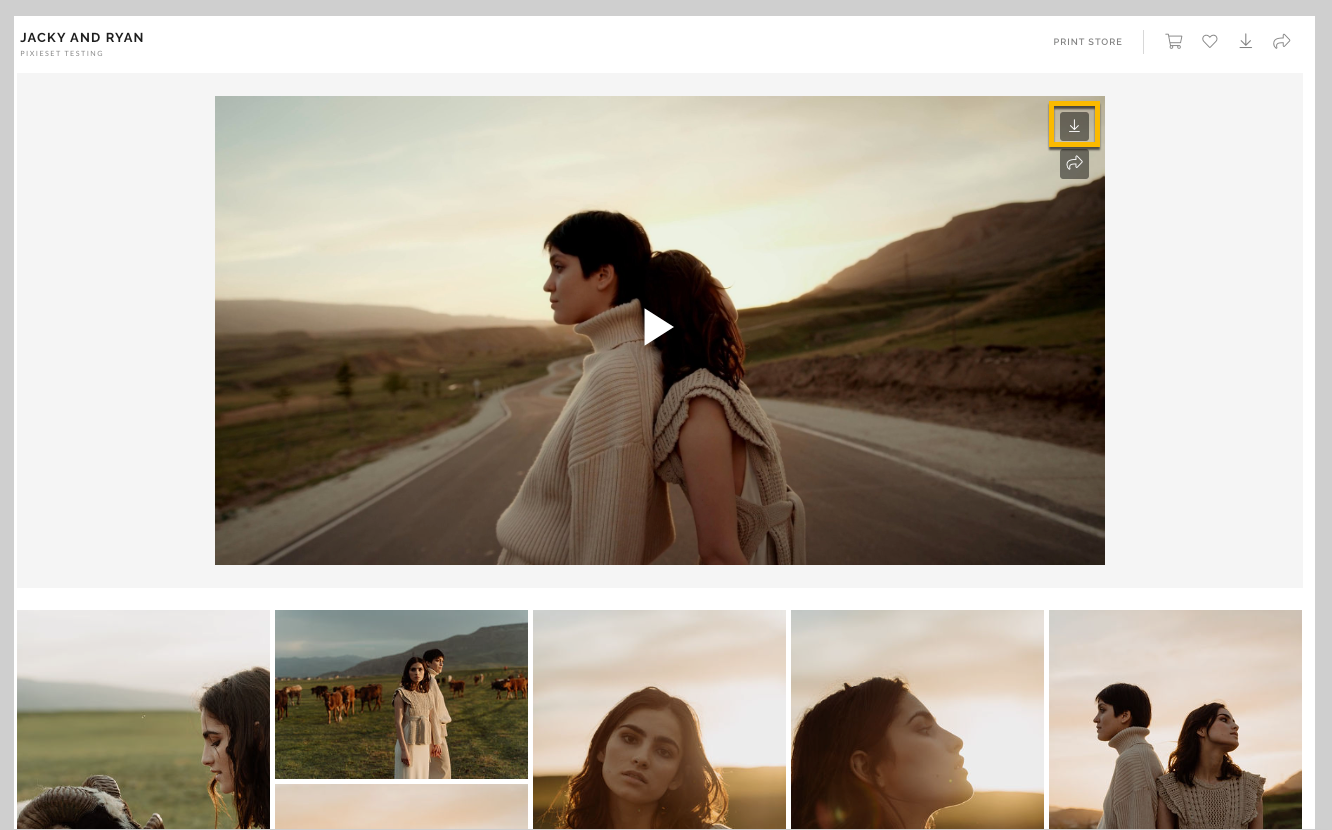 Reviewing Video Download Activity
You can review your client's Video Download Activity straight from your Dashboard in a few easy steps:
Open the collection in your dashboard
Go to the Activities Tab (next to Settings) > Download.
Click on the Single Video Download tab so see any video download activity.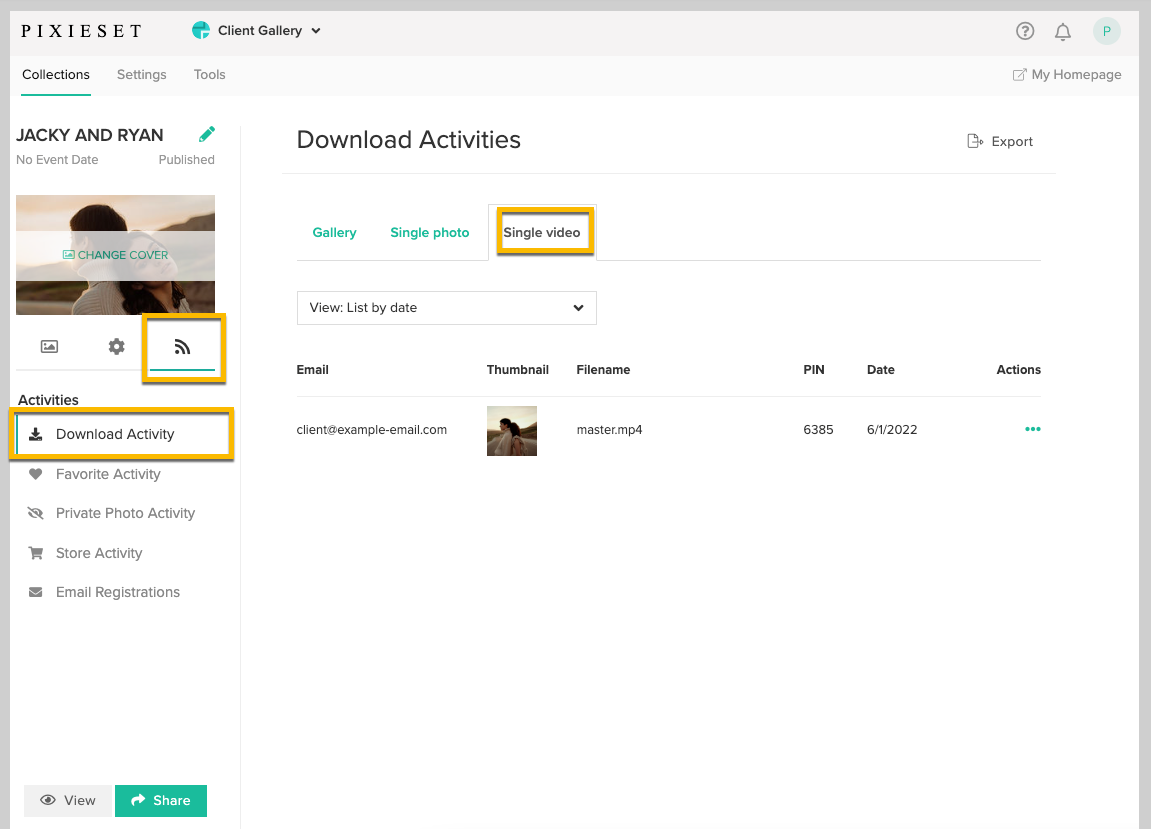 Managing your Videos
Videos will be shown at the top of your set, and you can select them from this list as needed. Once selected, you can use the icons in the top right-hand corner to View videos, Move videos to another set, Delete videos, or Change the sequence in which the videos will appear if you have more than one video uploaded.
Moving Videos Between Sets
If you'd like to move your video(s) to another set, or to a set dedicated to your videos, you can do so using the Move tool.
Select a video or videos that you would like to move
Click the Move icon from the toolbar on the top right
Choose the Set to which you would like to move your video and click Move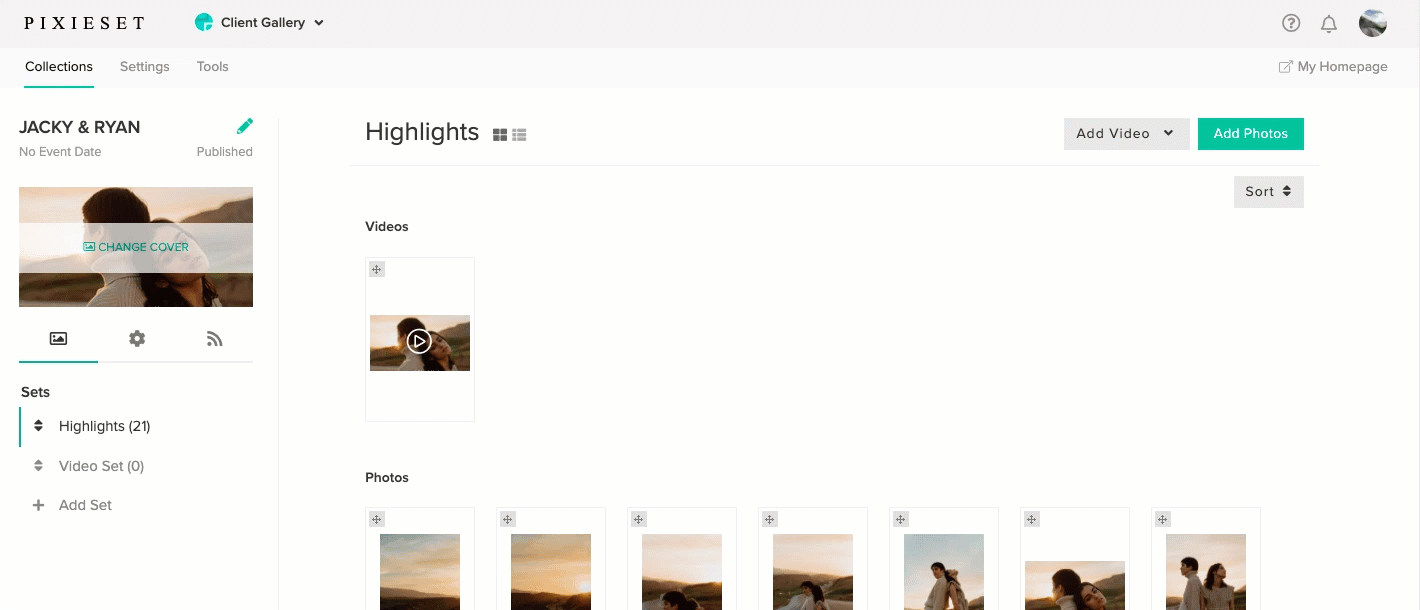 Allowing your Clients to Share Videos
You can enable Social Sharing for videos and photos so that your clients can share these quickly on social media:
Open the collection in your Dashboard
Go to Settings > Collection Settings
Toggle on Social Sharing Buttons