Order delay allows you to review your store orders before they are sent to the lab for fulfillment, or before any digital download items are sent to the client.


On this page:
We also have a Tutorial Video for Order Delay that will walk you through the process.
What is order delay?
By default, order delay is turned off, and orders are automatically sent to print labs for fulfillment as soon as an order has been placed. With the order delay turned on, new orders will be put on hold up to 7 days depending on your store checkout settings. While the order is in order delay status, you can review the order and do the following:
Edit the shipping address
Adjust the crop
Replace photos
Setting up order delay
Steps:
From your dashboard go to Store > Settings.
Locate the Order Delay.
Select how many days you would like the order to be on hold before it is fulfilled automatically.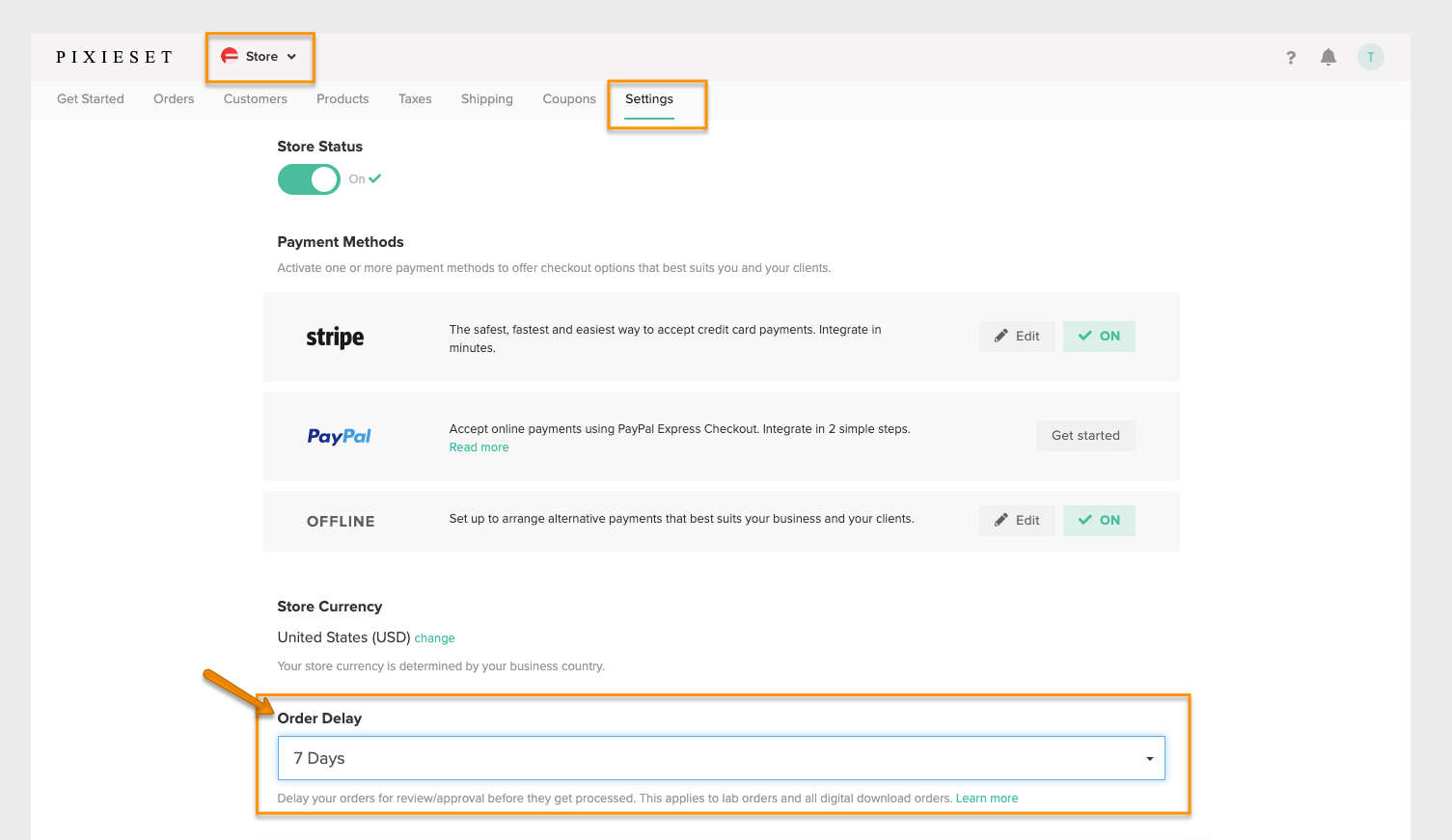 How do I review orders?
You can review the new orders by going to Store > Orders and clicking View next to the Order you wish to review.

When you click through to view the Order while it is on Order Delay, you will have the option to:
Edit crops selected by your clients
Replace images used for fulfillment
Send the order to the lab immediately
Cancel the order
Add more time to order delay
While your order is in order delay, you can click on the Send Order button to submit the order for fulfillment at any time. If you don't do anything with the Order, the order will be automatically processed at the end of the order delay period. You will not be able to make any changes once the order has been sent for fulfillment.
How do I replace images or edit crop?
If you want to edit, adjust, or preview the crop, simply click on Edit Crop. You can also click on Replace Photo to upload a new image. Editing or replacing the images within the order only applies for automatic fulfillment products. With self fulfilled items, you are able to download, edit, and crop the photo yourself before sending it to the lab of your choice.