The information and settings for your Pixieset account are organized into separate Dashboards, which makes it easy to navigate between the many Settings in your Account! The three primary Dashboards are the Client Gallery Dashboard, the Store Dashboard, and the Profile Dashboard.
Client Gallery Dashboard
Your Client Gallery Dashboard contains three main pages: Collections, Settings, and Tools. The Collections page is where you can view/edit/create Collections on your Account. The Settings page is where you'll find Collection and Branding Settings such as Watermark/Logo, as well as Settings for your Homepage and Google Analytics. Finally, the Tools page is where you will set up the Pixieset Lightroom Plugin!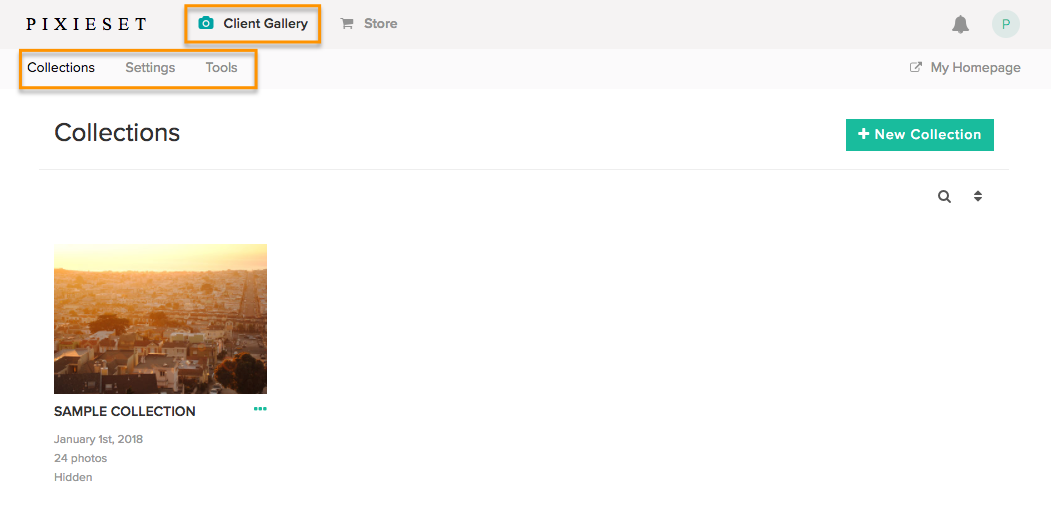 Collections Page
On this page you can create a new Collection, edit your overall Collection Settings, Quick Edit Settings for one specific Collection, or Delete a Collection entirely. You can also click on any of the displayed Collections in order to bring up the Collection Dashboard for that Collection.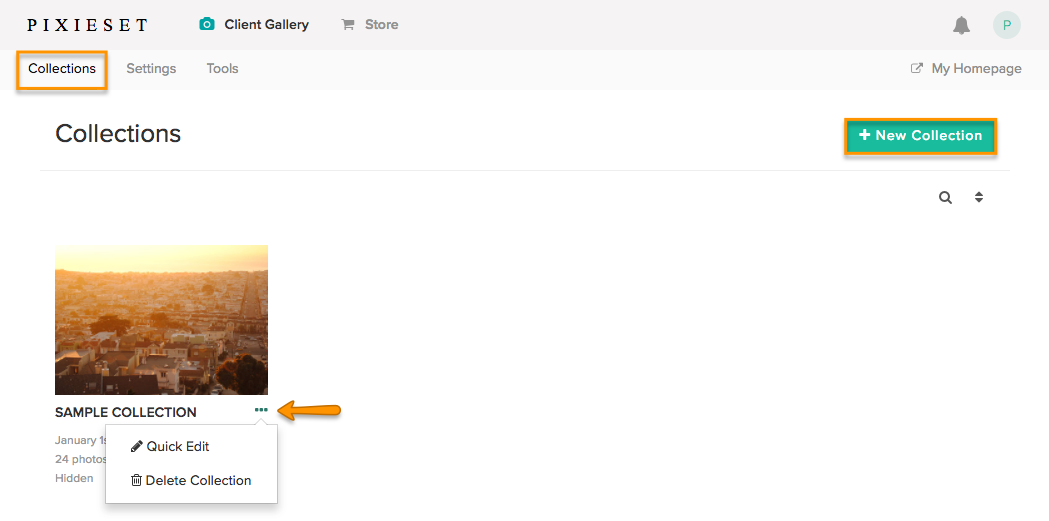 Once you have clicked on a particular Collection, you will be brought to the Collection Dashboard, which has three main sections:
1. The Photos Tab

2. The Collection Settings Tab

3. The Activities Tab
Each of these are displayed in the left side panel.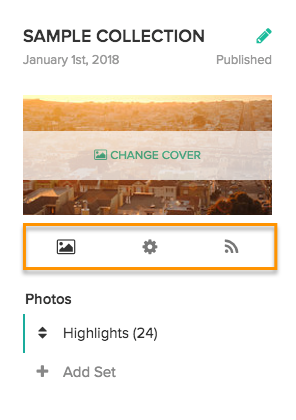 The Collection Dashboard also allows you to edit the Collection Name, change the Cover Photo, view the Collection in public view, or Share the Collection. These options can be found no matter which of the three Collection Dashboard tabs are being viewed.

Photos Tab

The Photos Tab will allow you to review the images uploaded into the Collection. Here you can add photos or Photo Sets, rearrange the order of the images, or move/copy/delete the images as needed. You can also reprocess images to add, remove, or change the applied Watermark.
Collection Settings Tab
The Collection Settings Tab is where you can adjust the Settings for Design, Download, Sharing, Favorites and more.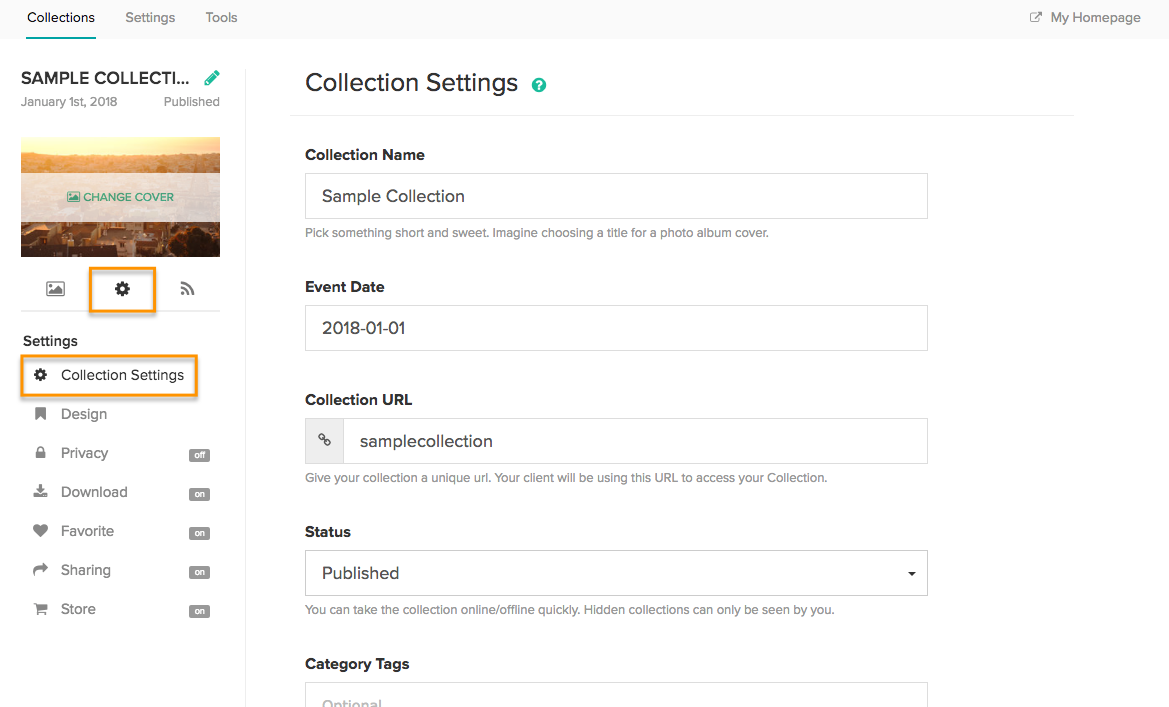 Activities Tab
The Activities Tab allows you to review the Download, Favorite, Private Photo and Email Registration Activity for your Collection.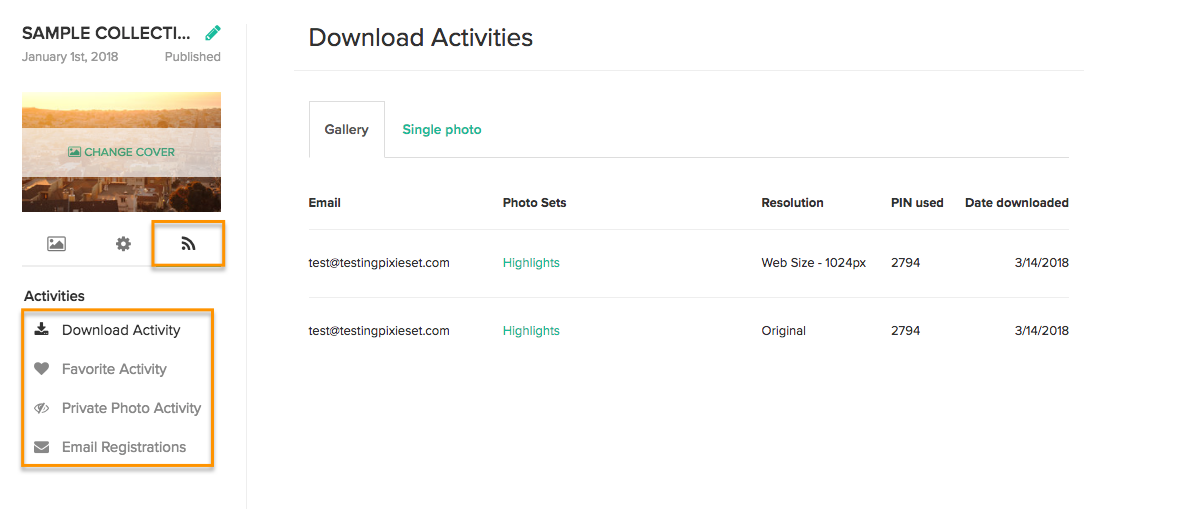 Settings Page
The Settings page is where you'll find Collection and Branding settings such as Custom Domain, Watermark and Logo, as well as Settings for your Homepage, Default Settings and Google Analytics.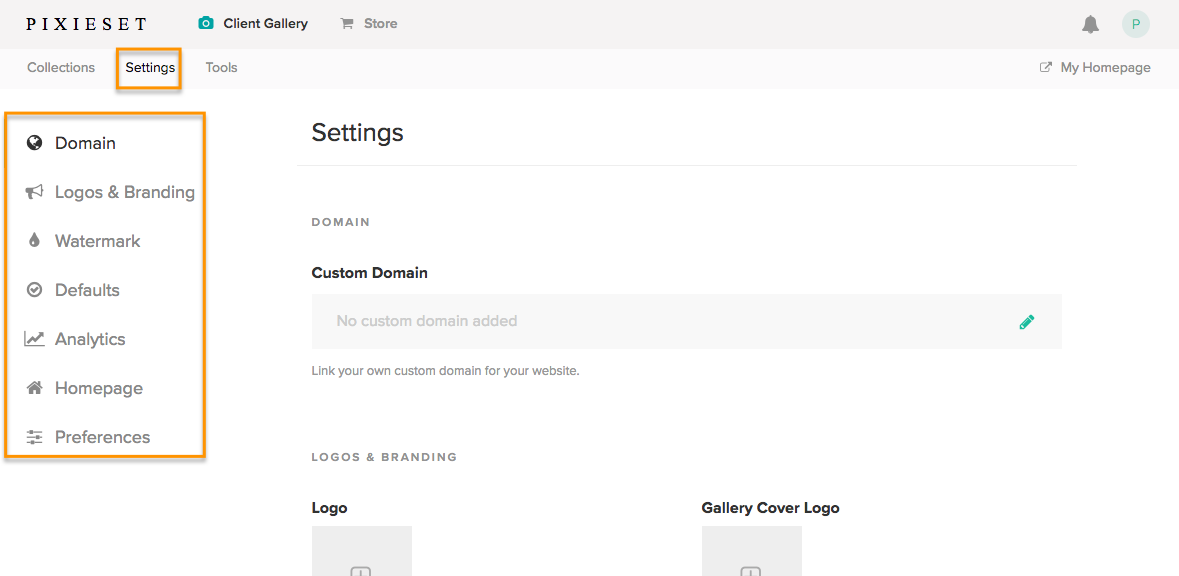 Tools Page
The Tools page is where you will download and set up your Pixieset Lightroom Plugin! You can find more information on the Lightroom Plugin here.

Store Dashboard
The Store Dashboard can be accessed by clicking the Store heading at the top of your Account page, and will allow you to access all of your Store Settings and Order information. If you have not yet set up your Store, you can find a great guide on how to set it up here.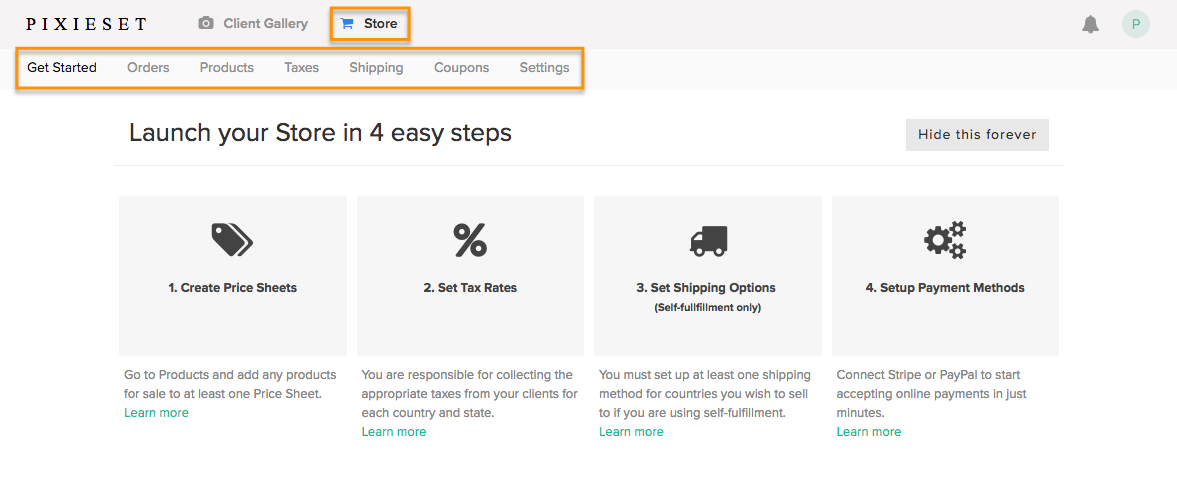 Profile Dashboard
The final Dashboard is the Profile Dashboard, where you can manage the Settings for your Pixieset Profile. You can find a more detailed breakdown of this Dashboard here.