Pixieset allows you to offer your clients Digital Downloads of their images, either by purchasing the downloads through your Store, or by offering downloads directly through your Client Galleries. Both methods of offering downloads can be enabled or disabled on a per Collection basis, and contain optional settings that allow you to control how downloads can be obtained!
Download Sizes
Digital Downloads are available in two sizes: Web Size (640px, 1024px, or 2048px), and High Resolution (3600px or Original Size).
The Web Size files are much smaller and therefore are faster to download and upload! They are ideal for sharing on Social Media, or for quick viewing.
High Resolution photos can either have a maximum long edge of 3600px which can be used to print photos up to poster size canvases (depending on the Original file's starting dimensions), and are more than sufficient for web use OR be offered in Original Size. Original size files are the unaltered, original images that were uploaded to Pixieset. This will provide your client with the full resolution files you have uploaded, without any compression or resizing. Keep in mind these files take up more space and will take much longer to download. This option is available on all upgraded accounts.
You can find more information on download sizes here.
Selling Downloads in your Store
Digital Downloads can be added to your Price Sheets in a few simple steps, in order to allow clients to purchase downloads directly from your Store! These can be offered as Single Photo Download products, or as an All Photos Digital Download. You can find more information on adding these products to your Price Sheets, as well as additional Download settings such as Tax and Digital Image License here.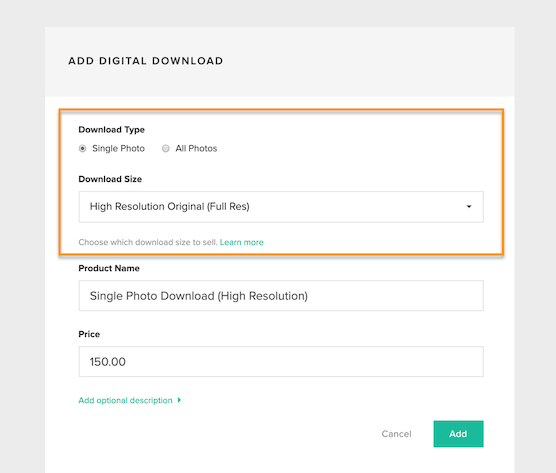 Delivering Downloads through Client Galleries
If you would like to provide your clients with digital copies of their images free of charge, or as part of their original session fee, Downloads can be completed directly from your Client Galleries! Both Single Photo and full Gallery Downloads can be enabled through the Download section of your Collection Settings tab, in each of the sizes outlined above. The Download setting page also provides access to optional security/tracking settings, such as a Download PIN and email tracking features.
You can find more information on delivering Digital Downloads through your Client Galleries here.