You have the option to allow clients to Download their images through the Gallery in High Resolution (3600px or Original resolution), or Web Size (2048px, 1024px, or 640px). All resolutions are available for both Single Photo Download, and Gallery Download.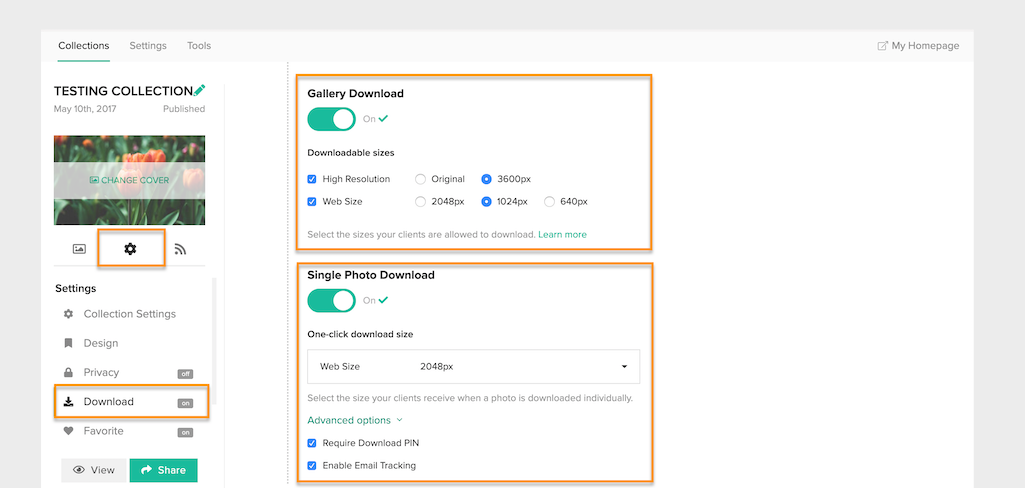 You can also control the resolutions available for Store Purchases when you add Digital Downloads for sale: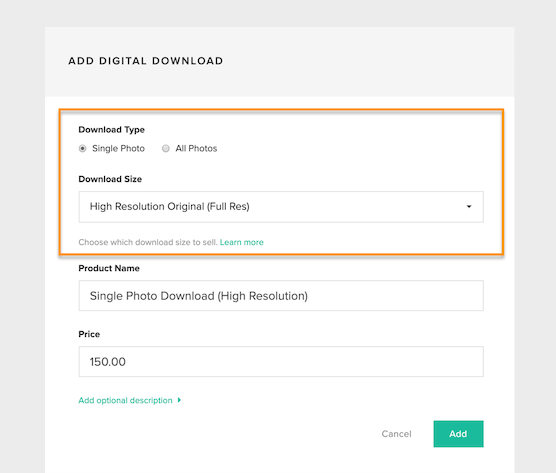 Videos will be downloaded in an original equivalent MP4 format up to 1920 x 1080px in size, depending on the original video you have uploaded. Learn more
Web Size
Web Size versions of the image are available in 3 resolutions: 640px, 1024px, and 2048px on the width. The Web Size files are much smaller and therefore are faster to download and upload. They are ideal for sharing on Social Media or for quick viewing. If your client will be sharing their photos on Facebook, the 2048px is the optimum resolution as it is the widest pixel width that Facebook will allow.
The 2048px width is only available for Collections created after August 2nd, 2016. All Collections from before that date will not have this option available.


High Resolution
High Resolution photos are available in 3600px or Original resolution (for upgraded accounts). The 3600px files are 3600px on the long edge, which can typically be used to print photos up to poster size canvases (though this will depend on the original file size), and are more than sufficient for web use. Our goal is to optimize the file delivery process and make file storage easier for your clients; with High Resolution photos, your clients are able to obtain high quality images while enjoying a much faster download experience with files that are easier to manage. This is the default setting for Free Accounts.

The Original images are, as the name suggests, the original files exactly as you uploaded them. This will provide your clients with the full resolution files you have uploaded, without any compression or resizing. These files take up more space, and will take much longer to download. This option is available for all Upgraded accounts.
Regardless of the image size you choose above, your original files are always safely stored with us and can be accessed at any time as long as they have not been deleted.
*If your original image is smaller than the selected resolution offers, they will be delivered in the original pixel dimensions. For example, if you offered the High Resolution download which has a long edge of 3600px, but your uploaded image was only 600 x 1000px, the file your client receives will be 600 x 1000px, but will be a smaller file size (ie, instead of a 1MB Original file, they will receive a 0.2 MB file with these file dimensions). We do not upsample your images to fit the larger resolution.