You can grow your social media following and add an extra personal touch to your pages by linking your Instagram feed to your site. The Instagram feed can be added via the Instagram Block or as part of the footer in some designs. As content is added to your Instagram, the block will sync to show your latest posts on the site.


On this page:
Adding an Instagram Feed
To add your instagram feed to your website, click on Add block > Social > Instagram, and select your desired block layout. You can easily toggle between the different block layouts at any time after adding the block to a page.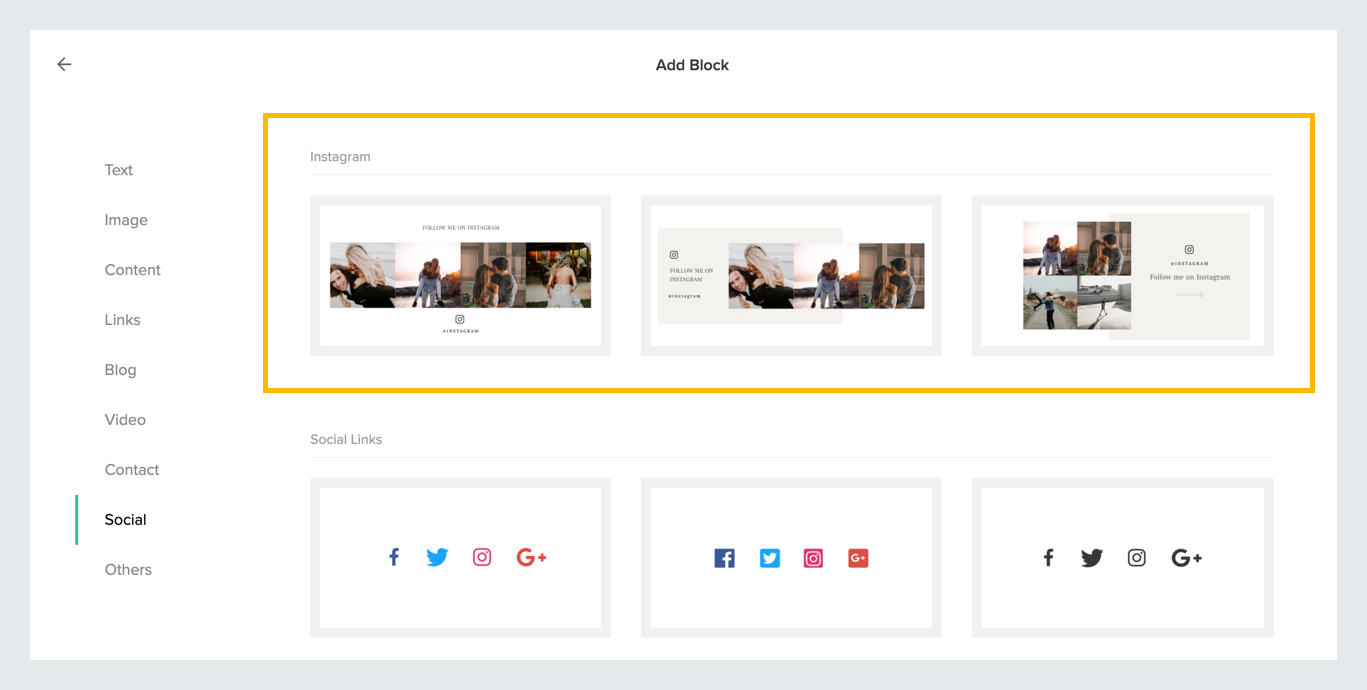 Adding Instagram Feed as part of the footer
Alternatively, some themes offer a footer layout that includes an Instagram Feed, allowing you to showcase your Instagram feed at the bottom of each page on your website. You can edit the block design by hovering over the footer and clicking on the layout options or the cog button.
Connecting your Instagram account
Once you have added an Instagram block to a page, click on the block to open the block settings and look for the "Add Account" button in the left panel.




You can also connect your Instagram account under the Settings > Social panel, under Instagram Feed section.
You will be redirected to Instagram where you will be prompted to login and grant access for Pixieset to link your Instagram Feed. Once granted, you will be redirected back to the Website builder and should see your Instagram feed has been connected successfully.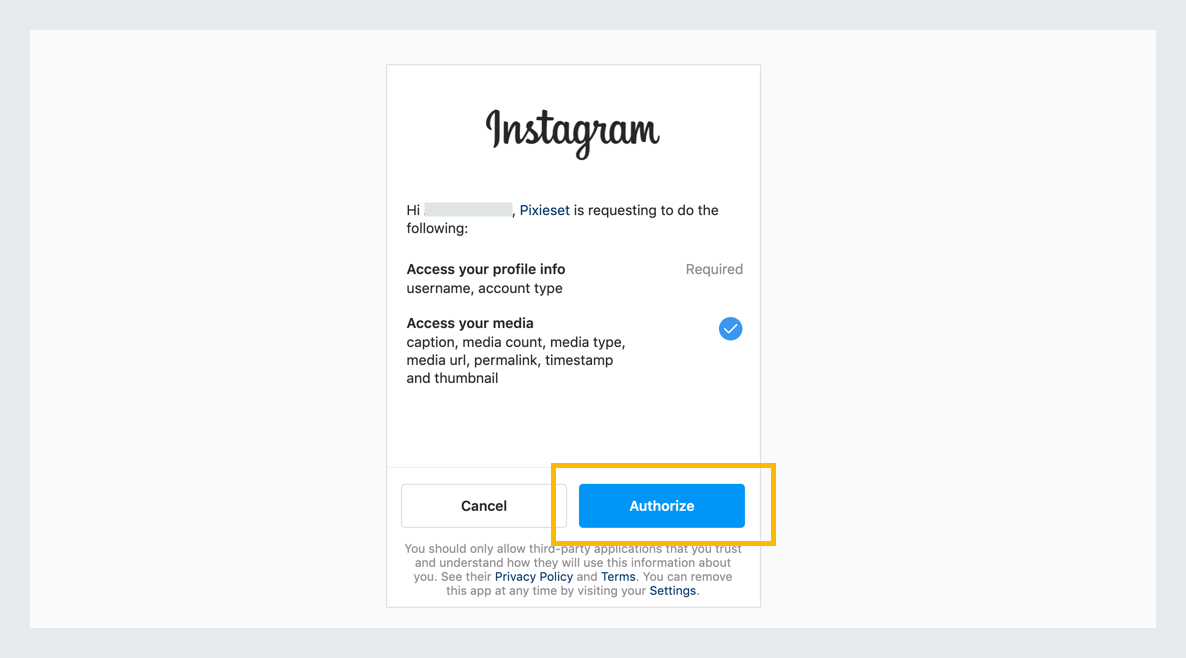 Troubleshooting
Quick Access:
My account is disconnected. What do I do?
From time to time, Instagram may need you to re-authorize your connection to keep the content in your feed up to date. If your account has been disconnected, simply go to the Instagram Feed section (under Settings > Social, or click on the Instagram block) and click on Connect Account. From there, follow the instructions on page to reconnect your account.

I see a Meta error when I try and connect the feed
Meta's Off-Meta Activity is a privacy setting, which can interfere with your Instagram Feed. You may see an error message when connecting if this is turned off.
You can ensure your Instagram Feed stays connected by turning on your Off-Meta Activity.
Sign into your Facebook account
Click here to load your Off-Meta Activity Settings
Click Manage Future Activity
What type of Instagram account do I need?
You can connect any type of Instagram account, this includes personal, creator or business



Can I manually refresh the content in my Instagram feed?
While Pixieset will automatically refresh your Instagram feed, you can also choose to manually refresh the content at any time. To refresh your feed, click Settings > Social > Instagram Feed > (...) > Reconnect Account.



What if I manage multiple Instagram accounts under one login?
If you have more than one Instagram account with the same set of login credentials, Instagram's API will pull only the primary account. You will need to separate your accounts so the account you want to connect has its own login information and password.

You can do this in your Instagram phone app by opening your primary account's Instagram Settings, scrolling down to Login Info, and tapping (...) next to the account to remove. Tap remove and you'll be prompted to create a new password that will only apply to that account, which you can then use to connect to your Instagram block on your Website. You can find additional information directly from Instagram here.


I've added my Instagram account to my Profile settings. Why is the feed not showing in the block?
You should be adding your Instagram account under the Instagram Feed section. Click on the block, or go to your Settings > Social page, you should be adding the Instagram account under the Instagram Feed section, not Social Links.

The accounts you specify in your Profile settings govern the hyperlinks associated with social media icons across your Website, it is separate from your Instagram Feed.



Can I show more than one Instagram Feed on my website?
Currently, only one Instagram Feed can be connected at a time.