Pixieset offers both Lab Fulfillment and Self-Fulfillment options for your client Orders! If you're interested in Self-Fulfilling your Pixieset Orders, this article outlines how to set up Self-Fulfillment, as well as what the Order experience will be like on your end.
For Self-Fulfillment Orders, you will be in charge of fulfilling the Orders manually, outside of Pixieset. You are responsible for Ordering the prints from your own preferred Lab, as well as arranging shipping to your clients.

Step One: Create a Self-Fulfillment Price Sheet

To create a Self-Fulfillment Price Sheet, simply go to the Store Dashboard, click on Products > +Add Price Sheet, and select Self-Fulfillment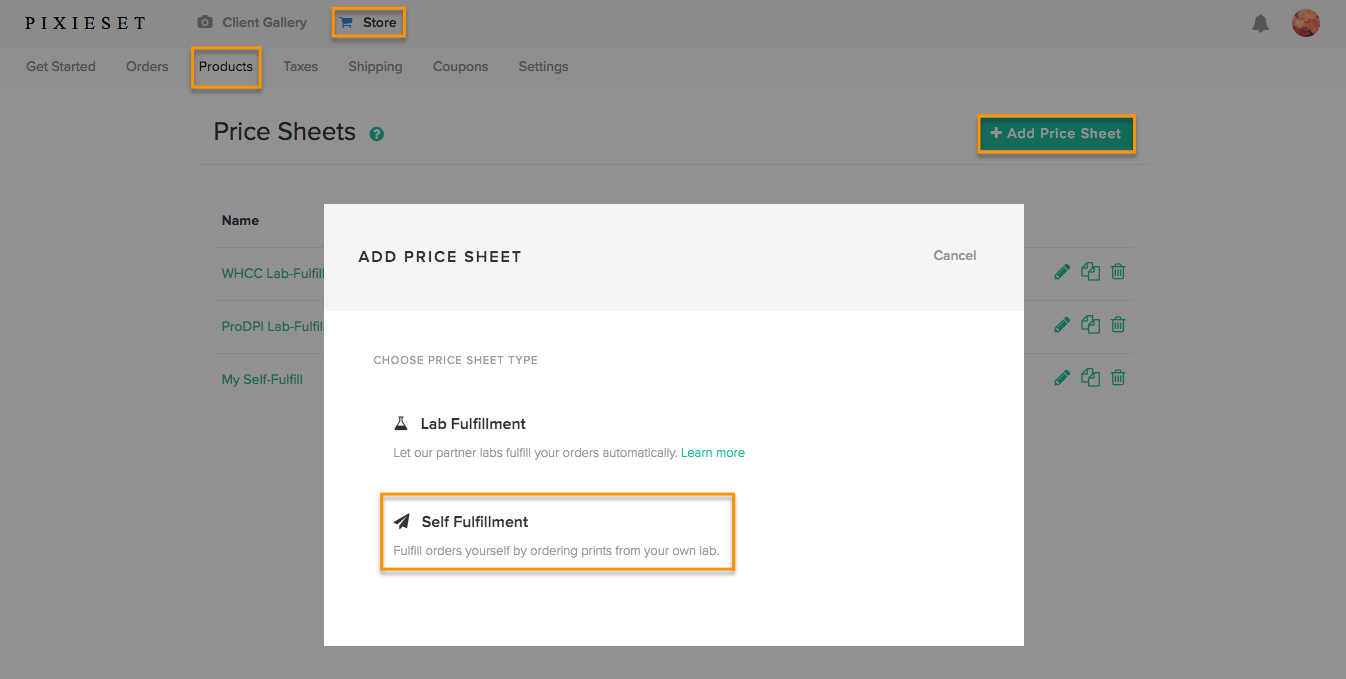 Selecting Self Fulfillment will open our Self Fulfillment template, which will allow you to customize your Price Sheet, including the option to Add Common Products. If you select to Add Common Products, we will pre-populate your Price Sheet with common print sizes and products - which you will need to confirm your preferred print Lab is able to fulfill.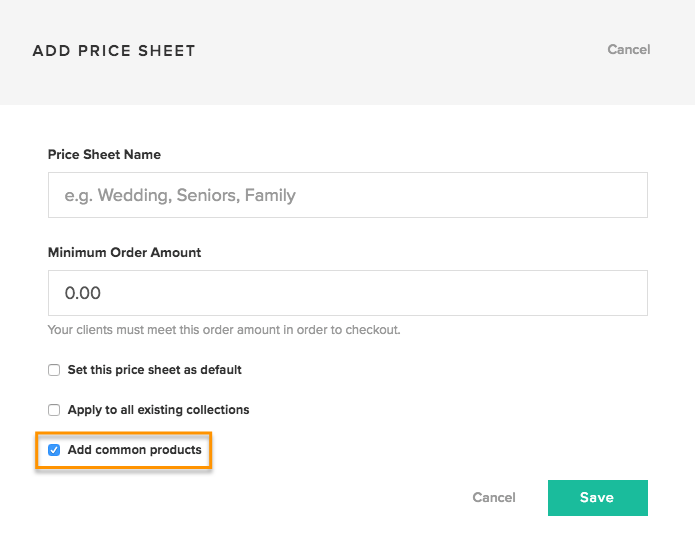 Once you've filled out all the desired information for your Self-Fulfillment Price Sheet, you can simply hit 'Save'. Your new Price Sheet will then open automatically, and you can then begin adding Products and adjusting their prices as needed.

Step Two: Add Products to your Self-Fulfillment Price Sheet 
You can select to have your Price Sheet pre-populated with common products (as shown in Step 1).
If you wish to add additional products to the Price Sheet, you can do so by using the +Add Product button at the top of the page. You will then need to select the type of product you're interested in adding (Print, Digital, etc). If you wish to adjust a Product that has already been added, you can do so by clicking on the Edit Icon (Green Pencil) next to the Product you wish to edit. A popup will then appear for you to adjust information as needed.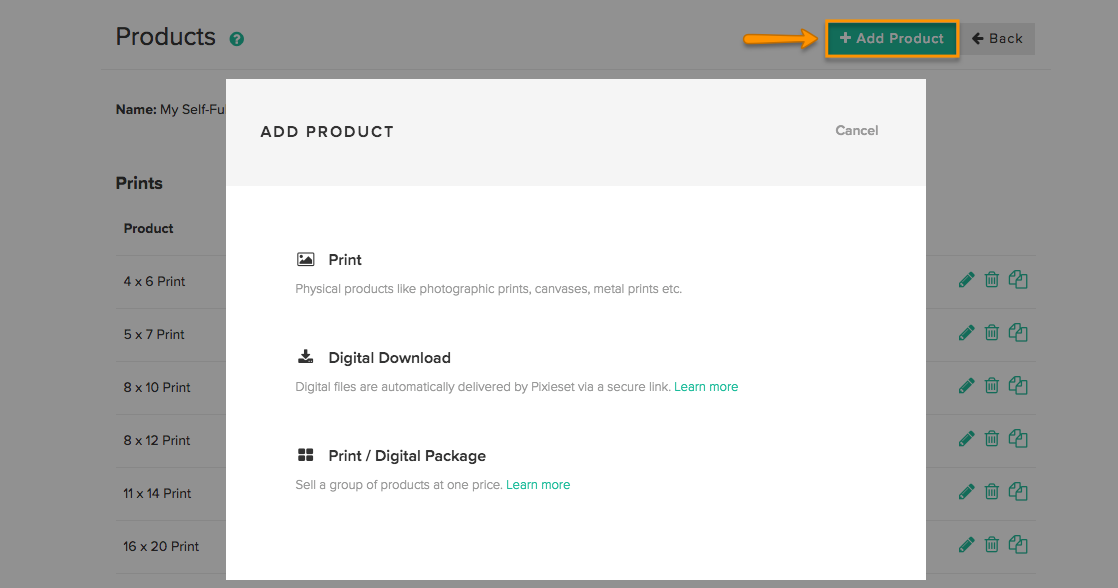 Next you will be able to enter all the desired information for that specific product.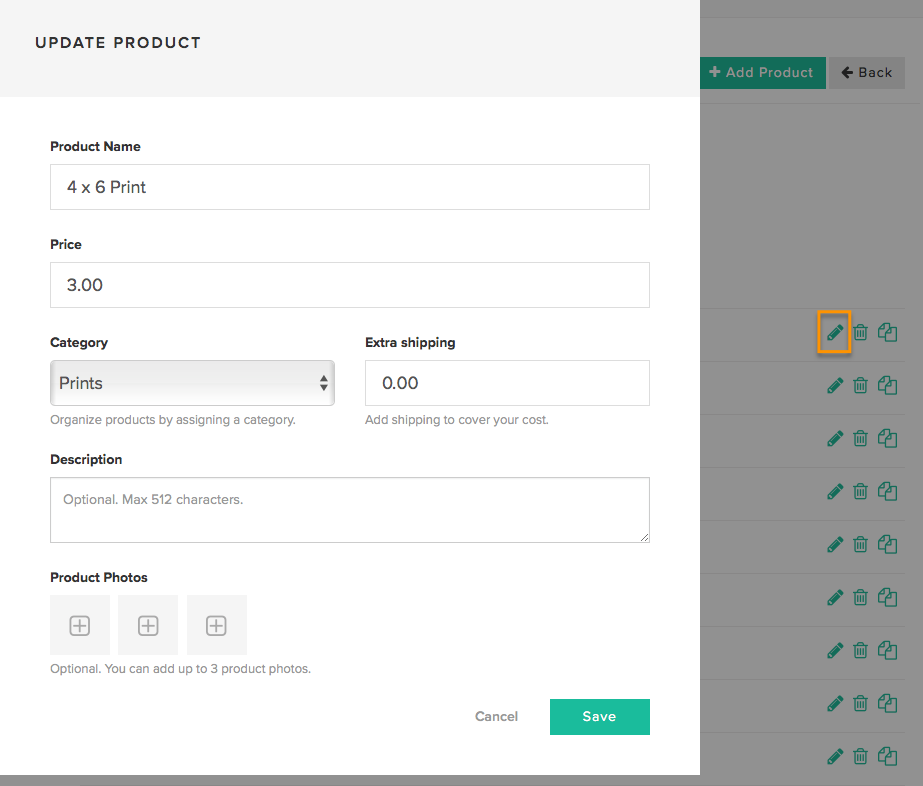 Step Three: Making the Price Sheet available to Clients
Before Clients can make a purchase from your new Price Sheet, you will need to attach the Self-Fulfillment Price Sheet directly to any applicable Collections. Once the new Price Sheet has been selected from the Store section of your Collection Dashboard, your Clients will be able to place Orders for these Products directly from that Collection!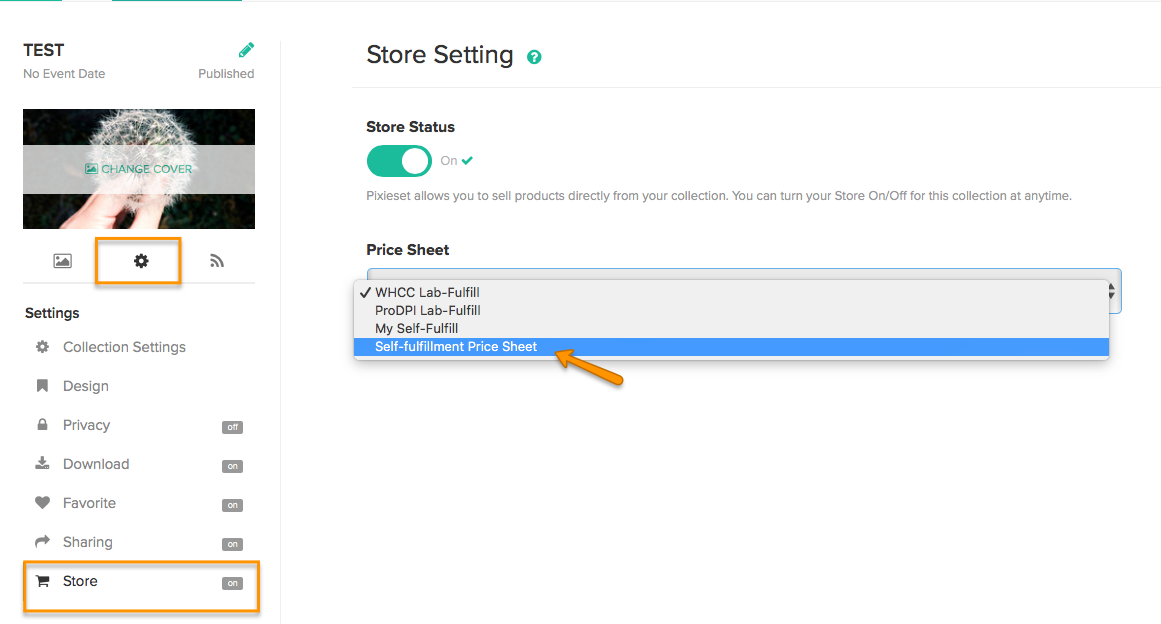 What does it look like/What do I do once an Order is placed?

When a Self-Fulfillment Order is placed in your Store, you will receive a Notification through your Pixieset Dashboard, as well as an email Notification. You will then need to relay the Order information and images to your chosen Lab for processing manually, outside of Pixieset.

If you would like to review all available information for a specific Order, go to your Store Dashboard, click on Orders, and then click the View button next to the Order in question.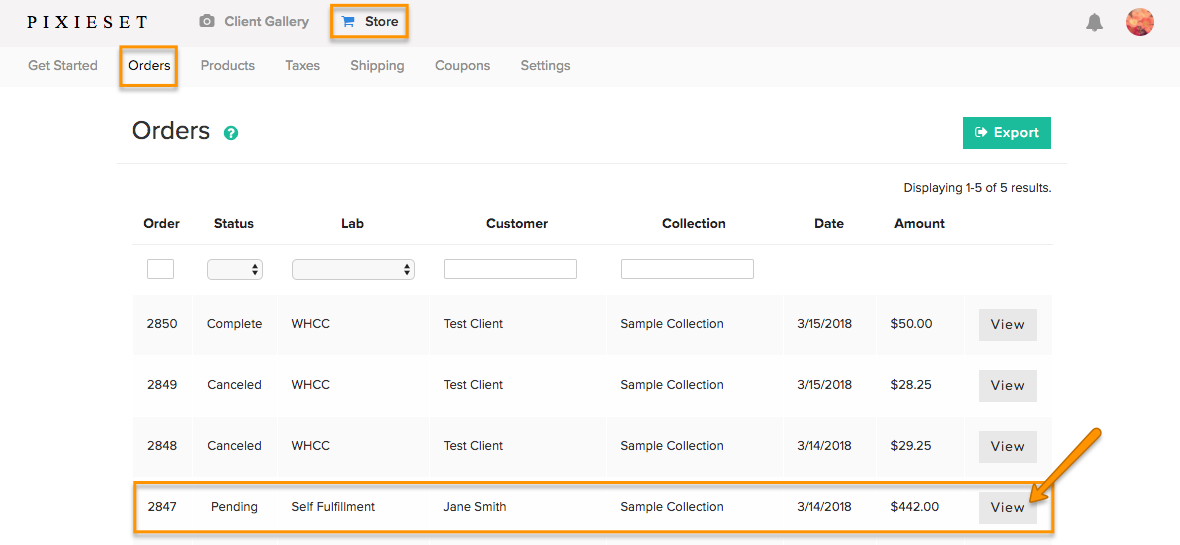 From here, you can review all of the client's details, or use the Export Filenames option to export a .CSV file to export the ordered products and filenames. If you need to do any final editing or retouching before placing the order with your print Lab, you can use the Lightroom Copy List option to easily find the client's ordered images in your Lightroom Catalog.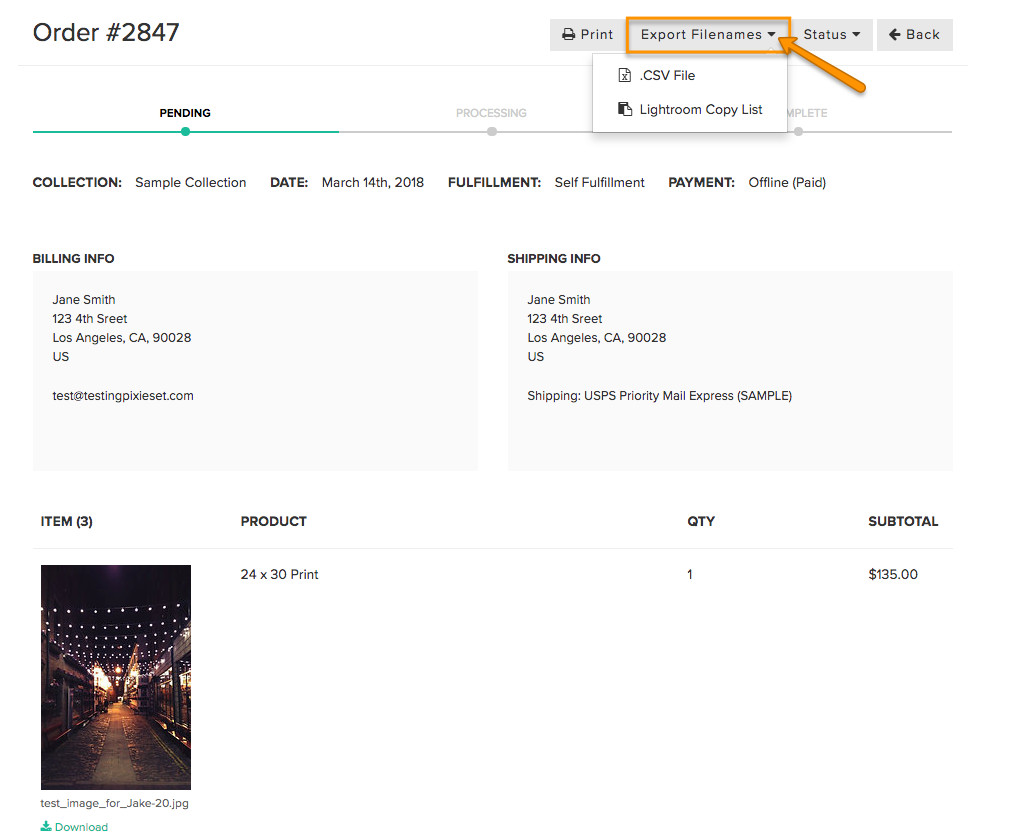 Step Four: Place the Order directly with your Lab
Once you have all of the necessary information for the Order, you need to place it directly with the Lab of your choice. To make this easier, you are able to download a .CSV file, or a Lightroom Copy List of the Ordered images. You can initiate this process by clicking the 'Export Filenames' tab at the top of the Order page.

The .CSV file will display the File Name, Product Ordered, and the Quantity of the Product so you can easily relay this information to your print Lab.
Step Five: Update the Status of the Order
The Status of Self-Fulfillment Orders will not automatically update as Lab-Fulfillment Orders do. You will need to manually update the Order Status for your Self-Fulfillment Orders by viewing the Order in your Order Dashboard, and clicking the 'Status' button at the top of the page.

Pending = Order has been received by Photographer
Processing = You have submitted the Order with your print Lab, and it is being printed.
Completed = The Order has been completed and has been shipped to the Client. 
Canceled = The Order has been canceled. This does not automatically refund your client. You will still need to process their refund.

Step Six: You've successfully completed a Self-Fulfillment Order! Pat yourself on the back! 

Please Note: This process will be the same for any Self-Fulfillment Products that are Ordered, even when they are listed on a Lab-Fulfillment Price Sheet. You will be able to access the same information, as well as update the Status for any Self-Fulfillment items.