Pixieset Store lets you sell professional print products, digital downloads, and other items directly from your galleries. With a stunning online store and a variety of premium products, it's simple for photographers to sell photos online and earn more.
Take a look to see how it works in our example galleries: https://pixieset.com/example-store/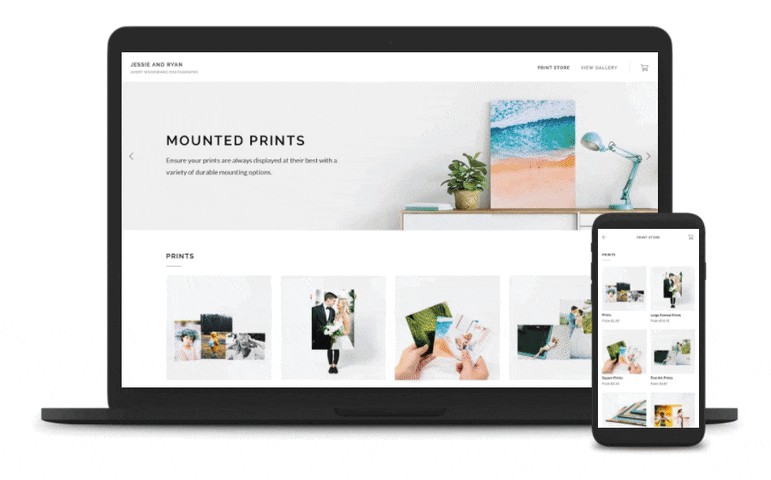 On this page:
How it works
It's easy to get started with Pixieset Store! You just need to review the products you want to sell, and enable a payment method. You determine the prices for all of the products in your Store, so you can make sure you earn a profit from each sale.
Your Pixieset Store is seamlessly integrated into your client galleries. Your clients can easily purchase any products you have available while they are browsing your images, or visit your dedicated storefront to explore products to purchase.
With Personalized Product Preview, your photos are used in the product preview image, creating a personalized shopping experience for your clients to help drive sales. You can control which images from the gallery are used in the preview, in the collection's Store settings. Learn more: What is Personalized Product Preview?
Your client can preview their images, place their order, and process their payment right in the gallery. You can easily review and manage your orders right from your Pixieset Dashboard. Learn more: Managing Orders
Digital images will be delivered automatically to your client via email when the order is processed. In countries where Automatic Fulfillment is available, orders will be sent to one of our professional lab partners to be printed and shipped directly to your client! Learn more: Getting started with Automatic Fulfillment
You may also choose to fulfill the orders yourself. Simply select the Self Fulfillment option when you are creating your price sheets, and add your own products, pricing, and shipping methods. Learn more: Getting started with Self Fulfillment
Store Pricing
Just like with any Pixieset product, you can get set up with Store for free! On the Free account, each sale is subject to a 15% commission fee. Pixieset Store is included as part of our Client Gallery subscription, and depending on your business needs and how much you plan to sell, it may be worth upgrading your plan.
With any of the upgraded Client Gallery plans, which start at $10/month, or a Suite subscription, there will be 0% commission on your sales. If you sell as little as $70 a month, a monthly subscription is worth the cost, as you will get more storage and keep all of your profits.
The Legacy Store system
In May 2020, we launched an updated store system that was built from the ground up with a focus on improving product discoverability and increasing ease-of-use for your clients. Price sheets created in the previous, legacy system will continue to work as before, but new legacy price sheets cannot be created. Legacy price sheets do not support any of the new features or products in the updated Store.
To get started with the new Store, simply create a new price sheet and assign it to your Client Gallery collections. You can find more details on upgrading to the new system here: Upgrading from the Legacy Store