Gift Cards contain a pre-stored value which can be used by your client for purchases made from your Store. If your client does not use up all their credit on one order, the remaining balance can be used on future Orders. If you have Print Credits as part of your Pricing Package, you will definitely find this feature useful!

A Gift Card's balance is like any other payment method, and can be used on purchases, as well as the cost of taxes and shipping. 
To Create a Gift Card:
To create a Gift Card, go to the Store Dashboard, click on Coupons > +Create New, and select the Gift Card option:



Name the Gift Card and set a value. The Gift Card code will be pre-populated for you. You can also add an optional expiry date if you'd like.



You can send the Gift Card to a client directly from this page, by clicking on the icon beside the Gift Card. You can also add a custom message here; the Gift Card code and expiry date (if applicable) will be pre-populated for you.



If you'd like to update the Default Gift Card Sharing Email Template, you can do so by going to the Client Gallery Dashboard, clicking on Settings > Defaults, and then clicking Edit (pencil icon) beside Gift Card Sharing. 
How does a Gift Card work?
Your client will be able to use the Gift Card by entering the code on the Checkout page in the "Enter a Gift Card" field:

Clients can check the balance left on their Gift Card at any time by clicking on the Check Balance link in the email:

You will be able to see a history of redemptions and the corresponding Orders by clicking on the number in the "Redemptions" Column: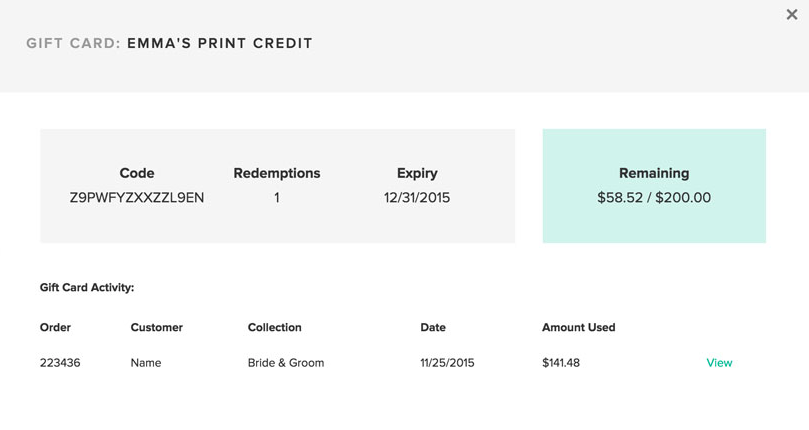 Once a Gift Card has been redeemed, it can no longer be deleted. You can "deactivate" this Gift Card at any time though, and restrict it from being used in the future.
Important: if your client received a Gift Card, but forgot to add it to their Order, the code cannot be added to the Order once it has been placed. If you want to honor the discount that would have been provided, you would need to process a partial refund to your client for the amount of the discount.