On this page:
Lost password
If you can no longer remember the password for your Pixieset Account, you can request a password reset from the login screen using the Lost Password? button.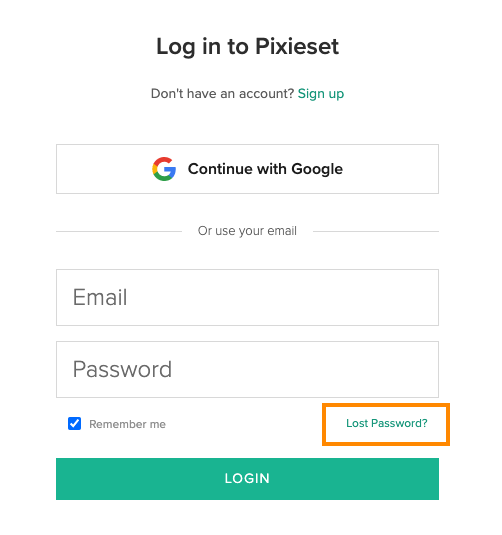 This will generate a password reset email to your Account Email containing a secure link for you to update your password.
Tip: To ensure that you receive all emails from Pixieset, you may need to add us to the Safe Senders list for your email provider; the emails that we send will come from info@pixieset.com, mailer@pixiesetmail.com, and notifications@pixiesetmail.com.
Log in with Google
If your Google account is connected to the same email address used to register your Pixieset account, you can easily log into your Pixieset account using the Continue with Google button. Your Google account will automatically be connected to your Pixieset account, and you can log in with a single click.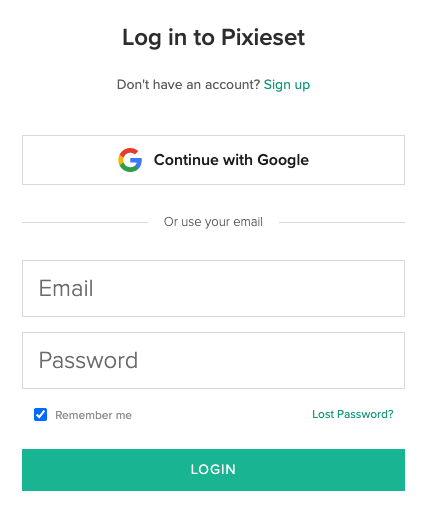 Forgotten account email address
If you have forgotten the email address associated with your Pixieset Account, you can try searching your email inboxes for any messages from Pixieset, or specifically for the subject line 'Welcome to Pixieset' which would be sent from info@pixieset.com. This should help you confirm which email address you set up the account with.
Login verification code
When you first create a Pixieset account, our system will remember your location and the device you used to sign up. Whenever there is a new login attempt from an unrecognized device or location, we will send a verification email containing a unique code to the email address registered to your account. To prevent unauthorized access to your account, this verification code is required to continue logging into your Pixieset dashboard.
To locate this code, check your email inbox for an email from info@pixieset.com with the subject 'New login attempt to Pixieset'. You may need to double check your junk/spam folder if you cannot see it. You can learn more about the verification code requirement and preventing unauthorized login attempts here.
Two-Factor Authentication (2FA)
Two-Factor Authentication (2FA) is an optional security feature that adds an extra layer of protection to your Pixieset account. With 2FA turned on, a verification code from an authentication app, or one of the single-use backup codes provided during setup, would be required in order to log in to your account.
Two-Factor Authentication verification codes are not provided via text or email, and cannot be recovered by Pixieset Support. If you're not able to locate the app, you could try searching your phone for an "auth" app; the most popular ones are Google Authenticator, Microsoft Authenticator, or Authy.
If you have an iPhone, this may also have been set up within your phone's default settings; on your phone go to Settings > Passwords, locate Pixieset and see if 2FA is set up under Verification Code.
Tip: If you're actively logged into your Pixieset account on a different device, you can temporarily turn Two-Factor Authentication off from your Account page (click your Profile Icon > Account). Then, you'll be able to access your account from the new device without needing to enter a code. Remember to turn 2FA back on when you're done to re-secure your account!
Learn more about Two-Factor Authentication and how it works here: Setting up Two-Factor Authentication (2FA)
Other Login Issues
If you can no longer access the email address you used to sign up, or are unable to access your Pixieset account for any other reason, please reach out to our Support Team.