Pixieset provides photographers with two different levels of organization: a Collection, and within that Collection, different Photo Sets. For example, the photos within the Collection "Jenna & Ryan's Wedding Day" could be organized into different Sets, such as "Getting Ready", "Ceremony", "Reception", and "Portraits".
On this page:
Creating a Collection
Creating a Photo Set
Creating a Collection
To create a new Collection, go to your Client Gallery Dashboard and click the + New Collection button.

A pop-up window will then prompt you to enter your desired information for the new Collection, including the Name, Event Date, selecting a Collection Default, along with your Watermark. You'll also have the opportunity to further customize your Collection by selecting Advanced options.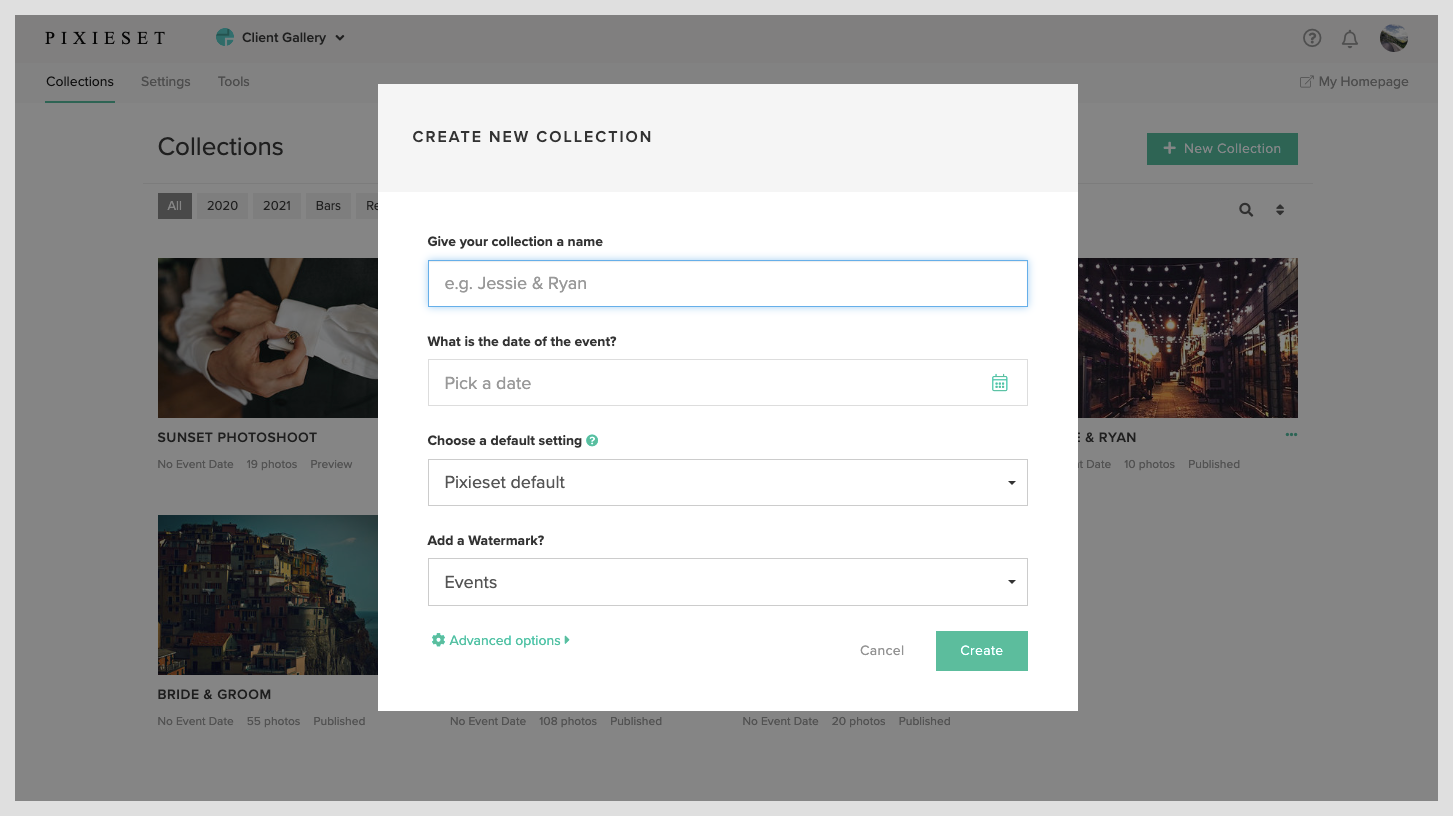 Advanced options include:
Tag your collection: Add a tag to help categorize the Collections in your Client Gallery.
Auto Expiry: Set a specific date to have the Collection automatically "expire" (changes the Collection's status from Published to Hidden/Unpublished).
Email Registration: If enabled, visitors will be required to enter their email address before viewing a Collection.
Show on Homepage: Show or Hide the Collection on your Client Gallery Hompage.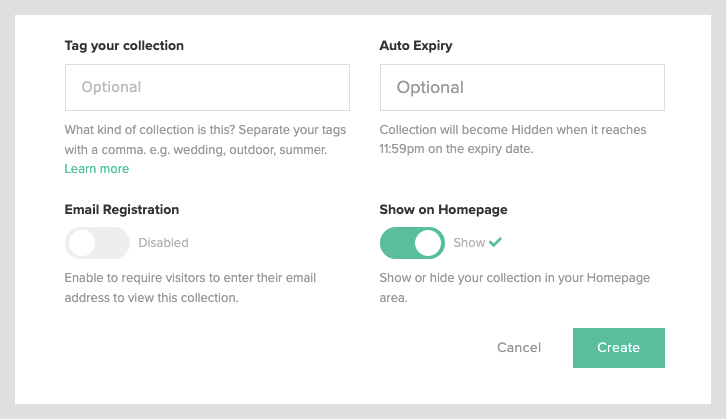 Once complete, simply click the Create button in the bottom right-hand corner of the pop-up window!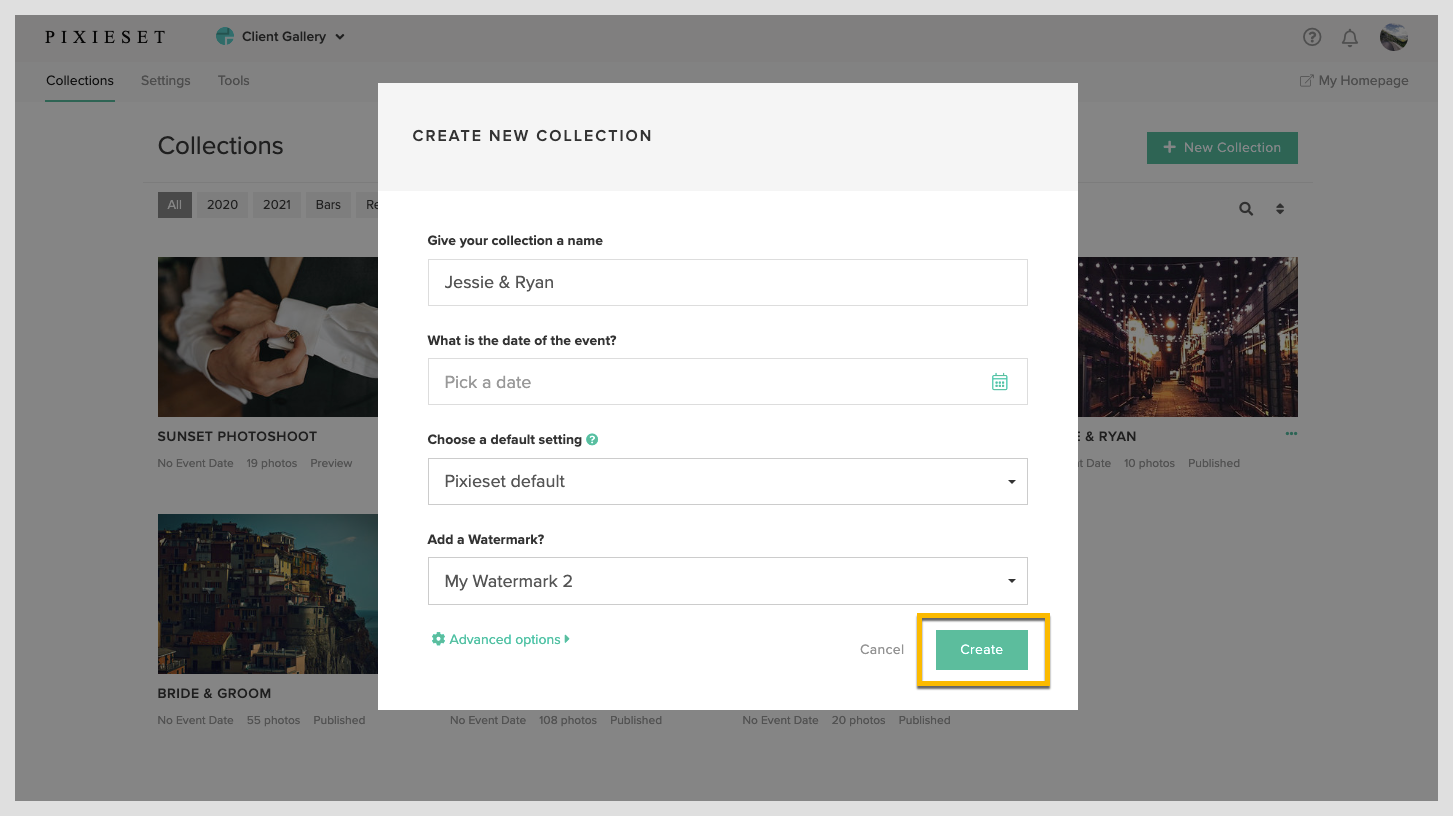 Creating a Photo Set
By default, every new Collection will be created with a Highlights Photo Set, but you can easily use the + Add Set button to create additional ones.
From there, simply enter your preferred Photo Set Name and click the Save button.
You can rearrange your Sets at any time by clicking the Sort icon to the left of the Set's name and then dragging it into the desired position.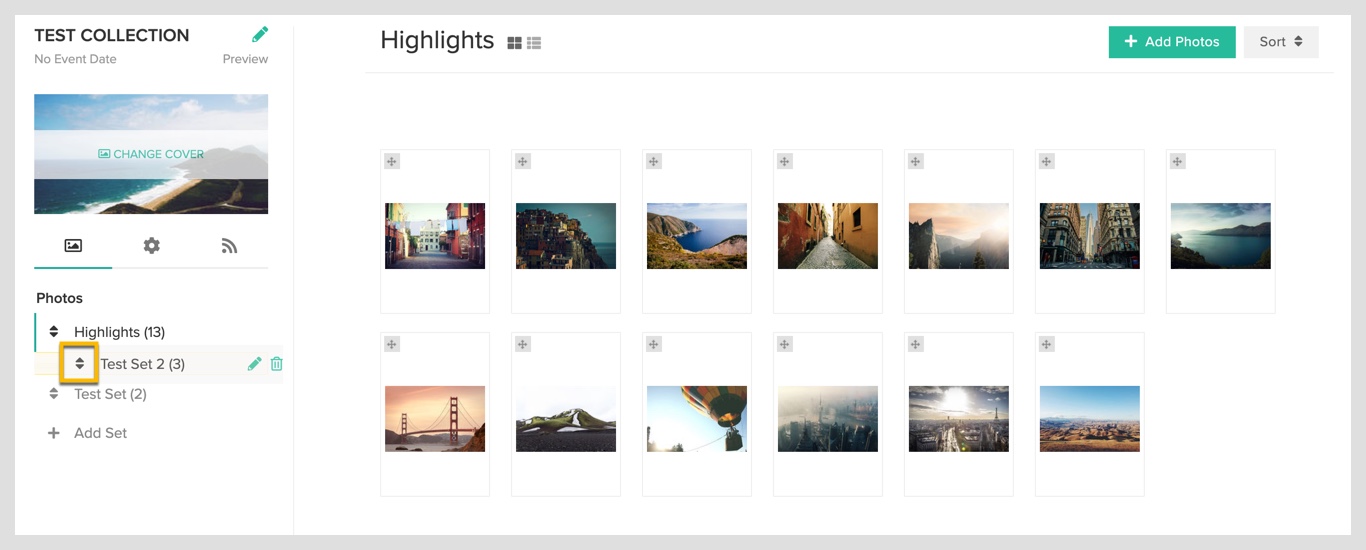 When you hover over a specific Set, you will also notice a couple of other icons appear.

For example, if the Edit/Pencil icon is selected, you can change the Photo Set Name. Alternatively, if you were looking to remove a Set from the Collection, you can easily click the Delete/Trash Can icon. Please note that if a Set is deleted, all of the photos within it will also be removed and this action cannot be undone.