Download Settings control the Download options for your Collections, and can be customized for each Collection individually. This guide will go over what download settings can be adjusted for your Collection's photos and videos.
On this Page
Accessing your Collection's Download Settings
From your Collection's Download Settings, you will be able to customize the Gallery Download, Single Photo and Video Download settings, as well as see the Advanced Options for downloads
Open the collection in your Dashboard
Go to Collection Settings > Download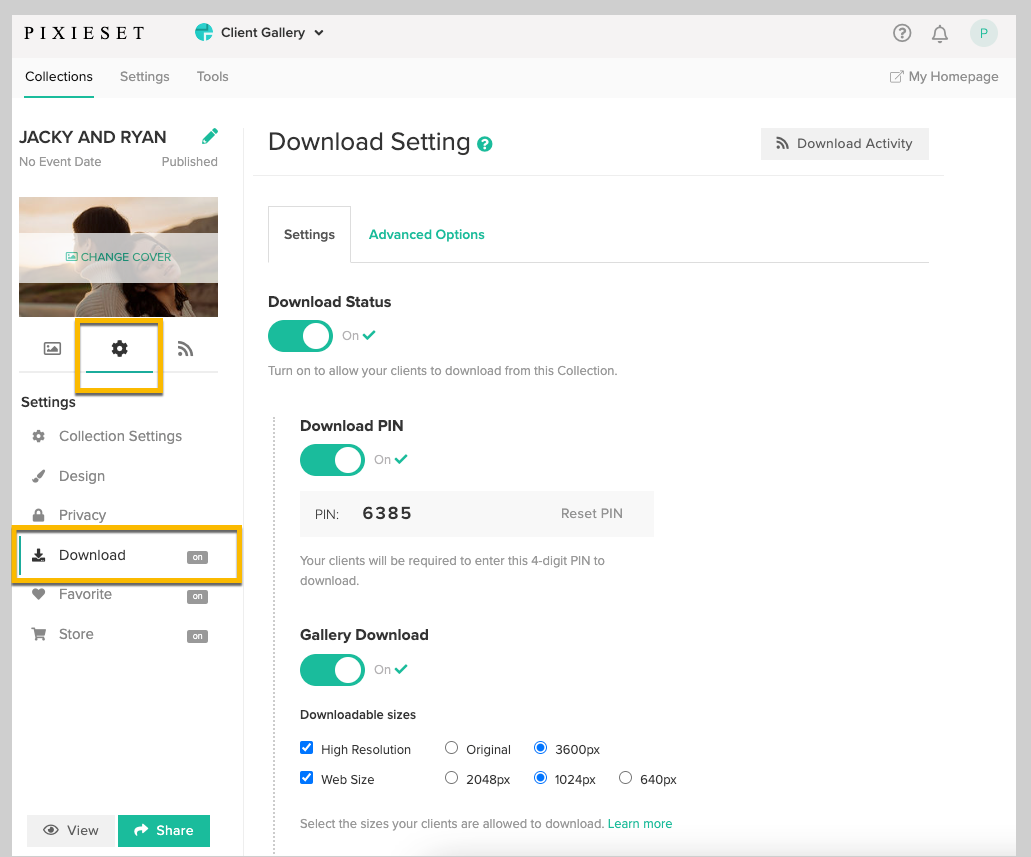 Turning Download Status on or off
Changing Download Status from On to Off will update the settings for the entire Collection. Enabling this will allow your client to download full Gallery Downloads, Single Photo Downloads and Video Downloads.
Locating the Download PIN
The Download PIN is an automatically generated 4-digit PIN that is enabled by default for your security, and for tracking purposes. If the PIN is On, it will be required for clients to access both Gallery Downloads, Videos and Single Photo Downloads. If the PIN is changed to Off, it will no longer be required for any downloads and anyone with access to the Collection will be able to download all of your files without any restrictions. We always recommend using a Download PIN for security purposes.
If you set the PIN to Off, and then change it to On, this will automatically regenerate the 4-digit PIN, and the previous PIN will no longer be valid. You can also generate a new PIN using the Reset PIN option.
Setting up Gallery Downloads
Gallery Downloads allow your clients to download all available photos from the collection at once. The Gallery Download settings can be customized based on which resolution you would like to offer your clients. Gallery Download can be disabled, while leaving the Single Photo Download available for clients, if you wish. The Gallery Download is available in High Resolution: Original Size (with all upgraded accounts) or 3600px, and Web Size (640px, 1024px, and 2048px).
If you are offering more than one Gallery Download Resolution, your client will only be able to select one at a time, but can return to the Download screen to select the additional options as needed.
Setting up Single Photo Downloads
Single Photo Download can be set up by toggling the status On or Off, and is available in High Resolution: Original Size (with all upgraded accounts) or 3600px, and Web Size (640px, 1024px, and 2048px). You are also able to disable the requirement for the download PIN for Single Photo Download, and disable Email Tracking (clients would not be required to enter either the 4-digit PIN or their email address if these options are disabled).
Enabling Video Downloads
Within your Client Gallery Collections, you can also toggle on Video Download for your clients. Your client can then easily download their video from the collection using the Download PIN you provide them. Videos can be downloaded one at a time, straight to the client's device. These will be downloaded in an original equivalent MP4 format up to 1920 x 1080px in size, depending on the original Video you have uploaded. The video download file will be named master.mp4. You can read more on Uploading Videos here.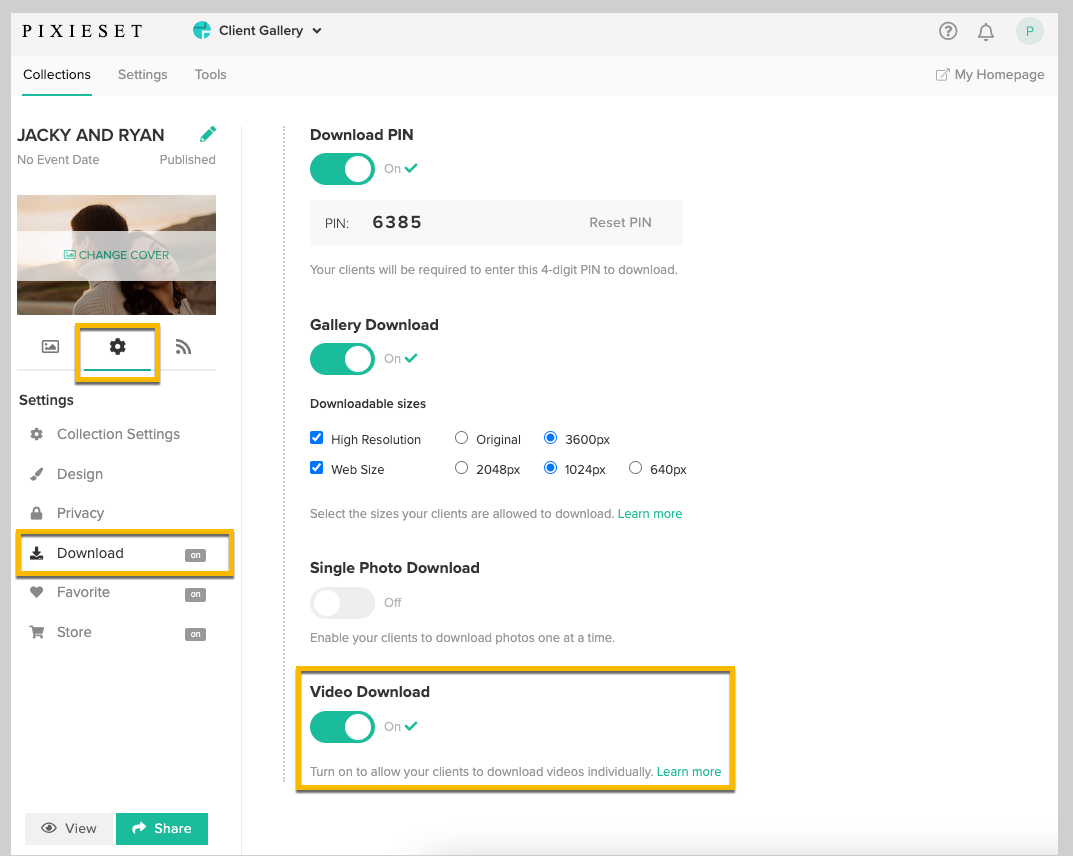 Restricting and Limiting Downloads
You can access more in depth download settings such as restricting downloads to specific email addresses, limiting the number of gallery downloads or restricting downloads for certain sets.
Open the collection in your Dashboard
Go to Collection Settings > Download
Click the Advanced Options tab at the top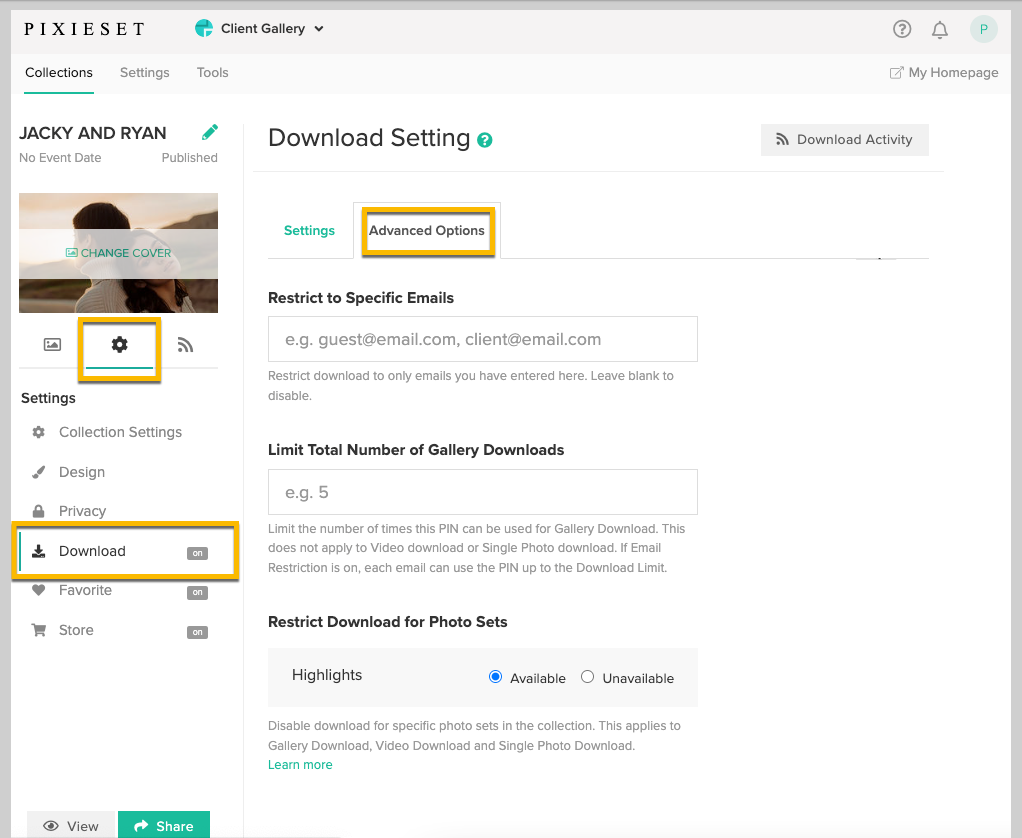 Restricting downloads to Specific Emails
This allows you to restrict Gallery Downloads so that only the email addresses entered in the Restrict to specific emails field can Download. Example: If you enter 'john@gmail.com' into the field, only this email address will be allowed to initiate downloads from the Collection.
Any email address that does not exactly match those in the download settings will not be able to initiate gallery downloads from the Collection. If you have the Download PIN required, clients will need to enter both their email address, and the Download PIN, in order to download the Collection.
Setting a Gallery Download Limit
The Gallery Download Limit allows you to set a limit on the number of times the full Gallery can be downloaded. If you are also using the Restrict to Specific Emails feature, then each email address in the list can use the Download PIN up to the specified Download Limit.
Example: if the Gallery Download limit is set at '5', then 'john@gmail.com' can use the Download PIN 5 times. If 'jane@gmail.com' was also added to the Restrict to specific emails section, this email address would also be able to use the Download PIN 5 times in total.
Note: this does not apply to Single Photo Downloads or Video Downloads. This feature applies to the entire Gallery/Full Collection Download only, and only when the PIN is enabled.
Restricting Download for Photo Sets
This setting allows you to determine which Photo Sets within a Collection are allowed to be Downloaded by your clients. Only Sets that are marked as Available will be available for download by the client. A 4-digit PIN would still be required, if the PIN setting is enabled for the Collection. Learn more about Sets for download.