The Pixieset Store was upgraded in May 2020, and the new version was rebuilt from the ground up to provide an enhanced shopping experience, additional product options and customization possibilities, as well as additional tools and features to help photographers manage their stores. You can check out a demo of the new Store here. If you were using Store prior to this launch, all you need to do to upgrade is create a new price sheet and assign it to your galleries!
On this page:
The New Store
The upgraded Store has been built from the ground up with a focus on improving product discoverability and increasing ease-of-use for your clients.
Here are some key new features:
Redesigned shopping experience - The client gallery shopping experience has been completely redesigned to show off your beautiful products and to increase sales. See example gallery
Storefront - A new dedicated storefront designed to showcase and sell stunning products is now integrated right into your client galleries. See example store
New premium products - Take your product offerings to the next level by offering everything from photographic prints to framed prints to greeting cards. See more products
Extended product options - You can now easily offer products in a wide-range of sizes, paper type, finishes, and more.
Bulk purchasing flow - If you are purchasing prints or single photo downloads from the Storefront, you can now bulk purchase by selecting multiple photos at once.
Wall art room preview - When purchasing wall products, your clients can now visualize what their photo might look like in a room setting before adding to cart.
Rearranging product categories - You can now re-organize your product categories in a way that suits your business needs (ie, do you always want your clients to see Digital Downloads first? You can make that happen with the new store!)
Personalized Product Preview - Overlay photos in your galleries onto product images, creating a unique personalized store experience for your clients. Learn more: What is Personalized Product Preview?
Upgrading to the new Store
If you started using Pixieset after May 2020, you're already set up with the new system! When viewing your price sheets (Store > Products), any price sheets from the previous system will have a "Legacy" tag.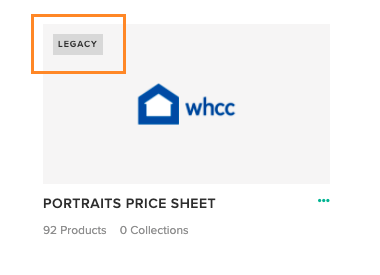 As a result of all the new features and changes to the core Store system, it is not possible to automatically convert a legacy price sheet to use the new, upgraded Store. If you currently have any Legacy price sheets assigned to your collections, you can upgrade to the new Store by simply creating a new price sheet.
From the Products page (Store > Products) click + Add Price Sheet.

Give your new price sheet a name and select the fulfillment type. You can reference your previous Legacy price sheet(s) to apply the same settings.

You have the option to use our Recommended Pricing, which will automatically set the prices in your store according to our research and analytics to maximize sales and profits. This way you'll be ready to start earning right away! You can then adjust prices for products individually, according to your business.

Click Create, then review the price sheet to see the products available, and update your prices as necessary. With our Bulk Markup tool, you can also update the prices for the entire price sheet, or apply a bulk markup to specific product categories (framed prints, metal prints, etc). Learn more: Adding and Pricing Products in your Store

Assign your new price sheet to your Client Gallery collections. You can easily assign the new price sheet to all of your galleries at once, or set it as the default for new collections, using the ••• menu. Learn more: Assigning price sheets to galleries

That's it! Check out your gallery to see your new, upgraded Store in action.
Remaining on the Legacy Store system
For now, existing Legacy price sheets will continue to work as before. However, new legacy price sheets can no longer be created, and existing legacy price sheets do not include any of the updated features or new products available in the new system. Galleries with a legacy price sheet attached will display the old Store experience to your clients.
Thousands of photographers have upgraded their Store to provide an enhanced shopping experience for their clients, and we recommend you make the switch too! All you have to do is create a new price sheet and assign it to your galleries.