When your Collection is ready to be Shared with your clients, Pixieset has a number of great built-in features!
How do I Share My Collection?
To use the built in sharing options with Pixieset, you will need to open the Collection you would like to share in your Dashboard, and click the Share button. If you do not see the Share button, or if it is greyed-out, make sure the Collection is set to Published.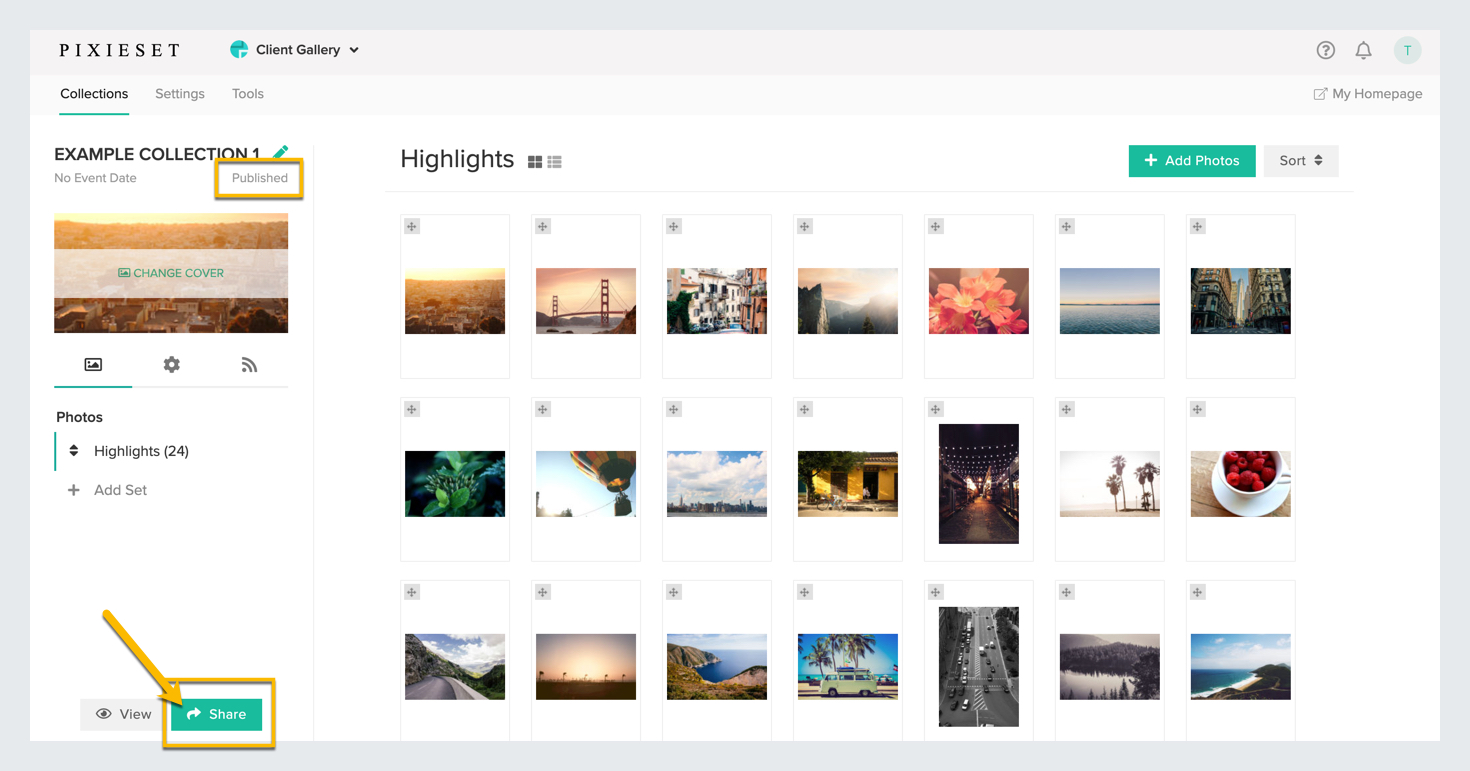 After clicking Share, you will be able to select from any of the available options that best fit your needs: Collection Email Invite, Direct Collection Link, Social Media Sharing, or by directing clients to your Pixieset Homepage!
What are My Sharing Options?
1. Collection Email Invite
The Collection Email Invite feature allows you to create a customizable email to send directly to your client with direct access and information on how to enter their Collection. You can include important information, such as the Collection Password, and Digital Download PIN with the click of a button!

Find out more about creating Custom Email Invite Templates here!


2. Get Direct Link
On the Share page, you can find the Get direct link option, which allows you to easily copy the direct link to your Collection in order to share it with clients or online!

3. Social Media
Using the Social option allows you to share this Collection to Facebook, Twitter, and Pinterest. If you are looking to show off the Collection, or reach a large group of clients (after shooting an event, for example), then sharing on Social Media is a great way to inform everyone at once!

4. Pixieset Homepage
All of your Published Public Collections are available on your Pixieset Homepage! You can easily direct your clients to your Pixieset Homepage and have them access and enter their Collection from there! Your Pixieset Homepage will follow the format, yourusername.pixieset.com.
Find out more about your Pixieset Homepage here!