Pixieset offers you the option to have a Homepage for your Client Gallery where all of your public collections can be found in one place. This can be used, for example, as a client portal (from which clients can access their collections) or simply as a showcase of your work accessible via a shareable URL.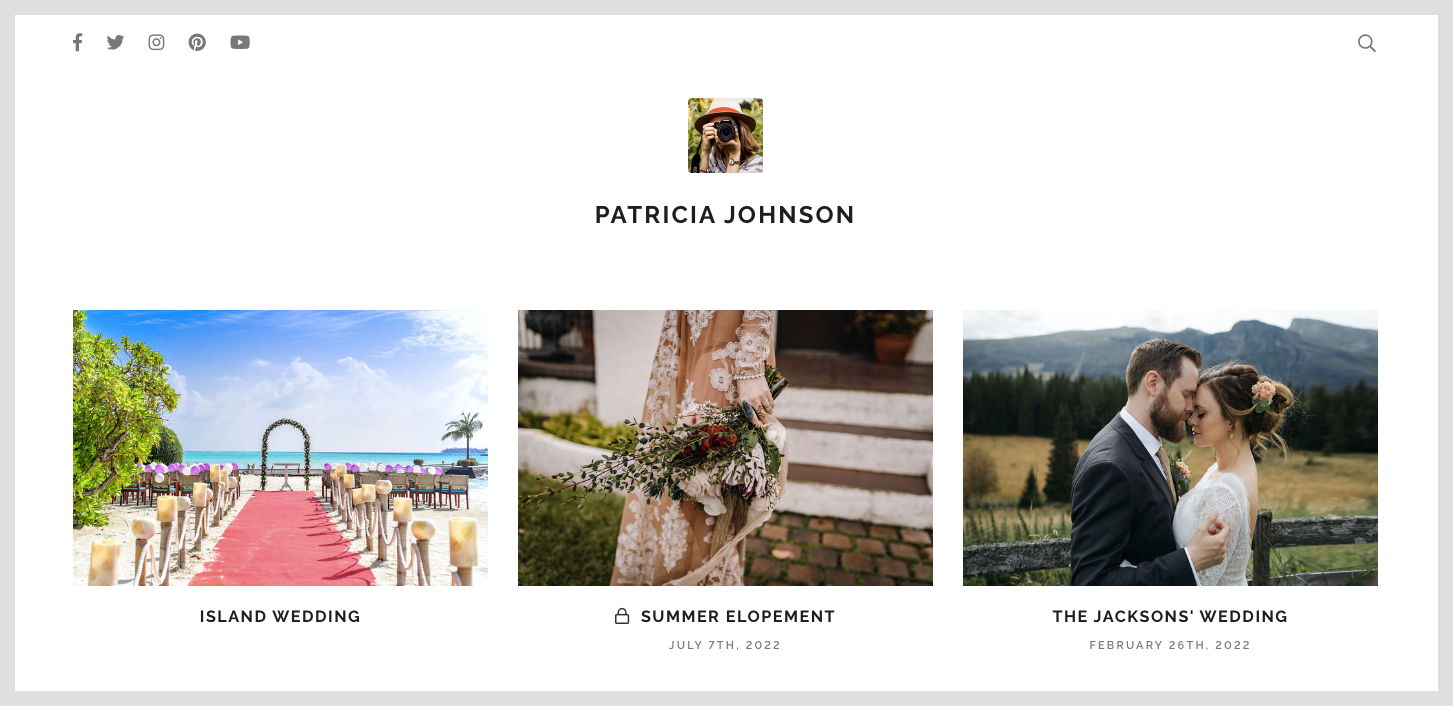 Organizing your Collections with Category Tags
Controlling the Collections Shown on your Homepage
Setting up your Homepage
Turning your Homepage On/Off
This Homepage is turned On by default, and can be turned Off at any time in your Client Gallery Dashboard by clicking Settings > Homepage and setting the toggle to Off. You can see this in context here: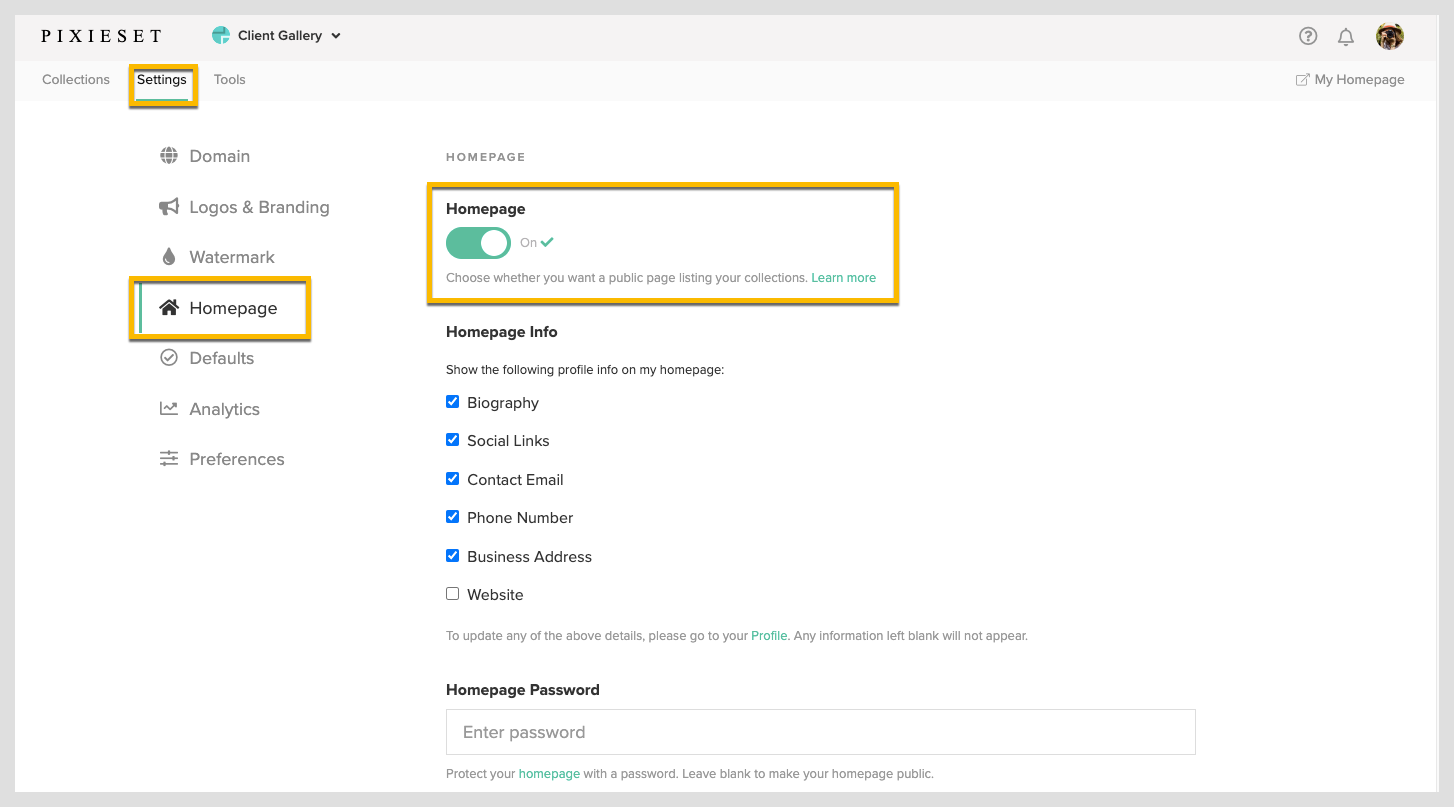 Homepage Info
If you would like to control what Profile information is displayed on your Homepage, you can do so by going to Client Gallery > Settings > Homepage, and checking the options you want to display. This information is pulled from your Pixieset Profile, which can be updated at any time by clicking on your Profile Icon.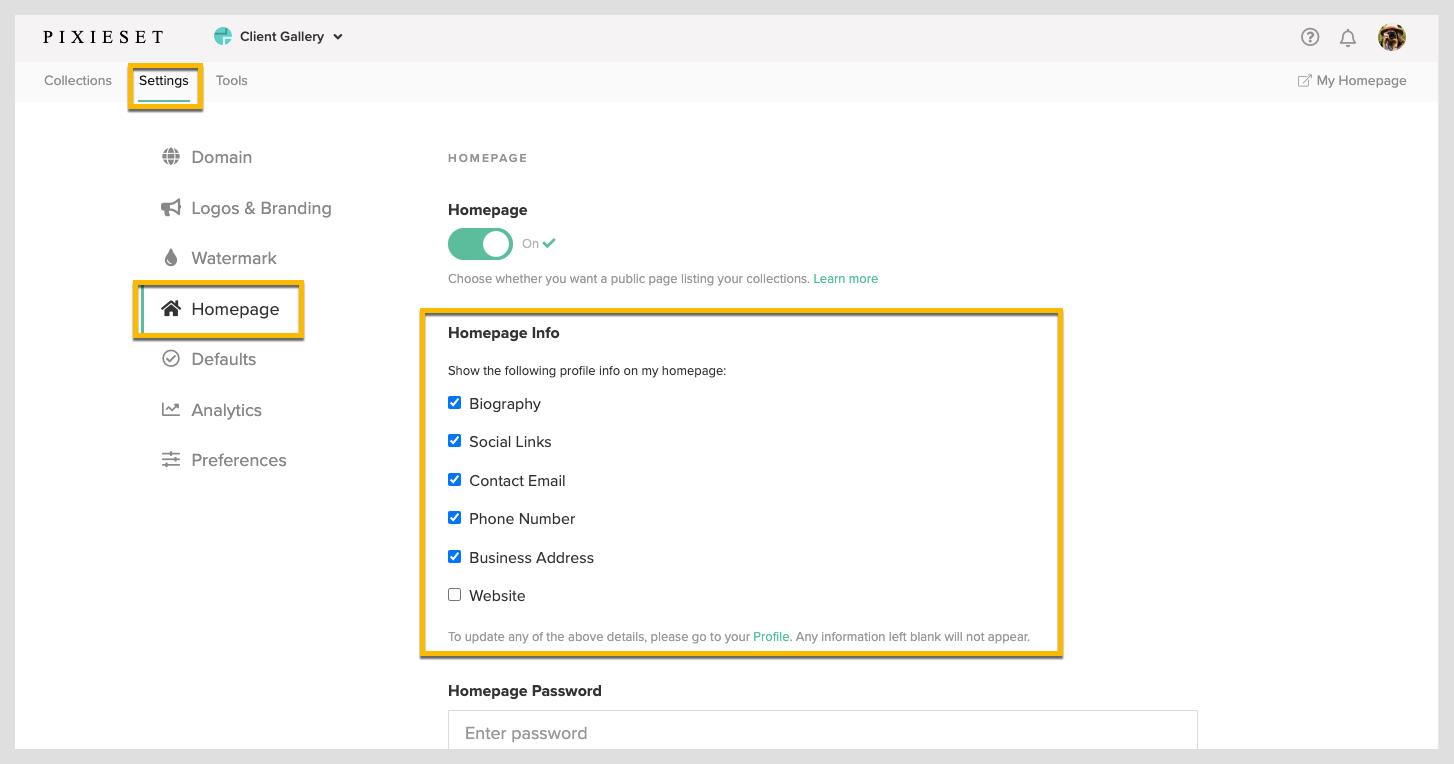 Homepage Password
You can add a Homepage Password if you want to have the Homepage turned On but accessible only by you and anyone with whom the password has been shared.
To add a password to your Pixieset Homepage go to the Client Gallery Dashboard > Settings > Homepage > Homepage Password. From there you will be able to set the password of your choice. Make sure to click Save to save your password.



Important Note: Adding a Homepage Password does NOT add a Password to your Collections. If you are looking for collection-level privacy settings please click here.


Collection Order
You can sort collections on your Homepage to display them in your preferred order. To change the order, go to the Client Gallery Dashboard > Settings > Homepage and scroll down to the Collection Homepage Order section. Here, you can choose your preferred Homepage sorting option from the dropdown menu.

Personalizing your Homepage
Organizing your Collections with Category Tags
Tags are typically used to easily categorize the types of Collections or Events you upload to Pixieset. This way, clients can quickly filter for a specific type of work by clicking on the relevant tag. These will appear at the top of your Homepage once they have been added to your Collections. You can read more on this here.


Controlling the Collections shown on your Homepage
You may wish to hide specific collections from the homepage while still having them available at the collection URL. For example, you may have certain clients with privacy needs, and others who are happy for their shoot to be publicly viewable. Open any Collection and click Settings > Privacy > Show on Homepage and change it to Off. This will allow you to still share your Collection with your clients, while keeping it hidden from your Pixieset Homepage. Only someone with the direct link to the Collection and any necessary password will be able to view it.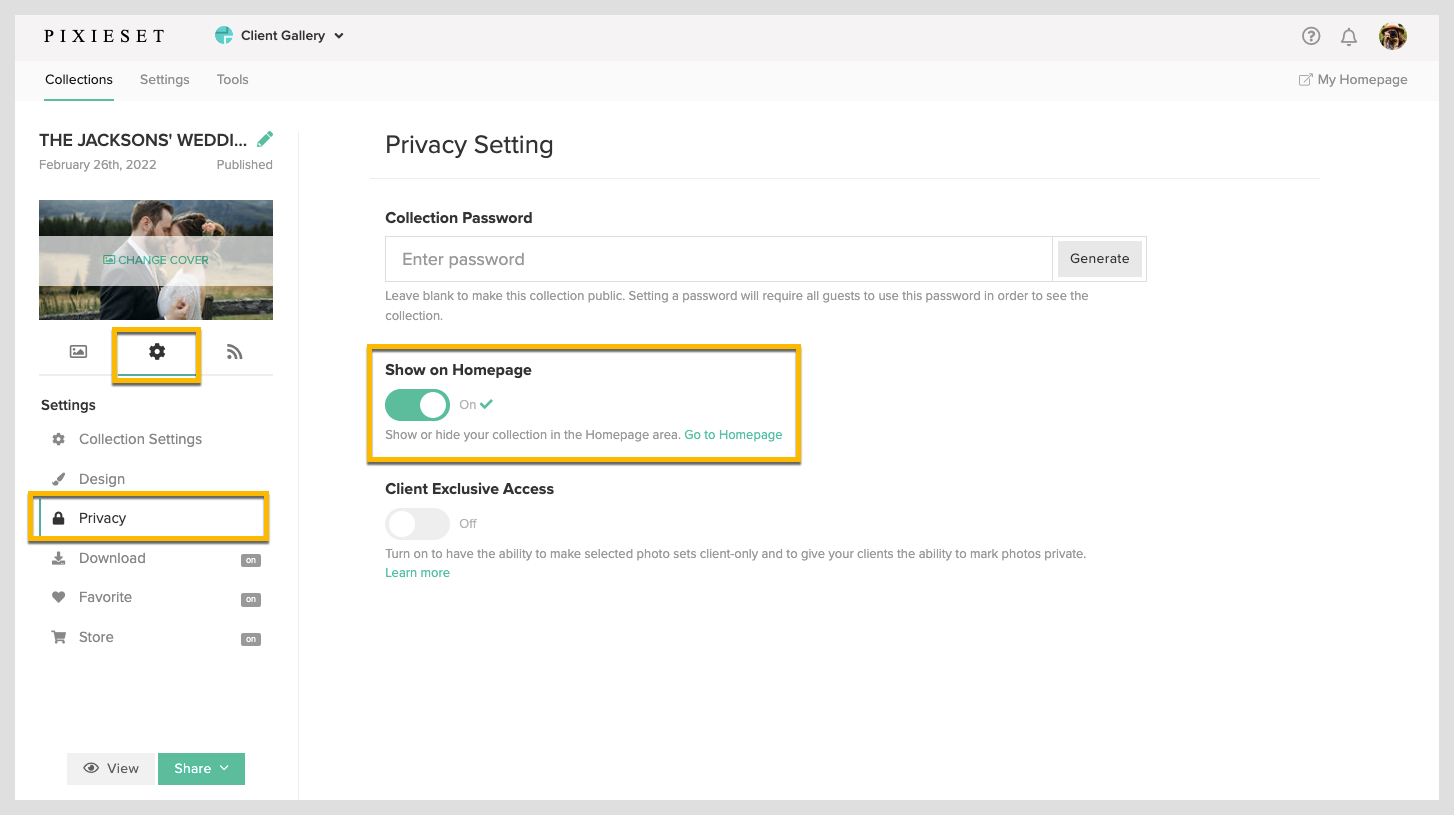 Client Experience
If your Homepage is turned On, your clients can access it at: yourusername.pixieset.com, where 'yourusername' is the username listed in your Pixieset Profile. From your Client Gallery Dashboard, click My Homepage to access it.


Note: If you wish to customize your Pixieset Homepage URL instead of using the default Pixieset format, you can also use your Custom Domain. Click here for more information on setting up a Custom Domain for Client Gallery.

Any public Collections will be accessible from your Pixieset Homepage. Collection level privacy is still in place on the Homepage - if you have added a password to the Collection, anyone viewing it from the Homepage will still need the password to access it (and there will be a 'lock' icon in place on the collection thumbnail to indicate this).