Your Pixieset Homepage is where your Published Collections are available to be viewed by the public.

Your Pixieset Homepage is available at: yourusername.pixieset.com, with 'yourusername' being the username listed in your Pixieset Profile. From your Client Gallery Dashboard, you can click on My Homepage on the top right to easily access your Homepage.
It will look similar to this: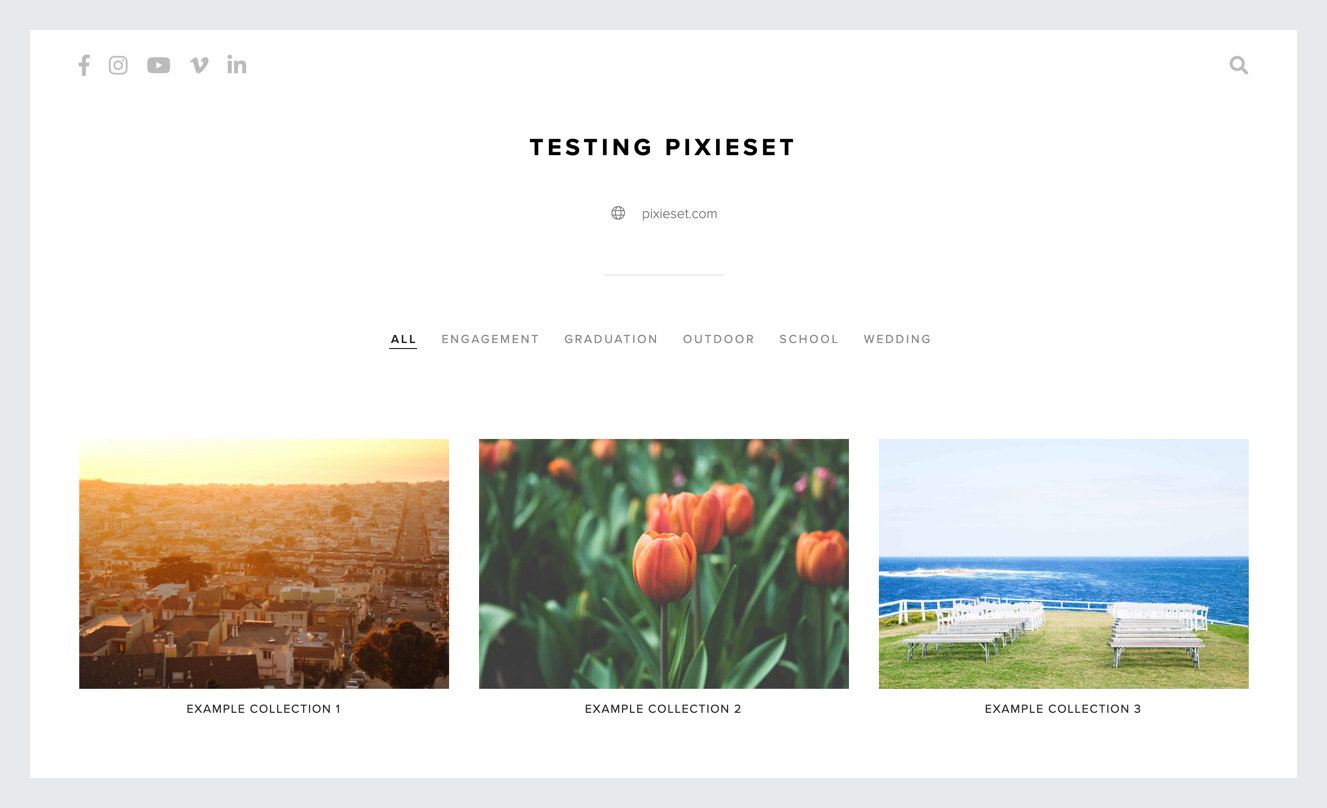 Only your Published Collections will be accessible from your Pixieset Homepage. Collections on your Homepage will still follow the same privacy requirements; if you have added a Password to the Collection, anyone viewing it from the Homepage will still need the Password to view the Collection.


Personalization Options for your Homepage
Option 1: Homepage Info
If you would like to control what Profile information is displayed on your Homepage, you can do so by going to Client Gallery > Settings > Homepage, and enabling the optional Homepage information options! This information is pulled from your Pixieset Profile, which can be updated at any time.

Option 2: Category Tags
Category Tags will appear at the top of your Homepage once they have been added to your Collections. Tags are typically used to easily categorize the types of Collections or Events you upload to Pixieset. More information on Collection Tags is available here.
Option 3: Custom Domain
If you wish to customize your Pixieset Homepage URL so that it does not follow the yourusername.pixieset.com format, you can set up a Custom Domain. Click here for more information on setting up a Custom Domain with Pixieset.
Option 4: Social Media

If you would like your clients to be able to easily find more information about you, you can link to your Social Media Accounts with Facebook, Twitter, Google +, and Instagram. Simply go to Profile Icon > Profile and add your Social Media Accounts to have the icons display on your Homepage.
Controlling the Collections shown on your Homepage
Option 1: Change the Collection Status from Published to Hidden
You can change the status of your Collection on your Collections dashboard by clicking the More button (the three dots) and Selecting Quick Edit.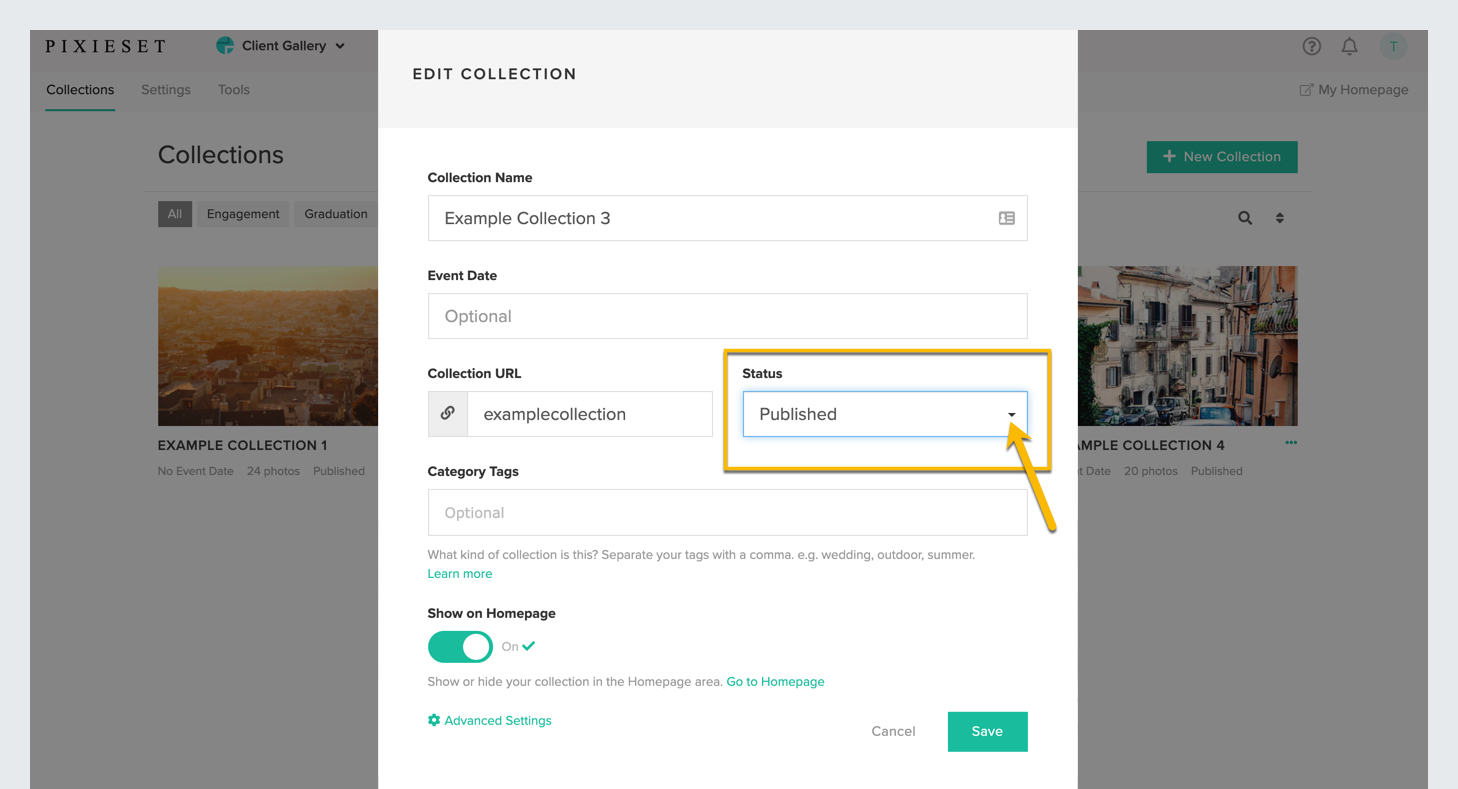 Note: when you change a Collection's Status to Hidden, only you will be able to view this Collection. Clients or Guests will only be able to see Published Collections - even if you have shared the Direct Link.
Option 2: Hide the Collection from your Homepage
First open the applicable Collection, then click on the Privacy section of the Collection Settings tab. From here you can scroll to Show on Homepage, and change the setting from On to Off. This will allow you to still share your Collection with your clients, while keeping it hidden from your Pixieset Homepage. Only someone with the Direct Link to the Collection will be able to view it.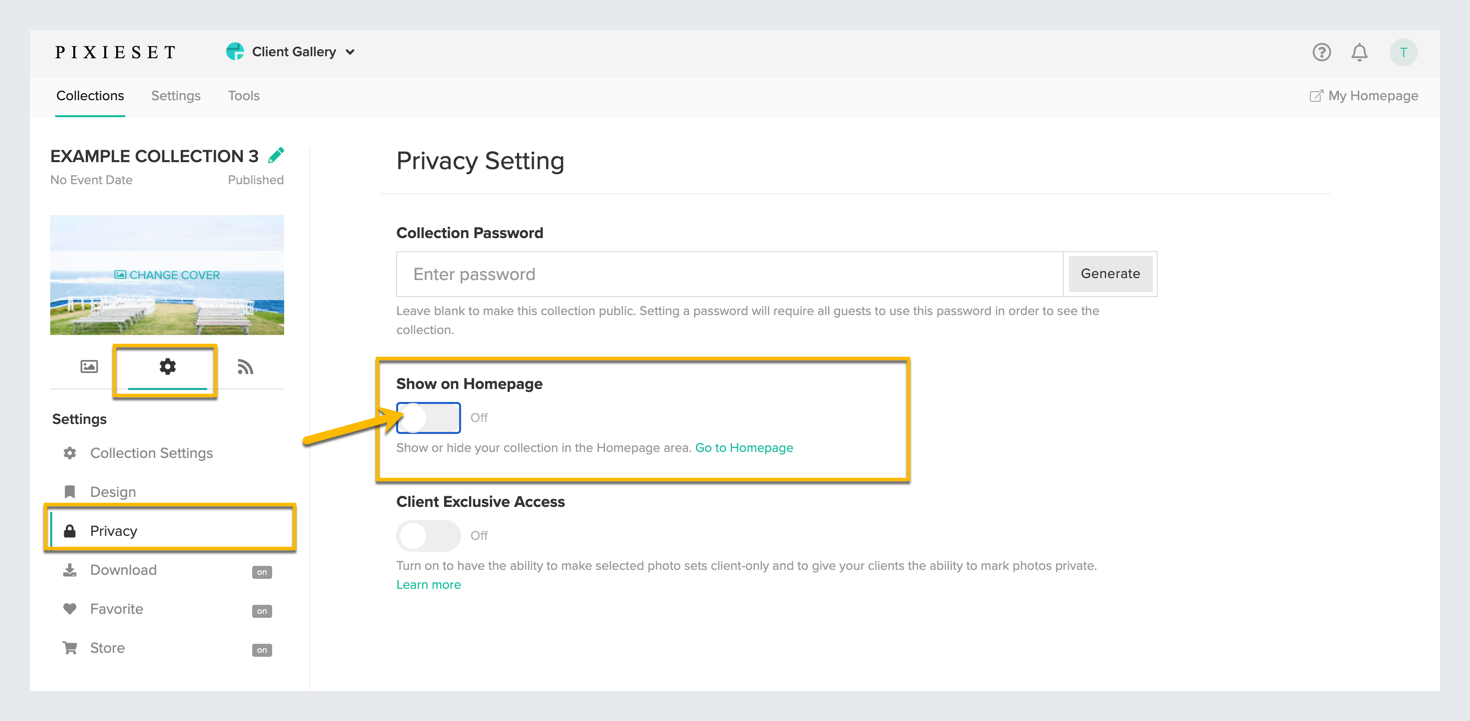 How Do I Hide My Pixieset Homepage From The Public?
If you wish to hide your entire Pixieset Homepage from the Public you can add a Homepage Password. Only you, and those you share your password with, will be able to view your Homepage.

To add a password to your Pixieset Homepage simply go to the Client Gallery Dashboard > Settings > Homepage, and add your Homepage Password. From there you will be able to set the password of your choice.


Important Note: Adding a Homepage Password does NOT add a Password to your Collections.