You can link your custom domain to your Pixieset Website in a few quick steps. If you have not purchased a domain, you can purchase one from a 3rd-party domain provider such as Go Daddy, Google Domains or other domain providers.
If you're setting up a custom domain for Client Gallery, you can find instructions here.
If you'd like to read more information about domains in general or check out our FAQ's, take a look at our All About Domains guide.
On this page:
Specific provider guides
This guide contains general instructions about connecting a domain. You can find step-by-step domain setup guide for popular providers here if you are using one of these:
Step 1 - Log into your domain provider
Log into the dashboard where your domain or DNS is hosted, and go to your DNS settings. This may be called Zone File Settings, Manage Domains, Domain Manager, DNS Manager or something along those lines.
Note: Do not delete any MX records during this process. MX records manages your email address. Deleting them will interrupt your email service.
Step 2 - Add the CNAME record
In your domain provider's DNS manager, add a new record. If there's an existing CNAME record for "www" already, you can delete this. You'll typically see the following fields but these names may vary depending on your domain provider: You will need to insert the following for the CNAME Record:
Type or Record Type - CNAME
Host or Alias - www
Points To or Value/Data: domain.pixieset.com (Enter exactly as shown here in bold, do not replace "domain" with anything!)
TTL - 1 Hour (or the minimum required)
(the following screenshot uses GoDaddy as an example, this screen will look different if you are using another provider)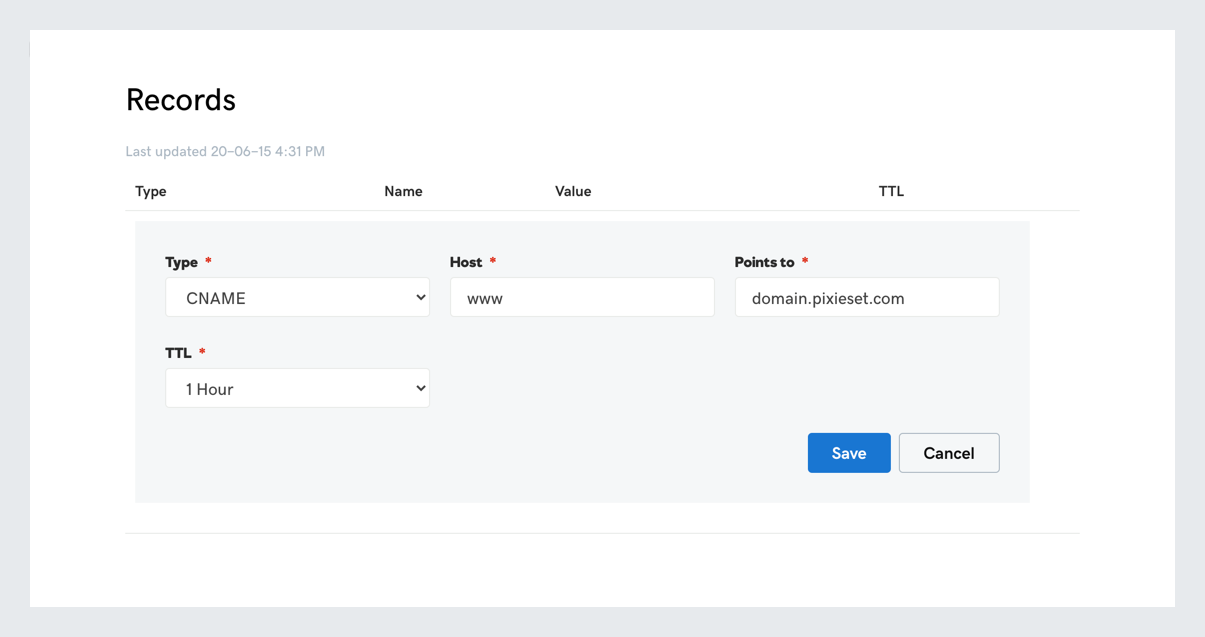 Step 3 - Add the first A record
Note: Step 3 and 4 are not required if you're setting up your website on a subdomain. These steps are only required if you are using www for your domain.
Points To - Enter 104.16.185.173

TTL - 1 Hour (or the minimum required)
Step 4 - Add the second A Record
In your domain provider's DNS manager, add another "A" record
Points To - Enter 104.16.186.173

TTL - 1 Hour (or the minimum required)
Step 5- Connect in Pixieset
Go to your Pixieset Website Dashboard > Settings > Domain.
Edit your Custom Domain.
Enter your domain name (e.g. yourdomain.com), and click Next.
Click Verify and Save.
That's it! Now you simply need to wait for DNS propagation and SSL certificate generation to be completed, which can take up to 48 hours.
Troubleshooting and Common Errors
I updated my DNS records, but it's not working
DNS changes can take up to 48 hours to propagate across the entire internet. If you're confident that you have made the correct changes, you may need simply need to wait for DNS changes to propagate.
My site is showing as "Not Secure" or missing the security certificate
The SSL security certificate may take some time to generate. We would recommend leaving 24 hours for this to complete but it should be a lot faster. You should also try clearing the cache of your browser in case older results are loading. If you are unsure and still having issues after some time, please contact us.
Your CNAME Record is not pointing to "domain.pixieset.com"
When you are creating a CNAME record, you will need to enter domain.pixieset.com, under the Points to field. Please ensure you are entering domain.pixieset.com, exactly as shown.
Important : Do not enter your username associated with your Pixieset account.
Correct format: domain.pixieset.com
Incorrect format: yourusername.pixieset.com
You are not making the changes where your Domain is being hosted
You will need to create your DNS records using with the domain provider that is hosting your domain. Keep in mind that this may not be the same provider that you purchased the domain from.
For example, if you have purchased your domain from GoDaddy, but you use Bluehost for hosting, you will need to make the adjustments to your domain under Bluehost.
I've added the correct DNS records but I can't add it to Pixieset.
If you've definitely added the correct DNS records, some action may still be required with your domain host. For example, if your hosting plan is not active or if you haven't turned on the default nameservers of your domain host. If you're not sure, we would recommend speaking to your domain host for clarification.
If you are having any difficulty, please contact our support team from the chat bubble. Be sure to include your domain and a screenshot of your DNS records in your message. We're always happy to help.