This article will cover how to access a Website's page's settings, and briefly go over each individual feature.
On this page:
Accessing your Page Options
You can bring up any page's options by hovering over the page in your website builder's Site Menu and clicking ••• (More). This will reveal a drop-down menu that lists several quick-select options for your convenience, and you can click Settings to view your page's full settings.
Managing your Page Settings
A page's Settings is broken down into three categories: Basics, SEO, and Social Image.
Basics
The "Basics" section covers the settings that affect how your page appears in your Pixieset Website.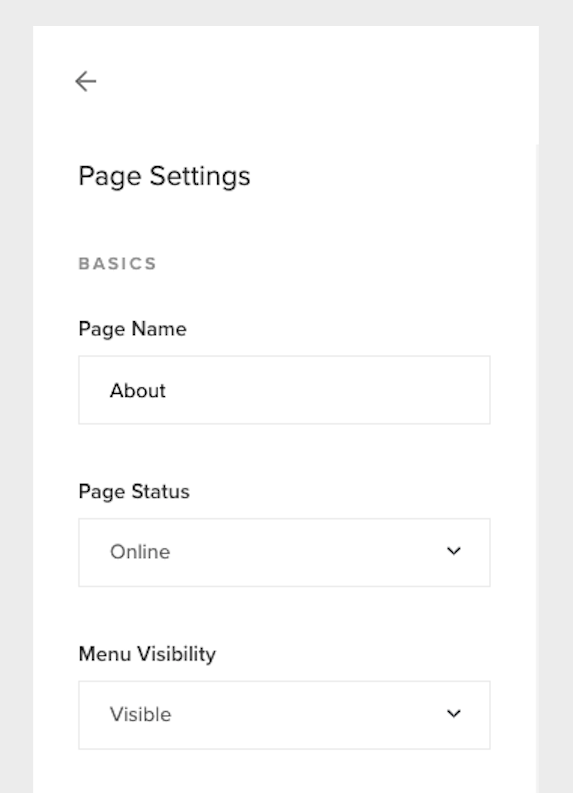 Page Name: The page's name as it appears in your Website's menu
Page Status: Update the page status from Online, Offline, or Password Protected
Menu Visibility: Manage whether your page is visible in your Website's Menu, with options for Visible, Hidden, or Only Show in Footer
You can learn more about a page's privacy options with Page Status and Menu Visibility in our "Privacy Options for your Website" article here.
SEO (Search Engine Optimization)
The "SEO" section provides you with an overview of how your page appears in search engine results.

URL Slug: The unique URL Slug for this specific page (e.g. exampleusername.mypixieset.com/about)
Page Title: The title of the page as it appears in search engine results and the top of the browser tab
Page Description: The page's description as it appears in search engine results
Hide Page from Search Engines: Determine whether this specific page appears in search engine results.
If you'd like to further manage your Website's SEO, you can do so through your Website's dedicated SEO Manager, which you can read more about here.
Social
The "Social" section is where you can easily review and upload a specific image as your page's social image.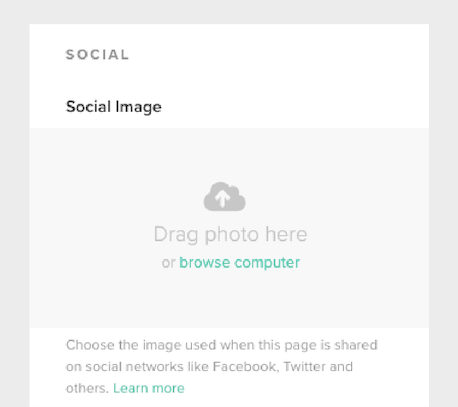 Social Image: Choose the image that appears when this page is shared on social networks like Facebook, Twitter, Instagram, and others.
To learn more about social sharing images, click here.
Additional Options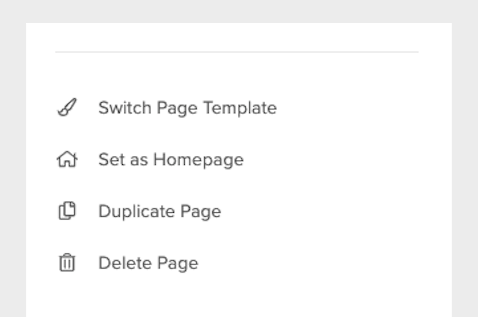 Switch Page Template: Rebuild your page from the bottom up using a blank page, or one of our curated page templates. All content previously added to this page will be immediately removed and replaced.
Set as Homepage: Set the specific page as the new homepage for your Pixieset Website
Duplicate Page: Create a copy of your current page and add it to your website's Site Menu
Delete Page: Permanently delete the page from your Website. Once a page has been deleted, all content within that page is also removed and cannot be recovered.