Search Engine Optimization (SEO) is the process of actively enhancing your website's ranking in search engine results. Your Pixieset website allows for easy access to the settings that directly effect your SEO ranking.


SEO Manager
Your Pixieset Website comes with a dedicated SEO Manager which allows for a quick review of the site wide settings that impact your site's search engine ranking. You can review your websites SEO Status, advanced SEO settings, page titles, page descriptions, and more. To view it, click here.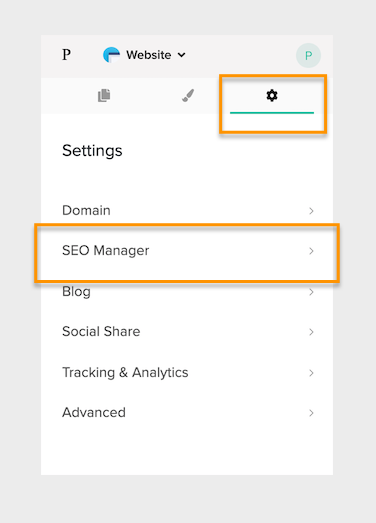 Site Overview
The site overview page displays your SEO status, as well as a preview of how your site is displayed within search engine results. Here you can make direct edits to your site title and site description, which will be displayed globally when people are searching for your website.
On this page you can also review your advanced SEO settings, such as your Sitemap, SSL, and custom domain.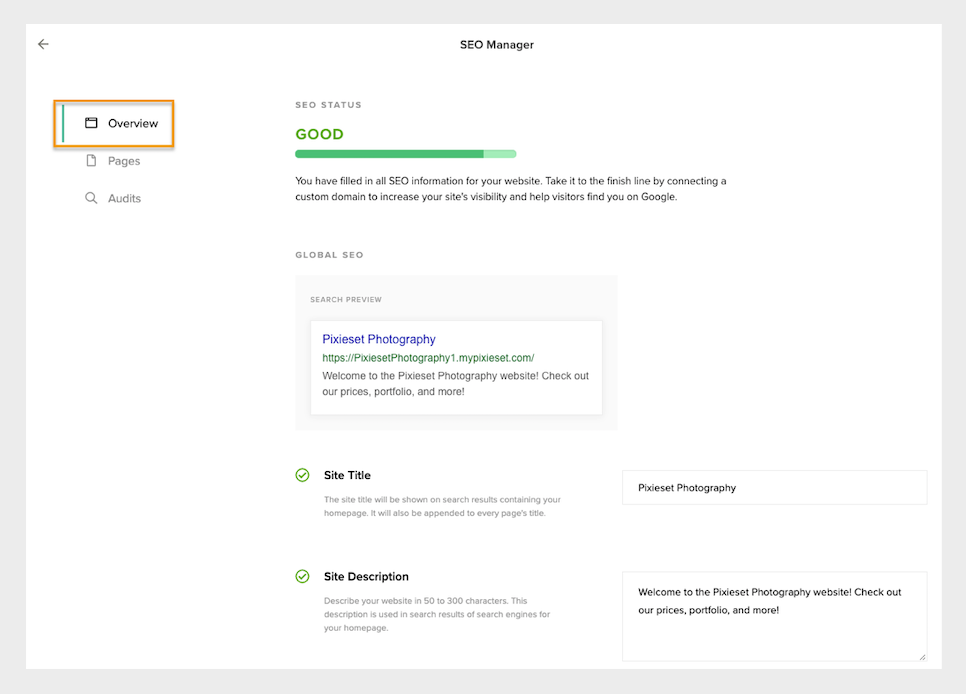 SEO for Pages
The page title and page description of each website page plays an important role in the overall SEO for your website. The SEO for Pages section allows for quick access to add or edit a title and description to any of your website pages. More information on optimizing your Page title, URL, and description can be found below.



Site Audit
The site audit tool allows you to easily identify and fix common problems that affect your site's SEO, accessibility and user experience. This includes checking for broken links, or for Alt Text on images.



Page title, URL, and description
Page titles, URLs and descriptions provide search engines and visitors with information that helps describe your page. Ensuring that this information is relevant and accurate will give you a great head start for improving your search result ranking.
You can customize these details for your Pixieset webpages by selecting a page in your Pages Listing on the left of your screen and clicking the More icon. Selecting Settings from the dropdown menu will open your Page Settings tab, where you can change your Page URL, Title and Description.
URL
Your URL for each page should be concise and contain your target keyword.
Good example: example.com/wedding-gallery


Page Title
Page titles are displayed in visitors' browser tabs, search engine result pages, and shared links. They should indicate main topic of your page, referencing the specific content a visitor can expect to see, as well as your brand name.
Good example: Example Pictures Ltd - Portfolio - Wedding Photography
(brand name - topic of page)


Description
The page description appears in search engine results and allows users to quickly decide if they want to open your website. This is not used for determining search result rankings and should be short and enticing.
Good example: Creative and Affordable Wedding Photographer based in British Columbia, Canada.
Additional information on SEO
SEO works by proving to search engines that your site is the best result for visitors. While the factors used to determine these rankings are undisclosed and liable to change, there are features incorporated into your Pixieset website to help you take advantage of SEO's best known practices.
Why is it important?
SEO creates opportunities for getting more traffic to your website. When users look for a site or service through a search engine, they are more likely to click the top results; the more visits to your website, the more likely you are to generate genuine inquiries for your business.
How to take advantage of SEO
All Pixieset website themes are streamlined and easy-to-navigate, giving you a fantastic first step towards improving your search result ranking. You can boost this further by writing naturally, in a way that accurately describes your service and entices visitors. While it helps to use the best keywords for your site, short and sweet is a good rule to keep in mind.