Studio Manager makes it easy to track all of your contacts and their respective documents, sessions, and galleries in one place. In this article, learn about clients, leads, and other contacts in Studio Manager, and how to create them.
On this page:
Contact Types in Studio Manager
There are three types of contacts that you can create and manage in Studio Manager's Contacts page (Studio Manager Dashboard > Contacts):
Lead: A contact that is a potential client. This may be someone that expressed interest in your photography services but has not committed to booking you yet.
Client: A contact who has booked a session, or has agreed to do business.
Other: A contact that is neither a lead or client, but is related to your photography business in some way. This may be a local vendor, an event partner, or a personal acquaintance that you want to keep track of.
You can always manually manage and tweak a contact's type at any time, but Studio Manager also has the following automation to help make managing your contacts easier:
If a brand new contact submits a session inquiry for any of your session types, they are automatically created as a lead.
If a brand new contact books a session with you, they are automatically created as a client.
If an existing lead or "other" contact books a session or pays an invoice, they are automatically converted into a client.
Adding a Contact
You can add a contact to Studio Manager by going to Studio Manager Dashboard > Contacts > New Contact.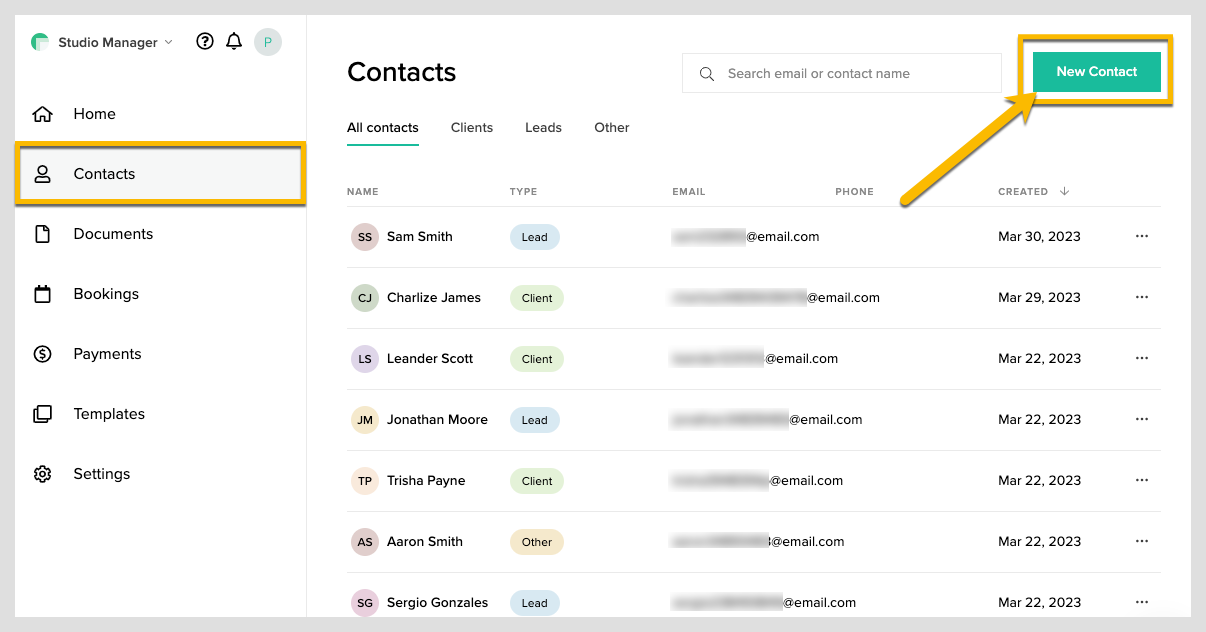 An "Add Contact" pop-up will appear where you can confirm the contact type and begin filling in the required fields. Don't worry, you can always change a contact's type and any of their contact information afterwards!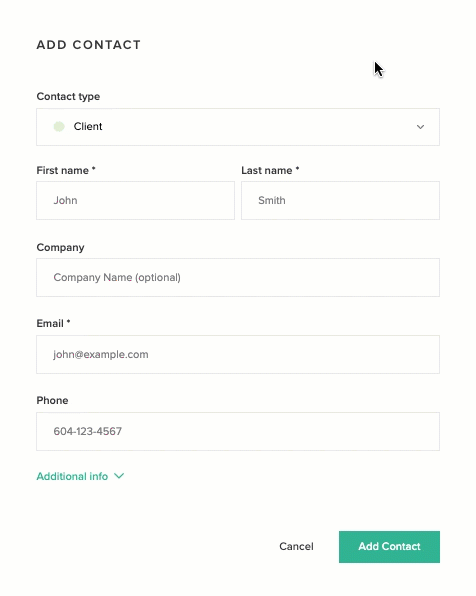 Once you click Add Contact, your contact will be automatically listed in the Contacts page of your Studio Manager Dashboard. From there, you are ready to book your clients for a session or send them documents like quotes and contracts to complete.
For more information on managing your existing contacts, check out our Managing your Contacts article here.