You can easily review the Email History for an invoice you've shared via email. This article will go over how to view an invoice's Email History, and explain the different statuses that an email can be in.
For information on sharing an invoice via email, click here.
On this page:
Accessing your Invoice's Email History
To view an invoice's Email History, go to your Studio Manager Dashboard > Invoices, and click into the applicable invoice. Then, in the top right hand corner of the invoice, click Share > Email History.
Emails that have been sent for this specific invoice will be listed, with the recipient, subject, status, and date sent of each email displayed.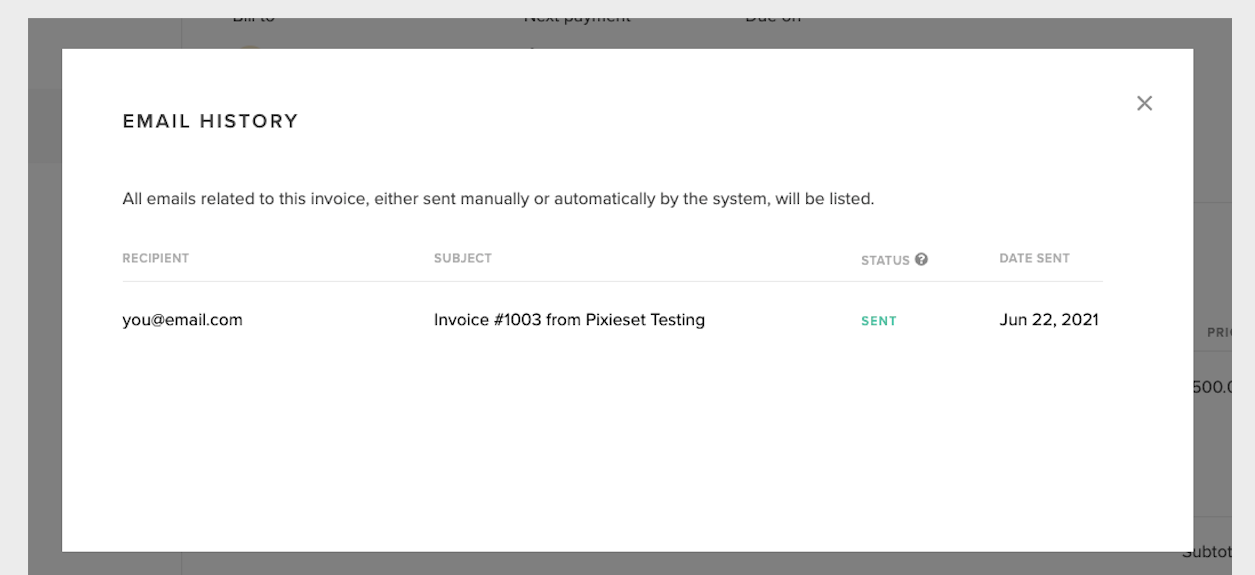 Checking the Email Status
There are a few different statuses you may see in your Email History under Status:
Pending: The email is in the queue waiting to be sent.
Sent: The email has been successfully sent from our server and delivered to your client's email server.
Soft-bounce: Typically, this means that there is a temporary delivery issue to an email address. Although there are a number of reasons that a soft bounce might occur, the most common reasons are:

Recipient's email server is down
Mailbox is full
Message is too large

Rejected or Hard Bounce: Typically, this indicates that there is a permanent issue and the email is undeliverable. Although there are a number of reasons that a hard bounce might occur, the most common reasons are:

Invalid recipient email address
Invalid domain name
Recipient email server has completely blocked email delivery