Taking advantage of the Analytics feature for your Pixieset website allows you to track the amount of visitors your website receives, where in the world they are based, how long they stay on your site, what pages they visit and what they do. This insight can help you tailor your website to your visitors, creating the best possible experience, drawing in more traffic and generating new business inquiries.
If you are familiar with using
Google Analytics
, and have created a property for your Pixieset Website, simply click on
Settings > Tracking & Analytics
in the Builder panel, or you can click
here
. Next, enter the Google Analytics Measurement ID.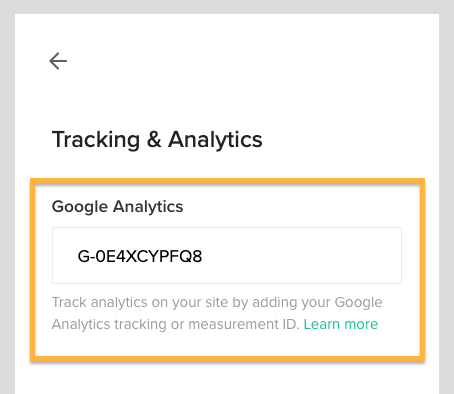 Note:
Google are phasing out the Universal Analytics system for the new generation:
GA4
. Starting July 1, 2023, standard Universal Analytics (UA) properties will no longer process data. GA4 is available for everyone and can be added to your website in the same way. For more information on using GA4 with your Pixieset Website,
click here.
If you are familiar with using Facebook Pixel, simply click on the
Settings > Tracking & Analytics
in your Builder Panel, or you can
click here
. Next, enter your Pixel ID. If you are new to using Facebook Pixel, you can read our step-by-step guide by
clicking here
.
Analytics allows you to discover what keywords your visitors are typing in to discover your website. You can use this information when taking advantage of our
SEO features
, to generate even more client interest. Using Analytics also allows you to fine tune your website by tracking the online behaviour of your visitors, and using this feedback to ensure that you are guiding traffic to your preferred pages.