The products that you sell in your Store can consist of print items, digital downloads and packages. You can add the products you want to sell to your price sheet, then assign it to your galleries to make those items available for your clients.
Note: This guide covers information specific to Automatic Fulfillment price sheets. If you use Self Fulfillment instead, you can learn more about that here.
On this page:
Price sheet vs products
What's available for sale in your store is determined by your price sheet and products. You can think of price sheets as catalogs of products. Products are added to price sheets, and price sheets are then assigned to collections to ultimately determine what's for sale in your galleries.
You can review all of your existing price sheets by going to Store > Products, and from there you can click on a particular price sheet to review the products added to it.
Learn more: All about Price Sheets
Adding new products
There are four types of products you can sell in your store: print products, digital downloads, packages, and self fulfilled items. Products are organized into categories, and you can reorder products within categories or arrange the order of categories in your store. Learn more: Organizing products and product categories
You can add a new product to your store using the + Add Product button: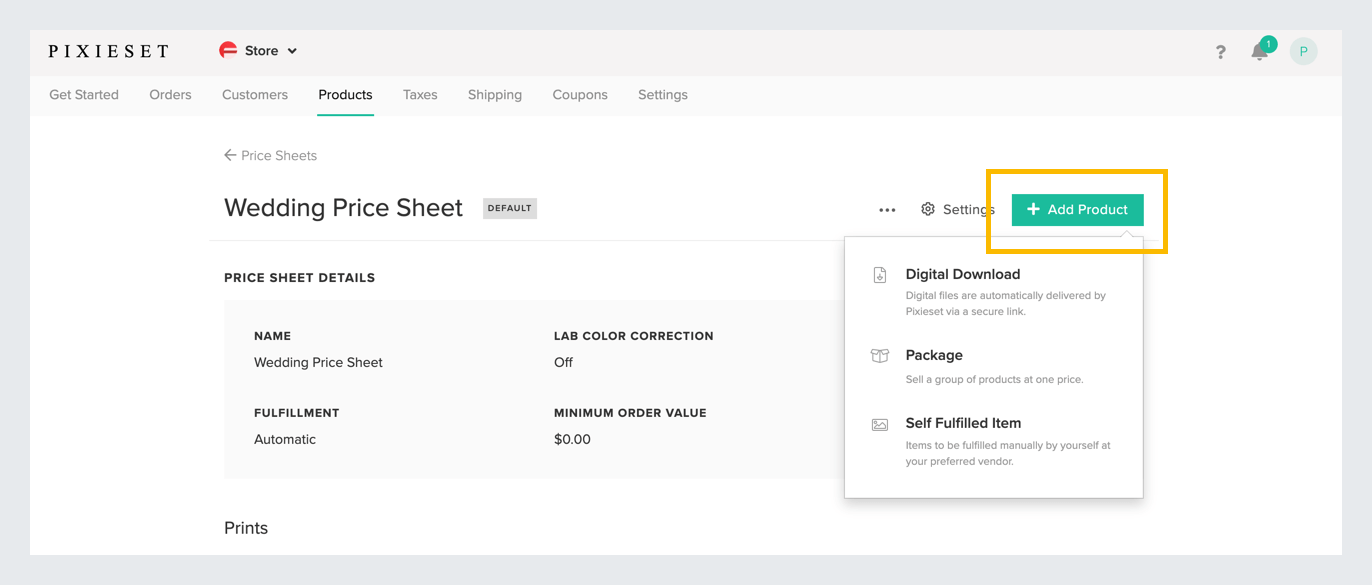 Print products
Print products are physical print products, like photographic prints, mounted prints, and wall art items, fulfilled by our lab partners. These items are automatically added to your price sheets. You can choose to show or hide individual products that you would like to offer by clicking on the ••• button for each product. Clicking on the product itself will allow you to manage product options and pricing.
Digital Downloads
These are digital files of your photos, delivered automatically in the resolution of your choice by Pixieset. You can create a single photo download, or a download product that contains all images in the gallery. Learn more about Selling digital downloads
Packages
A package is a group of products from your price sheet to be sold together, for a single price. Learn more about Selling Packages for prints and downloads.
Self Fulfilled Items
These items are to be fulfilled by yourself manually, outside of Pixieset. This will allow you to sell custom products or other items that are not available through Automatic Fulfillment. You can learn more about adding self fulfilled items to your price sheet here.
Choosing product options (size, paper type, color)
You can curate the product options you want to offer your clients for each product. For example, for photographic prints, you can manage what print sizes (4x6, 5x7, 8x10 etc) and paper type (Lustre, Glossy, Deep Matte etc) are available for sale.
Updating your product options will add and remove variations. We recommend reviewing your pricing for each variation if you have updated the product options.
Steps:
From your dashboard, go to your Store > Products > select price sheet > select product.
Click on Manage Options.
Check/uncheck options you want to offer.
Click Apply.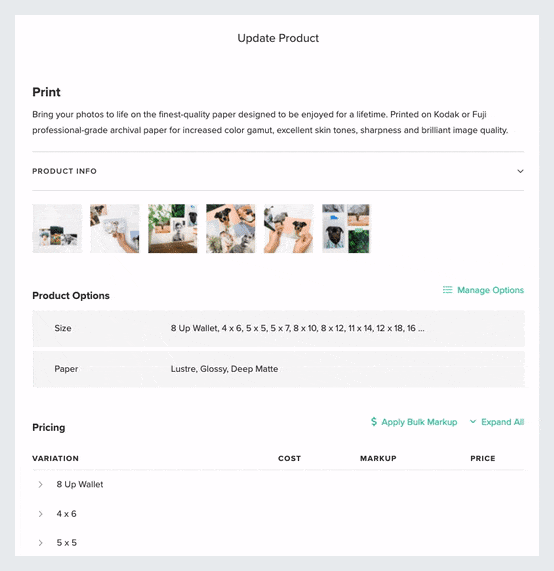 Pricing your products
You can customize the prices for each product in your store, to encourage sales and ensure you earn a profit from every order.
Pricing individual products
When reviewing your price sheet, you can click on any specific product to update the pricing. Use the arrow icons to toggle open the variations for each product option, and you'll see columns for Cost, Markup, and Price.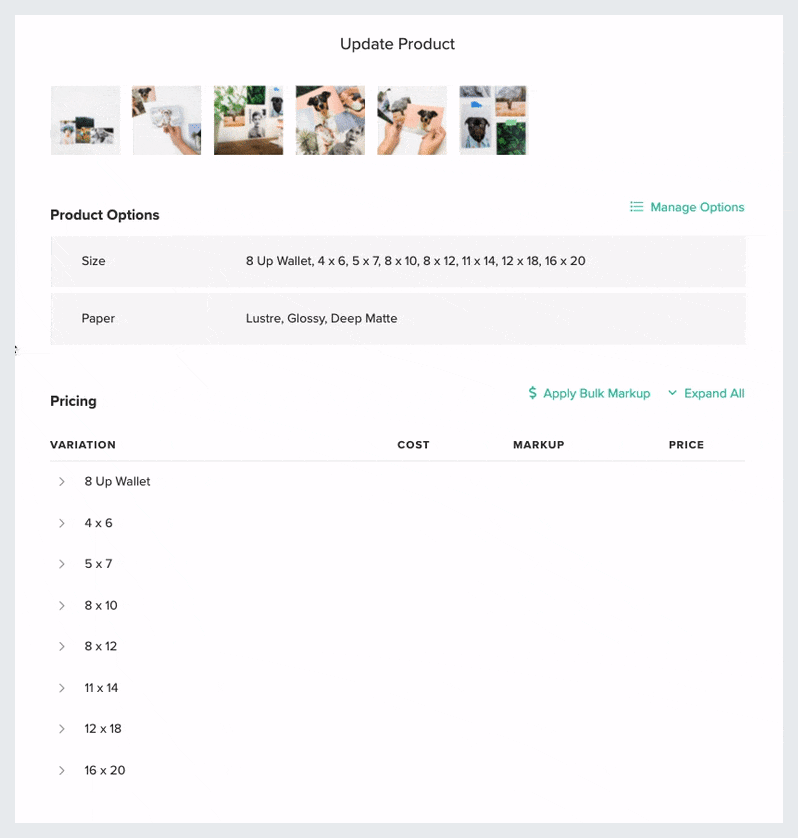 Cost: The cost for the lab to print that specific item.
Markup: The difference between the cost and your final price. This helps represent the potential profit you make each time that product is sold in your store.
Price: The price you set for clients to pay in your Store.
You can manually adjust the prices for each product variation, or you can update all of the prices for a specific product at once, using the Apply Bulk Markup button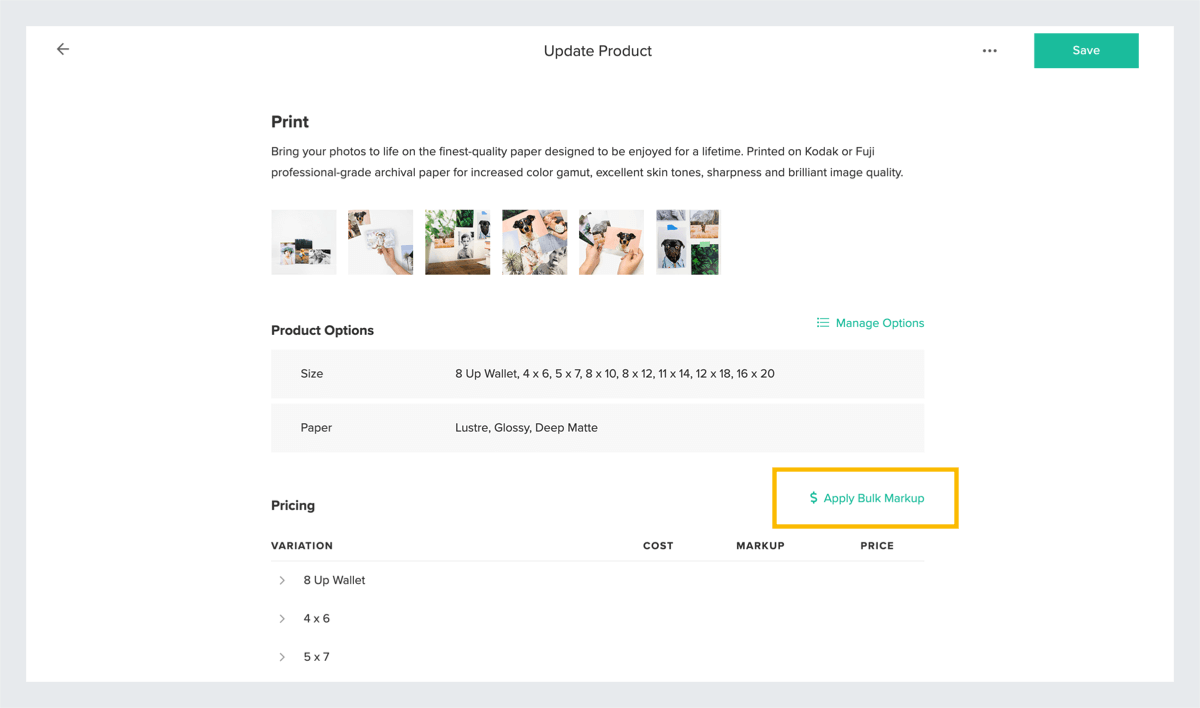 Using the Bulk Markup Tool
If you want to apply a bulk markup percentage all of the products in your Store as a whole, you can do so using the Bulk Markup Tool. When reviewing your price sheet, click on the ••• button and select Apply Bulk Markup to update the prices for all of your products at once.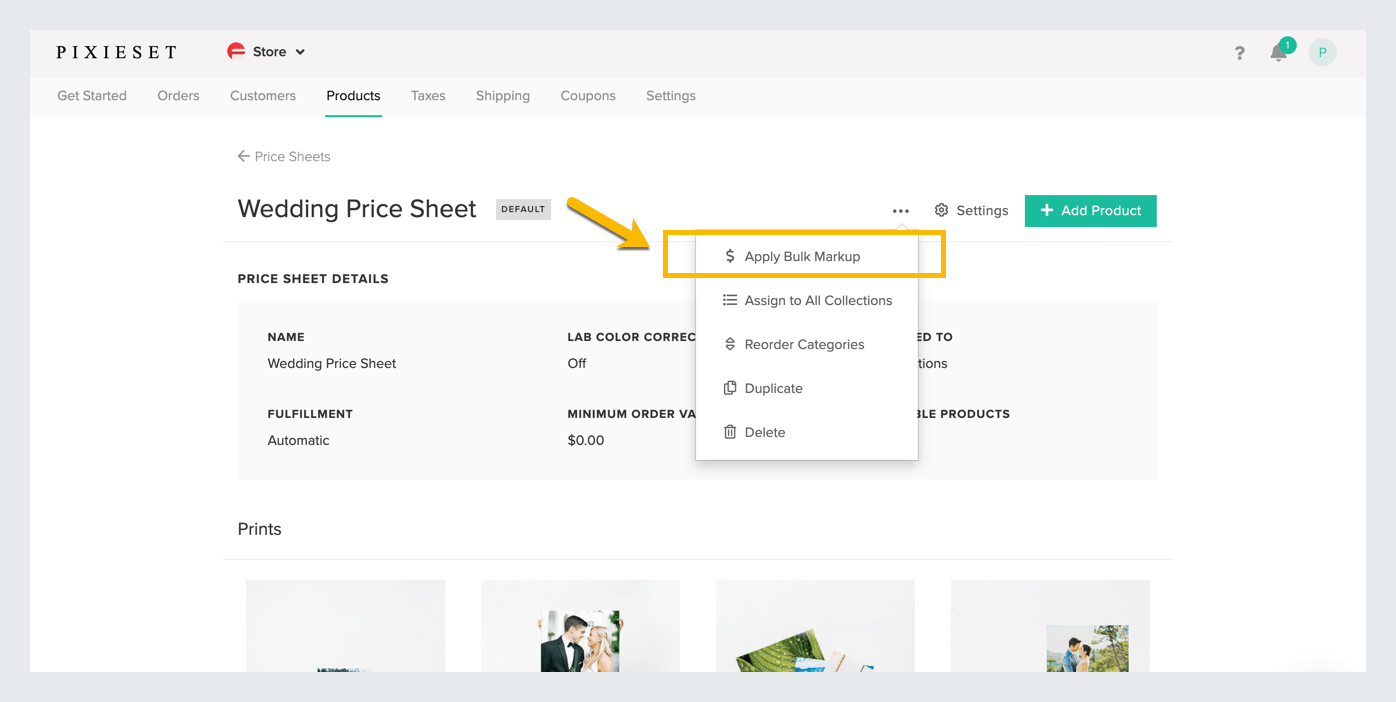 Markup Percent - Prices will be set to the base cost times the markup percentage, followed by rounding.
Round prices up to - You can choose to round the prices to .00, .99 or no rounding.
Reset pricing - Reset your prices to our recommended data-driven pricing. If you selected the 'Use recommended pricing' option when creating your price sheet, your prices are already set according to these recommendations.