Specialized card designer software is available for your clients to order wedding, graduation, baby, and holiday cards through Automatic Fulfillment. Clients can choose from hundreds of designs, and create their cards with images directly from your gallery! They can customize a number of options such as color styles, photo layouts, and addressed envelopes.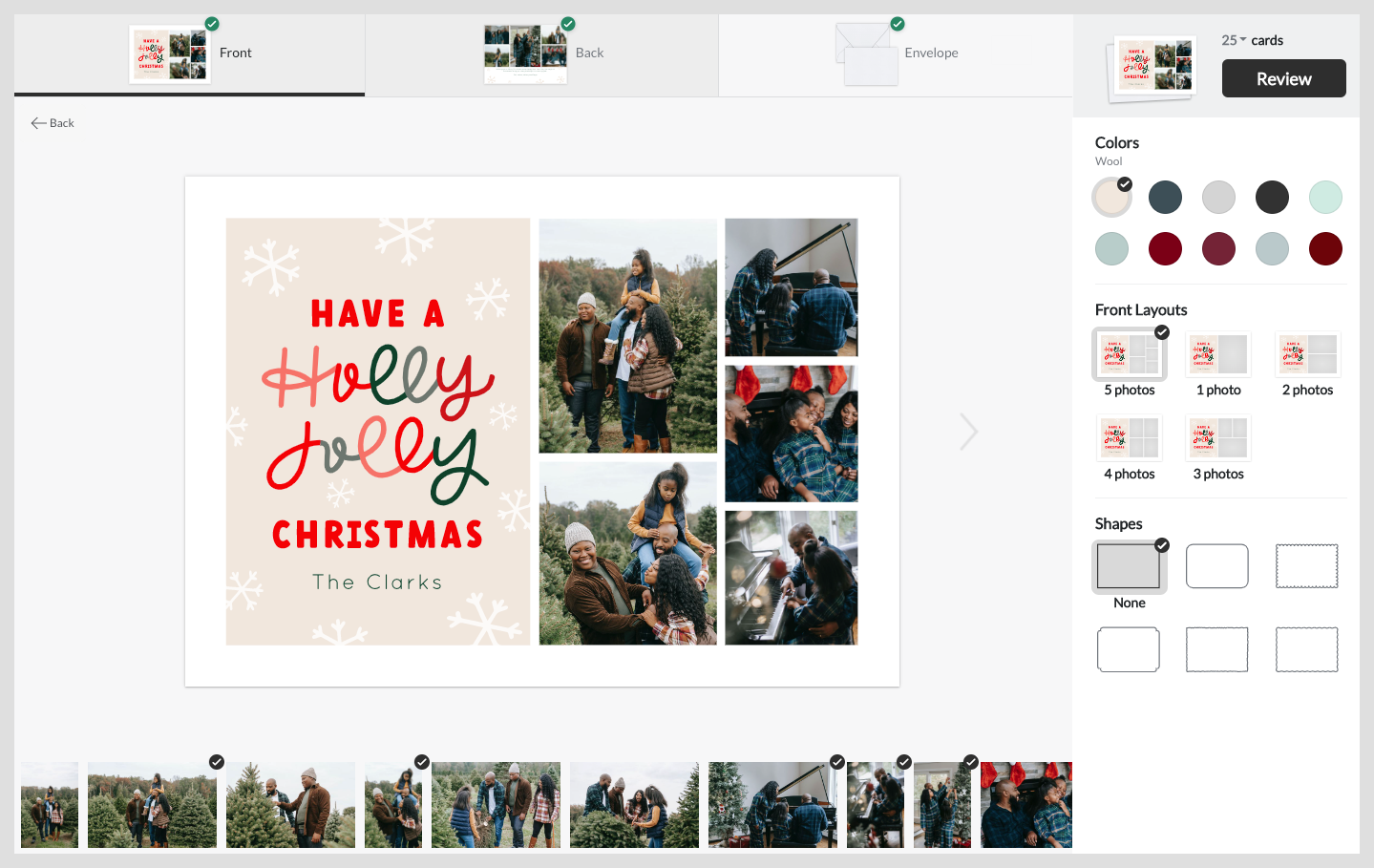 On this Page:
Selling cards in your Store
Greeting card products are automatically added to Automatic Fulfillment price sheets. When viewing your price sheet (Store > Products > click on your price sheet) you'll find all of the card products listed at the bottom.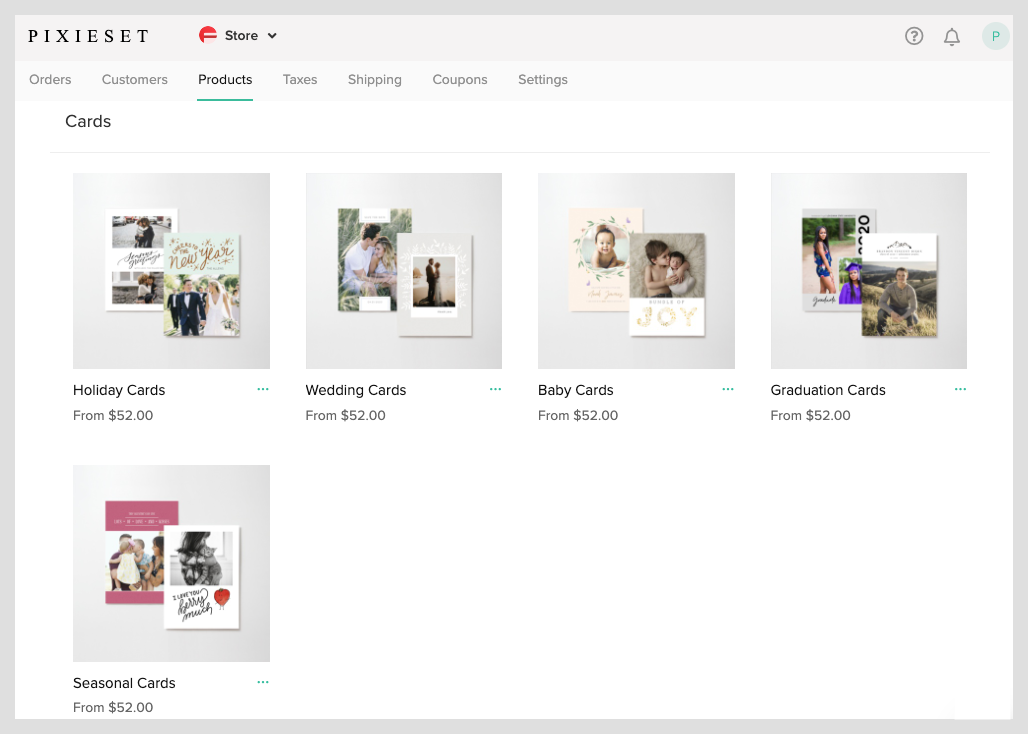 Cards are currently available for stores based in the U.S. or Canada. For users based in Australia or New Zealand, our lab partner Atkins Pro offers single photo card designs that do not use our built-in card designer. You'll find these options on your Automatic Fulfillment price sheets.
Purchase experience for clients
To use the card designer, simply select an image to purchase by clicking on the shopping bag icon on the image. Then, click on the Cards category > select a card product > and click See Designs to view the available designs.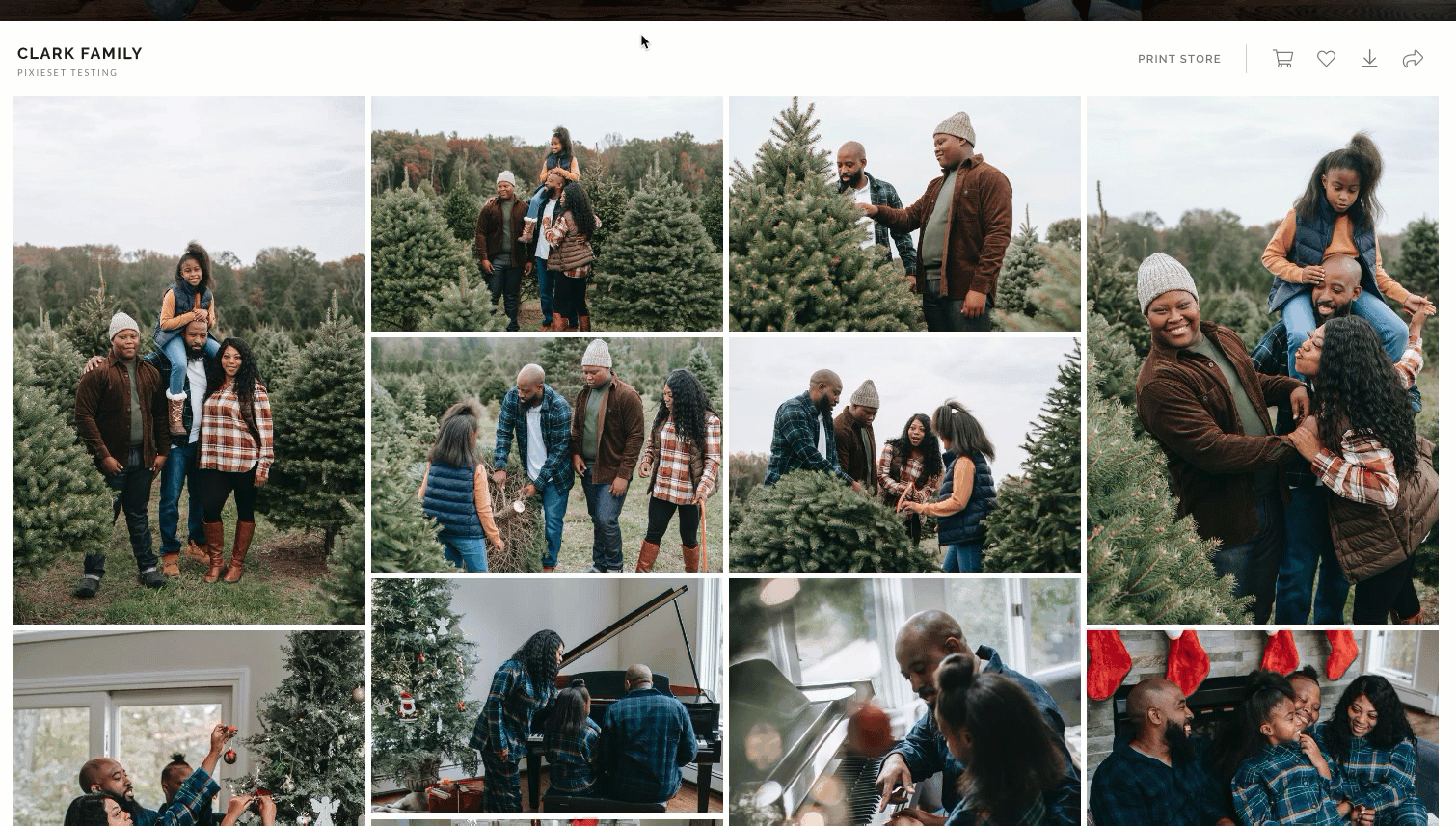 In the design selector, clients can filter their design options using the preferences on the left, and select a design that they'd like to use for their cards.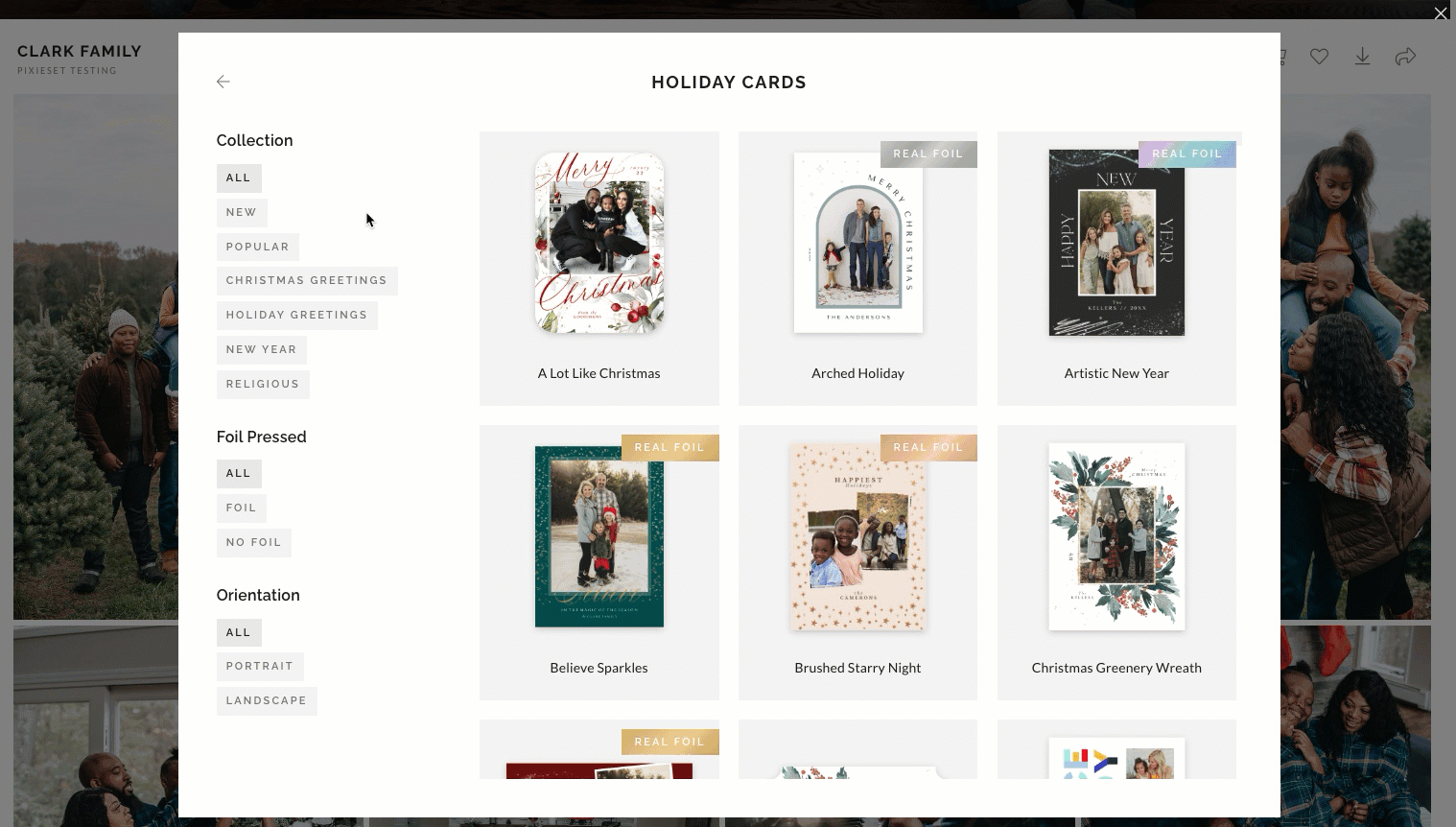 Once a card design is selected, clients can drag and drop their photos into place, change the text, select different color styles and foil options, and choose boutique cut shapes before adding the cards to their cart. Cards are sold in packages of 25 and come with matching envelopes that your client can also customize!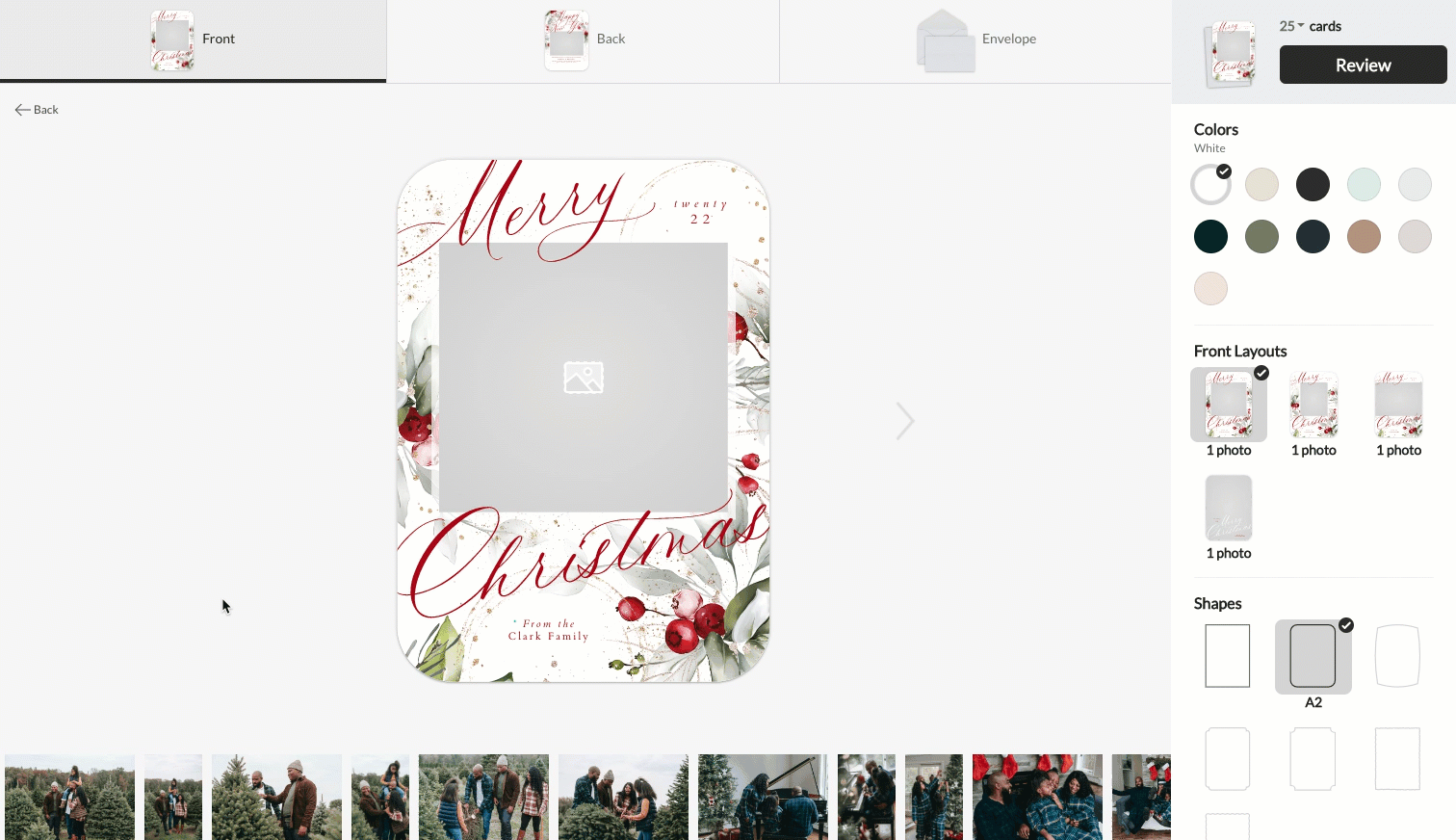 Just like with other print products, if you have added a watermark to your images using our Watermark Tool, the final, printed cards will not include that watermark.
Processing and fulfilling cards orders
All greeting cards ordered through the built-in card designer are processed and fulfilled automatically by our lab partner, WHCC. The cards will be printed according to your client's design and shipped directly to your client.
Using Self Fulfillment and selling cards
The card designer is available for Automatic Fulfillment price sheets only. If you use Self Fulfillment for your orders instead, you can offer cards in your store by adding your self fulfillment products to an Automatic Fulfillment price sheet. To do this, follow the steps below! You can also learn more here: Selling both automatic and self fulfilled products
Go to Store > Products > + Add Price Sheet. Select Automatic Fulfillment under Print Fulfillment. Under Print Lab, choose Automatic (Recommended) or you can select a specific lab. At the bottom of the new price sheet, you'll see all the card products automatically in place.

You can then add your self fulfilled items to your price sheet using + Add Product > Self Fulfilled Item. Once you have added all of your self fulfilled products to your price sheet, they will be available alongside the cards when your client views their gallery. Learn more about creating self fulfillment products here: Getting started with self fulfillment

If there are some Automatic Fulfillment products that you would not like to offer in your store, you can hide those items by clicking ••• > Hide Product. Products that are hidden will not be shown to your client.

Assign this new automatic fulfillment price sheet to your galleries. Your clients will then be able to purchase your usual self fulfilled items or use the card designer to purchase cards that will be printed and shipped to them directly by the lab. Learn more here: Assigning price sheets to galleries