Albums and books are a perfect way to commemorate life's many milestones. With automatic fulfillment, your clients can customize and purchase a high quality album or book right from their gallery store's built-in designer tool.
Clients get started by selecting one of the beautifully curated album or book products offered through your store that best complements their special moments: the Signature Photo Album, Premium Layflat Book, or Everyday Hardcover Book.

Once they've selected their preferred album or book product, your client can use the integrated designer tool to add images from their collection into beautiful photo spreads. From there, your clients can apply their own personal touches, such as selecting their cover material, adding custom text debossing, and more. Finally, their personalized album or book is drop-shipped directly to their home in white-label packaging providing them with a seamless experience from start to finish.
Note: Albums and books are currently available for stores based in the U.S. or Canada. All albums and books ordered through the built-in designer tool are processed and fulfilled automatically by our lab partner, WHCC.
On this page:
Selling albums and books in your Store
To find your album and book products, go to Store > Products and click on your automatic fulfillment price sheet. Then, scroll to the bottom of the price sheet to the "Albums & Books" category.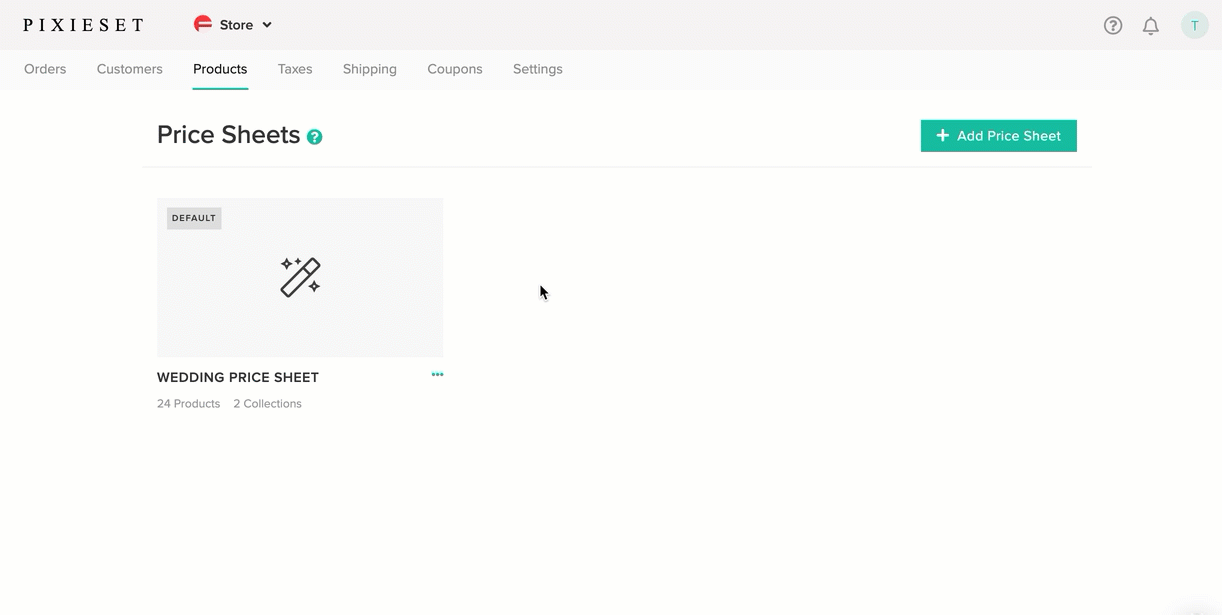 Note: These products may be hidden (grayed out) on your price sheet. If they appear to be grayed out, click ••• > Show Product to make them available in your Store.
Pricing your albums and books
There are hundreds of possible variations available for albums and books. To help you keep track of your markup and make adjustments efficiently, the prices of your album and book variations can be adjusted in bulk with the Pricing Markup % tool.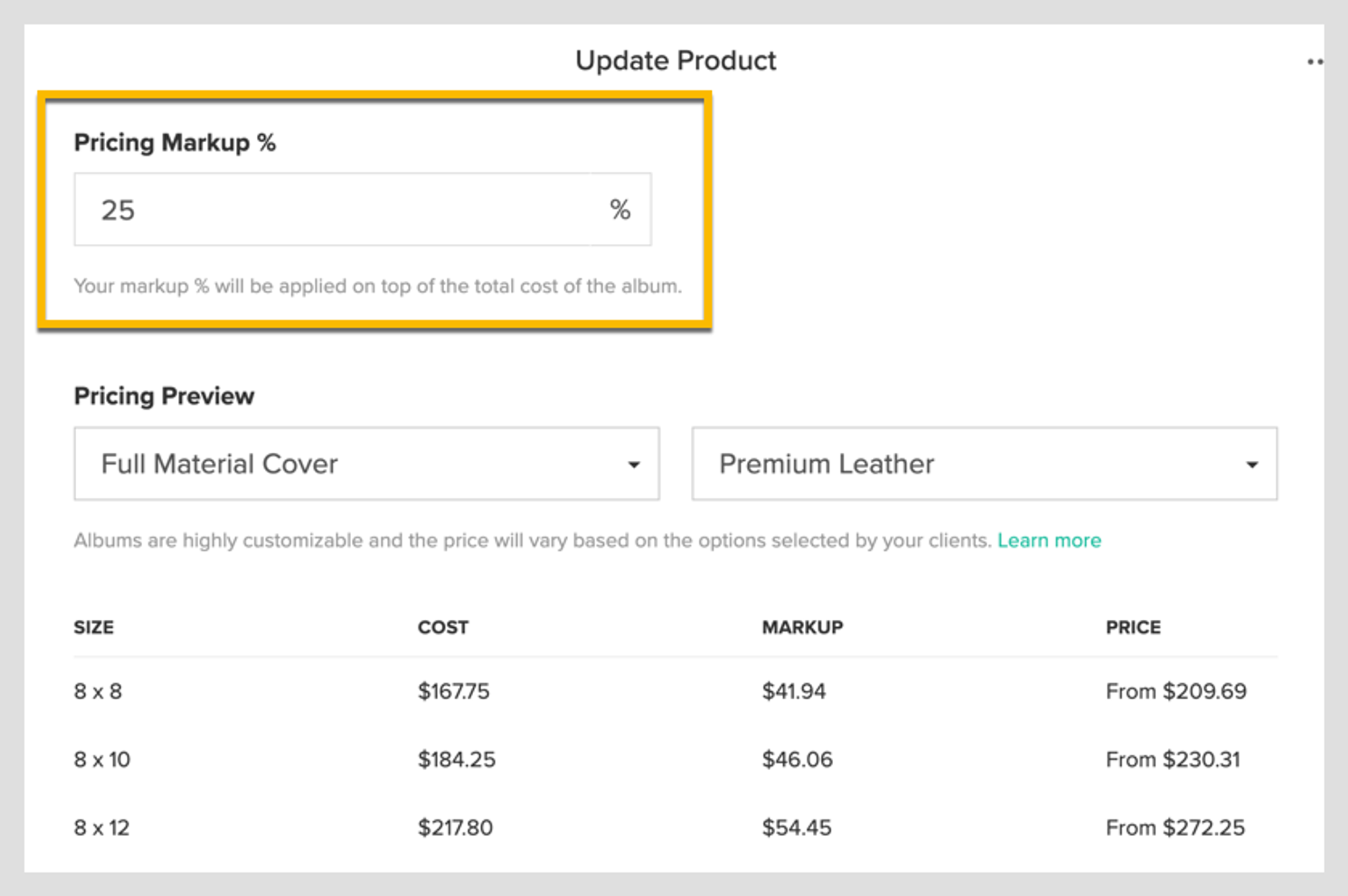 Learn more here: Adding and pricing products in your Store
What will my client see?
By adding album and book products to your price sheet, your clients will see the option to purchase them while viewing their gallery's storefront, as well as when reviewing purchase options for any specific photo. Selecting an album or book product will direct your client straight to their gallery's built-in designer tool where they can start customizing their album or book right away.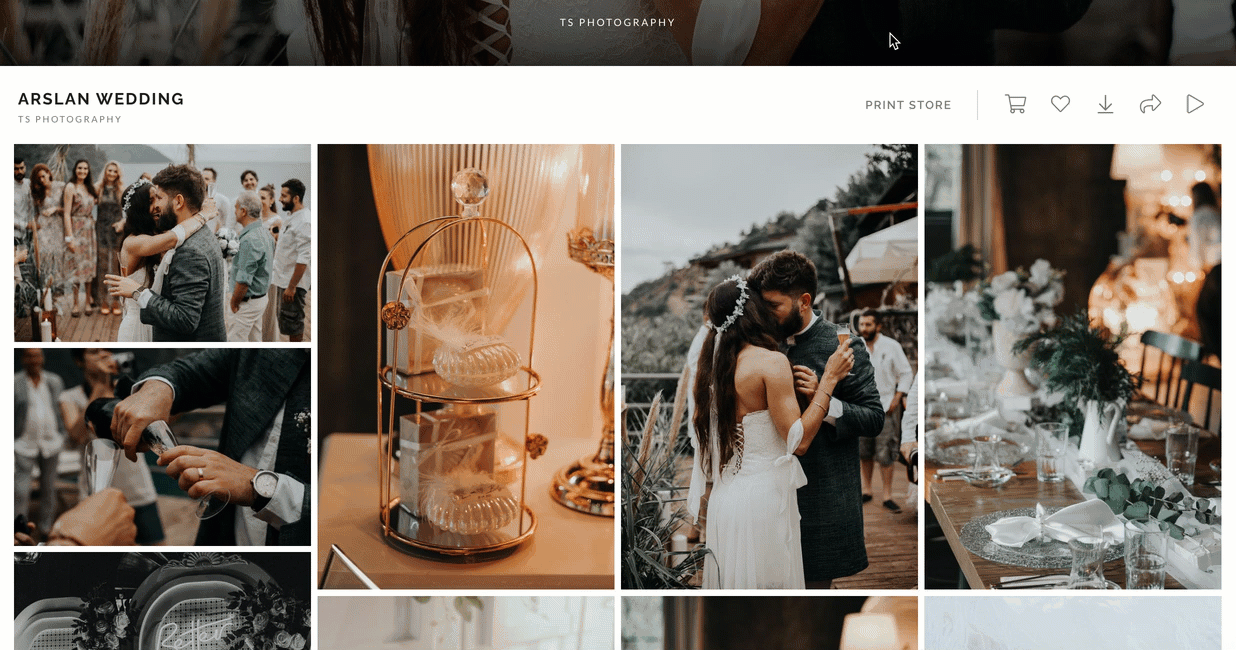 Product personalization and finish options
When your client enters the designer tool, they can start customizing their album or book to match their unique style. There are countless combinations available to your client to help them make their album or book as personal and timeless as possible!
If you're interested in a comprehensive overview of your clients' exact design options, the easiest way would be to simply view the album or book designer tool through your client's gallery, the same way they would when ordering. For a quick view though, click here to see an example Storefront with albums and books available.
Generally, your client can customize the following (in addition to selecting which photos and layouts to use on each page of their album):
Album or book size and style: Choose from different square and horizontal sizes, as well as multiple cover layouts for complete personalization.
Cover Material: Select from a wide array of material and color options to create the perfect album or book cover. Material options include luxurious leathers, classic silks, and textured fabrics such as 100% natural linen. Color options range from vibrant to subdued shades to reflect any mood.
Debossing: Optionally press customizable text into select cover materials with multiple font and location options.
Paper Types: Choose from luxurious paper options such as photo lustre, smooth matte, and more.
Endleaf style: Endleaves are the protective paper that separates the inside spreads from the cover. For Signature Photo Album designs specifically, select a color and texture to complement the overall album or book style.
Insert boards: Choose between thick or thin insert boards in black and white for the Signature Photo Album. These inserts live between the photo spreads and add more rigidity to the product.
Corners: Choose between square or rounded corners for the album pages.
Note: The exact design options available to your client are unique to the product that they selected (e.g. a Signature Photo Album).
Processing and fulfilling album and book orders
Album and book orders will be printed according to your client's design and shipped directly to your client.
Just like with other print products, if you have added a watermark to your images using our Watermark Tool, the final printed album or book will not include that watermark.
Using self fulfillment and selling albums and books
The album and book designer tools are available for automatic fulfillment price sheets only. If you use self fulfillment for your orders instead, you can offer albums and books in your store by adding your self-fulfillment products to an automatic fulfillment price sheet.
Learn more here: Can I sell both automatic and self-fulfilled products?
Frequently Asked Questions (FAQs)
If I watermarked my images, will the watermark appear in my client's album or book?
When you use our watermark tool, we only apply the watermark to the display versions of the images in your gallery while keeping the original, unwatermarked files saved on our servers in the background. When your clients purchase albums or other print products, we'll provide the original file without the watermark to the lab for printing, ensuring your clients receive their items with no watermark applied.
Is lab color correction available for albums and books?
Lab color correction is not available for automatic fulfillment albums or books.
Can I review my client's album or book design before they order it?
Yes! If your client would like your feedback about the album or book they've curated, they should add the album to their cart, and from the cart, they can click the Preview button to obtain a link to preview the album. Further, we recommend signing into the cart by entering your email address so that your progress is saved.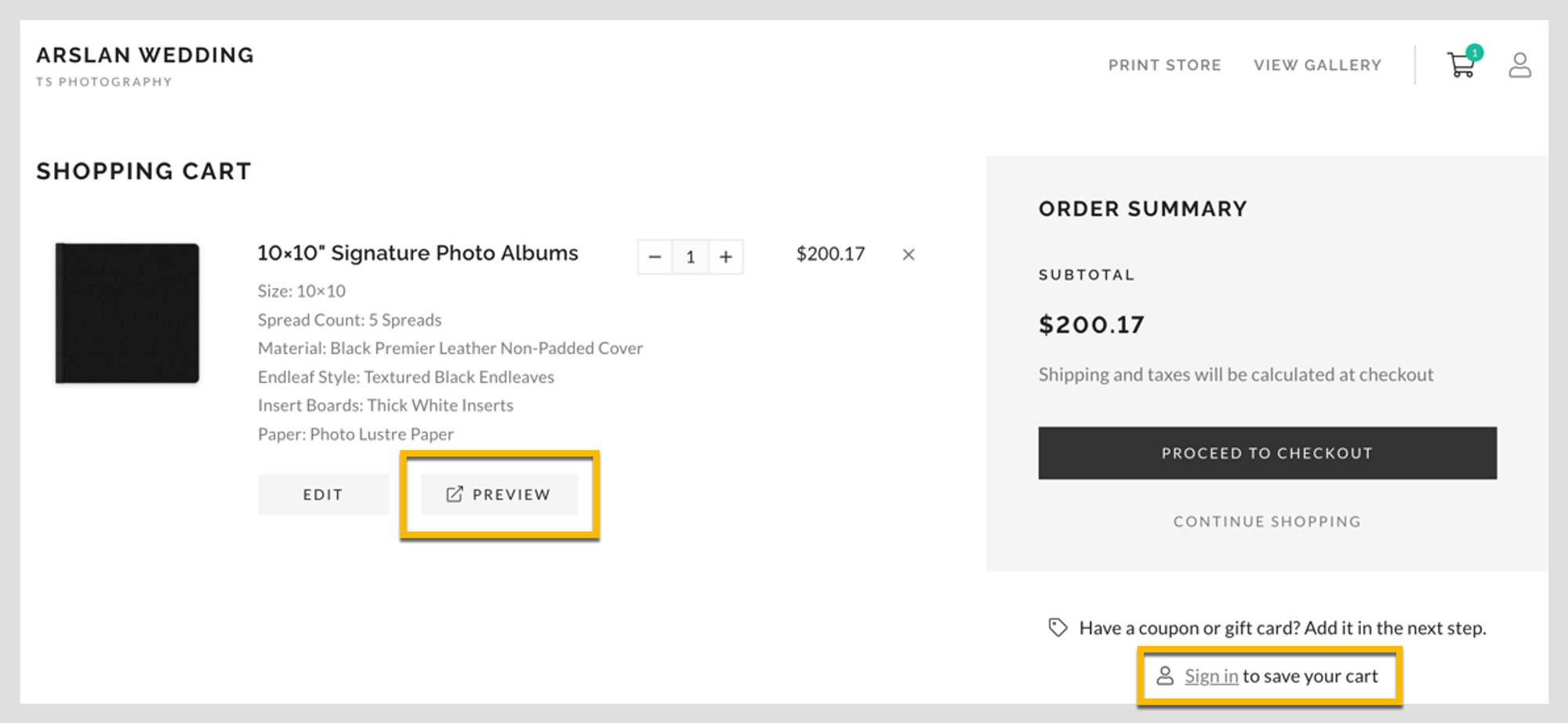 Note: You will be able to view their album or book in full (cover, spreads, etc.) but you cannot edit the product through this link.
Can I edit my client's album or book after they have placed their order?
Yes, if you had Order Delay turned on for your Store, you can review the order and do the following while the order is in Order Delay status:
Adjust the crops
Change spread layouts
Replace photos
Update text for cover debossing
Edit the shipping address
Note: If your changes result in an increase or decrease in the cost of the album or book, you will see an error when saving your changes and the product will revert back to the original client settings. If you'd like to make adjustments that change the cost of the album or book, you will need to cancel the order and place a new one with the updated product selections.
Is boutique packaging available for albums and books?
At this time, boutique packaging is only available for prints and cards up to 11" x 14" in size; it is not available for albums and books.
Can I curate an album or book for my client and seek their input before the design process?
Absolutely! To design an album or book for your client, simply head to their gallery's storefront and begin designing the product just like they would. When you're happy with the design, add the album to your cart, and from the cart, you can click the Preview button to obtain a link to preview the album. You can share that link with your client to seek their input! Further, we recommend signing into the cart by entering your email address so that your progress is saved.