Price sheets determine the products available for purchase in your Store. In order to sell, you must set up at least one price sheet and assign it to your Client Gallery collections. You can create multiple price sheets and assign different price sheets to different collections. This allows you to have different products and different prices available for galleries. For example, you can have one price sheet for wedding galleries, and another price sheet for newborn or senior galleries.
On this page:
Automatic Fulfillment vs Self Fulfillment
Print fulfillment is an important option to understand when dealing with price sheets since it determines who is responsible for completing your clients' orders and what types of products are available for you to offer. You will set the fulfillment type when creating your price sheet, and it cannot be changed later, however you can create as many different price sheets as you want.
There are two options when it comes to fulfillment:
Automatic Fulfillment - print products in automatic price sheets will be automatically sent to one of our partner print labs for fulfillment. You can choose which of our partner labs you'd like to complete your orders when creating your price sheet.
Self Fulfillment - products in self fulfillment price sheets require you to manually fulfill the order outside of Pixieset, using your preferred print lab and shipping solution.
If there are items not currently available with our lab partners through automatic fulfillment, you can offer these as self fulfilled items in your automatically fulfilled price sheets. We have a guide to this workflow here.
Note: Digital Downloads will always be fulfilled by Pixieset, in both automatic and self fulfillment price sheets.
Learn more: Order fulfillment options
Creating a new price sheet
Creating and reviewing your price sheet is an important step in deciding what you want to sell through your Store. Within your price sheet, you will be able to manage products and pricing which ultimately determines what your clients can see.
Steps:
From the dashboard, go to Store > Products.

Click Add Price Sheet button.

Select options for your price sheet. Refer to Price sheet settings below for more information.

Click Create.
Name - The name of your price sheet as shown within your dashboard.
Print Fulfillment - Choose whether you want your print products to be fulfilled automatically or manually. Learn more: Order fulfillment options
Print Lab - Select Automatic to let Pixieset send print orders to recommended print labs depending on the products ordered. If you would like to choose a specific lab to automatically fulfill your orders, select the Choose a specific lab radio button. A dropdown menu will appear with all of the labs available in your area. Learn more: Print labs available with Pixieset
Recommended pricing - Automatically set the prices for items on your price sheet with markup we've calculated based on orders and sales data. This is a great starting point for the products in your store, and you can customize prices later on according to your business needs.
Advanced Options - The advanced options will allow you to choose whether your new price sheet should automatically be set as the default price sheet in your store, and whether it should be immediately assigned to all of your existing collections.
Adjusting your price sheet settings
Once you've created your price sheet, you can find additional customization options in the Settings within your sheet:
General Settings
Minimum Order Amount - Set a minimum amount your clients have to add to their cart in order to checkout.
Lab Color Correction - Turn this on if you want our partnered print labs to color correct your photos before printing. Learn more: How does Lab Color Correct work?
Advanced Settings
Only Sell Packages - Turn this on to only show the packages category, and hide all other products. You can learn more about creating packages on your price sheet here: Selling Packages for prints and downloads
Quick Buy - When this is enabled, popular print sizes and digital products will be shown above the regular product selection in your store, to enable clients to quickly add those items to their cart.

Managing and pricing products
Once you have created a price sheet, some products will be pre-populated for you. If you wish to add more products, there are three types you can add to your price sheet:
Digital Download - single photo download or entire gallery download, fulfilled by Pixieset.
Package - a group of specified products to be purchased for a single price.
Self Fulfilled Item - items that you are responsible for fulfilling manually, outside of Pixieset.
To start adding products, simply click on the + Add Product button and select the type of product you want to add. If you'd like to remove any pre-populated products from your sheet, you can select the ••• button next to the product and click Hide Product or Delete.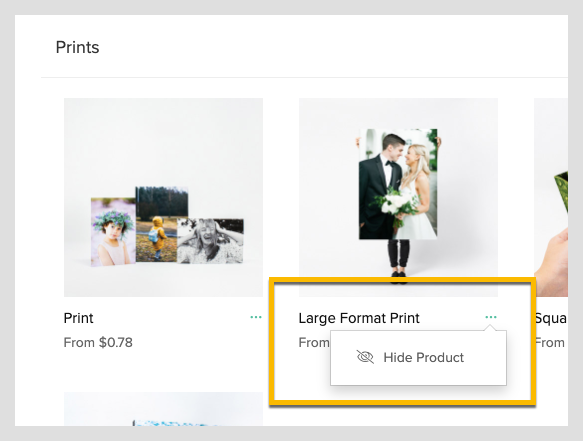 You can manage the prices for any product in your store by clicking on that item, and expanding the toggle for each variation to reveal the prices for every product option. Learn more: Adding and pricing products in your store
Assigning price sheets to galleries
Before your clients can make a purchase from your Store, you will need to assign your price sheet to a Client Gallery collection. Only one price sheet can be assigned to a collection at a time. You can assign a single price sheet to all of your collections, or assign different price sheet to every collection to customize your pricing. Learn more here: Assigning price sheets to galleries
Setting a default price sheet
There are a couple of ways to set a default price sheet for your collections:
Option 1: You can set a default price sheet by going to Store > Products, clicking ••• next to your chosen sheet, and selecting Set as Default. Setting a default price sheet means it will be used for collections you create going forward (unless you have a separate collection default in place as below).
Option 2: You can make use of Collection Defaults to create default settings for new collections created. Learn more here: Creating Collection Defaults