With the Lab Color Correct option enabled on your Automatic Fulfillment Orders, each image is individually assessed for color and density by the Lab's qualified technicians using high-end, professional monitors. Using their expert knowledge, they will adjust each image to give the best print result.
On this page
Enabling or Disabling Lab Color Correction
Unless you have calibrated and profiled your monitor for the chosen Lab, we highly recommend enabling color correction for your Automatic Fulfillment price sheets. Some of our lab partners have more information about color management and monitor calibration on their websites: WHCC, Loxley Colour, Atkins Pro.
Lab Color Correction is enabled or disabled for your entire price sheet, and if enabled will be applied to all orders you receive using that sheet. You can enable or disable this option from your Price Sheet Settings (Store > Products > click your price sheet > Settings).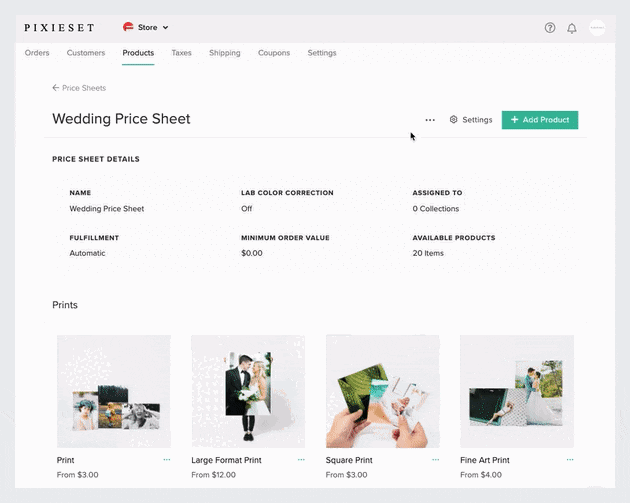 Additional costs
Enabling Lab Color Correction may increase the print cost for each product, depending on the lab.
For price sheets set up with WHCC, ProDPI, or the Automatic lab selection, the lab will correct the entire image file and balance for skin tones to match their printers' color profile for an additional $0.75 per item. This is automatically included in the item cost shown on your price sheet when Lab Color Correction is enabled.
Price sheets set up with Miller's or Loxley Colour can have Lab Color Correction enabled at no additional cost.
Color Correct is not currently offered by Mpix, or Atkins Pro.