Price Sheets are groups of Products that can be attached to a Collection, and they define what Products are available for purchase from a Collection. For example, you can have one Price Sheet for wedding Collections, and another Price Sheet for newborn or senior Collections - and in each Price Sheet you can offer different products at different prices as needed. When you create a new Collection, the Price Sheet that has been set as your Default Price Sheet for your Store will be attached automatically.
If you are a new user, clicking on the Products tab will display a Sample Self-Fulfill Price Sheet, as well as a Sample Lab-Fulfill Price Sheet already created for you to work with. You can then add Products to the Price Sheet, edit the Price Sheet settings, or create a new Price Sheet altogether.
To Create a new Price Sheet:
1. Go to the Products page within your Store Dashboard and click on the +Add Price Sheet button in the top right corner of the page.
2. Name your Price Sheet (Wedding Price Sheet, Newborn Price Sheet etc.) and choose a
Fulfillment Option
.
The Name of your Price Sheet is not displayed to your clients; it is for your own reference only. 
If you have chosen 
Lab Fulfillment
 with 
WHCC
, 
ProDPI
, 
Miller's
, 
Mpix
, or 
Loxley Colour
, a list of Print Products will be 
pre-populated
 for you with a default markup of 300%, rounded to the nearest dollar. You can easily edit this when creating your Price Sheet as shown below. You can also find more information on Products
here
.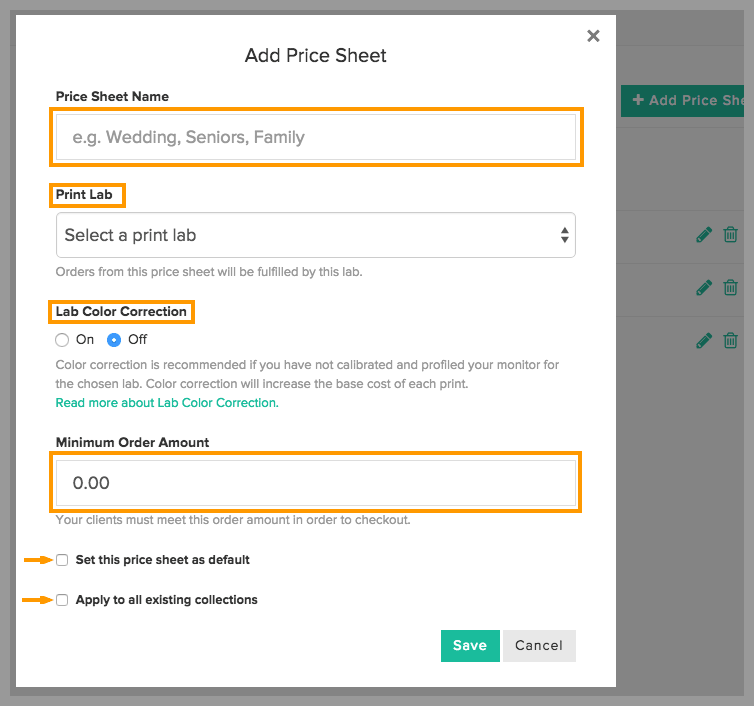 After you have created a Price Sheet, you can easily Edit, Delete or Duplicate (copy) the Price Sheet by clicking on these options beside the Price Sheet name.

3. Setting the Markup for your Price Sheet allows your to make profit on the Products you are choosing to sell. You are able to directly set the Price for each individual item if you wish by clicking the edit icon next to any one Product: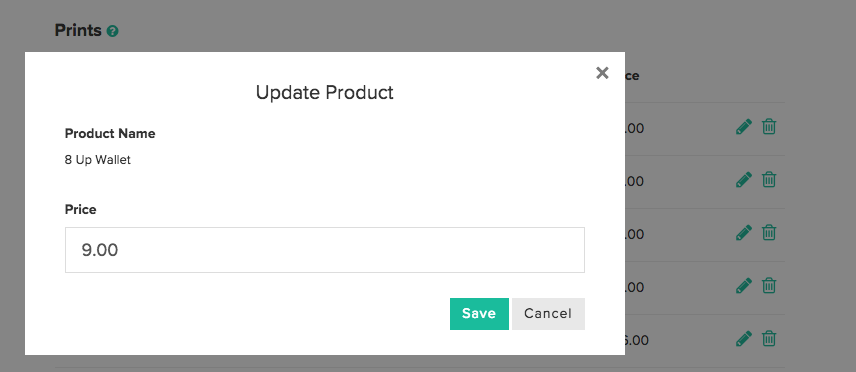 Alternatively, you can select Bulk Markup to adjust your pricing for all of the Lab Fulfillment Products in a Price Sheet at the same time: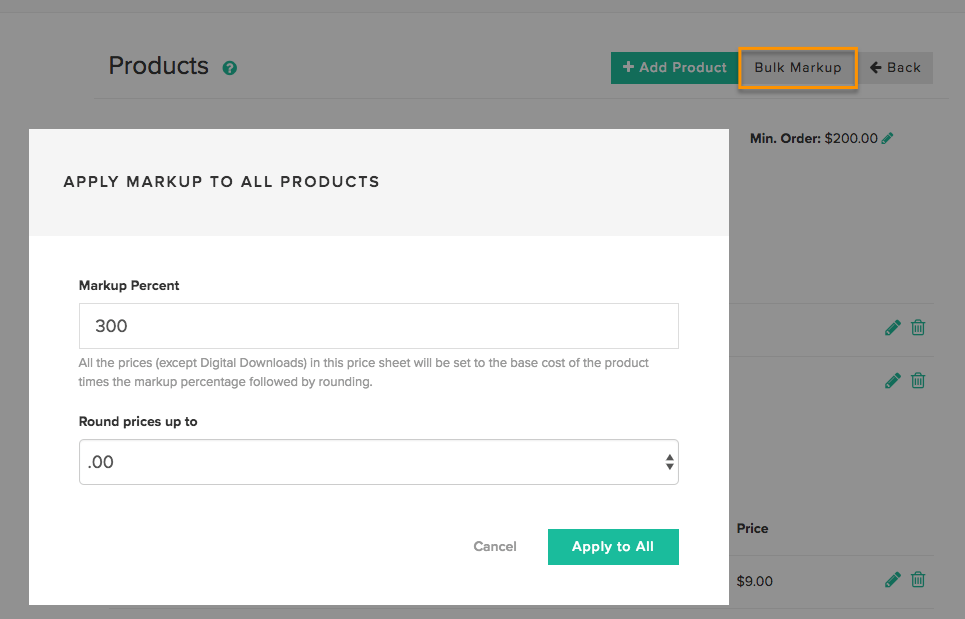 It is not possible to change the type of Fulfillment selected for a Price Sheet from Self Fulfillment to Lab Fulfillment (or vice versa), so make sure you've made the best selection for your business.
Once you've created your Price Sheets for your Store, you can also select which Price Sheet to use for your individual Collections if you don't want to always use your Default! We have created a step by step guide on how to change the Price Sheet for each Collection
here
.