Client Exclusive Access allows you to set up your Collection with additional features for your clients like being able to view Hidden Sets, or mark images as Private!
Why should I use Client Exclusive Access?
There are often Sets in a Collection that your client might not want to share. Using Client Exclusive Access, you can hide selected Sets from public guests while giving your client full access to the Collection.
For example, you might want to only share the Highlights Set from the event with the public, and keep photos from Getting Ready just for your client. You can also give clients the ability to mark photos Private in the Gallery so that Clients can share the Collection publicly without worrying about exposing private photos. 
You can set up Client Exclusive Access for your Collection by going to the Collection > Collection Settings > Privacy > Client Exclusive Access > ON.
In the dashboard:
Create a password used specifically for Client Access (this should be a different password than the Collection Password, if you also have a Collection Password set up)
Choose which Photo Sets are visible to the public, and which are for Client-only, under Photo Sets Visibility. Note that you cannot make all sets Private, and you must have at least one set viewable for the public Gallery.
Choose whether you want the client to have the ability to Mark Photos Private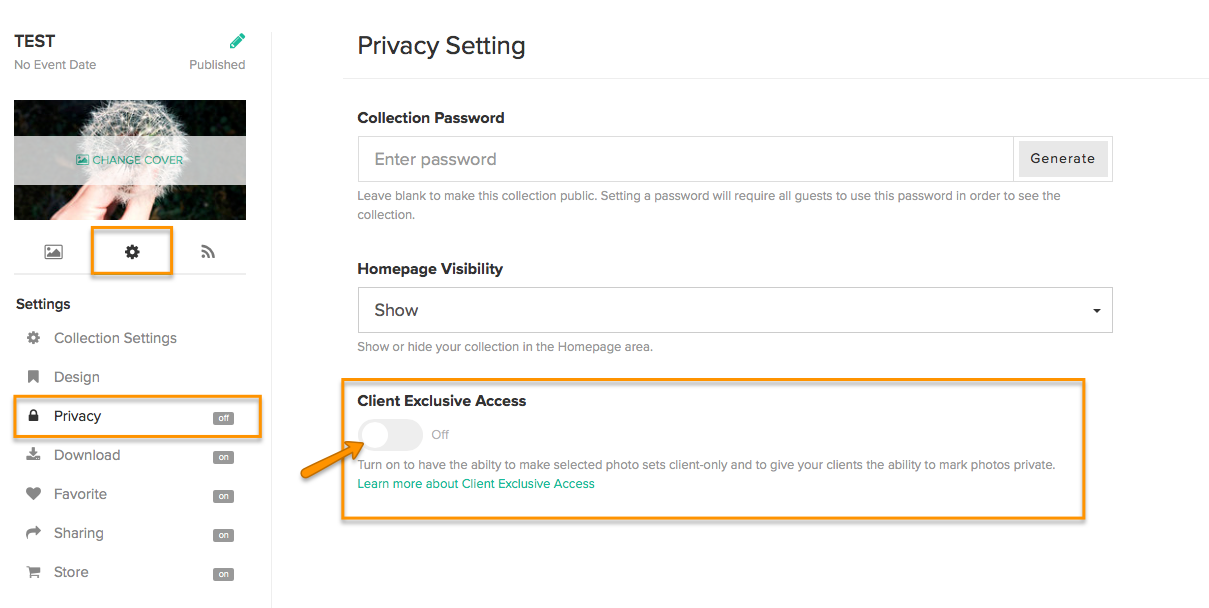 In the Gallery:
Visitors can choose to enter the Gallery as a Guest or Client
Private photos and private Sets are only visible to those logging in as a Client
Guests 

cannot

 view, download, or purchase private photos or private Sets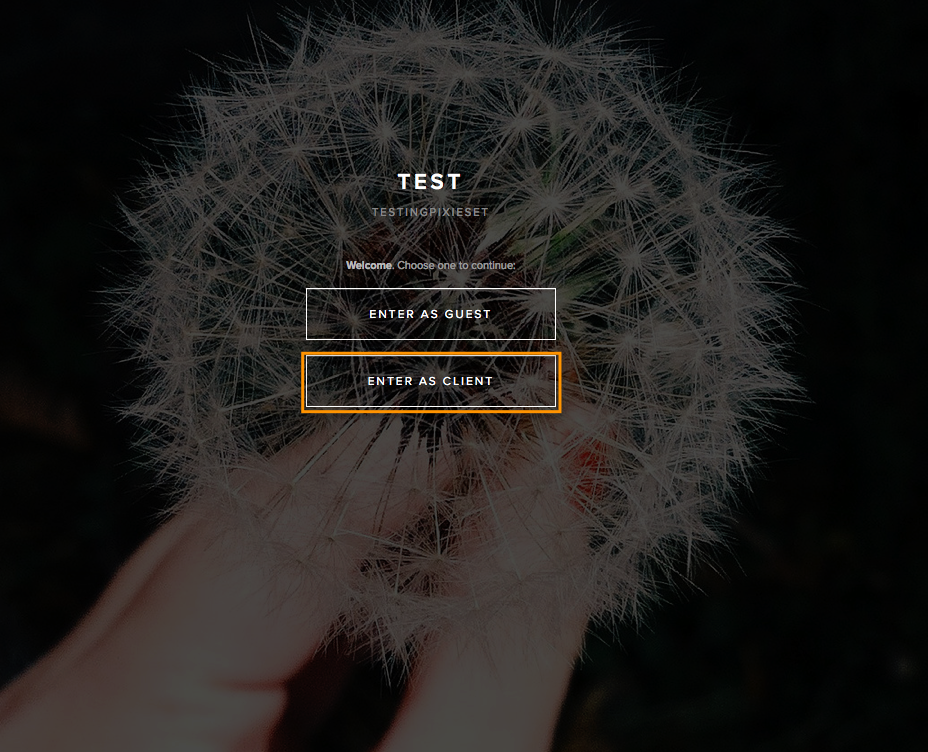 Can I set a Collection Password for Guests at the same time?
Yes! The regular Collection Password will work as normal. You can create a Collection Password used by guests, and a separate Password for Client Access. Any visitors to the Collection will be required to enter the correct Password depending on whether they have chosen to Enter as Guest or Client.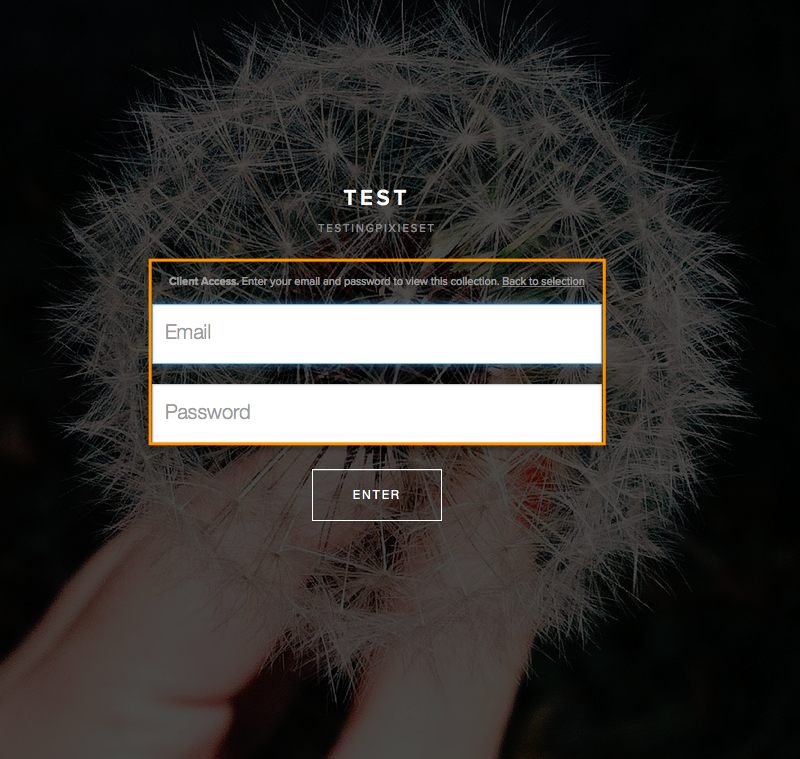 What happens when Guests purchase the All Photos Download or use the 4-digit download PIN?
Those who are accessing the Collection as a Guest, and purchasing an All Photos Download product or using the 4-digital download PIN will not receive any photos in the private Sets. In another words, only those who log in as Clients can purchase or download photos in private Sets.


Can my Clients select what images they want hidden? 
Yep! You can enable the Allow Clients to Mark Photos Private option to allow your clients to mark any photos they do not want viewed by their guests as private. This can be done by either hovering over the photo and selecting the eye icon, or enlarging the image and selecting to mark the photo private.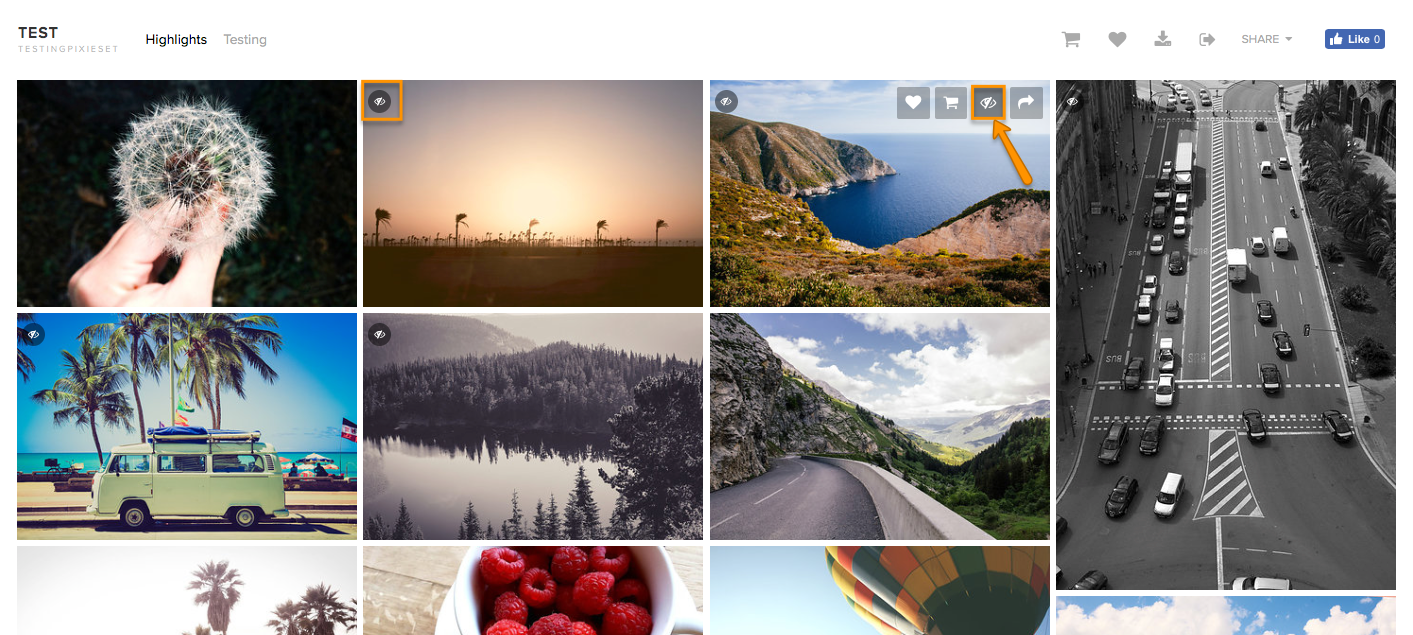 You will be able to track what photos your clients have marked as private by going to the Collection > Collection Activities > Private Photo Activity. Here you are able to make adjustments to the Private Photo List by deleting the images from the Collection altogether, or you can change the image back to a public image by selecting Unhide.